Market Overview
The global green and bio polyols market size stood at USD 4.6 billion in 2022, and it is expected to advance at a compound annual growth rate of 9.3% during 2022–2030, to reach USD 9.3 billion by 2030.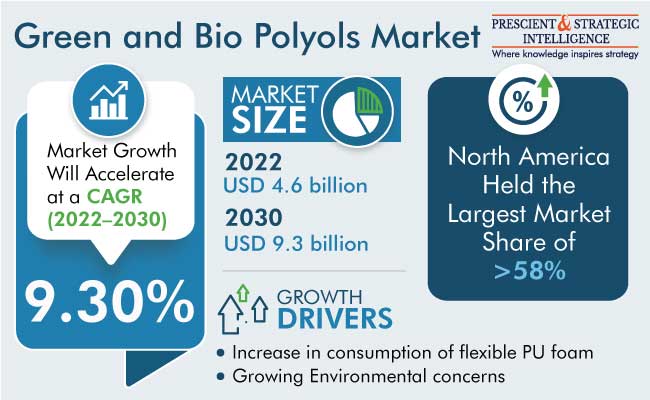 The growth is primarily ascribed to the rising environmental awareness and strict government policies that are aimed at reducing the usage of polyols created from petroleum. The rising need for flexible PU or rigid foams in the construction sector, as well as the woodworking industry, is also expected to propel the demand for these chemicals around the world.
Growing Demand for Bio-Based Polyols in Automotive, Furniture, and Construction Industries
Polyols, isocyanates, and many other additives are used in the production of polyurethanes, which are highly adaptable polymers, for use in the woodworking and other industries. However, the older generation of polyols is poor in quality and low in performance, in turn, propelling the demand for bio-based variants.
Moreover, bio-based organic compounds are widely used in the automotive industry as they can improve the load-bearing or hardness properties of molded foams, which are used in car seats and headrests. Other prominent applications are seats for office furniture and recreational vehicles. The usage of molded foam in trucks, boats, buses, and aircraft is increasing to improve the aesthetics and ergonomics of seating.
In addition, flexible foam made of an organic compound and an isocyanate with water is durable, light, supportive of the body, and comfortable. Raw materials are poured into molds and reacted, to obtain a precise shape that holds for the foam. This material is used for a large variety of residential and commercial products, such as carpet underlays, cushions, automotive interiors, furniture, packaging, mattresses, seating, and other specialty items. The popularity of this material is increasing as it can be highly firm or soft and even visco-elastic. Flexible foam can be formed in almost any shape and level of firmness.
Moreover, Polyurethane Foam Association (PFA) members account for the majority of the production in North America of all molded foam, of almost 80%. Flexible PU foam usage has increased in the furniture and bed market over the last few years. Now, almost all consumers are health-conscious and informed and check the safety parameters of every product they use and buy. Additionally, globally, almost 29 million short tons of polystyrene (plastic foam) are produced each year.
Green and Bio Polyols Market Report Coverage

| | |
| --- | --- |
| Report Attribute | Details |
| Historical Years | 2017-2022 |
| Forecast Years | 2023-2030 |
| Market Size in 2022 | USD 4.6 Billion |
| Revenue Forecast in 2030 | USD 9.3 Billion |
| Growth Rate | 9.3% CAGR |
| Report Scope | Market Trends, Drivers, and Restraints; Revenue Estimation and Forecast; Segmentation Analysis; Impact of COVID-19; Companies' Strategic Developments; Market Share Analysis of Key Players; Company Profiling |
| Segments Covered | By Raw Material; By Type; By Application; By End Use; By Region |
Explore more about this report - Request free sample pages
Concerns over Non-Renewable Resource Depletion and Environmental Quality Degradation
The increasing concerns about the shortage and unsustainability of non-renewable resources and the degradation of the environment from their usage have led to many initiatives to create bio-based PUs and polyols. The U.S. EPA and REACH, a government agency, have implemented various guidelines to encourage the usage of bio-based organic compounds. Harmful VOCs are used in the production of traditional polyols, while the bio-based variants emit zero or extremely low amounts of these chemicals.
Natural Oils and Their Derivatives Hold Largest Market Revenue Share
Natural oils and their derivatives generated the highest market revenue, of USD 1,378 million, in 2022, and this category is expected to maintain its dominance throughout the forecast period. Polyols are being widely prepared from rapeseed oil, palm oil, soybean oil, sunflower oil, and castor oil. All these compounds have similar usage but a different relative content of the base ingredient. Natural oils are also widely used in topical pharmaceutical formulations, such as stabilizers, emulsifiers, or solubility enhancers.
Several natural oils are available in the market for various purposes, such as the reduction of stress, treatment of fungal infections, and enhancement of sleep quality. For instance, in a recent study, scientists saw that orange oil helped reduce anxiety, when it was given to male volunteers in doses of 2.5, 5, and 10 drops.
Polyether Polyols To Hold Largest Market Share
Polyether polyols held the largest market share, of more than 62%, in 2022, and they are expected to maintain this position during the forecast period. The catalysis of epoxides produces polyether polyols. These chemicals are extensively used in the manufacturing of flexible PU foam, rigid foam, soft foam, and molding foam products because of their easy availability and good structural integrity. Polyether polyols contain numerous hydroxyl groups and chains of ether in their molecular form. The new propylene-oxide-based polyether polyol (PPG) has a higher primary hydroxyl range, of approximately 70%, and exhibits improved reactivity on polyisocyanates.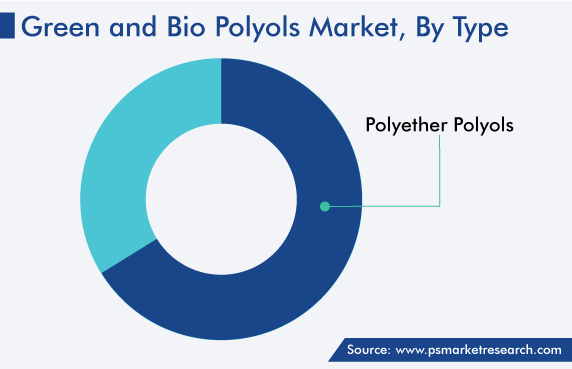 Woodworking Category Is Expected To Generate Highest Market Revenue
The woodworking category contributed the highest market revenue, of USD 1,470 million, in 2022, and it is expected to remain dominant throughout the forecast period. Wooden items are used in every household, as well as in cars and for packaging. The increase in the construction of houses has increased the demand for furniture, including beds. The number of people moving to cities around the world would be more than 1.75 billion by 2030, which is expected to increase the demand for foam for furniture cushions and mattresses by leading to a rapid surge in construction activities.
In this regard, the industry is driven by the growing income, which has encouraged people to rethink their desired level of comfort and their spending on luxury commodities. Green and bio-based organic compounds are used extensively in the production of sofas, cushions, recliners, car seats, leg rests, and upholstered chairs for commercial and self-use.
In addition, flexible PU foam offers support for different body structures and weights even if extremely thin in shape, as it can be chemically made to be firm and soft, thus giving furniture designers great flexibility and cost-effectiveness in seating design. This foam can also be recycled into carpet cushions and other products. Several companies around the world are looking for a way to recycle foam, some of whom have already found a way to convert it to a photo frame, such as INTCO Recycling.
North America Is Expected To Contribute Highest Market Revenue
The North American region contributed the highest green and bio polyols market revenue, of USD 2,664 million, in 2022, and it is also expected to maintain its dominance during the forecast period. The region is a huge market for polyols due to the rapidly growing demand for them and their improving quality and performance. The top players in this region are also taking efforts to promote the usage of green and bio polyols in place of those made from crude oil.
Essentially, the consumption of these products is rising due to the proliferating construction expenditure in the U.S., with a lot of corporate offices, residential buildings, resorts & hotels, outdoor recreation arenas, and retail spaces under development.
Further, the industry growth is supported by the increasing investments in the transportation, automotive, and construction industries and renewable energy projects. Moreover, the U.S. is the larger consumer of these products in the region due to the expansion in the demand for furniture, adhesives, sealants, and binders in the construction and transportation industries.
Thus, in June 2021, Cargill and HELM partnered to build a renewable butanediol factory in the U.S. to replace petrochemicals with bio-based intermediates. With this USD-300-million joint venture, their bio-based 1,4-butanediol (BDO), QIRA, could reduce GHG emissions by 93% as compared to BDO produced conventionally. QIRA will be used to create polyester-based fibers, such as spandex; as well as polyurethane coatings, biodegradable plastics, artificial leathers, and sealants.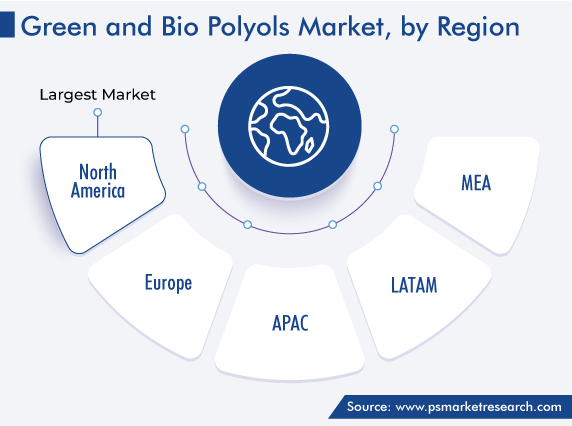 Some Top Green and Bio Polyol Producers Are:
BASF SE
The Dow Chemical Company
Cargill Inc.
Synthesia Technology Group
Covestro AG
Emery Oleochemicals
Arkema
Bayer AG
Mitsui Chemicals Inc.
Huntsman International LLC
Market Size Breakdown by Segment
This fully customizable report gives a detailed analysis of the green and bio polyols market from 2017 to 2030, based on all the relevant segments and geographies.
Based on Raw Material
Natural Oils and their Derivatives
Sucrose
Glycerin
Carbon Dioxide
Based on Type
Polyether Polyols
Polyester Polyols
Based on Application
Polyurethane Foam
Adhesives and Sealants
Coatings
Based on End-Use
Woodworking
Construction
Automotive
Packaging
Geographical Analysis
North America
Europe

Germany
U.K.
France
Italy
Spain

Asia-Pacific

Japan
China
India
South Korea
Australia

Latin America
Middle East and Africa

Saudi Arabia
South Africa
U.A.E.