Market Overview
The global graphene market was valued at $84.7 million in 2020, and it is expected to grow at a CAGR of 30.2% during the forecast period (2020–2030). The key factors responsible for the growth of the market include the rapidly increasing demand for graphene for electrical & electronics applications and the rising new application of graphene in the medical sector.
The COVID-19 pandemic has brought the entire world to a standstill, impacting business operations of almost all industries, including the graphene market. Manufacturing operations were briefly halted and limited in the early months of the outbreak, due to government-imposed lockdowns in various countries, including China, India, the U.S., Italy, Spain, Germany, and the U.K.
Despite the fact that governments all over the world have placed limitations on the movement of commodities and persons. The demand for graphene has increased to an extent, as it is utilized as coatings of facemasks, which limit the danger of transmission, and it has a wide range of applications in various industries, such as electrical & electronics, composites, energy, and medical.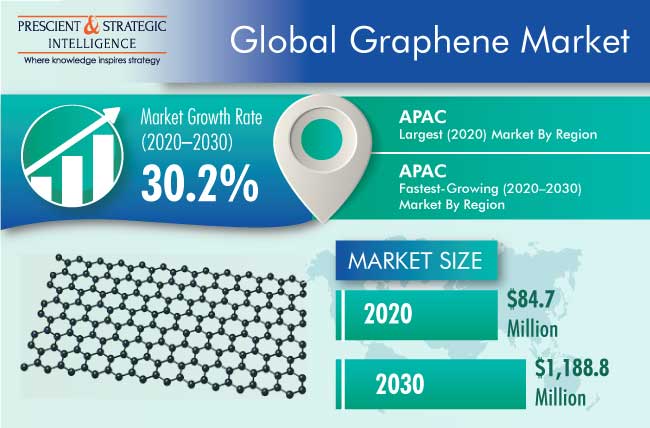 Powder Category Accounted for Largest Share, Due to its High Usage in Batteries
The powder category held the largest share in the graphene market in 2020, based on form. This is majorly attributed to the high – preference of graphene in its powder form for usage in storage batteries, sensors, and printing technologies. In addition, powdered graphene is easier to handle in comparison to graphene in the form of dispersion and flake.
Biomedical Category To Witness Fastest Growth, Owing to Rising Use of Graphene in Manufacturing of Sensory Devices
The biomedical category is expected to witness the fastest growth in the market for graphene during the forecast period, based on application. This can be majorly due to the increasing usage of graphene in manufacturing of hemoglobin, cholesterol, and glucose-measuring bioelectric sensory devices, owing to the fact that this material is thin and strong. Moreover, graphene is also used in the cancer treatment, prosthetic devices, and deoxyribonucleic acid (DNA) testing.
Asia-Pacific (APAC) Holds Maximum Market Share, Due to Rising Disposable Income
Geographically, APAC held the maximum share in the graphene market in 2020, and it is also expected to lead the market during the forecast period. This can be attributed to the to the increasing adoption of graphene for applications in composite materials for lightweight aircraft and automotive vehicles, and electrical & electronic devices, particularly in developing countries, such as China, India, and several Southeast Asian nations; and the rising disposable income in the region.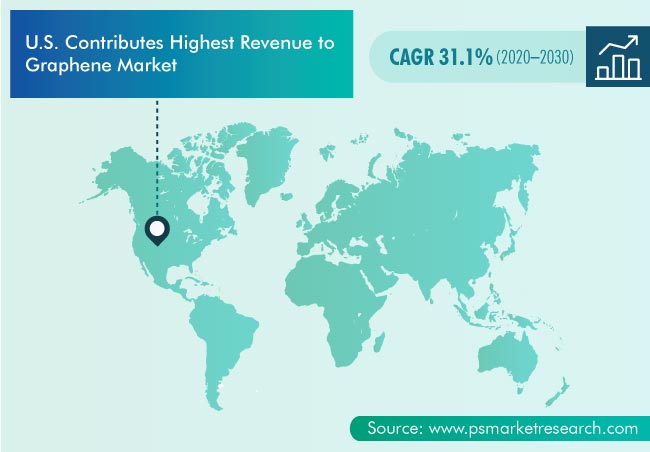 Commercialization of Graphene Is a Major Market Trend
In recent years, commercialization of graphene has increased, making it a major trend in the graphene market, owing to various factors, such as research and development (R&D) for its new applications and increase in its availability across the world. In addition, several graphene forms, including graphene flakes and graphene sheets, which were initially used for laboratory testing, have recently been transformed into commercial products with their usage in digital displays, sports goods, conductive inks, and automotive coatings, among others.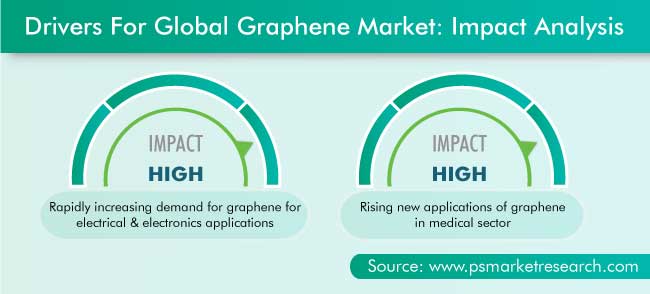 Rapidly Increasing Demand for Graphene for Electrical & Electronics Applications Is Driving the Market Growth
Graphene is widely used in the electrical & electronics sector, owing to its usage in microchips, transistors, and print circuits, due to its advantageous properties, such as high electrical conductivity and strength. The demand for graphene has witnessed a rise, owing to it increasing usage for flexible devices. This is due to special characteristics of graphene that allow the devices to be rolled or folded as per the requirement, and exceptional properties offered by graphene-based electronic devices. With new applications of graphene being developed in the sector, its usage is likely to increase, thereby providing a boost to the graphene market.
Rising New Applications of Graphene in Medical Sector Is Propelling the Market Growth
Graphene holds properties of high strength and thinness, which make it suitable for the development of bioelectric sensory devices, for monitoring glucose, hemoglobin, and cholesterol levels, as well as DNA testing. Graphene is helpful in the treatment of cancer cells, and finds applications in dental implants, therapeutic tools, and prosthesis devices. With the increasing applications of graphene in the medical sector, its demand is likely to increase during the forecast period.
Graphene Market Report Coverage

| | |
| --- | --- |
| Report Attribute | Details |
| Historical Years | 2015-2020 |
| Forecast Years | 2021-2030 |
| Base Year (2020) Market Size | $84.7 Million |
| Market Size Forecast in 2030 | $1,188.8 Million |
| Forecast Period CAGR | 30.2% |
| Report Coverage | Market Trends, Drivers, and Restraints; Revenue Estimation and Forecast; Segmentation Analysis; Country Breakdown; Impact of COVID-19; Companies' Strategic Developments; Company Profiling |
| Market Size by Segments | By Form; By Application; By Region |
| Market Size of Geographies | U.S.; Canada; Germany; France; U.K.; Italy; China; Japan; India; South Korea; Brazil; Turkey |
| Secondary Sources and References (Partial List) | China Association of Medical Devices Industry; Electronic Components Industry Association; European Science Foundation; Graphene Flagship; India Electronics and Semiconductor Association; Medical Device Manufacturers Association; National Graphene Association; National Graphene Institute; Organisation Internationale des Constructeurs d'Automobiles; Semiconductor Industry Association; Zentralverband Elektrotechnik- und Elektronikindustrie e.V. |
Explore more about this report - Request free sample pages
Market Players Involved in Product Launches to Gain Significant Position
In recent years, the players in the graphene industry have been involved in product launches in order to attain a significant position in the market. For instance:
In March 2020, ZEN Graphene Solutions Ltd. announced the launch of Albany Pure graphene products. With the launch of this product line, the company aims to bring in new products to the market, including graphene quantum dots, graphene oxide, reduced graphene oxide, and other graphene-based products.
In November 2019, First Graphene Ltd. and Steel Blue manufactured prototype boots using PureGRAPH graphene products. Unlike other formulations, this is available in high production volumes with non-aggregated, uniform-sized graphene nanoplatelets; and this ensures that it disperses evenly in thermoplastic polyurethane (TPU) masterbatches.
Key Players in Global Graphene Market Are:
The Sixth Element (Changzhou) Materials Technology Co. Ltd.

Angstron Materials Inc.

Deyangene Carbon Technology Co. Ltd.

Ningbo Moxi Technology Co. Ltd.

Xiamen Knano Graphene Technology Co. Ltd.

XG Sciences Inc.

Applied Graphene Materials plc
2-DTech Graphene

Graphenea S.A.

ACS Material LLC

NanoXplore Inc.

Thomas Swan & Co. Ltd.

Vorbeck Materials
Market Size Breakdown by Segment
The global graphene market report offers comprehensive market segmentation analysis along with market estimation for the period 2015–2030.
Based on Form
Based on Application
Electrical & Electronics
Composites
Energy
Biomedical
Geographical Analysis
North America
Europe
Asia-Pacific (APAC)

China
India
Japan
South Korea