Government Cloud Market Overview
The global government cloud market is estimated to be valued at $20,859.1 million in 2017 and is forecasted to witness a CAGR of 15.4% during 2018–2023. With the ongoing advancements in public sector technology solutions, and the innovations in various cloud computing capabilities, the agencies and government stakeholders are also becoming progressive towards new technology integration.
GLOBAL GOVERNMENT CLOUD PRODUCT MARKET, BY TYPE, $M (2013 - 2023)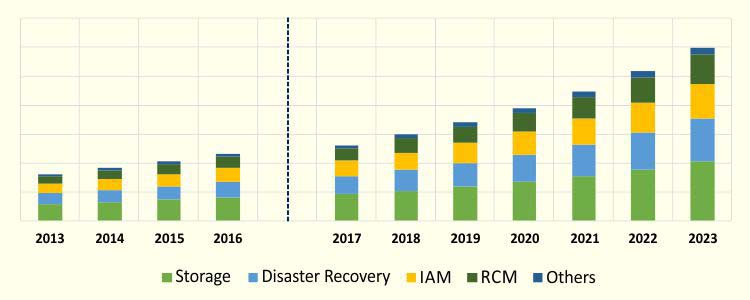 On the basis of various models, the government cloud market is categorized into software as a service (SaaS), infrastructure as a service (IaaS), and platform as a service (PaaS). Of all models, SaaS has been contributing the highest revenue so far, accounting for an estimated 48.2% share in 2017. The reason for its large revenue share is its huge demand from government agencies, due to its low cost and availability of pay-as-you-go model. The SaaS model allows government organizations to rent software applications from CSPs, which host these services remotely.
In terms of deployment type, the government cloud market is categorized into public cloud, hybrid cloud and private cloud, of which public cloud has been the largest deployment model throughout the historical period. It is estimated to generate $7,737.4 million in 2017 and is expected to cross $17,800 million market by 2023.
On the geographical standpoint, the government cloud market will witness fastest growth in APAC, with a CAGR of 17.5% during the forecast period. The APAC government cloud market will be driven by factors such as the need of improvement in citizen services, increased investments in ICT in government set-ups, and promotional campaigns. Also, due to the rising need for implementing cloud-based security services, accessibility controls, and enhanced decision-making, the market is expected to grow at a high pace in the coming years.
Government Cloud Market Dynamics
Trends
One of the major trends shaping the global government cloud market is that cloud computing is becoming increasingly mainstream in the government sector. While at one side, continuous innovations in cloud computing technology are transforming various businesses across industries, on the other side, it is also creating a paradigm shift in the government sector by delivering hosted services through the internet, with persistent cost benefits.
The e-government initiatives running across the globe are escalating the deployment of cloud computing in government sector to mainstream various federal/central governments. This in turn is helping governments to improve their business flexibility despite their back-end silo systems. The defense, education, and insurance units/departments of government have been the early adopters of cloud computing, also setting the trend and direction for other departments is expected to follow in near future in the government cloud market. Government organizations are redefining their operations to deliver improved citizen services. Following this, North America currently leads the adoption of government cloud with its 'CloudFirst' policy, accelerating the pace of cloud adoption.
Drivers
The government sector is always under intense pressure to cut down capital expenditure (CAPEX) without undercutting critical public services. One of the major drivers for the adoption of cloud by governments is the reduction in the total cost of ownership, both directly and indirectly. The reduction in the total cost of ownership through the adoption of government cloud by agencies is influenced by other motivating factors such as increasing focus of government organizations towards facilities consolidation, labour optimization, asset utilization, and measured services.
Restraints
Some of the major factors restraining the growth of government cloud market include lack of resources, security concerns, compliance, and management of multiple cloud services. Small regional governments often face challenges, restricting them to fully adopt cloud-based solutions, and risk their digital transition.
Apart from this, control and performance are factors which are of concern to governments for the mainstream adoption of full cloud-based suites. Due to the risk of losing administrative continuity and uncertainty in optimum performance, the factors challenge the adoption of cloud-based solutions in the public sector to a great extent.
Opportunities
Irrespective of industries and sectors, internet of things (IoT) today is not a necessity, but a business imperative. As the market for new technology matures, investments are increasing in IoT by all industries, with a focus on deriving the maximum return on investment (RoI). IoT requires cloud assisted technologies to establish connectivity between different devices, which is supported by public, hybrid, and private cloud models.
This factor is creating a huge opportunity for the growth of cloud landscape, which in turn is creating a space for the growth of the global government cloud market. While the IoT is all about the technology of connected devices, its adoption in government cloud would enable deep analytics to help agencies in deriving their value from this data. Apart from this, the ever-changing environment of innovation in the IoT space also gives a lot of scope to budding start-ups in the government cloud market to offer new product and services to public sector users, which in turn helps in the growth of the government cloud market.
Government Cloud Market Competitive Landscape
The overall intensity of competition in government cloud market is moderate. There are many small and large players offering cloud solutions for public sector in the market, which increases the intensity of rivalry. Since there is no major difference in base product (cloud), many vendors offering similar category of solutions, increase the overall rivalry. The key players in the government cloud market are Google Inc., International Business Machine Corporation (IBM), Microsoft Corporation, Cisco Systems Inc., Oracle Corporation, Salesforce.com Inc., Hewlett Packard Enterprise, VMware Inc., and Intel Corporation.