Market Overview
The offshore wind turbine market size was $24,683.3 million in 2019, which is set to reach $68,869.3 million by 2026. This market thrives on factors such as the implementation of favorable government policies in several countries, huge investments being made in renewable energy sources, and constant technological advancements in offshore plants.
However, the slowdown in global economic activities on account of COVID-19 have impacted the offshore wind turbine industry negatively. This can primarily be attributed to the disruptions in the supply chain due to the closure of manufacturing units, which stropped the supply of raw materials and components from China beginning in February 2020. However, as governments are now lifting the restrictions on manufacturing and international trade, the market is expected to begin recovering from the end of 2021, primarily driven by the global efforts to raise the production and usage of clean electricity.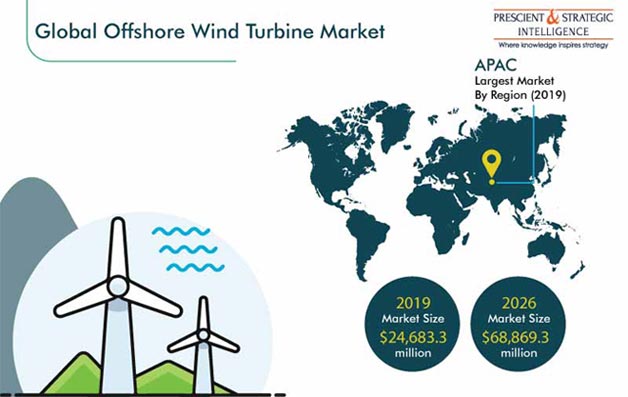 Most Offshore Wind Turbines To Be Installed in Shallow Water Depths
The shallow-water-depth wind installation category generated the highest revenue, under the water depth segment, in the market for offshore wind turbines in 2019, and the trend will continue in the coming years. This is because shallow-water regions are ideal for building the foundation for wind towers, on account of the higher convenience offered by them over the deep and transitional-water installations. This also makes the installation and maintenance of windmills cost-effective, which is important to keep the levelized cost of wind energy at par with or lower than that of energy produced from fossil fuels.
Fixed Offshore Wind Turbines Outnumbering Floating Windmills
The fixed category accounted for the major share in 2019 within the installation segment of the offshore wind turbine market, and it is expected to retain its dominance till 2026. This will primarily be because of the higher economic feasibility and easier commissioning and decommissioning of fixed windmills than floating ones. Moreover, the cables of fixed wind plants do not drift away with currents and waves, unlike those of floating installations.
3MW–5MW Wind Turbines To Be Installed in Greatest Numbers Till 2026
The 3 MW-to-5 MW category, under the turbine capacity segment, is predicted to lead the market for offshore wind turbines till 2026. Companies around the world are investing huge amounts in setting up 3 MW-to-5 MW wind turbines due to the high electricity generation capacity of these turbines. Additionally, the low operating costs of these wind towers, on account of their low maintenance costs, are also boosting their popularity across the world.The combined effect of the lower maintenance costs and higher energy generation per turbine will ultimately make wind energy cheaper and encourage its mass adoption.
Offshore Wind Turbine Market Report Coverage

| | |
| --- | --- |
| Report Attribute | Details |
| Historical Years | 2014-2019 |
| Forecast Years | 2020-2026 |
| Market Size in 2019 | $24,683.3 million |
| Revenue Forecast in 2026 | $68,869.3 million |
| Report Coverage | Market trends, regulatory landscape, Porters five forces analysis, value chain analysis, revenue estimation and forecast, segmentation analysis, regional and country breakdown, company share analysis, companies' strategic developments, competitive analysis, company profiling |
| Segments Covered | Water depth, installation, turbine capacity, geography |
| Countries Covered | U.S., Canada, Germany, U.K., Denmark, Netherlands, Belgium, Japan, China, India, Vietnam, South Korea, Brazil, Mexico |
Explore more about this report - Request free sample pages
Asia-Pacific (APAC) To Generate Highest Revenue
APAC will register the highest number of windmill installations on lakes, seas, and oceans due to the rising number of government initiatives aimed at promoting offshore wind. Moreover, the APAC offshore wind turbine market growth can be attributed to the soaring energy demand and increasing focus on reducing the dependence on fossil fuels for energy generation.
Furthermore, the government of China aims to deploy 400 Gigawatts (GW) of wind energy across the country by 2030. Guangdong, Fujian, and Jiangsu's plans to attain a 2GW, 2GW, and 3.5GW offshore wind power capacity, respectively, were met in 2019.
Moreover, the country's National Energy Administration announced that the offshore wind power price in 2019 and beyond will be determined by competitive actions, instead of feed-in-tariffs, to reduce costs and amplify competition in the industry. This cost reduction, the announcement of targets of deploying wind energy plants by several Chinese provinces, and rapid supply chain improvements are predicted to push up the deployment rate of offshore windmills in the APAC region. Similarly, India aims to produce 30 GW of energy from offshore wind turbines by 2030, which will, in turn, propel the expansion of the market.
Advancements in Turbine Technology Prominent Market Trend
Unlike the present times, the energy generated from offshore wind turbines was quite expensive in the last decade. The market witnessed the installation of a large number of smaller turbines in earlier times for meeting the required energy demand. Since then, constant advancements have been made in the turbine technology for augmenting the turbine capacity and generating more energy, with an emphasis on achieving significant cost reductions. Higher-capacity wind turbines have larger swept areas and produce more power for the same resource quality, thereby generating higher wind farm output levels.
Before 2018, most of the wind turbines installed offshore had an electricity generation capacity of less than 10 MW. Then, in September 2018, the world's first wind turbine with a double-digit capacity — V164-10.0 MW — was developed by MHI Vestas Offshore Wind A/S. The launch of this turbine indicated a rise in the focus toward the production and development of higher-capacity turbines. Apart from merely increasing the capacity of the turbines, windmills are also being made taller, as the wind energy potential increases with height.
Turbine Foundations also Undergoing Technological Advancements
Manufacturers across the globe are focusing on technological advancements to offer better offshore foundations. As a result, the installation of windmills in new geographical regions with high energy potentials is becoming possible. The global offshore wind energy capacity was 4,888 MW in 2018, with 46 MW of operational projects and 38 announced projects.
The offshore wind turbine market undergoes constant development as it is at a developing stage. For example, 'Hywind', the first 30 MW demonstration project, commissioned in October 2017, is now successfully operating in the U.K. Such developments in the industry have unleashed the potential of deep-water wind power, which is highly relevant for countries that have a limited land area.
Market also Driven by Surging Investments in Renewable Energy Sector and Favorable Government Policies
Due to the growing air pollution levels, government and private investments in renewable energy are rising around the world. Moreover, the limited availability of fossil fuel reserves is encouraging many governments and private organizations to focus on non-conventional and clean energy sources for generating power.
Moreover, fossil-fuel-based energy has serious environmental implications and poses potential risks with regards to waste disposal. Furthermore, governments all over the world are increasingly minimizing the traditional energy supply and making huge investments in green energy sources for meeting future energy demands. Specifically for offshore wind energy, worldwide investments increased from $64.88 billion in 2013 to $103.50 billion in 2017, as per the IRENA.
Major Players Entering into Partnerships
The offshore wind turbine market is partially consolidated in nature, with the presence of market players such as MHI Vestas Offshore Wind A/S, Siemens Gamesa Renewable Energy S.A., and Envision Energy.
In recent years, players in the industry have entered into partnerships and agreements, in order to collectively enhance their market coverage. For instance:
In December 2019, Orsted A/S signed a 10-year index-fixed price agreement for Borkum Riffgrund 3 offshore wind farm, with Covestro AG, a supplier of high-performance polymer materials. This will help Orsted A/S secure stable revenue for part of the power generated by Borkum Riffgrund 3.
In September 2019, Orsted A/S partnered with Pict Offshore to develop a technology: Get Up Safe (GUS) system. This new technology provides an efficient, safe, and cost-effective way of technicians accessing offshore wind turbines.
In May 2019, Xinjiang Goldwind Science Technology Co. Ltd. and Energimp S.A. signed a 10-year, $128 million, operation and maintenance (O&M) contract for 270 MW of wind farms owned by a Brazilian developer. This partnership helps the Chinese company expand internationally.
Some of the Key Market Players in the Offshore Wind Turbine Market Include:
Nordex SE
Ocean Breeze Energy GmbH & Co. KG
Ørsted A/S
General Electric Company
MHI Vestas Offshore Wind A/S
Sinovel Wind Group Co. Ltd.
Mingyang Smart Energy Group Co. Ltd.
Xinjiang Goldwind Science Technology Co. Ltd.
Siemens Gamesa Renewable Energy S.A.
Envision Energy
Nexans S.A.
Offshore Wind Turbine Market Size Breakdown by Segment
The Offshore Wind Turbine Market report offers comprehensive market segmentation analysis along with market estimation for the period 2014–2026.
Based on Water Depth
Shallow Water (up to 30 m)
Transitional Water (30 m to 60 m)
Deep Water (> 60 m)
Based on Installation
Based on Turbine Capacity
Up to 3 MW
3 MW to 5 MW
> 5 MW
Geographical Analysis
North America
Europe

U.K.
Germany
Denmark
Netherlands
Belgium

Asia-Pacific (APAC)

China
Japan
India
South Korea
Vietnam

Rest of World (RoW)