Market Overview
The genome editing market size was USD 5,412.9 million in 2022, which will reach USD 20,397.8 million by 2030, witnessing a CAGR of 18.0% during 2022–2030. This will majorly be a result of the growing pace of technological advancements in the field of genomics, rising focus on the highly adaptable CRISPR technology, and increasing investments by government as well as private organizations in genomics R&D. Additionally, the surging prevalence of numerous genetic disorders is expected to propel the market.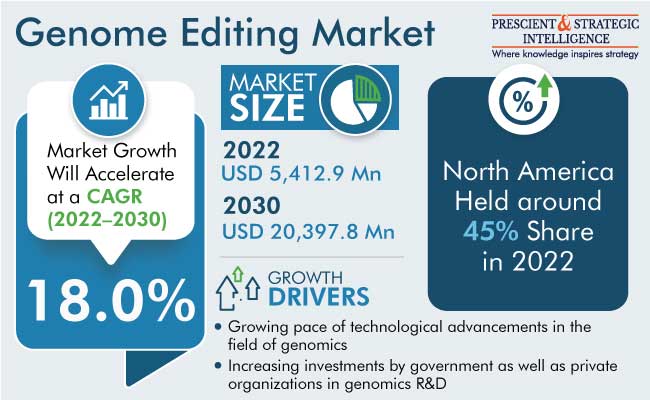 In recent years, the development in the field of genomics has significantly improved the gene editing capabilities, thus enabling the alteration of the genetic sequences of interest in a number of cell types and model organisms. Furthermore, the use of genetic engineering is not limited to large research organizations, such as academic and government research centers, but it has now progressed as a potent diagnostic tool, especially for oncologic studies. This is leading to the rapid developments in DNA editing technologies, thus propelling the growth of the market.
Moreover, the presence of major players in the developing nations and widening application of genome editing in the process of drug discovery are creating lucrative growth opportunities for the market advance.
Widening Range of Applications in Genomics Drives Market
There is a huge variety of aspects of genomics, such as drug research, agribusiness, veterinary sciences, forensics, and the identification of human genetic abnormalities, that are receiving strong focus from government as well as private biotech agencies. With of next-generation sequencing (NGS), the application of genomics in forensics has greatly increased. For instance, Illumina offers a range of related products to help in the study of genetic variations and function. In the past, fingerprint profiling was mainly carried out by analyzing the DNA, while at present, NGS is being utilized for analyzing the specimens of suspects at the crime location, thus enabling law enforcers to retrieve as much information as possible from a miniscule or even a damaged DNA sample.
Moreover, the use of genome editing in marine engineering for the creation of nutraceuticals from algae is one of the emerging trends. Personalized medicine and forensic sciences are two other important areas where genomics is proving increasingly significant. In addition to that, for the evaluation of fish populations, NGS may be used for DNA barcoding, to identify fish larvae and eggs, as well as getting a comprehensive description of fish communities. Likewise, the development of new medications as well as the detection and treatment of several human genetic abnormalities are both greatly aided by the editing approach. Other than that, DNA analysis, profiling, and the engineering of plants and animals all make extensive use of NGS.
Furthermore, editing tools of genome, such as zinc finger nucleases, clustered regularly interspaced short palindromic repeats (CRISPR), meganucleases, and transcription activator-like effector nucleases, are promising to be a cost-effective, feasible, and versatile tool for improving the nutritional and functional quality of staple, horticultural, and oilseed crops. This is enabling efficient and precise plant editing of genome for crop improvement and breeding, without the presence of foreign gene traces in a wide range of plants. This is leading to the combination of the genome editing technology with conventional breeding, thus enabling the growth of the market.
Reagents & Consumables Category Dominates Market
Reagents & consumables emerged as the largest offering category in the market, with around USD 3.3 billion revenue, in 2022, and they are also expected to retain their dominance during the forecast period. The growth in the demand for reagents and consumables can be primarily ascribed to their extensive usage in research projects and studies and their exhaustible nature, due to which there is a repetitive purchase.
Genome Editing Market Report Coverage

| | |
| --- | --- |
| Report Attribute | Details |
| Historical Years | 2017-2022 |
| Forecast Years | 2023-2030 |
| Market Size in 2022 | USD 5,412.9 Million |
| Revenue Forecast in 2030 | USD 20,397.8 Million |
| Growth Rate | 18.0% CAGR |
| Report Scope | Market Trends, Drivers, and Restraints; Revenue Estimation and Forecast; Segmentation Analysis; Impact of COVID-19; Companies' Strategic Developments; Market Share Analysis of Key Players; Company Profiling |
| Segments Covered | By Offering; By Technology; By Application; By End User; By Region |
Explore more about this report - Request free sample pages
Cell Line Engineering Accounts for Largest Revenue Share
On basis of application, the market for genetic engineering is categorized into cell line engineering, animal genetic engineering, and plant genetic engineering, among which the cell line engineering category accounted for the largest revenue share, of around 50%, in 2022. This growth can be primarily attributed to the growing usage of cell line engineering in stem cell-based research. Due to the rapid advancements, cell line engineering is being extensively utilized for induced pluripotent stem cells (iPSCs), which help in altering the genetic content of the cells. The emergence of advanced gene editing techniques, such as zinc finger nucleases (ZFNs), CRISPR/Cas, and TALENs, has enabled cost-effective and convenient cell engineering.
Moreover, the cell line development application has been progressing due to the growing demand for the improved expression of therapeutic proteins, along with its suitability for the desired post-translational modifications.
North America Held Largest Share
North America was the largest market, with a share, around 45%, in 2022. In addition, owing to the development of gene therapy, rising use of genetically modified crops, and easy availability of research funding, the continent will continue the contribute the most significantly to companies offering tools and services for gene editing.
In addition, the U.S. dominates the industry in North America, primarily due to the rising government and private funding for genomics research. For instance, in April 2021, CRISPR Therapeutics and Vertex Pharmaceuticals Incorporated announced the revision of their collaboration for the development, manufacturing, and commercialization of an investigational gene editing therapy based on l CRISPR/Cas9, named CTX001, which could potentially cure transfusion-dependent beta-thalassemia and sickle cell disease. Under this agreement, 60% of the program costs will be covered by Vertex, which will also receive 60% of the profits from the future sales of CTX001 across the world. In addition, USD 900 million in upfront payment will be received by CRISPR, in addition to USD 200 million when CTX001 receives its first regulatory approval.
Moreover, the increasing incidence of rare disorders in the U.S. and Canada is propelling the genome editing market in the North American region. The National Institutes of Health (NIH) say that approximately 25 to 30 million Americans are affected by more than 7,000 rare disorders. This means 1 in 10 Americans are suffering from rare disorders. Thus, the increasing need for developing effective drugs drives the adoption of novel DNA editing tools in these countries.
Furthermore, the surging number of research activities in the domain of genomics in India, Japan, and China and the soaring investments being made by public and private organizations for gene editing purposes are the main factors propelling the advance of the market in the Asia-Pacific region.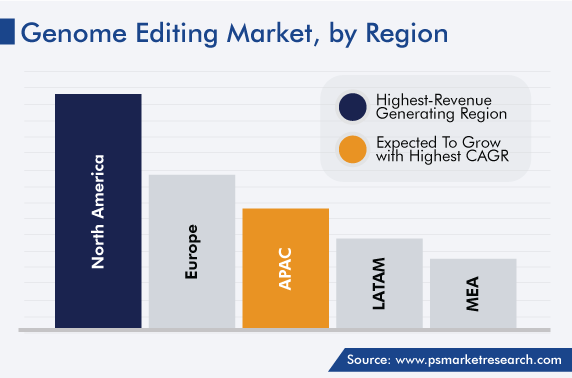 Rising Adoption of Genome Editing in Personalized Medicine Offering Lucrative Growth Opportunities
The escalating use of personalized medicine is offering immense growth opportunities to the players in the industry. With the use of personalized medicine, a medical practitioner is able to recognize the exact requirement of the patient and provide the specific treatment, accordingly.
Hence, many pharma and biotech firms and medical academic institutions around the world are initiating research projects in order to develop precision medicines, for catering to the specific treatment requirements of patients.
CRISPR Technology Holds Major Share
The CRISPR technology held the major share due to its ease of use, inexpensive nature compared to other technologies, and higher efficiency. The need for the technology is rising for the identification and treatment of several disorders, such as cancer, hepatitis B, and even high cholesterol, as they involve the genetic component. This technology has a potential to develop solutions for many more serious disorders, including Huntington's disease and human immunodeficiency virus (HIV). Studies have shown that Huntington's disease occurs due to a mutated gene, and through the usage of the CRISPR technology in a recent study, the production of the mutant gene was lowered by roughly 90% in mouse models.
Additionally, with the growing pace of advancements in the field, researchers can now discover the important genes in disease pathogenesis with the help of gene knockouts in a heathy cell line. Moreover, several market players, including Caribou Biosciences, Takara Bio, and Thermo Fisher Scientific, are putting an emphasis on research and development for bringing about further innovations in the area of genomics.
Biotechnology & Pharmaceutical Companies Category Leads Market
Biotechnology & pharmaceutical companies accounted for the largest revenue share, of around 40%, in 2022. This is on account of the increasing usage of gene editing technologies by the major pharma and biopharma firms in drug discovery & target detection. The application of genome editing by these companies is focused on creating novel therapeutics for several disorders. In addition to that, several biotechnology companies are using these techniques to develop GM seeds and transgenic animals.
In this regard, the rising research and development activities, often in collaboration and partnership among academic institutes and industry players, are propelling the growth of the market. For instance, in April 2021, LogicBio Therapeutics Inc. announced a strategic collaboration with CANbridge Pharmaceuticals Inc. to treat rare and serious illnesses from childhood through adulthood across the world. Under the agreement, LogicBio gave CANbridge the exclusive option to license its GeneRide platform-based investigational in-vivo gene editing technology, LB-001, which may be used to treat methylmalonic acidemia (MMA) in Greater China.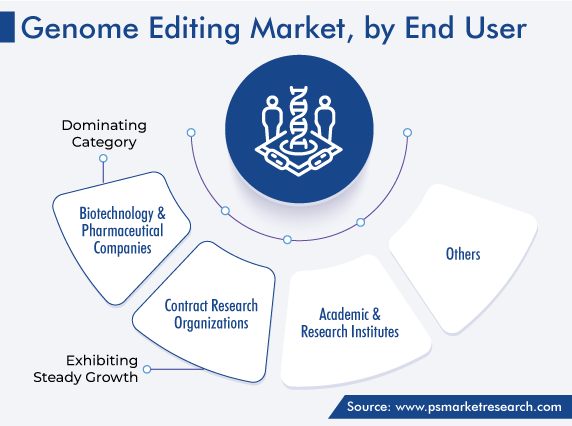 Key Players in Genome Editing Market Are:
Thermo Fisher Scientific Inc.
Merck KGaA
GenScript Biotech Corporation
Integrated DNA Technologies Inc.
Agilent Technologies Inc.
CRISPR Therapeutics AG
Sangamo Therapeutics Inc.
New England Biolabs Inc.
Precision BioSciences Inc.
Editas Medicine Inc.
Market Size Breakdown by Segment
The study uncovers the biggest trends and opportunities in the market, along with offering segmentation analysis at the granular level for the period 2017 to 2030.
Based on End User
Biotechnology & Pharmaceutical Companies
Academic & Research Institutes
Contract Research Organizations
Based on Application
Genetic Engineering

Cell line engineering
Animal genetic engineering
Plant genetic engineering

Diagnostics
Drug Discovery & Development
Based on Technology
Clustered Regularly Interspaced Short Palindromic Repeats (CRISPR)
Transcription Activator-Like Effector Nuclease (TALEN)
Zinc Finger Nuclease (ZFN)
Antisense
Based on Offering
Reagents & Consumables
Software & Systems
Services
Geographical Analysis
North America
Europe

U.K.
Germany
France
Italy
Spain

Asia-Pacific

China
Japan
Australia
India
South Korea

Latin America
Middle East & Africa

Saudi Arabia
South Africa
U.A.E.