Market Overview
The global gas sensor market is expected to reach USD 4,005.8 million by 2030 from USD 2,087.2 million (E) in 2023, witnessing 9.8% CAGR during 2023–2030.
The key factor propelling the industry is the miniaturization of these instruments, integration of wireless connectivity, and enhancement in communication technologies, which allow them to sense poisonous gases from a safe distance. A range of detectors are utilized to continuously control and screen the gas release at numerous places, ranging from industrial facilities to homes.
The progressions in the gas detector technology, such as drone-based gas leak detection and smart sensors, are advancing safety and effectiveness while sensing and measuring gas leaks in numerous sectors. Moreover, the severe government guidelines targeted at decreasing GHG releases from automobiles are propelling the demand for gas sensors.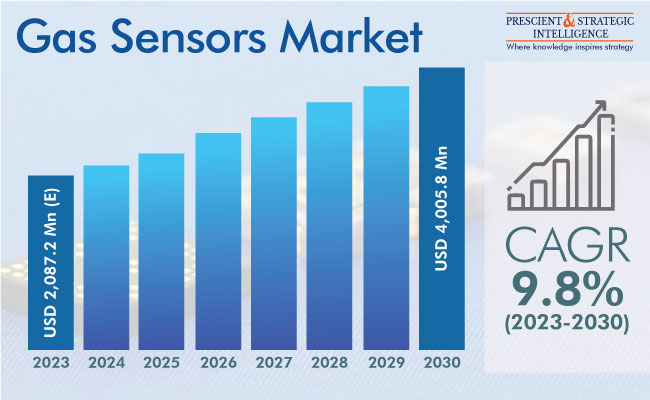 Additionally, industries such as oil & gas, chemical, and power widely use these devices to spot the leakage and levels of several flammable and toxic gases. Substance-specific electrochemical sensors and non-dispersive infrared sensors are being developed to meet specific gas detection requirements in such industries.
Moreover, the COVID-19 pandemic has generated several development opportunities for the industry. The epidemic led to a massive need for oxygen for patients, driving hospitals to distribute oxygen judiciously, by tracking their dispensing via bedside and centralized sensors. Gas sensors were also utilized extensively within oximeters by affected patients and even healthy patients who became more concerned about their SpO2 levels.
Moreover, medical device companies have advanced the detectors to fulfill the high requirement for ventilators. For example, in 2021, Sensirion launched three new flow sensors, SFM3019, SFM3013, and SFM3003, to measure inspiratory flow in ventilators.
Growing Incidence of Respiratory Diseases due to Air Pollution
One of the biggest drivers for the market is the growing burden of breathing issues because of air pollution. The WHO pegs the number of annual premature deaths because of air pollution at more than 7 million, including those from both indoor and outdoor emissions. Key outdoor sources of GHG emissions include automobiles, industrial exhaust, and generators, while those found indoors include furniture containing VOC-laden coatings, cooking, and HVAC-R appliances that utilize refrigerants.
Carbon Dioxide Category Is Leading Industry
The CO2 sensors category is leading the industry, based on type. These instruments are widely utilized for screening the air quality in office buildings, houses, healthcare settings, and other applications, as well as tracking emissions in automotive and industrial applications. Several businesses are developing MEMS-based CO2 sensors for numerous applications. For example, in January 2021, TDK Corporation launched TCE-11101, a small, low-power MEMS gas detector platform for the direct and precise monitoring of carbon dioxide in-house, automotive, healthcare, and other applications.
Carbon Monoxide Category To Witness Substantial Growth
During the projection period, the carbon monoxide (CO) sensors category is projected to witness substantial development. The rising number of mortalities from CO poisoning is propelling the demand for devices that can detect its presence and level. This is driven by the government guidelines to guarantee employee protection in workplaces. For example, in the U.S., CO poisoning has encouraged the government of California, Connecticut, Illinois, Maryland, and Maine to install carbon monoxide sensors in schools.
Moreover, people around engines that burn fossil fuels, such as those used in automobiles, aircraft, locomotives, generators, and industries, are at a constant risk of CO exposure. A leakage in the catalytic converter can cause CO to escape into the atmosphere before being converted to the relatively harmless carbon dioxide. Key symptoms of CO poisoning include weakness, dizziness, nausea, dyspnea, blurred vision, and confusion, while the ultimate complication is death.
Wired Category Is Generating Higher Revenue
The wired category is generating the higher revenue, as wired gas detectors offer a higher accuracy, low maintenance, low cost, and compact size. In numerous conditions, wired detectors are more dependable as they straightaway connect the sensor to the device receiving the input. The key applications where wired sensors are prized include nuclear power plants, mines, and oil rigs. Moreover, the growing acceptance of wired gas detectors in housing applications is credited for category development.
Electrochemical Category Holds Highest Market Share
The electrochemical category is leading the technology segment of the market, as such sensors use less energy, have fundamentally safer processes, and provide improved specificity for the specific gas. The electrochemical technology can sense poisonous gas concentrations by oxidizing the gas in the conductor and converting the reading into an electrical signal of appropriate strength. These reasons are projected to generate more requirements for electrochemical technology in gas detection from the mining industry.
The infrared category is projected to witness the fastest development during the projection period. Infrared gas detectors sense many gases, such as carbon monoxide, methane, and VOCs, such as benzene, acetylene, and butane. Such sensors are also utilized in screening the oxygen level in ventilators and pulse oximeters.
Based on End User, Industrial Category Is Dominant
On the basis of end user, the industrial category holds the largest share. Industrial gas detectors are utilized to sense toxic emissions and activate alarms, driven by the government guidelines for workplace safety, such as of the OSHA. Moreover, players are concentrating on creating small variants that can be embedded into machines and exhaust systems and consume less energy.
For instance, DD-Scientific introduced a high-performance miniature industrial gas detector range in October 2020. In the same way, Sensorix GmbH launched a variety of instruments for the detection of hydrogen chloride and hydrides in semiconductor foundries in March 2022.
Gas Sensors Market Report Coverage

| | |
| --- | --- |
| Report Attribute | Details |
| Market Size in 2023 | USD 2,087.2 Million (E) |
| Revenue Forecast in 2030 | USD 4,005.8 Million |
| Growth Rate | 9.8% CAGR |
| Historical Years | 2017-2022 |
| Forecast Years | 2023-2030 |
| Report Scope | Market Trends, Drivers, and Restraints; Revenue Estimation and Forecast; Segmentation Analysis; Impact of COVID-19; Companies' Strategic Developments; Market Share Analysis of Key Players; Company Profiling |
Explore more about this report - Request free sample pages
Asia Pacific Is Market Leader
Asia-Pacific is dominating the industry, propelled by the growing knowledge regarding air pollution's effects on wellbeing, rapid urbanization, and rising expenditure on smart city projects. Further, the surging utilization of gas sensors in automobiles propels the market. India has a robust automotive industry, and as per the OICA, in 2022, 54,56,857 vehicles were manufactured in the country, thus reflecting a massive need for GHG sensors.
Europe is projected to experience stable development during the projection period too. The strict rules to check the release of toxic gases and the subsequent requirement for emission screening are projected to boost the regional industry. In Europe, all vehicle OEMs are mandated to deploy gas detection technologies in their models. As the guidelines to control contamination levels becoming more severe, the acceptance of gas detectors in the automotive industry will surge.
Key Companies in Gas Sensors Market
ABB Ltd.
AlphaSense Inc.
Dynament Ltd.
Figaro Engineering Inc.
MEMBRAPOR AG
Nemoto & Co. Ltd.
Robert Bosch GmbH
Siemens AG
GfG Gas Detection UK Ltd.
FLIR Systems Inc.
Honeywell International Inc.
Sensirion AG