Market Overview
The fuel cell generator market size stood at USD 330 million in 2022, and it is expected to advance at a compound annual growth rate of 17.50% during 2022–2030, to reach USD 1,199 million by 2030.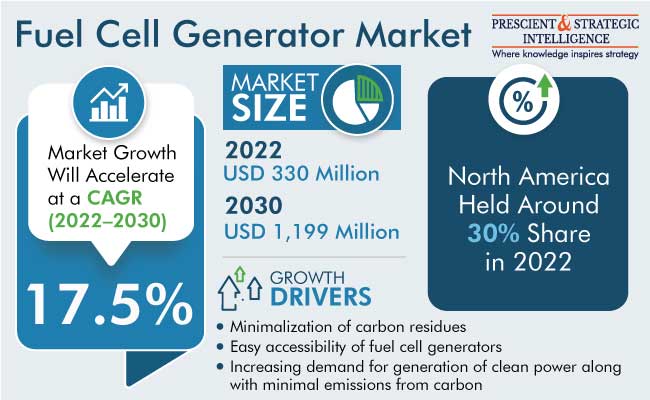 The growth of the industry can be primarily ascribed to the various factors, such as renewability of energy, easy accessibility of fuel cell generators, minimalization of carbon residues. The increasing demand for generation of clean power along with minimal emissions from carbon.
Other driving factors include the stimulus packages and financial advantages to support the green innovation infrastructure, rising fossil fuel byproducts from power stations and enterprises, and low expansion of responsibility for generators. Advantages of the innovation in the power devices incorporate low-to-zero discharges, higher proficiency, dependability, source adaptability, energy security, durability, versatility, and are free from any.
Hydrogen Category Holds Largest Share
Hydrogen fuel cell generator holds the largest share of around 55%, as they do not produce harmful emissions which in turn eliminates the cost related to handling and storage of toxic materials. This type of generator is reliable, provides approximately 40-60% energy efficiency, and scalability.
Several regions and countries around the world have made their intentions clear to reduce overall emissions of greenhouse gases to zero by 2050, that means achieving carbon neutrality. The government initiatives has increased for creating a decarbonized society in the past few years. In order to achieve this target, the introduction of renewable sources, such as wind, solar, hydro, biomass, and geothermal, is important.
However, the generation of energy with the help of wind and solar has several disadvantages, such as the lack of capabilities to adjust generation and large amount of output variations depending on weather conditions in order to fulfil the demand. Thus, the electricity generation requires a system to store the surplus in batteries or via other methods, and deal with power shortage.
Moreover, it is projected that hydrogen is gaining traction as a next generation source of energy. It is present in abundance, and can be used to produce electricity and thermal energy through chemical reaction and combustion without emitting carbon-dioxide. It is quite easy to store and use hydrogen because it can be stored stably for a long time and electricity from renewable energy can be generated from hydrogen through electrolysis. These are the various factors which are expected to boost the demand for fuel cell generator.
Methanol fuel cell generator is expected to show a significant growth in the forecast period and is attributed to its smaller size, easy refueling and lightweight. Moreover, the system is autonomous, which means it can start and stop according to the necessities. Systems that run on methanol have various benefits, such as it can be fitted to the application or as a stand-alone enclosure with or without a built-in tank. It can supply around 100 kWh power per day and can be charged with an on-shore power connection (standard), wind turbines, water turbines or other external 48 V DC/230 V AC sources. With wind or water energy, it develops into the Green Off grid solution that also can supply heat and hot water if needed. Furthermore, It is scalable and whenever there is a need for lots of energy in short bursts or for a long time.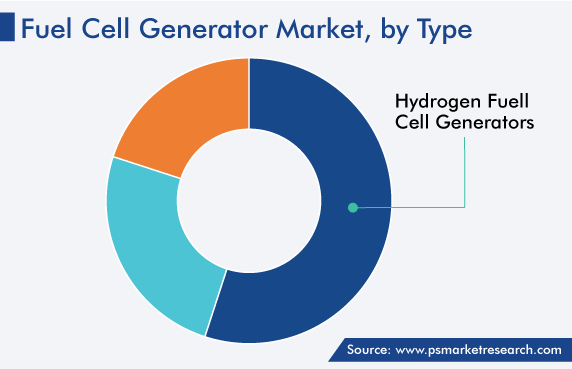 Aquaculture is Fastest Growing Category in the Forecast Period
Aquaculture is fastest growing end user at a CAGR of around 19.2%, attributed to the growing number of aquaculture facilities and rising environmental impacts associated with it including consumption of water and electricity. In order to minimize the environmental impacts, governments have taken several actions for using fuel cell-based generators instead of diesel generators.
According to the estimates of the National Oceanic and Atmospheric Administration, aquaculture in the U.S. represents a USD 1.5 billion value annually which helps and supports 1.7 million jobs in the seafood industry.
Data centers include installation of backup power solutions. The increasing requirement for backup electricity during power outage is further expected to drive the demand. The data centers require to process large amounts, which is way more important as technology and continues to grow in the daily lives in a digitized environment. The development of Internet of Things (IoT) will continue to develop, and improve almost every aspect people's lives. The technology can be utilized to improve manufacturing operations and equipment monitoring.
With the expansion of digital world, the demand for reliable data centers is increasing. It is projected that California is struggling to meet consumers electricity needs. Grid limitations drive companies to invest in backup generators. Various data centers have started installing fuel cell generators in order to support the technological progressions. Since the outbreak of the pandemic, the staff were less which drives the acceptance of self-directed devices. Currently, different distribution centers are utilizing novel innovations to increase productivity and reduce emissions.
The utilization of AI enabled surveillance, AR, and mechanical technology, for cutting-edge staff work. When driven by hydrogen, the innovation reduces errors and further increases speed, moderating output, and other important resources. Over a long time, the systems can essentially diminish ozone-harming substance discharges and improve data storage, and computing capacities. Data centers can decrease carbon emissions by enhancing their alternative resources. They have the potential to support the economy and electric grid by using abundant hydrogen energy. Moreover, they can coordinate their sources of power with supportable devices.
Numerous centers are decreasing the environmental impacts by the use of low-emission technologies. For ideal sustainability practices, they run their thermostats, lights, and smart appliances on green hydrogen. Over time, the usage of ecological technologies will decrease the emissions and will lead to the conservation of the environment
Fuel Cell Generator Market Report Coverage

| | |
| --- | --- |
| Report Attribute | Details |
| Historical Years | 2017-2022 |
| Forecast Years | 2023-2030 |
| Market Size in 2022 | USD 330 Million |
| Revenue Forecast in 2030 | USD 1,199 Million |
| Growth Rate | 17.50% CAGR |
| Report Scope | Market Trends, Drivers, and Restraints; Revenue Estimation and Forecast; Segmentation Analysis; Impact of COVID-19; Companies' Strategic Developments; Market Share Analysis of Key Players; Company Profiling |
| Segments Covered | By Type; By End User; By Region |
Explore more about this report - Request free sample pages
North America is Largest Revenue Contributor
North America has the leading position in the fuel cell generator market, and it will hold the same position till 2030, with a value of USD 360 million. This is attributed to the increasing focus and rapid adoption of clean sources.
In North America, the U.S. holds the leading position, and it will grow with a CAGR of 18.1%, attributed to the strong financial support.
The innovative developments in the use of renewable resources and increasing electricity demand from data centers and aquaculture sector are some of the factors driving the growth of the market in the coming years. The increasing investments and government initiatives in the renewable sector is projected to propel the demand.
These systems offer a highly efficient and energy-source-flexible technology that produces clean power and heat with low or zero emissions.
In the U.S. October is a National Clean Energy Action month for creating awareness in order to increase the adoption of clean sources. The FEMP helps agencies meet federal energy efficiency and renewable laws and requirements. Agencies are making tremendous progress by implementing the regulations of energy- and water-management projects throughout the U.S.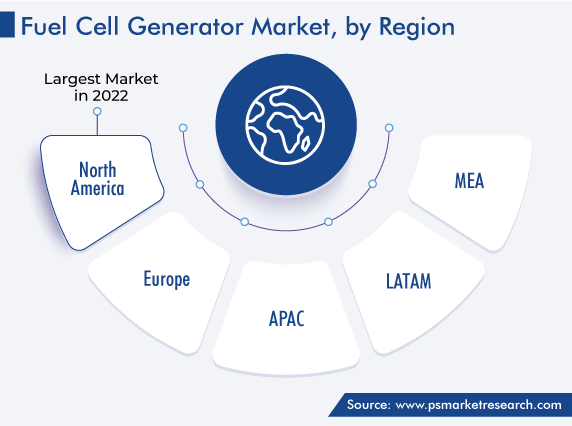 Investments to Achieve Zero Carbon Emissions Propels Demand
The development rate will surge in the few years as numerous nations are investing into hydrogen innovations, alongside the rising number of areas they target, such as the fixed power generation.
The stationary electricity generation sector includes, systems that operate at a fixed location for backup or primary power or both. Fuel cells are being developed for both large-scale and small-scale applications, such as retail operations, data centers, aquaculture, residences, telecommunication towers and base stations, and utilities.
In 2021, in the U.S. more than 750 MW capacity was installed. Additionally, a part of the world's biggest installations of fuel cell generators has been finished in South Korea, with a few energy unit power parks introduced these generators, each of roughly 300 MW. Japan and Europe have got modest or bigger systems, as they are essentially focused on small-scale electrical devices for homes and organizations.
In the U.S., small-scale systems are basically utilized for reinforcement power by broadcast communication elements, railways, utilities, states, and traffic/ emergency systems. These generators can play a role in diminishing the fossil fuel byproducts from private and business structures in Europe, a Joint Statement on stationary electricity production systems for Green Structures was endorsed in November by key players.
Top Fuel Cell Generator Companies Are:
Bloom Energy
Doosan Fuel Cell Co., Ltd.
PowerCell Sweden AB
Proton Motor Fuel Cell GmbH
Nedstack Fuel Cell Technology BV
Panasonic Holdings Corporation
Siemens Energy
Freudenberg FST GmbH
Toyota Motor Corporation
Ballard Power Systems
Market Size Breakdown by Segment
The report analyzes the impact of the major drivers and restraints on the market, to offer accurate market estimations for 2017–2030.
Based on Type
Hydrogen Fuel Cell Generators
Methanol Fuel Cell Generators
Based on End User
Marine
Construction
Mining
Agriculture
Aquaculture
Data Centers
Emergency response generators
Geographical Analysis
North America
Europe

Germany
U.K.
France
Italy
Spain

Asia-Pacific

Japan
China
India
South Korea
Australia

Latin America
Middle East and Africa

Saudi Arabia
South Africa
U.A.E.