Market Overview
The French LPG market generated $7,691.2 million revenue in 2020, and it is expected to grow at a CAGR of 2.1% during 2020–2030. The key factors responsible for the growth of the market include the increasing government incentives and the low upfront cost and less storage space required by LPG boilers.
Due to COVID-19, several suppliers of LPG across France kept their production lines in quarantine or shut them down completely, which, in turn, impacted vehicle production. Moreover, a fall in the international tourism revenue was strongly noted in the Ile de France region, including Paris (EUR 23.1 billion drop); Auvergne–Rhone–Alpes region (EUR 7.2 billion), Provence–Alpes-Cote d'Azur (EUR 6.7 billion), Occitanie (EUR 4.5 billion), Nouvelle Aquitaine (EUR 4.1 billion), and Corsica (EUR 800.0 million). This has had a negative impact on the use of vehicles, which, in turn, has hindered the growth of the French LPG market.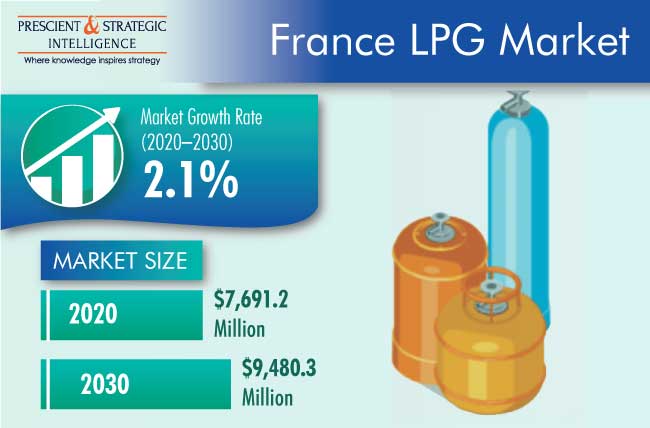 Refinery and Bulk Category Held Largest Share
The refinery category held the largest share in 2020, both in terms of volume and value, in the France LPG market, based on source. This was primarily because of the high-volume production of petroleum products in refineries, where crude oil is processed by fractional distillation and LPG comes out as a byproduct.
The bulk category held the larger share in 2020, both in terms of volume and value, in the market for LPG, based on product type. This is primary because bulk LPG is used in various applications, including cooking, agriculture, transportation (Autogas), and hot air balloons.
Industrial Applications To Witness Fastest Growth due to Versatility of LPG
The industrial category is expected to witness the fastest growth in the market during the forecast period (2021–2030), based on application. This will primarily be because LPG is widely used for space and process heating, powering industrial ovens, producing food, as fuel in kilns and furnaces, manufacturing packaging materials, as well as powering forklifts in warehouses. Moreover, LPG provides an important benefit for industrial processes; it has a higher calorific value and, hence, burns 'hotter' than natural gas, thus being preferred over mains gas.
Rising Environmental Consciousness Regarding Benefits of Using LPG
The growing environmental consciousness among French people leads to the rising sales of the LPG market in France, due to the benefits of using LPG in controlling the pollution level. In 2019, the country ranked 71st on the list of the most-polluted countries in the world, out of the 98 listed. The reading of PM2.5 (fine particulate matter of 2.5 or fewer micrometers in diameter) that gave it this position was 12.34 micrograms per cubic meter (µg/m³). In addition to the environmental benefits the gas offers, installing an LPG boiler can be done quickly and seamlessly as its technology and installation process are similar to those of boilers fired by other gases.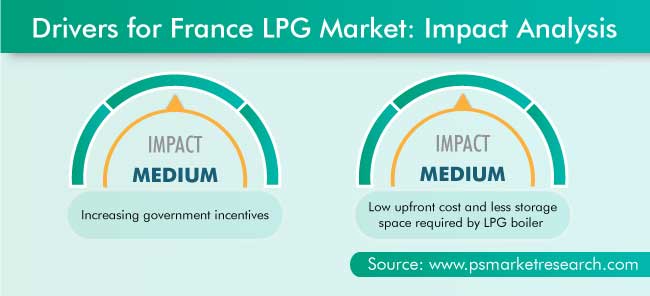 Increasing Government Incentives, and Low Upfront Cost and Less Storage Space of LPG Are Key Drivers
The French regulation on incentives on the purchase and operation of environment-friendly vehicles was modified to include autogas–electric hybrids in the bonus specified for hybrid electric vehicles. The bonus aims to motivate owners, renters, and automotive professionals to purchase or lease environment-friendly vehicles. Vehicles with less than 60g CO2/km (less than 90g CO2/km during a transitional phase) emissions are eligible for financial support. Thereby, the increased government incentives is leading to a significant of the France LPG market.
Moreover, the upfront cost of an LPG boiler is much lower compared to an electric heat pump or automatic-fed biomass boiler. The upfront cost of an air source heat pump (ASHP) is three times more than a gas boiler. In addition, the storage space should have minimum ventilation standards to prevent the buildup of toxic gases (i.e., off-gassing) during wood pellet and wood chip fuel storage. Thereby, the upfront cost of LPG and its storage space is less as compared to other fuels, which is boosting the market for LPG in France.
France LPG Market Report Coverage

| | |
| --- | --- |
| Report Attribute | Details |
| Historical Years | 2015-2020 |
| Forecast Years | 2021-2030 |
| Base Year (2020) Market Size | $7,691.2 Million |
| Market Size Forecast in 2030 | $9,480.3 Million |
| Forecast Period CAGR | 2.1% |
| Report Coverage | Market Trends, Drivers, and Restraints; Revenue Estimation and Forecast; Segmentation Analysis; Impact of COVID-19; Company Profiling |
| Market Size by Segments | By Source; By Application; By Product Type |
Explore more about this report - Request free sample pages
Market Players Involved in Acquisitions and Launches to Gain Significant Position
The French LPG market is consolidated in nature with the presence of four major players, namely Antargaz, DCC plc (Butagaz), Primagaz, and Rubis SCA (Vitogaz). These players are adopting different strategic developments, including acquisitions and product launches. For instance, in July 2021, Antargaz announced the acquisition of Redéo Énergies as part of its ongoing efforts to broaden its multi-energy offerings. This move will enable Antargaz to introduce a new solution that combines green energy and local production.
Key Players in France LPG Market Include:
DCC plc
Rubis SCA
Primagaz
Antargaz
Market Size Breakdown by Segments
The France LPG market report offers comprehensive market segmentation analysis along with market estimation for the period 2015-2030.
Based on Source
Refinery
Associated Gas
Non-Associated Gas
Based on Application
Domestic
Industrial
Transport
Based on Product Type