Forklift Market Overview
The global forklift market size was $33,878.7 million in 2019, which is projected to reach $42,519.4 million by 2030, growing at a CAGR of 2.8% during the forecast period (2020–2030). The expanding e-commerce industry coupled with the introduction of new and improved electric and autonomous forklifts, are the key driving factors for the forklift industry.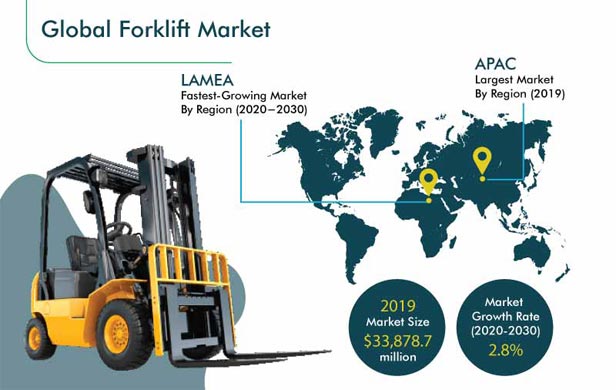 Segmentation Analysis
Class 2 is Expected to be Fastest-Growing Forklift Category during Forecast Period
With the increase in warehouses and storage facilities due to the expanding global e-commerce industry, the class 2 category, is expected to witness the highest CAGR during the forecast period. Class 2 forklifts are electric, narrow-aisle models, such as order pickers, reach trucks, side loaders, and stand-up riders, are designed for efficiency of space and speed of operation.
Internal Combustion Engine (ICE) Category Held Largest Share in Market in 2019
In 2019, the ICE category held the larger share in the forklift market, on the basis of engine type. ICE forklifts offer various benefits, lower upfront cost, utility for long runs, and a greater haulage capacity, of over 35,000 pounds (~15,800 kg), which is perfect for heavy-duty outdoor applications. Therefore, the increasing use of ICE forklift for outdoor applications, such as brick and lumberyards, will further drive the market at a stable rate during the forecast period.
Warehouse Expected To Be Faster Growing Bifurcation during 2020–2030
The forklift market is expected to witness the faster growth in the warehouse bifurcation, on the basis of product. This is mainly attributed to the rising demand for cleaner and environment-friendly forklifts across industries and warehouses. Moreover, the e-commerce industry is budding at an incredible rate across the globe; therefore, e-commerce companies are investing heavily on material handling equipment like electric autonomous forklifts, to streamline their logistics and warehouse operations.
Geographical Outlook
Asia-Pacific (APAC) – Largest Region in Industry
Globally, the APAC forklift market size was the largest in 2019. In APAC, several organizations in developing nations are now implementing forklift solutions to reduce their labor costs and improve efficiency. The deployment rate of forklifts for repetitive material handling tasks in warehouses is rising, as they can carry out material handling operations reliably and effectively, which is expected to boost the demand for these products during the forecast period. They are most often used in industrial applications, to transport heavy materials around a large building, such as a factory or warehouse.
Latin America, Middle East & Africa (LAMEA) – Fastest Growing Region in Market
The LAMEA region's market is still at a nascent stage, with a small share in the worldwide forklift market. However, the region is expected to witness the highest growth rate, with the increasing popularity of the warehousing concept and industrialization in the underdeveloped countries in the region. Furthermore, the growing opportunities in the e-commerce sector, coupled with changing consumption pattern of the consumers and advent of Industry 4.0, are expected to help increase the market size of the region at an exponential rate during the forecast period.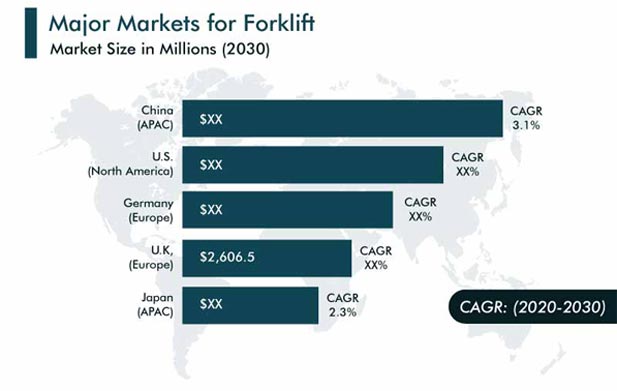 Due to COVID-19, the forklift demand is expected to witness negative growth in 2020. As for the first six months of 2020, major manufacturers are enduring partial or full factory closures, which is negatively impacting the world economy, with the potential for its ripple effects to be felt in the automotive industry and supply chain for at least the next year. Thus, it will be important for forklift and component manufacturers to reconsider the supply chain models, from raw material procurement to the finished product, and everything in between, in the coming years.
Trends & Drivers
Growing Acceptance of Electric Forklifts Is Key Market Trend
The demand for battery-operated or electric forklifts is on the rise, mainly due to a significant expansion in the warehousing and logistics market. Electric forklifts' cost is lower than ICE variants, and the former have no tailpipe emissions. Electric forklifts are becoming increasingly mainstream, as they offer a wider variety of styles and configurations. With the introduction of intensive environmental protection policies, increased fuel costs, and robust demand for warehousing logistics, electric forklifts are expected to witness tremendous growth in uptake during the forecast period.

Exponential Increase in E-Commerce Industry Size Is Driving the Forklift Market
With the increasing customer base, the change in customers' buying behavior and expectations and increase in the size of the e-commerce market will further drive the forklift market during the forecast period. The demanding delivery schedule challenges traditional logistics, and to overcome this, companies are now focusing on adjusting their strategies, thus are heavily investing in electric and autonomous forklifts. Therefore, forklift usage is increasing in warehouses, to speed up item picking and traveling and loading processes.
Accelerating Technological Advances Will Fuel Growth of Market during Forecast Period
The rise in the adoption of technologies such as industrial internet of things (IIoT) and robotics, which help warehouses increase their efficiency, are further expected to fuel the growth of the electric forklift share in the total number of such vehicles being used during the forecast period. With the advancing technologies, market players are heavily investing in automation technologies. For instance, in April 2019, Hyster-Yale Materials Handling Inc. launched a dual-mode pantograph robotic reach truck, which is capable of autonomously depositing and retrieving loads from locations as high as 30 feet and reaching double-deep storage.
Forklift Market Report Coverage

| Report Attribute | Details |
| --- | --- |
| Historical Years | 2014-2019 |
| Forecast Years | 2020-2030 |
| Base Year (2019) Market Size | $33,878.7 million |
| Forecast Period (2020-2030) CAGR | 2.8% |
| Report Coverage | Market Trends, Revenue Estimation and Forecast, Segmentation Analysis, Regional and Country Breakdown, COVID-19 Impact, Company Share Analysis, Companies' Strategic Developments, Product Benchmarking, Company Profiling |
| Market Size by Segments | By Class; By Product; By Engine Type; By Geography |
| Market Size of Geographies | U.S., Canada, Germany, France, Spain, U.K., Japan, China, India, South Korea, Brazil, Mexico, U.A.E.. |
| Secondary Sources and References (Partial List) | Australian Forklift and Industrial Truck Association, European Logistics Association (ELA), Fork Lift Truck Association (FLTA), India Logistics & Supply Chain Association (ILSCA), Industrial Truck Association, Material Handling Equipment Distributors Association, New Zealand Forklift Industry Association (Inc.), Occupational Safety and Health Administration (OSHA) |
Market Players Launching New Products and Services to Gain Competitive Edge
The global forklift market is highly concentrated, with the presence of large global players and few domestic players. In recent years, the major players in the market have taken several strategic measures, such as product launches, partnerships, and facility expansions, to gain a competitive edge in the industry. Key players including Toyota Industries Corp., KION Group AG, Jungheinrich AG, Hyster-Yale Materials Handling Inc., and Crown Equipment Corp. control key assets in the physical value chain, which gives them a competitive edge.
In December 2019, Crown Equipment Corp. launched the ESR 1000 Series reach trucks. The new forklifts, available with a lift height of up to 13,560 millimeters (mm) and load capacity of up to two tonnes, can optionally be configured to use lithium-ion batteries. Moreover, the new reach truck series includes a variety of innovations; for example, mast-lowering speeds can be doubled, by opting for Crown's Xpress LowerTM technology.
In September 2019, Jungheinrich AG launched a completely redesigned modular web tool for the digital optimization of truck fleets and intralogistics processes. The cloud-based solution helps the user keep a keen eye on the efficiency and productivity of their fleet, for example, by analyzing the up-to-date information on operating hours and unit costs across all locations, regardless of the manufacturer.
In April 2019, Hyster-Yale Materials Handling Inc. launched the company's first counterbalanced lift truck with a factory-integrated lithium-ion battery pack. Designing the Yale ERPVL around a space-saving lithium-ion battery pack reduced the truck weight, enabled better acceleration, and reduced the energy consumption compared to the heavier lead–acid battery alternatives
Key Players in Forklift Market include:
ACE Ltd.

Anhui Heli Co. Ltd.

BYD Forklift (Shaoguan) Co. Ltd.

CLARK Material Handling Co.

Crown Equipment Corp.

Doosan Corp.

Godrej & Boyce Mfg. Co. Ltd.

Guangxi LiuGong Machinery Co. Ltd.

Hangcha Group Co. Ltd.

Hyster-Yale Materials Handling Inc.
Joseph Cyril Bamford (JCB) Excavators Ltd.

Jungheinrich AG

Kalmar USA Inc.

KION Group AG

Komatsu Ltd.

Mitsubishi Logisnext Co. Ltd.

Northern Lift Trucks

Toyota Industries Corp.

Xiamen XGMA Machinery Co. Ltd.

Zhejiang Goodsense Forklift Co. Ltd.
Forklift Market Size Breakdown by Segment
The research offers market size of the global forklift market for the period 2014–2030.
Based on Class
Class 1
Class 2
Class 3
Class 4
Class 5
Based on Product
Based on Engine Type
Internal Combustion Engine (ICE)
Electric
Geographical Analysis
North America
Europe

Germany
France
U.K.
Spain

APAC
LAMEA

Brazil
Mexico
South Africa
U.A.E.