Market Overview
The flow cytometry market size stood at $4,874.1 million in 2021, which is expected to reach $10,065.4 million by 2030, progressing at a CAGR of 8.4% during 2021–2030. This is mainly due to the growth in drug development, increased research activities with new technologies of flow cytometry, and rise in the adoption of analytical instruments in clinical diagnostics. Moreover, flow cytometry is extensively used in cancer research and in-vitro molecular studies.
In addition, initiatives taken by government and private organizations brought major investments in biomedical R&D and advancements in the diagnosis of various disorders, which are driving the market for analytical tools. For instance, a government medical research agency funded $6.4 million in 2020 for cancer and AIDS research.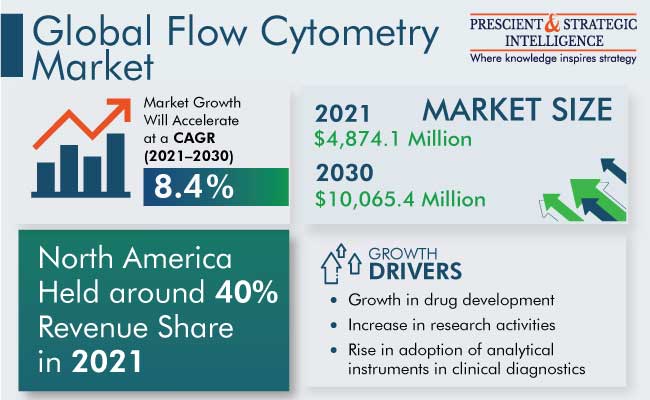 Major advancements in flow cytometry technology have been witnessed. Recently, a private medical technology company, Becton, Dickinson and Company, in association with the European Molecular Biology Laboratory, a government lab, declared an innovation in the technology, in which image-based decisioning and advanced fluorescence imaging were added to sort individual cells at high speed, based on the visual details of each cell. Conventionally, quantification and identification of certain biomarkers on a cell were operated through different cell sorting tools. The innovation can capture multiple images of individual cells at a speed of 15,000 cells per second.
The potential in the innovation can revolutionize immunology, genomics research, and cell biology, as well as enable the development of new cell-based therapeutics. Thus, new techniques, applications, and improvements in flow cytometers have boosted their demand at a significant pace.
Moreover, advanced reagents for flow cytometry support dye technology and AI, which take less time in optimizing panels and improvise the experiment time for drug development. The analysis shows the high demand for reagents, which are helpful in the flow cytometric assays for better results and faster drug development processes. Moreover, the market for reagents is augmented by the advancements in fluorochromes or dyes useful in the analysis of samples more precisely.
Likewise, another factor contributing to the uptake of the flow cytometry market is the surging adoption of AI to provide modern user-friendly software for data acquisition, analysis, and reporting. The analysis from past years shows the rapid growth in demand for advanced software supporting flow cytometry.
Immunophenotyping is one of the key diagnostic techniques used by hospitals and health centers, which use flow cytometry to differentiate cells based on types of antigens or markers on the surface of the cells. In the present scenario, as chronic diseases and disorders are prevalent globally, there has been a multi-folded increase in the need for diagnosis as well.
Healthcare centers perform immunophenotyping for diagnosis of primary immunodeficiency disorders, leukemia and lymphoma, stem cells, and paroxysmal nocturnal hemoglobinuria (PNH), and reporting immune status in patients with HIV infections and other malignancy diseases. For an instance, an estimated 20 million new cancer cases were reported in 2020, worldwide, and it is expected that the global cancer burden to reach around 30 million by 2040, which is expected to increase at a rate of over 40% during 2020–2040.
A U.S. government organization invested $105 million in 2019 and $137 million in 2020 for the detection and diagnosis of cancer. It is also expected to increase exponentially in the forthcoming years, which results in the steady growth of the flow cytometry market.
Demand for Bead-Based Flow Cytometry Will Grow at a Higher Rate
The demand for bead-based flow cytometry is expected to rise with the higher growth rate, of around 9%, during the forecast period. In recent years, bead-based flow cytometric studies have gained popularity, and are used in several laboratory analytical procedures. Assay utilizing beads as a solid matrix has become the industry standard for molecular interaction laboratory studies. Moreover, the bead-based flow cytometry performs multi-analyte flow immunoassays, having the ability to simultaneously and quantitatively measure multiple antigens or antibodies in a small volume of biological fluids in a short span, an edge over cell-based flow cytometry.
Flow Cytometry Market Report Coverage

| | |
| --- | --- |
| Report Attribute | Details |
| Historical Years | 2017-2021 |
| Forecast Years | 2022-2030 |
| Market Size in 2021 | $4,874.1 Million |
| Revenue Forecast in 2030 | $10,065.4 Million |
| Growth Rate | 8.4% CAGR |
| Report Scope | Market Trends, Drivers, and Restraints; Revenue Estimation and Forecast; Segmentation Analysis; Impact of COVID-19; Companies' Strategic Developments; Market Share Analysis of Key Players; Company Profiling |
| Segments Covered | By Technology; By Offering; By Application; By End User, By Region |
Explore more about this report - Request free sample pages
Reagents for Flow Cytometry Generate Largest Revenue
The reagents used in flow cytometry dominated the market, with over $2 billion revenue, in 2021. In the upcoming years, it is likely to follow the same pattern. The key factor behind this is the need for new research, diagnostics, and drug development, which require specialized reagents for the analysis. Moreover, market players are frequently launching advanced reagents and thus driving the market in this category.
Hospitals and Clinics Are Biggest End Users of Flow Cytometry Analytical Tools
Hospitals and clinics are the largest end users of flow cytometry analytical tools. Most of all hospitals and clinics are filled with patients, due to the increasing prevalence of diseases, where flow cytometry is often used for the characterization of diseases. Several hospital groups in developed countries, like U.S. and Japan, are setting up facilities for citizens, and taking several steps to help patients who seek quality healthcare. Thus, hospitals and companies are collaborating for the bulk purchases of reagents and flow cytometers. Moreover, the increasing number of multispecialty hospitals propels the demand for flow cytometers, across the world.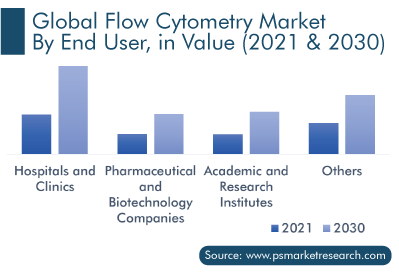 North America Is Principal Contributor to the Market
In 2021, North America accounted for the largest revenue in the flow cytometry market. This is accredited to the presence of major healthcare organizations and research institutes. The region has the top four cancer research centers out of five, globally. Moreover, the U.S. pharmaceutical industry has continued to be at the forefront in the development of new medicines, and pharmaceutical research. In 2019, in Canada, 5,584 new medicines were lined up for various stages of evaluation, and they are at different phases of clinical trials. Thus, the rising number of clinical trials for drug discovery propels the market growth.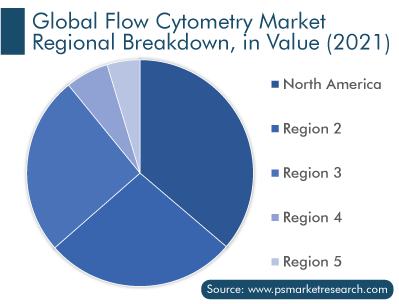 Increasing Investment Propels the Market Growth
With the rising healthcare investments and improving healthcare facilities, the biomedical R&D sector is predicted to increase significantly. For instance, in 2020, Johnson & Johnson spent $12.2 billion and $14.7 billion in 2021 on research projects. Whereas, the pharmaceutical industry in 2019 spent $83 billion on R&D and the number of newly approved drugs for sale increased by around 60% between 2010 and 2019. Thus, the significant market expansion has resulted from the increased investments in R&D by biotechnology and pharmaceutical firms and with product approvals and launches.
The COVID-19 pandemic has wreaked the global economy. However, numerous research institutes and pharmaceutical firms were engaged in considerable R&D initiatives for the development of novel vaccines and medicines. Further, flow cytometry-based vitro assay helps in evaluating the effectiveness of antibodies. As a result, flow cytometry solutions for research applications were in high demand.
Several types of research are still being conducted for the study of immunological and biological features, in which the flow cytometer has a significant role of inflammatory cells in the immunopathogenesis of the disease and the changes in T and B lymphocytes.
Key Players in the Market Are:
Becton, Dickinson and Company
Beckman Coulter Inc.
Thermo Fisher Scientific Inc.
Bio-Rad Laboratories Inc.
Sony Group Corporation
Miltenyi Biotec
Agilent Technologies Inc.
Luminex Corporation
Cytek Biosciences Inc.
Market Size Breakdown by Segment
The report offers comprehensive market segmentation analysis along with the revenue estimation for the period 2017–2030.
Based on Technology
Cell-Based Flow Cytometry
Bead-Based Flow Cytometry
Based on Offering
Instruments
Reagents
Software and Services
Based on Application
Drug Discovery
Cancer Diagnostics
Stem Cell Therapy
Hematology and Immunology
Organ Transplantation
Based on End User
Hospitals and Clinics
Pharmaceutical and Biotechnology Companies
Academic and Research Institutes
Geographical Analysis
North America
Europe

Germany
U.K.
Italy
Spain
France

Asia-Pacific

China
India
Japan
Australia
South Korea

Latin America
Middle East and Africa

Saudi Arabia
South Africa
U.A.E.