Market Overview
The fireproofing materials market stood at USD 1,195.9 million in 2023, and it is expected to grow at a compound annual growth rate of 6.9% during 2024–2030, to reach USD 1,899.0 million by 2030. This is ascribed to the rising number of fire incidents, the surging adoption of associated safety regulations and policies, and the rapid infrastructure development activities across the world.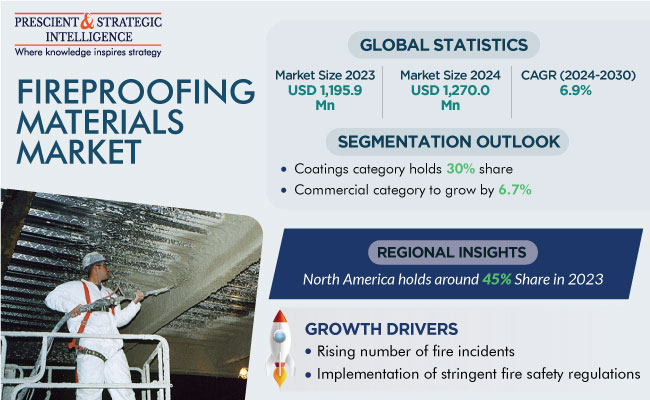 Fire accidents can be caused due to various factors such as overheated equipment, volatile chemical reactions or spilling, short circuits, and damaged lampshades or lighting equipment, thus making both residential as well as non-residential spaces vulnerable. Certain arrangements like extinguishers and sprinklers as well as utilizing flame retardants can aid in successfully combating these situations.
Fireproofing aids in providing resistance to structures and materials against burning by utilizing certain chemicals or coatings, so that whenever these accidents occur, all the important components of a structure are able to function and everything remains safe till the situation is brought under control, thus preventing huge loss or damage to life and property. These materials are used in various commercial, industrial, and residential structures so that the risk of fire breakouts is reduced or mitigated and serious damage to life and property is prevented.
Escalating Awareness about Fire Incidents their Prevention Drives the Market
Fire does not only cause damage to properties and related assets but also endangers the lives of people involved in such circumstances, thus making it necessary for all to be vigilant and take all precautionary measures to mitigate the risk of these hazards.
Some of the recent mishaps reported include Dubai accident cases involving a burning warehouse and one of the residential areas where several migrant workers resided has been reported. Also, in the Latin American region, in May 2023, an accident in a gold mine in Peru resulted in the killing of about 27 workers. Similarly, in Mexico, an accident occurred in a dormitory wherein there were about 40 fatalities and injuries to more than 25 people. Moreover, the fire and rescue services (FRSs) attended more than 620,000 incidents in 2022 in England, wherein more than 270 fatalities occurred.
The occurrence of such mishaps can be prevented and the damage or loss can be controlled by taking essential precautionary measures and spreading awareness among people to aid in creating a safer and more secure environment in both residential as well as non-residential places.
In addition, in Europe, a European fire safety week is held for an entire 1 week in the month of November wherein key opinion leaders of the industry discuss the best practices related to safety, legislation, and regulatory standards that are applicable across the region. Similarly, a safety campaign through social media was launched by the International Labour Organization (ILO), for the workforce in Bangladesh highlighting various prevention and safety measures to be taken care to prevent fire accidents. Thus, flame retardants and fireproofing materials are essential to aid in reducing and combating accidents whilst ensuring the safety of people as well as their assets.
Investments for Infrastructure Development and Surge in Construction Projects
Investments in the construction sector, as well as the real estate sector, are essential to ensure the economic stability, structure, and growth of a country. Construction activities in residential, commercial, and industrial spaces in countries, such as China, India, and the U.S., owing to high population and rising urbanization, are expected to increase significantly.
Investments worth billions of USD for infrastructure developments are being done across the world. For instance, according to the U.S. Census Bureau, the construction spending from January to March 2023, was more than about $400 billion in the country. Similarly, in China, an investment worth more than $1 trillion has been announced for infrastructure development activities. There are construction projects related to railways and airports, and several provinces have announced the launch of projects such as Shaanxi declared that more than 790 projects have been planned and another city named Chengdu declared more than 900 projects for the year.
Moreover, in India, there are various construction projects going on or completed. For example, government buildings and monuments are being renovated like the parliament, the area near the Prime Minister's abode, a residential multi-story building with approximately more than 80 floors is under construction, new airports in Mumbai city, a commercial tower project that can accommodate more than 350 retail outlets, office space in the capital city of the nation, and various others.
The construction of buildings and structures requires meeting certain regulatory requirements to ensure the utmost safety. The regulation includes deployment as well as inspection and maintenance of necessary equipment such as alarms and sprinklers, efficiently planning the exit requirements in emergency cases, and also ensuring that materials used in areas such as walls and ceiling linings should neither get ignited easily nor spread the flame across. Non-combustible materials are used to ensure resistance to flames thus avoiding unforeseen events. Hence, the accelerating rate of construction projects and investments for the same is likely to significantly propel fireproofing materials market growth in the coming years.
Fireproofing Materials Market Report Coverage

| | |
| --- | --- |
| Report Attribute | Details |
| Market Size in 2023 | USD 1,195.9 Million |
| Market Size in 2024 | USD 1,270.0 Million |
| Revenue Forecast in 2030 | USD 1,899.0 Million |
| Growth Rate | 6.9% CAGR |
| Historical Years | 2017-2023 |
| Forecast Years | 2024-2030 |
| Report Scope | Market Trends, Drivers, and Restraints; Revenue Estimation and Forecast; Segmentation Analysis; Impact of COVID-19; Companies' Strategic Developments; Market Share Analysis of Key Players; Company Profiling |
| Segments Covered | By Type; By End User; By Region |
Explore more about this report - Request free sample pages
Commercial Category Holds the Largest Revenue Share
The commercial end-use category is likely to exhibit substantial growth, witnessing a CAGR of 6.7%, during the projection period. It held the largest market share in 2023 and is likely to retain its position in the coming years as well. This is because it is essential to fireproof commercial spaces to prevent loss of life as well as damage to buildings, critical equipment, materials, and other assets. Fireproofing materials also prevent the flame from spreading at a rapid pace, thus allowing additional time for people to escape and to firefighters for extinguishing it.
Moreover, exterior walls are safeguarded by using flame-resistant materials such as cement and also adding intumescent coating for further protection of a structure. Similarly, roofs can be protected by using fireproofing materials, and also implementing other precautionary measures like evading wood roofing shingles and opt for concrete or asphaltic structures instead. All these factors are indicative of the propensity to the surging demand for fireproofing materials.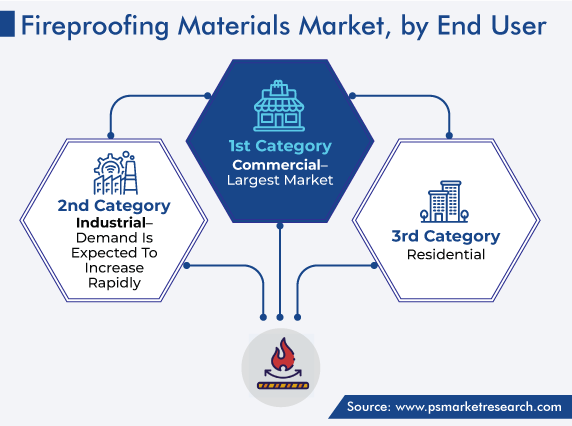 Coatings Category To Lead the Market
The coatings category is likely to dominate the market, with a share of 30%. This can be majorly attributed to their varied applications in the construction industry. Coatings are used in both old as well as new buildings for restoration and maintenance along with resistance to weather conditions. Moreover, it is also applied to steel used in the construction of new buildings.
Furthermore, the intumescent coating type is likely to retain a higher market share during the projection period. This can be because intumescent coatings are made up of several elements such as a polymeric binder, an acid catalyst, some pigments, and expansion agents that swell up and expand several times than their original thickness when exposed to high temperatures or heat, thus protecting the structure within. As it tends to offer high resistance against flames and is quite durable, it is most commonly used in industrial and commercial spaces. Thus, various advantages of intumescent coatings are likely to propel the growth of the fireproofing materials market.
North American Is the Market Leader
The North American market held the largest revenue share in 2023 and it is expected to grow at a CAGR of 6.5% during the projection period. This is attributed to the rising incidences of fire in both residential as well as non-residential buildings as well as the surging construction activities across the region.
For instance, according to data from a government organization, there have been more than 110,000 fire incidents in non-residential buildings in the U.S. Also, there had been approximately a 20% increase in such incidents from 2012 to 2021 in the country. Moreover, as claimed by the National Fire Protection Association, approximately 400,000 or more residential fire incidents occur in the U.S. each year.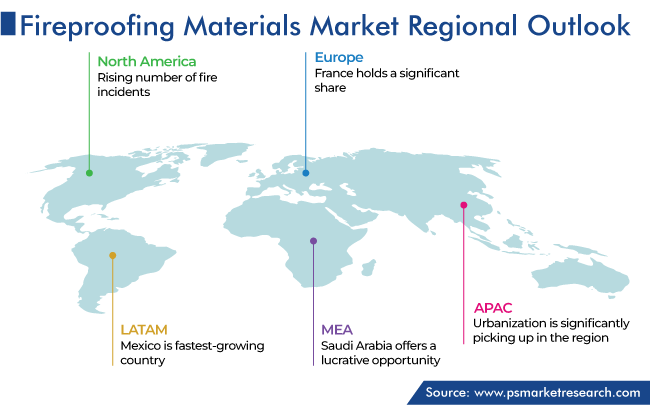 Furthermore, there is a significant prevalence of construction activities in states such as Arizona, California, Florida, New York, and Texas along with the compliance to regulatory requirements that are covered under the fire safety section of Occupational Safety and Health Administration (OSHA) standards. Thus, all these factors are indicative of the augmentation of the fireproofing materials market in the region.
Some of the Top Companies Producing Fireproofing Materials Are:
3M Company
Isolatek International
PPG Industries Inc.
Iris Coatings S.r.l.
RPM International Inc.
Hempel A/S
Contego International Inc.
Morgan Advanced Materials
No-Burn Inc.
Knauf Insulation
Market Size Breakdown by Segment
This report offers deep insights into the fireproofing materials market, with size estimation for 2017 to 2030, the major drivers, restraints, trends and opportunities, and competitor analysis.
Based on Type
Coatings
Films
Sprays
Putty
Sheets/Boards
Based on End User
Commercial
Industrial
Residential
Geographical Analysis
North America
Europe

Germany
U.K.
France
Italy
Spain

Asia-Pacific

Japan
China
India
South Korea
Australia

Latin America
Middle East and Africa

Saudi Arabia
South Africa
U.A.E.