Market Overview
The global fertigation and chemigation market size was $12,005.0 million in 2021, and it is expected to contribute $21,434.8 million by 2030, advancing with a CAGR of 6.7% during 2021–2030. This can be attributed to the increasing usage of fertilizers for more crop production and rising awareness regarding water usage and scarcity. Moreover, the surging popularity of drip irrigation and favorable government initiatives drive the market growth.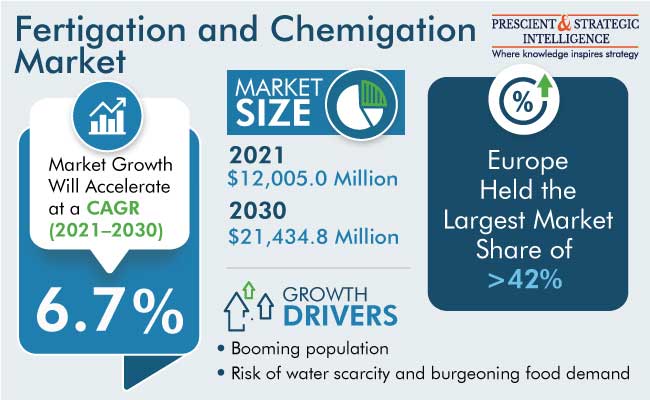 Drip Irrigation Technique Contributes Majority of Revenue
Drip irrigation systems dominated the market in 2021 with an over 70% revenue share, and they are expected to continue the trend during the forecast period. This is the most-efficient method of fertigation because it requires less manpower than sprinklers and other conventional irrigation methods, which lowers the overall cost of crop production. The systems are also commonly employed in agriculture since they make it simple to dispense fertilizers equally via drips, close to the roots, which results in an increase in root nutrient uptake.
Integration of Wireless Technologies Is Market Trend
The integration of wireless technologies in irrigation systems is the new trend in the market. This technology helps local farmers who are unable to install the standard commercial irrigation system sensors due to their high cost. Therefore, market players are now providing affordable sensors that may be linked to nodes for cost-effective fertigation control and agriculture monitoring. As a result, monitored fertigation systems are being developed by incorporating wireless sensor networks and the internet of things technologies, to offer solutions for water conservation and enhancement of fertigation and chemigation practices.
Fertilizers Are Most-Widely Used Inputs
Fertilizers held the largest fertigation market revenue share in 2021, and they are expected to continue the trend during the forecast period, advancing with a CAGR of around 7%. This can be ascribed to the high usage of fertilizers to increase the crop yield, the presence of limited arable land, as well as the increasing food demand owing to the population growth, especially in the Asian region.
In addition, insecticide usage will account for significant growth during the forecast period, due to their widespread use in the production of staple crops, which are vulnerable to pest infestation. These chemicals are applied by farmers through various irrigation systems, which expands the fertigation and chemigation market demand.
Fertigation and Chemigation Market Report Coverage

| | |
| --- | --- |
| Report Attribute | Details |
| Historical Years | 2017-2021 |
| Forecast Years | 2022-2030 |
| Market Size in 2021 | $12,005.0 Million |
| Revenue Forecast in 2030 | $21,434.8 Million |
| Growth Rate | 6.7% CAGR |
| Report Scope | Market Trends, Drivers, and Restraints; Revenue Estimation and Forecast; Segmentation Analysis; Impact of COVID-19; Companies' Strategic Developments; Market Share Analysis of Key Players; Company Profiling |
| Segments Covered | By Technique; By Input; By Crop; By End Use; By Region |
Explore more about this report - Request free sample pages
Vegetables Will Be Fastest-Growing Crop during Forecast Period
Vegetables are projected to undergo the fastest growth during the forecast period, advancing with a CAGR of around 7%. It has a high chemical penetration because they need more pesticides than fertilizers for a high quality and yield. Moreover, farmers are able to deploy a fertigation and chemigation system because vegetable yields are higher than those of other crops, in terms of financial returns.
Fertigation and Chemigation Are Widely Used in Horticulture
Horticulture accounted for the largest revenue share in 2021, and it is expected to maintain its position during the forecast period. Due to the lower labor and fertilizer costs, this method is used extensively for the production of fruits and vegetables. Additionally, horticulturists can afford to deploy such systems as the financial returns in horticulture are much larger than in food grains.
Additionally, agriculture is one of the primary uses of fertigation and chemigation techniques, to make sure that crops receive a balanced distribution of nutrients and water. These procedures can also support crops' optimum uptake of nutrients and water and result in high crop production, which promotes the chemigation market growth.
Furthermore, such systems are widely used in greenhouse settings, where the crops require appropriate nutrients and precise systems for irrigation. This is the reason such systems and equipment are in a higher demand in greenhouses than in open fields.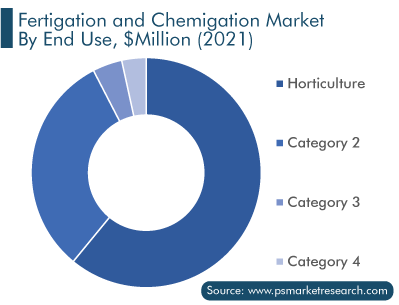 Need for Minimal Labor and Water Requirement Drives Market
These modern techniques for fertilization and nutrient supply require less labor as well as water than conventional methods. Thus, these techniques provide a tremendous potential to maximize the crop yield and reduce environmental pollution, by raising fertilizer usage efficiency, reducing fertilizer application, and enhancing the returns on fertilizer investment.
Furthermore, the earth stands at a massive risk of water scarcity in the coming years, as many nations are currently facing groundwater depletion. Therefore, water availability for agriculture is expected to decrease in the future, so it is essential to use it efficiently, due to which the market is projected to flourish in the forecast period.
Europe Leads Global Market
The European fertigation and chemigation market was the largest across the globe in 2021, with a revenue share of over 40%, and it is further expected to maintain its position during the forecast period. This is due to the growing population and its demand for a higher quality of crops and the increasing awareness and rising adoption of these irrigation techniques in the region. Furthermore,
Germany, the U.K., France, and Italy generate the majority of the revenue in the regional market due to the availability of advanced technologies, including fertigation and chemigation.
APAC will advance with the highest CAGR, of over 7%, over the forecast period. This will be due to the rising need for efficient use of fertilizers, increasing demand for food due to the surge in the population, and launch of a large number of innovative farming products. In addition, a huge chunk of the population depends on agriculture, which opens opportunities to market players to acquire a massive customer base.
Furthermore, the market expansion is fueled by the technical advancements in the field of agriculture and increasing usage of irrigation in China, India, and Japan, where a large number of farmers traditionally depended on seasonal rains.
North America held a significant revenue share in 2021, and it is expected to observe a substantial growth rate during the forecast period. The increasing number of crop producers using such irrigation systems as a result of the growing consumer awareness regarding advanced technologies for farming is responsible for the market growth in the region. In addition, the U.S. generated the majority of the regional revenue in 2021, due to the large number of tech companies offering irrigation systems with automation and cloud technologies.
In addition, massive investments are predicted to be put into the farming ecosystem for developing new crops and raising the agricultural yield and quality. Recent trends reflect a rise in venture funding in advanced farming technologies and other kinds of direct investments. Additionally, with the focus on farm management, agrochemicals, farm robotics, supply chain technologies, and novel farming (and irrigation) systems increasing, the market growth prospects over this decade remain upbeat.
Key Players in Fertigation and Chemigation Market Are:
Valmont Industries Inc.
The Toro Company
Lindsay Corporation
Rain Bird Corporation
Nelson Irrigation Corporation
T-L Irrigation Co.
Mahindra EPC Irrigation Limited
Fertigation and Chemigation Market Size Breakdown by Segment
The study offers a comprehensive market segmentation analysis along with market estimation for the period 2017-2030.
Based on Technique
Based on Input
Fertilizers
Insecticides
Fungicides
Based on Crop
Based on End Use
Agriculture
Horticulture
Greenhouse
Geographical Analysis
North America
Europe

Germany
France
U.K.
Italy
Spain

Asia-Pacific

China
India
Japan
South Korea
Australia

Latin America
Middle East and Africa

Saudi Arabia
South Africa