Respiratory Masks to Generate Higher Revenue in Surgical, Face, and Respiratory Mask Market
From $2,141.3 million in 2019, the global surgical, face, and respiratory mask market is projected to grow to $15,696.2 million by 2030, experiencing a CAGR of 5.7% during the forecast period (2020–2030). Increase in the air pollution levels, rise in the volume of surgeries, boom in the geriatric population, and high prevalence of airborne diseases are the major drivers for the market.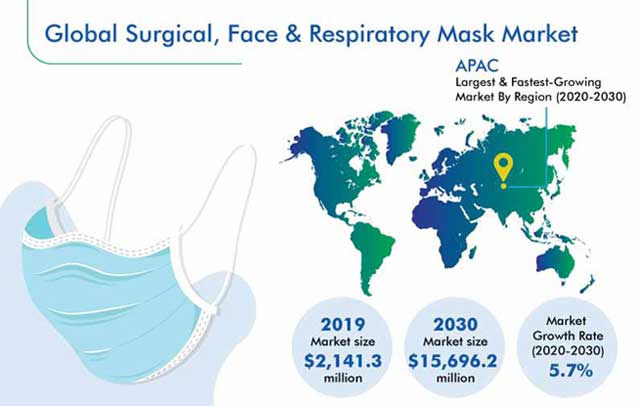 Surgical, Face, and Respiratory Mask Market Segmentation Analysis
The respiratory bifurcation is expected to hold the larger share (in terms of value) in the surgical, face, and respiratory mask market, under the product type segment, till 2030. This is ascribed to the high pollution levels, which raise the demand for these masks, and their high prices.
Hospitals were the largest category in the market in 2019, based on end user. This is because the healthcare professionals working at such settings are mandated to wear masks during surgery and periods of infection epidemics.
During the forecast period, faster growth in the surgical, face, and respiratory mask market is expected to be witnessed by the indirect channel bifurcation, on the basis of distribution channel. Numerous vendors, wholesalers, online portals, and retail pharmacies are supplying masks, which is leading to their easy availability.
Geographically, Asia-Pacific (APAC) dominated the market during the historical period (2014–2019), primarily owing to the increase in the number of hospitals and healthcare professionals. Further, individuals are rapidly procuring masks to shield themselves from the pollutants and infectious microbes in the air.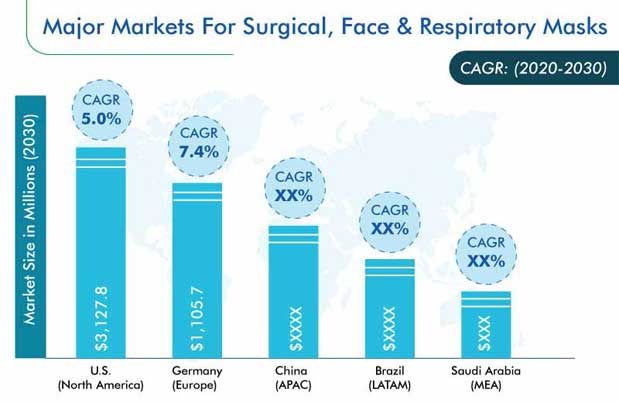 Usage of Masks in Quarantine Wards the Key Trend in Market
A prominent trend being witnessed in the surgical, face, and respiratory mask market is the rising number of quarantine wards, where these masks are an essential product. This is itself a result of the rapid spread of the COVID-19 infection, which is forcing governments around the world to set up more isolation wards at hospitals and other public places.
Extreme Air Pollution Levels Driving Adoption of Masks
Among the most important drivers for the surgical, face, and respiratory mask market is the extremely high level of pollution in the air. With urbanization and industrialization, huge amounts of pollutants are being emitted by vehicles and factories. As per the Health Effects Institute and the Institute for Health Metrics and Evaluation (IHME), 4.1 million people died in 2016 from high PM2.5 levels. With the increase in the prevalence of lung cancer, heart diseases and stroke, respiratory infections, and chronic lung disease, as a direct result of air pollution, the demand for face masks is going up, as they prevent the entry of toxic substances through the nose.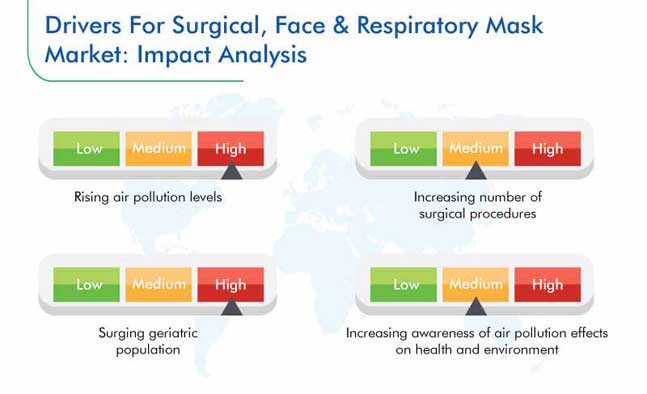 Untapped Market in Emerging Economies Offers Growth Opportunities
Players in the surgical, face, and respiratory mask market can target the huge consumer base in developing countries for business growth. As the access to healthcare services in emerging economies is not as good as compared to developed countries, the former markets offer a huge growth potential. Owing to the comparatively lower awareness about health, the adoption of masks is quite less in developing countries. This is why market payers have started advertising these products and launched campaigns to make people realize their importance in emerging economies.
Market Competitive Landscape Characterized by Acquisitions
In the recent past, the companies operating in the surgical, face, and respiratory mask market have acquired a number of other similar firms to gain an edge on their competitors. For instance, in January 2020, Medline Industries Inc. acquired Médi-Sélect, which is a dental and medical supply distributor based in Quebec. The aim of this acquisition was for Medline Industries to increase its presence in Canada and widen its consumer base.
The major global surgical, face, and respiratory mask market players are 3M Company, Prestige Ameritech, Alpha Pro Tech Ltd., Honeywell International Inc., Kimberly-Clark Corporation, cleanroom.de GmbH, Medline Industries Inc., Mölnlycke Health Care AB, Ansell Limited, Moldex-Metric Inc, Uvex Group, Kowa Company Ltd., Dynarex Corporation, Foss Performance Materials, Louis M. Gerson Company Inc., Makrite Industries Inc., Shanghai Gangkai Purification Products Co. Ltd., and Aero Pro Co. Ltd.
Market Size Breakdown by Segment
The surgical, face, and respiratory mask market report offers comprehensive market segmentation analysis along with market estimation for the period 2014–2030.
Based on Distribution Channel
Indirect Channel
Direct Channel
Based on Product Type
Based on End User
Hospital
Individual
ASC
Clinic
Geographical Analysis
North America
Europe

Germany
France
U.K.
Italy
Spain
Netherlands
Norway
Belgium
Russia

Asia-Pacific (APAC)

China
Japan
India
South Korea
Australia
Thailand

Latin America (LATAM)
MEA

Saudi Arabia
South Africa
U.A.E.