Europe DOA Testing Market Overview
The European DOA testing market generated $1.7 billion revenue in 2017 and is projected to witness a CAGR of 9.6% during 2018–2023. Technological advancements in DOA testing products, increasing awareness among youth regarding drug and alcohol addiction problems, and increasing government initiatives are the key factors driving the market growth.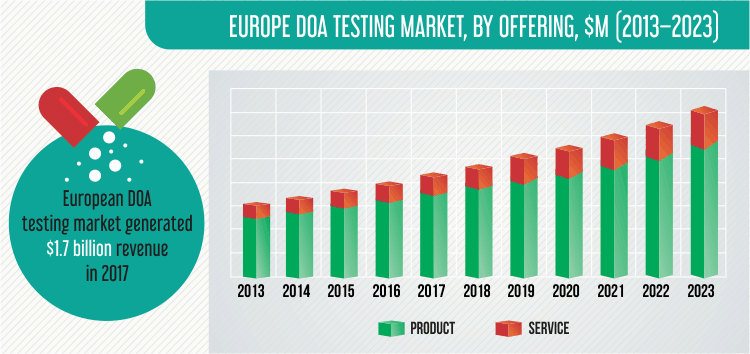 On the basis of offering, the European DOA testing market is categorized into products and services. Of these, the services category is expected to demonstrate faster growth, at a CAGR of 11.1% during 2018–2023, and is predicted to generate more than $600.0 million revenue by 2023. The implementation of drug testing in workplaces, and key players focusing on providing testing services are the major factors contributing to the growth of the market for this category in the region. The products category is further classified into consumables and equipment.
The DOA testing can be done through urine, saliva, hair, and other samples. Among these, urine is the most commonly used sample type in the European DOA testing market, and contributed 83.8% share to this market in 2017. On the basis of distribution channel, the indirect mode of distribution held larger share in the European market, with more than 55.0% contribution in 2017.
On the basis of end user, the European DOA testing market is categorized into hospitals, laboratories, workplace, at-home, and others. Of these, hospitals were the largest end users of the DOA testing products in the region, and contributed 42.9% share to the European market in 2017. Availability of skilled professionals in hospitals, and increasing focus of the European governments to improve healthcare infrastructure are the key factors behind the leading position of this end-user category.
The U.K. accounted for the largest share in the European DOA testing market, and generated $276.0 million revenue in 2017. Moreover, the U.K. market is predicted to witness the fastest growth, mainly due to growing incidence of drug abuse, and increasing awareness about DOA testing in the country.
Europe DOA Testing Market Dynamics
Growth Drivers
The Eastern and Western European regions are known for high consumption of alcohol. High consumption of alcohol coupled with increasing level of disposable income is leading to rise in number of alcohol-related problems. According to the World Health Organization (WHO), Eastern Europe has high mortality and disability rate, due to large alcohol consumption than Western Europe. The alcohol intoxication is lowest among the people of Western European countries, whereas it is highest in Russian Federation and some neighboring countries. According to the online publication, Our World in Data, in 2015, the average consumption of alcohol across Eastern Europe was found to be highest among all European countries, 14–17 liters per person, per year. Thus, rising consumption of alcohol among the European population is driving the growth of the European DOA testing market.
Europe DOA Testing Market Competitive Landscape
The market players in the European DOA testing industry are actively seeking mergers and acquisitions leading to the enhancement of their product portfolio and services offering. For instance, in July 2018, SYNLAB Bondco PLC acquired Yhtyneet Medix Laboratoriot Oy, which offered central laboratory services in the fields of clinical chemistry, pathology, clinical microbiology, and genetics as well as in therapeutic drug testing, DOA testing, and doping control in sports.
In June 2018, ACM Global Laboratories announced the acquisition of ABS Laboratories, an organization focused on bioanalytical services. This acquisition adds to its emergent collection of domestic and international laboratories focused on bioanalytical, toxicology, and central lab testing.
Some of the other leading players operating in the European DOA testing market are Siemens AG, Merck KGaA, Drägerwerk AG & Co. KGaA, bioMérieux S.A., F. Hoffmann-La Roche Ltd., Thermo Fisher Scientific Inc., Bio-Rad Laboratories Inc., Abbott Laboratories, Quest Diagnostics Inc., Danaher Corporation, Bioventix Plc, Express Diagnostics Int'l Inc., Psychemedics Corporation, and Lipomed AG.