Market Overview
The global ethyl lactate market was valued at USD 1,798.6 million in 2023, which is expected to reach USD 3,049.5 million by 2030, growing at a CAGR of 7.9% during 2024–2030. This is because this particular chemical has multiple applications in the semiconductor and food & beverages (F&B) industries, silicone and grease removal, and others. Additionally, the chemical is biodegradable and can be easily recycled, which makes it popular across several industries.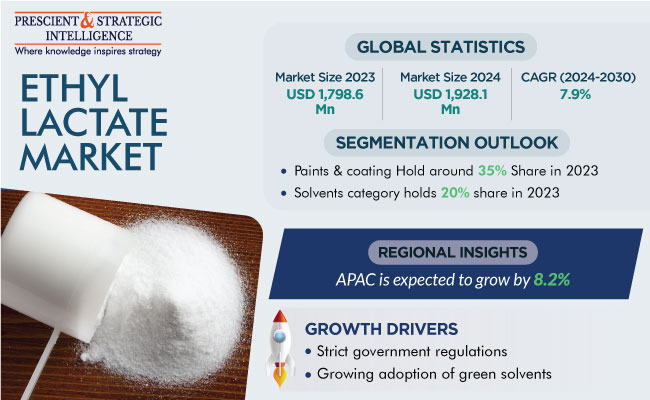 Moreover, its low cost, flexible nature, and less carcinogenic are increasing its usage in the personal care and cosmetic sectors. Also, the adoption of ethyl lactate as a petrochemical solvent is increasing, because it is less toxic in nature.
The compound is originally obtained from ethanol and lactic acid and is mainly utilized as an additive in the F&B industry as a solvent or to enhance the flavor of food items. It is heavily used by processed food producers to preserve the flavor, freshness, and fragrances of food items. Moreover, its unhazardous nature on human health is significantly influencing its usage in this sector. Additionally, the rising consumption of processed or packaged foods in emerging economies is further fueling the demand for ethyl lactate during the forecast period.
There has been an increase in construction activities in metropolitan areas as well as rural areas, which would fuel the requirement for coatings and paints, which, in turn, would significantly increase the demand for ethyl lactate. Moreover, frequent usage of personal automobiles in urban areas coupled with rapid urbanization is an additional factor propelling the growth of the industry, as the utilization of coatings and paints on vehicles is rising.
Growing Adoption of Green Solvents To Drive the Market
Solvents play a major role in determining the environmental performance of operations in the chemical sector and significantly impact safety, price, and health issues. A large number of industries are significantly adopting green solvents in order to minimize the hazardous impact on the environment. Green solvents are incombustible, non-volatile, and chemically and thermally stable, which establish them as a better substitute for traditional organic solvents. Additionally, their highly polar nature makes them apt for numerous biochemical and chemical reactions. Therefore, the significant advantages of green solvents are boosting their usage across many end-use industries.
Ethyl lactate (EtLa) is defined as a green solvent and is ecological in nature. Its less toxic nature makes it an appropriate substitute for established petroleum solvents like toluene and propanone. Many established petroleum organic solvents are flammable, corrosive, and toxic, which have a negative impact on the environment. Hence, the growing adoption of ethyl lactate is fuelling the market growth. Additionally, EtLa is significantly used in the pharmaceutical, paints and coatings, food & beverages, and cosmetics (in perfume formulations) sectors.
Establishment of Strict Government Regulations To Drive Market Growth
There has been an increase in the implementation of stringent government regulations across the world to minimize the existence of residual solvents in the food & beverage sector as well as the pharmaceuticals sector. Additionally, the advantages of EtLa have resulted in its approval by government organizations like the U.S. Food and Drug Administration in a number of industries for the dispersal of bioactive compounds in drug formulations, as a food additive, and others.
Conventional solvents are harmful as they result in the emission of volatile organic compound (VOC) gases, which can be hazardous to human health, resulting in cancer, nausea, and breathing difficulty, and damaging the central nervous system and other organs. Such harmful effects of conventional solvents have resulted in the implementation of rules and regulations by government authorities of various nations to control the emission of such VOCs. Such emissions can be controlled by placing air pollution control devices such as carbon incinerators or adsorbers, or by implementing process changes such as shifting to low VOC content coatings.
Moreover, there has been an increase in government initiatives to promote the usage of environmentally friendly and non-hazardous compounds, which, in turn, is resulting in the market growth. Therefore, several industries are increasingly going for safer substitutes, such as ethyl lactate, for petroleum-based solvents.
Ethyl Lactate Market Report Coverage

| | |
| --- | --- |
| Report Attribute | Details |
| Market Size in 2023 | USD 1,798.6 Million |
| Market Size in 2024 | USD 1,928.1 Million |
| Revenue Forecast in 2030 | USD 3,049.5 Million |
| Growth Rate | 7.9% CAGR |
| Historical Years | 2017-2023 |
| Forecast Years | 2024-2030 |
| Report Scope | Market Trends, Drivers, and Restraints; Revenue Estimation and Forecast; Segmentation Analysis; Impact of COVID-19; Companies' Strategic Developments; Market Share Analysis of Key Players; Company Profiling |
| Segments Covered | By Grade; By Application; By End User; By Region |
Explore more about this report - Request free sample pages
Paints and Coatings Category Leads the Industry
On the basis of the end user segment, the paints and coatings category accounted for the largest market share, of 35%, in 2023. This is ascribed to the numerous advantages offered by ethyl lactate in the paints and coatings sector. The chemical makes an excellent solvent for paints and coatings, due to its low surface tension, high solvency power, low vapor pressure, and high boiling point. In addition, it does not deplete ozone and is easily recyclable.
Furthermore, the food and beverages category held a significant market share, of 20%, in 2023. This is because of the extensive utilization of the compound in the food and beverages sector. Also, ethyl lactate is naturally available in a number of food items such as chicken, fruits, and others. On top of this, the compound emits creamy, buttery, mild, fruity, and coconut aroma when diluted, which makes it an excellent choice as a flavoring agent.
Moreover, the compound is used as a food spice to regulate the flavor of alcoholic beverages such as wine and lactic acid-based food and fruit products. Also, a specific dosage of the compound is used to enhance the flavor of different food items, such as 500–3,100 mg/kg is used in chewing gums, 28 mg/kg in the preparation of candy, 17 mg/kg in soft drinks, and 1,000 mg/kg in alcoholic beverages. The compound is also used as a spice in the preparation of butter, rum, fruit wine, milk, and others.
Additionally, there has been a rise in awareness regarding safe food habits, which has led to the surging demand for organic substances, which are free from impurities, thereby, making them safe for human consumption. In addition, the imposition of strict regulations by governments to ensure and maintain food quality is another major factor positively impacting the market growth.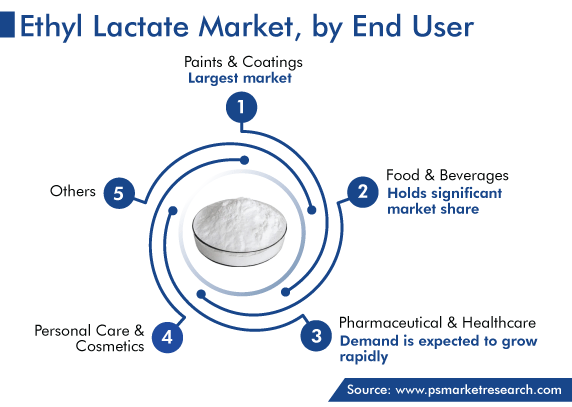 Solvents Category Dominates the Application Segment
On the basis of application, the solvent category accounted for the largest market share, of 20%, in 2023. This is because the detergent, cosmetic, food, and pharmaceutical sectors extensively utilize lactic acid ethyl ester or EtLa as a common solvent. It is a green solvent with good potency, which is equivalent to petroleum-based solvents, and it is also utilized as a CO2 cosolvent in the supercritical fluid process. Furthermore, researchers are focusing on using this chemical as a reaction medium, as it possesses multiple advantages.
The compound is easily disposable in its natural state, which makes it apt for several applications, as it is exempted from a number of restrictions, which are imposed in regard to the disposal of chemicals. Additionally, the chemical is used as a solvent for cellulose ethers, nitrocellulose, and cellulose acetate. In addition, EtLa has replaced the usage of many traditional solvents such as chlorinated solvents, as it offers significant advantages over them and aids in eliminating side effects that come along with it, such as respiratory problems, kidney damage, nervous system damage, and lung collapse.
Asia Pacific Is a Prime Revenue Contributor
Geographically, Asia Pacific held the largest market share, of 50%, in 2023. This is because countries like China, Japan, South Korea, and India are major consumers as well as suppliers of EtLa. For instance, according to Volza Grow Global, the top global EtLa importers and buyers include major APAC countries, such as India, Singapore, China, and Indonesia.
Moreover, these markets are expected to witness rapid growth in the coming years. This can be because of continuous and fast industrial development in the region. In addition, a significant number of international firms are now focusing on emerging markets to expand their businesses by setting up their manufacturing plants, research and development centers, new distribution facilities, and others. Furthermore, the rising disposable income in the region is projected to boost the expenditure on beauty and personal care items, which, in turn, will further boost the ethyl lactate market.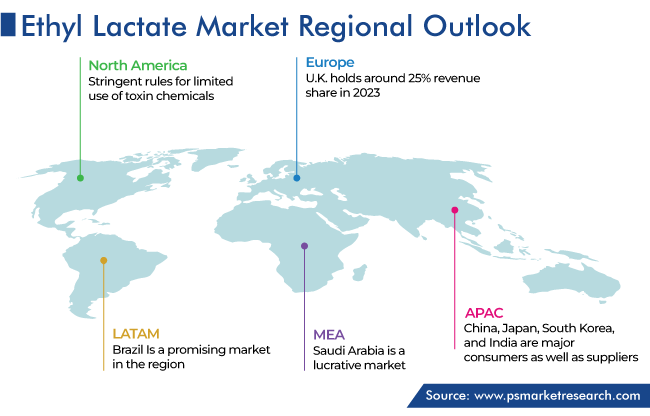 Additionally, the chemical sector in China is continuously surpassing other nations. This is because of the surging spending in this sector, supportive government policies, and a huge consumer base. In addition, easy access to government subsidies, hassle-free environmental norms, low-cost labor, and the availability of raw materials are helping the nation to serve as a production center for top international vendors. Also, chemical companies in the nation have substantially high capital investments as well as spent heavily on research and development. Thus, these factors make the country the largest market in the region.
Top Companies Providing Ethyl Lactate Are:
Corbion NV
Vertec BioSolvents Inc.
Godavari Biorifineries Limited
Aurochemicals
Stepan Company
Merck KGaA
Archer-Daniels-Midland Company
Market Size Breakdown by Segment
The report analyzes the impact of the major drivers and restraints on the ethyl lactate market, to offer accurate market estimations for 2017–2030.
Based on Grade
Food Grade
Medical Grade
Industrial Grade
Based on Application
Adhesives
Cleaners
Inks
Solvents
Food Additives
Fragrances
Based on End User
Paints & Coatings
Food & Beverages
Pharmaceutical & Healthcare
Personal Care & Cosmetics
Geographical Analysis
North America
Europe

Germany
U.K.
France
Italy
Spain

Asia-Pacific

Japan
China
India
South Korea
Australia

Latin America
Middle East and Africa

Saudi Arabia
South Africa
U.A.E.