Market Overview
The global epigenetics market size in 2021 was $1,563.8 million, and it is expected to advance at a CAGR of 17.1% during 2021–2030, to reach $6,460.5 million by 2030. Epigenetics is the study of how behavior and the environment influence genes' functioning.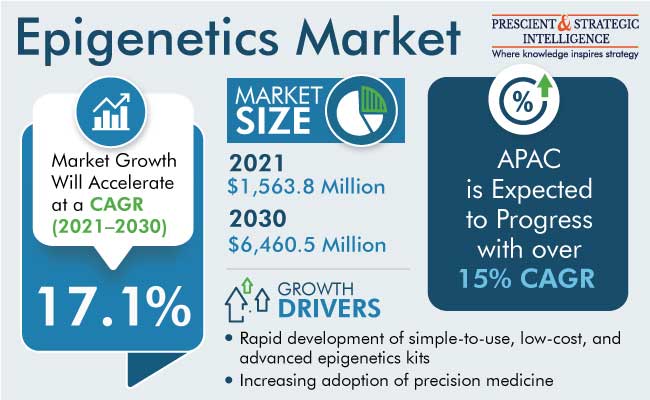 Market Outlook
The rapid technological developments and their simultaneous adoption by end users have created lucrative opportunities for the major companies within the entire molecular diagnostics biosphere. The diagnostics and biotech industries are rapidly evolving to regularize epigenetics in clinical settings, with both market giants and emerging, disruptive companies playing a significant role.
Thus, investments and the focus on developing novel strategies to reverse epigenetic and transcriptional abnormalities and on epigenetic drug discovery and development have recently gained traction. These research targets have implications for metabolic, oncologic, neurological, inflammatory, and cardiovascular disorders.
The global COVID-19 pandemic has had a beneficial impact on the business outlook, as several research institutes are investigating epigenetic variables that may interfere with viral infection and replication and, thus, increase the likelihood of COVID-19 infection. Such research efforts, as well as the prospective use of the findings in the development of effective coronavirus treatments, will continue to have a favorable impact on the industry in the coming years.
Kits, Assays, and Reagents Dominated Market In 2021
The kits, assays, and reagents category held a more than 60% epigenetics market share in 2021. This is mostly attributable to the rapid development of simple-to-use, low-cost, and advanced epigenetics kits and reagents. Furthermore, there has been an increase in the number of product launches, awareness of non-oncological diseases and epigenetics, and emphasis on the adoption of precision medicine tactics in recent years.
Kits and assays are primarily used to build sequencing libraries for a variety of application-based DNA methylation, histone modification, and mRNA analysis studies. Likewise, reagents are utilized to carry out various processes, such as DNA methylation and histone modification, by causing changes in the chromatin and histones.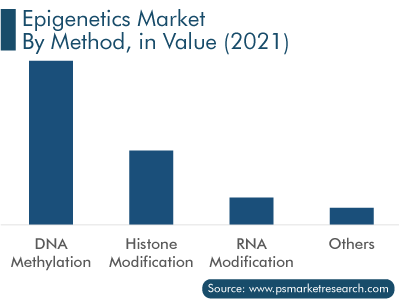 Clinicians and researchers can find underlying prognostic biomarkers linked with malignant and non-cancerous disorders using PCR and NGS-based reagents, tests, and kits. The use of epigenetics-based tests and kits also aids clinicians in DNA-based histocompatibility testing and identifying infectious disease subtypes, based on cell phenotype. It also assists them in monitoring the efficacy of treatments.
Rise in Count of Cancer Cases Is Driving Product Demand
The oncology category had a significant revenue share in 2021 because of the significant rise in the count of cancer cases with every passing year. The category is predicted to expand as the global prevalence of cancer and the number of related fatalities rise. Furthermore, the market will grow owing to product launches and the possible commercialization of the products already in the pipeline in the near future.
Epimutations, which are epigenetic changes caused by hypermethylation and epigenetic silencing, they have long been suspected of contributing to cancer genesis. Epimutations, in particular those associated with the silencing of tumor suppressor genes and the activation of oncogenes, are the focus of several investigation and development studies. In nature, epimutations, unlike conventional mutations, are reversible.
Epigenetics Products Widely Used by Pharmaceutical & Biotechnology Companies
Pharmaceutical & biotechnology companies had the largest market share, of more than 40%, in 2021. This can be attributed to the R&D activities on microorganism-derived drug resistance, oncology, molecular aspects of cancer, and drug discovery for non-oncology applications. Furthermore, the category's growth would be fueled by the increasing research in the field of genetics, with a strong emphasis on customized treatment.
Epigenetics Market Report Coverage

| | |
| --- | --- |
| Report Attribute | Details |
| Historical Years | 2017-2021 |
| Forecast Years | 2022-2030 |
| Market Size in 2021 | $1,563.8 Million |
| Revenue Forecast in 2030 | $6,460.5 Million |
| Growth Rate | 17.1% CAGR |
| Report Scope | Market Trends, Drivers, and Restraints; Revenue Estimation and Forecast; Segmentation Analysis; Impact of COVID-19; Companies' Strategic Developments; Market Share Analysis of Key Players; Company Profiling |
| Segments Covered | By Product; By Method; By Technology; By Application; By End User; By Region |
Explore more about this report - Request free sample pages
Regional Insights
North America generated the highest global epigenetics market revenue in 2021. The region's dominance can be attributed to the presence of advanced healthcare infrastructure and established companies pursuing R&D in epigenetics, rising number of cancer cases, and increasing adoption of products based on advanced molecular technologies by pharmaceutical and biotechnological companies. Furthermore, a great emphasis on epigenetics biomarker research, such as on DNA, histones, and non-coding RNA, is expected to support the North American market growth.
Europe held the second-largest share, of more than 25%, in 2021 due to the sheer increase in the occurrence of chronic diseases that necessitate precise diagnosis. Several European countries, including Germany, France, the U.K., Italy, and Spain, are working hard to improve research initiatives in these areas. Further, due to the high funding, the European region has always been at the forefront of research to advance diagnostics on a global level.
Germany has been the leader of the precision diagnostics revolution, ensuring widespread adoption of technologies related to epigenetics diagnostics, with a particular focus on providing better clinical care.
The APAC region is expected to witness the highest CAGR, of more than 15%, during 2021–2030. The increasing healthcare awareness, a stable economy leading to a strengthening focus on research, and widespread adoption of NGS- and PCR-based diagnostic assays and kits are expected to boost the APAC market growth. Additionally, because of the region's high cancer incidence, pharmaceutical and biotechnology companies have taken it upon themselves to ensure that the region has adequate healthcare facilities.
In addition, research laboratories are collaborating with the goal of conducting epigenetics studies to develop standalone early biomarkers for cancer risk. Non-oncology research, while still in its early stages, is making remarkable progress due to a greater emphasis on the genome's ability to modulate health.
The epigenetics market growth is essentially driven by the rising health consciousness, increasing prevalence of chronic diseases, surging awareness of the role of micro-RNA in genetic alterations, and rising purchasing power of people in emerging regions, such as LATAM and the MEA, which is making advanced diagnostic tests more accessible to the masses. Furthermore, with both established and emerging players targeting LATAM for exponential expansions, the regional industry is poised to witness trends that will bring it on par with the world's developed regions.
Furthermore, due to the MEA region's consistently increasing cancer incidence, it has attracted significant interest in research aimed at understanding the role of epigenomics in cancer diagnosis and treatment.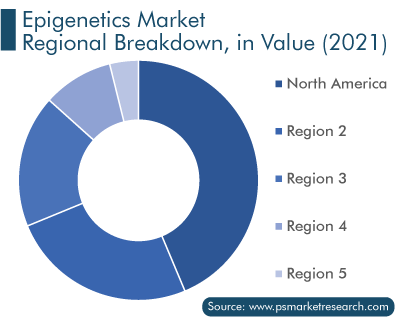 Strategic Developments in Market
The market is gaining traction as a result of the strategic initiatives implemented by both emerging and established players. Market leaders are expanding their businesses through mergers and acquisitions and the introduction of new products. All this creates dynamic competition among the market players to maintain their position.
In the field of epigenetics, players have been consistently competitive in coming up with a diverse range of products for pharmaceutical and biotechnological companies. Apart from this, companies are engaging in collaborations and acquisitions to add to their technical expertise and product portfolios.
For instance, in February 2022, Element Biosciences partnered with Dovetail Genomics LLC to investigate and demonstrate Dovetail's ligation-based NGS library prep solutions on Element's novel AVITI System.
Moreover, in January 2022, Amaryllis Nucleics, a startup based in the Bay Area, was acquired by Active Motif Inc. The latter company hoped to use this acquisition to develop novel synthesis chemistry, which is twice as fast from RNA to library prep as other methods, is less expensive, and has greater than 99% fiber specificity.
Top Players in Epigenetics Market Are:
Thermo Fisher Scientific Inc.
Merck KGaA
Illumina Inc.
Pacific Biosciences of California Inc.
Abcam plc
Active Motif Inc.
Bio-Rad Laboratories Inc.
QIAGEN N.V.
New England Biolabs Inc.
F. Hoffmann-La Roche Ltd.
PerkinElmer Inc.
Market Size Breakdown by Segment
The study offers a comprehensive market segmentation analysis along with market estimation for the period 2017-2030.
Based on Product
Kits, Assays, and Reagents
Instruments
Based on Method
DNA Methylation
Histone Modification
RNA Modification
Based on Technology
PCR
Sequencing

Next-generation
Traditional

Microarray
Based on Application
Oncology
Metabolic Diseases
Immunology
Cardiovascular Diseases
Based on End User
Pharmaceutical & Biotechnology Companies
Academic &a Research Institutions
Hospitals & Clinics
Geographical Analysis
North America
Europe

Germany
U.K.
France
Italy
Spain

Asia-Pacific

Japan
China
India
South Korea
Australia

Latin America
Middle East and Africa

Saudi Arabia
South Africa