Market Overview
The global environmental remediation market was valued at USD 110.67 billion in 2022, and the market size is expected to reach USD 198.11 billion by 2030, advancing at a CAGR of 7.5% during 2022–2030. The industry is driven by regulatory frameworks, a growing focus on the development of environment-friendly industries, and rapid population growth and industrialization in developing countries.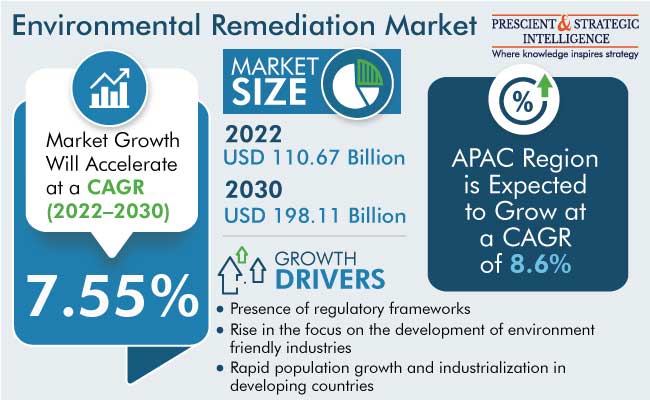 For remediation processes, numerous new techniques are getting launched. One of the newly launched technologies is oxidation technology, which at a lower price improves wastewater reuse. This technology uses UV-photocatalysis that treats municipal sewage and extremely polluted industrial wastewater streams and increases its reuse as a scientific option in municipal and industrial wastewater treatments.
In India, an effort in this area is the Advanced Oxidation Technology created by TERI New Delhi for wastewater treatment. In partnership with the Delhi-based ONGC Energy Centre (OEC), the Department of Science and Technology's GoI-Water Technology Initiative (WTI) has helped TERI develop this technology at the bench size.
The method supported by water technology initiatives uses UV-photocatalysis as a secondary treatment stage advanced oxidation process (AOP) that causes the oxidative breakdown and mineralization of selected contaminants. It increases biodegradability, decreases biofouling of membranes, extends the life and effectiveness of RO systems, and reduces the total load on evaporators such as mechanical vapor recompression systems and multiple effect evaporators. It can also lower biological oxygen demand, chemical oxygen demand, persistent organic pollutants (POPs), dissolved organics, micropollutants, and pathogens.
Bioremediation Is Dominating the Industry
Bioremediation technology held the largest revenue share in 2022. This is mainly because there are no hazardous chemicals used in this technique. In most cases, it makes use of nutrients like fertilizers to stimulate the microbial population. This procedure is also less expensive and labor-intensive. Further, it is an eco-friendly and sustainable method that can eliminate pollutants or transform dangerous toxins into safe ones.
In the bioremediation method, those microbes that are found naturally in soil and groundwater are used. The community is not at risk from these bacteria. When pollutants and ideal conditions are no longer present, microbes added for bioaugmentation usually die off. Additionally, compounds used in this process are safe. For instance, in lawns and gardens, nutrients are frequently to stimulate the growth of microorganisms. In addition, groundwater and soil samples are routinely examined to check the effectiveness of bioremediation and gauge its progress.
Moreover, this technique is cheaper, as it may not require as much equipment, manpower, or energy, as compared to other methods. Another advantage is that contaminated groundwater and soil are treated onsite without having to transport them elsewhere for treatment. Also, microbes change harmful chemicals into small amounts of water and gases if any waste by-products are created. Thus, bioremediation has been selected for use at hundreds of superfund sites and other cleanup sites.
Rising Demand for Groundwater Treatment
The groundwater category is expected to grow at a higher CAGR, of 7.9%, in the market for environmental remediation during the forecast period. According to a survey, 23% of the U.S. freshwater requirements are met by groundwater. Aquifers are extremely important in areas with insufficient surface water supplies, such as Texas's Hill Country. While cities and municipalities use this water for public supplies, the agricultural sector uses it to irrigate crops and hydrate cattle. Additionally, it supplies the faucet and fire hydrants, and even aids thermoelectric plants in producing power.
Moreover, several problems arise, when contaminants are introduced to this water. Even if specific ailments depend on the type of contamination, the danger of contracting them is one of the primary problems. For instance, toxins can have a variety of negative health impacts on both people and wildlife. Also, groundwater treatment removes any undesirable elements so that water can be used safely.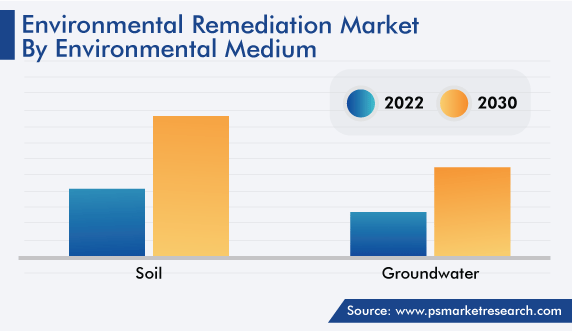 Public Sites To Grow Faster
The public category is expected to witness faster growth, advancing at a CAGR of around 7.8%, in the coming years, owing to various initiatives taken by governments. For instance, in the U.S., EPA's Superfund is a program for cleaning up some of the most heavily polluted land in the country as well as reacting to environmental emergencies, oil spills, and natural disasters. To protect public health and the environment, the Superfund program emphasizes making a visible and lasting difference in communities, ensuring that people can live and work in healthy, vibrant places.
Growing Focus on the Development of Eco-Friendly Industries
Many organizations are opting for eco-friendly industries, a framework for industry to develop while reducing its impact on the environment. Various initiatives have been taken to decrease the adverse effects of these industries on the environment. For instance, UNIDO developed the term "Green Industry" in recent years to contextualize new global challenges to sustainable expansion in the context of sustainable industrial development.
Moreover, UNIDO focuses on finding practical, affordable strategies to eliminate ozone-depleting chemicals (ODS), like freons, halons, and chlorofluorocarbons (CFC), in the fields of aerosol, solvents, fumigants, and plastic foams. Some of the areas in which UNIDO works are Resource Efficient and Cleaner Production (RECP), The Stockholm Convention and Persistent Organic Pollutants (POPs), and The Montreal Protocol (MP).
Moreover, globally, scientists and engineers are working on technical solutions to reduce and get rid of processes that are contributing to climate change and global warming. For instance, in wastewater treatment, key advancements include the development of biological treatments, microbial fuel cells, nanotechnology, membrane filtration, and natural treatment systems like wetlands.
Similarly, in waste and recycling management, innovative technologies can sort mixed plastics by separating them from others, including automated food waste tracking systems, smart containers, and automated optical scanning technologies. Also, self-sufficient buildings are utilizing smart solar tracking devices to maximize the utilization of radiation, which is one technique to increase the production of solar energy with the same area of photovoltaic panels.
Environmental Remediation Market Report Coverage

| | |
| --- | --- |
| Report Attribute | Details |
| Historical Years | 2017-2022 |
| Forecast Years | 2023-2030 |
| Market Size in 2022 | USD 110.67 Billion |
| Revenue Forecast in 2030 | USD 198.11 Billion |
| Growth Rate | 7.5% CAGR |
| Report Scope | Market Trends, Drivers, and Restraints; Revenue Estimation and Forecast; Segmentation Analysis; Impact of COVID-19; Companies' Strategic Developments; Market Share Analysis of Key Players; Company Profiling |
| Segments Covered | By Technology; By Environmental Medium; By Site Type; By Application; By Region |
Explore more about this report - Request free sample pages
APAC Held the Largest Share
The APAC environmental remediation market to grow at the highest rate with a CAGR of 8.6%, during the forecasted period. China is the leader in the regional market, as the development of infrastructure is creating the need for remediation services in the country. In the past three decades, China's rapid economic growth has been greatly aided by infrastructure development. The nation is constructing record-breaking buildings in addition to installing thousands of kilometers of railroad tracks. Beijing has traditionally placed a lot of reliance on local governments to fund infrastructure projects to support growth.
The nation is once again turning to infrastructure expenditure to stimulate the economy at the start of 2022 as a result of the fourth quarter of 2021's decreasing growth. China is investing trillions of Yuan in vital infrastructure, including large-scale transportation and water conservation projects as well as renewable energy initiatives. Such initiatives are projected to provide China's economy the much-needed boost it needs as it battles to deal with the consequences of the frequently devastating zero-Covid policy. These factors drive the demand for environmental remediation services in the country.
Moreover, the market in Japan is growing significantly, due to the increasing government initiatives to curb pollutants. Compared to most other countries, Japan has stricter controls on HFCs. Japan established the CCAC's Efficient Cooling Initiative with France and Nigeria in an effort to garner high-level political support for action globally. Japan also played a key role in the Biarritz Pledge for Fast Action on Efficient Cooling, which was established by a number of nations present at the 2019 G7 summit in Biarritz, France.
Japan's 2016 Plan for Global Warming Countermeasures, which establishes reduction objectives for both methane and HFCs for the year 2030, demonstrates the country's commitment to addressing additional short-lived climate pollutants. The country is also supporting lower-emission agricultural methods, such as switching from using rice straw as mulch to composting, in an effort to minimize methane emissions from rice paddy areas.
Additionally, as more than 70% of its municipal solid trash is burned in energy recovery systems, Japan is the leader in the world for the amount of waste that is used in waste-to-energy plants. Also, the country manages more than 380 domestic waste-to-energy facilities and is seeking to transfer its expertise to other countries. It has already pursued deals to build plants in the Philippines, Indonesia, and Vietnam. Additionally, the business sector in Japan is addressing food waste through ground-breaking and inventive methods. Hence, all these factors boost the regional market growth.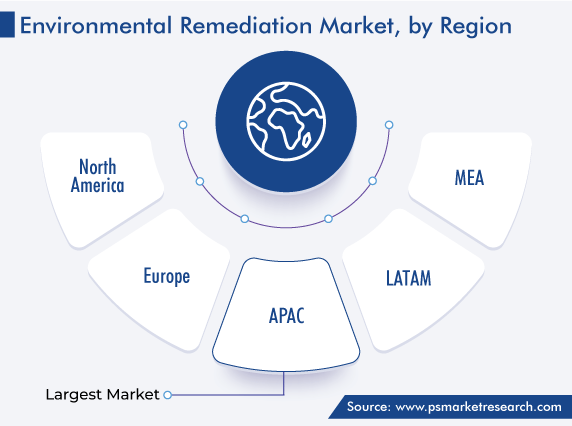 Top Environmental Remediation Service Providers Are:
Golder Associates Inc.
Clean Harbors Inc.
AECOM
Jacobs Solutions Inc.
Tetra Tech Inc.
Dredging, Environmental and Marine Engineering NV
BRISEA Group Inc.
ENTACT LLC
Engineering and Maintenance Solutions (EMS)
HDR Inc.
Market Size Breakdown by Segment
The study uncovers the biggest trends and opportunities in the environmental remediation market, along with offering segmentation analysis at the granular level for the period 2017 to 2030.
Based on Technology
Air Sparging
Soil Washing
Chemical Treatment
Bioremediation
Electrokinetic Remediation
Excavation
Permeable Reactive Barriers
In-situ Grouting
Phytoremediation
Pump and Treat
Soil Vapor Extraction
In-situ Vitrification
Thermal Treatment
Based on Environmental Medium
Based on Site Type
Based on Application
Mining & Forestry
Oil & Gas
Agriculture
Automotive
Landfills and Waste Disposable Sites
Manufacturing, Industrial, and Chemical Production
Construction & Land Development
Geographical Analysis
North America
Europe

France
Germany
Italy
Spain
U.K.

Asia-Pacific

China
India
Japan
South Korea
Australia

Latin America
Middle East and Africa

Saudi Arabia
South Africa