Market Overview
The enteral feeding devices market is expected to reach USD 6,141.4 million by 2030 from USD 3,824 million (E) in 2023, witnessing 7% CAGR during 2023–2030.
The rising elderly populace has caused an augmented occurrence of severe pancreatitis, diabetes, and other stomach illnesses, which make it difficult for the body to absorb nutrients from conventional food. Furthermore, the rising occurrence of such illnesses in grownups and the pediatric population is projected to boost the industry.
People older than 60 years are in more danger of chronic diseases, such as nervous system syndromes and Parkinson's, which can cause dysphagia and difficulty in swallowing. As per the WHO, the worldwide populace old 60 years and more will grow from approximately 1 billion in 2020 to 2.2 billion by 2050.
The danger of undernourishment and weakness among the elderly population with issues such as depression, stroke, and dementia is quite high. This is primarily credited to the numerous age-associated changes in the body structure and muscle mass. This leads to a decreased capability to perform activities of daily living (ADLs), thus raising the danger of falls.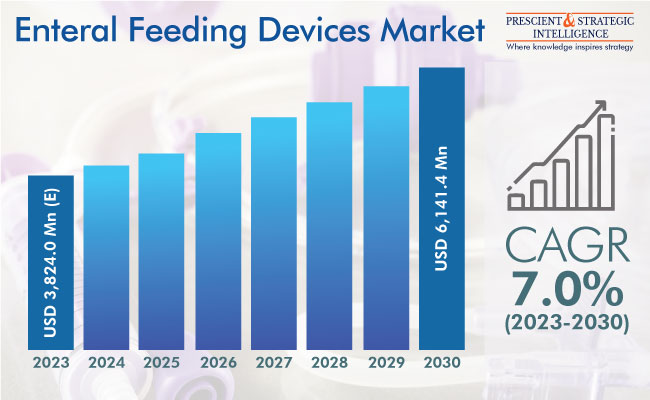 The occurrence of chronic illnesses, such as ADHD, Alzheimer's disease, osteoarthritis, central nervous system syndromes, and osteoporosis, all of which require clinical nutrition management, is growing. Amino-acid-based enteral nourishment is utilized in handling sleep syndromes, osteoporosis, depression, post-traumatic stress syndrome, and fibromyalgia. It is proposed for patients with a reduced ability to absorb, digest, and metabolize the usual diet and those with special nutrition needs.
Moreover, studies state that prompt enteral feeding beginning among critically unwell COVID-19 patients was helpful in decreasing the risk of sepsis, declining mortality, and reducing the length of the hospital stay. Hence, ASPEN introduced rules during the epidemic to initiate enteral nutrition within 2 days in patients who were not able to take or eat food willingly. This augmented the requirement for enteral feeding devices during the epidemic.
Pump Category Holds Largest Market Share
On the basis of product, the pump category is leading the enteral feeding devices industry, mainly because such pumps are made for safer and more-instinctive care. Enteral feeding is the procedure of providing nutrients straight to the stomach via a tube, which is attached to an electric pump. The technical improvements in the healthcare infrastructure and medical devices are projected to boost the industry's development, with market players launching compact, dependable, and user-friendly devices.
Enterostomy feeding tubes are also widely used, on account of an increasing number of people bed-ridden and unable to consume food and beverages the conventional way over a long time. These tubes are directly inserted into the duodenum, stomach, or jejunum, utilizing open surgery, endoscopic procedures, or laparoscopic surgeries. Moreover, these devices have undergone advancements such as tri-funnel replacement variants and reverse balloon designs.
Adult Age Group Category Is Largest Revenue Generator
The adult age group category holds the largest market share. A paper published by the NCBI specifies that around 70% of the pregnant females go through vomiting and nausea. In such cases, enteral nutrition is utilized to avoid complications, such as fatal intrauterine development limitation, preterm birth, and dehydration for the mother.
Moreover, the pediatric category is witnessing significant growth because of the alarmingly high prevalence of malnutrition among children in developing and under-developed countries. The three biggest complications of malnutrition in children are stunted growth, wasting, and obesity. As per the UNICEF, 148 million, 45 million, and 37 million children were suffering from stunting, wasting, and obesity, respectively, as a result of malnutrition in 2022.
Cancer Category Contributes Significant Revenue, by Indication
Within the indication segment, the cancer category holds a large share. This is on account of the drastic changes the diseases causes in the body, including malnutrition, weight loss, anorexia, anemia, and asthenia. This warrants a religiously followed enteral feeding regimen at hospitals, long-term-care facilities, and patients' homes, to give them the strength they need. These complications are extremely common with cancers of the lung and digestive system.
Hospitals Are Largest Utilizer of Enteral Feeding Devices
On the basis of end user, the hospitals category is leading the market. The rising knowledge among healthcare experts regarding undernourishment during long-term care is one of the biggest reasons for the rising requirement for enteral feeding devices in infirmaries. Furthermore, the growing count of ICU admissions and re-admissions, rising need for enteral food and formulations among the critically ill, and increasing occurrence of chronic syndromes, including cancer and diabetes, fuel the industry development.
In the forecast period, the homecare settings category will become quite prominent. Most people suffering from chronic diseases require extensive, long-term care, which makes it rather costly for them to stay at hospitals. Hence, long-term care is generally provided in the comfort of patients' homes, which is driving the demand for enteral feeding devices among individual users.
Enteral Feeding Devices Market Report Coverage

| | |
| --- | --- |
| Report Attribute | Details |
| Market Size in 2023 | USD 3,824 Million (E) |
| Revenue Forecast in 2030 | USD 6,141.4 Million |
| Growth Rate | 7.0% CAGR |
| Historical Years | 2017-2022 |
| Forecast Years | 2023-2030 |
| Report Scope | Market Trends, Drivers, and Restraints; Revenue Estimation and Forecast; Segmentation Analysis; Impact of COVID-19; Companies' Strategic Developments; Market Share Analysis of Key Players; Company Profiling |
Explore more about this report - Request free sample pages
North America Is Dominating Market
The North American region is dominating the enteral feeding devices market, mainly boosted by a growing count of premature babies in critical care units. Around 1 in 10 infants were born prematurely in the U.S. in 2021, as per the CDC. Furthermore, the surge in the elderly populace, which is vulnerable to chronic metabolic, gastrointestinal, and neurological syndromes, fuels the industry.
APAC is expected to witness the highest development rate in the near future, driven by a significant patient pool, including a vast elderly populace. In addition, lifestyle changes have contributed to a rising occurrence of diabetes, cancer, autoimmune diseases, and gastrointestinal disorders, in turn, leading to high need for enteral feeding devices for dietary management.
Nations such as China and Japan, which have huge aging populations in a high danger of chronic conditions, are projected to create a massive requirement for enteral feeding devices. Moreover, improper diet and nutrition are also common among the elderly populace in APAC. Further, around 70% of the malnourished children in the world reside in this region.
Recent Developments
In November 2022, Medela AG signed a cooperation agreement with Ronald McDonald House Charities to fight baby death and undernourishment. Under the agreement, Medela is donating NICU supplies for breastfeeding to 60 locations of Ronald McDonald House Charities in Australia, the U.K., China, and the U.S.
Key Companies in Enteral Feeding Devices Market
C.R. Bard Inc.
Fresenius Kabi AG
Moog Inc.
Kimberly-Clark Corporation
Danone S.A.
B. Braun Melsungen AG
Abbott Laboratories USA
Cardinal Health Inc.
Avanos Medical Inc
Applied Medical Technology Inc.
Vygon
Fidmi Medical
ALCOR Scientific Inc.
Amsino International Inc.