Market Overview
The encoder market size stood at USD 2,435 million in 2022, and it is expected to advance at a compound annual growth rate of 9.10% during 2022–2030, to reach USD 4,888 million by 2030. This is primarily ascribed to the surging need for automotive products and the increasing requirement for high-end automation in a large number of industries. Moreover, the demand for artificial intelligence and machine learning-based systems is rapidly increasing, which, in turn, drives the industry growth.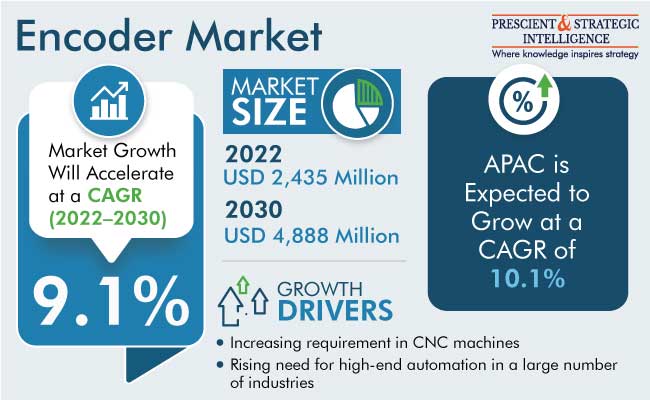 The accuracy in motor speed tracking offers optimal operation and improved machine performance along with the prevention of machine shutdown and motor burnout. It also helps in the enhancement of overall equipment effectiveness (OEE) in automation by monitoring the working and energy conditions of machines.
In the pharmaceutical, food and beverage, automotive, and chemical industries, the 24/7 checking of manufacturing lines is required. For better asset utilization, control of end-product quality, and error reduction, it is required on a large scale in mid-sized and large industrial plants. Moreover, advancements in technology and the rising popularity of signal on-demand in hybrid absolute or incremental rotational encoders are witnessed to offer opportunities for key industry players.
For increasing reliability in operations, several manufacturers are using advanced signal-processing algorithms and embedded microprocessors in encoders. The main reasons behind this include the vulnerability and mechanical complexity of conventional absolute optical encoders during their usage in harsh conditions. Moreover, microprocessor-based equipment allows engineers to change the measurement characteristics through software such as zero-point location, update resolution, and measurement direction, without changing any mechanical or physical properties.
Rotary Encoders Hold Major Share
The rotary encoders category accounted for a major revenue share, of around 58%, in 2022. This is attributed to the rising industrial automation across numerous industries, including healthcare, packaging, aerospace, electronics, and automotive, to measure position, angular speed, and rotation of moving parts in a wide range of applications. These systems offer a wide number of advantages including reliability, accuracy, high resolution, low-cost feedback, fused optical and digital technology, integrated electronics, and others. Thus, these factors are contributing to the increasing demand for rotary encoders.
Moreover, they also offer opportunities for robotic uses. Automation in several industries is expected to boost the demand for robotics, which, in turn, will surge the need for rotary angle sensors. In addition, with the advancement of high-resolution systems, these devices have diverse uses in commercial and industrial sectors.
Absolute Category To Witness Highest Growth
Based on signal type, the absolute category is expected to witness the highest growth in the coming years, owing to its usage in a wide range of applications that need control or monitoring, or both, of mechanical systems. It includes surgical robotics and diagnostic imaging, which help measure the exact position of the product through unique digital codes and provide them unique position values as soon as they are switched on by scanning the position of the coded element. Also, it provides the data instead of an output of pulses, but an output that is a specific value in a binary format.
Encoder Market Report Coverage

| | |
| --- | --- |
| Report Attribute | Details |
| Historical Years | 2017-2022 |
| Forecast Years | 2023-2030 |
| Market Size in 2022 | USD 2,435 Million |
| Revenue Forecast in 2030 | USD 4,888 Million |
| Growth Rate | 9.10% CAGR |
| Report Scope | Market Trends, Drivers, and Restraints; Revenue Estimation and Forecast; Segmentation Analysis; Impact of COVID-19; Companies' Strategic Developments; Market Share Analysis of Key Players; Company Profiling |
| Segments Covered | By Encoder Type; By Signal Type; By Technology; By Application; By Region |
Explore more about this report - Request free sample pages
Optical Sensing Encoders Dominate the Industry
Optical sensing encoders are the largest revenue contributor to the market. This is because they use light shone through a coded disk that aids in tracking shaft movement. Also, these systems offer many advantages such as better angular accuracy, high resolution, better reliability, large hollow shaft encoders, operating in extreme environments, and being lightweight.
In addition, the demand for magnetic encoder technology is also growing at a significant rate, and advancing very rapidly than optical sensing technology, which is very mature. This is because it has magnetic scales generated for different lengths, numbers, and patterns of tracks, and can also be used for various applications against small sizes and harsh environments. More design flexibility can be gained with the increased execution of 3D-printed scales. It also offers numerous advantages such as high reliability, lightweight, greater durability, and compact packaging, which, in turn, propel its demand.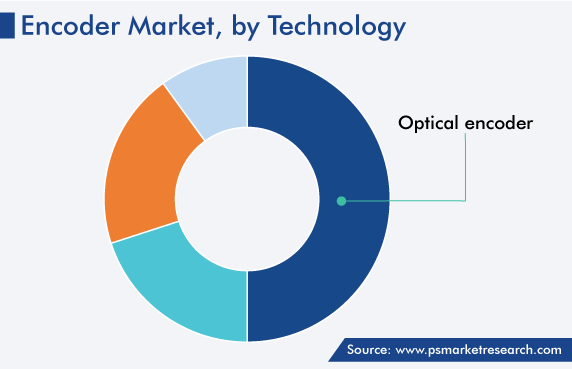 Surging Demand in Automotive Applications
Based on application, the automotive category accounted for the significant market share in 2022. This is ascribed to the rapid deployment of IoT, in which encoders are used for a large number of reasons. In addition, optical technology aids in converting the position or angular motion of a blade to digital code; whereas, rotary encoders are widely used in a wide range of applications, such as industrial controls, robotics, computer input devices (trackballs and optomechanical mice), climate control units, and many user interfaces, which require precise shaft unlimited rotation.
Furthermore, in industrial applications, encoders are used for backstop gauging, registration of mark timing, linear measurement, web tensioning, filling, and conveying. In this sector, the maximum electricity is consumed by electric motors and the majority of them are equipped with encoders. Also, these are used in robotics for controlling joint position, determining motion position, providing gripper, linear extension measurement, and force feedback. Thus, these factors are propelling the growth of the market.
North America Holds Maximum Share
North America has the leading position in the market for encoders, and it will hold the same position till 2030, with a value of USD 1,515 million. This is attributed to the expanding manufacturing of automotive parts, the surging number of cars, the increasing demand for consumer electronics, and the rising R&D activities in this field for new and advanced technologies. Moreover, a wide range of key players has a strong foothold in the region, thus making it easier for end users to procure these semiconductor components.
Furthermore, North America is the largest market for industrial automation and is widely adopting advanced technologies and machinery that offer improved effective service in the manufacturing industry. These devices are also used in equipment, such as answering machines and PC-based scanners. Additionally, due to the quick acceptance of new technologies and the presence of numerous consumer electronics players, a noticeable increase in the use of encoders in consumer electronics utilities has been observed in the region.
In North America, the U.S. market holds the leading position, and it will grow at a CAGR of 9.75% during the forecast period. This is attributed to the fast adoption of advanced and innovative technologies and the presence of key manufacturers in the country.
The European market is also growing significantly, owing to the existence of essential tech hubs across the region and the faster adoption of modern technologies and machinery. In addition, the surging adoption and acquirement of robots in different industries are also contributing to the demand for encoders. The region also has a robust manufacturing base, due to the rapid developments in industries and the production of electronic goods. In addition, Germany has the largest manufacturing facilities in the region; hence, it is the highest revenue contributor to the European market.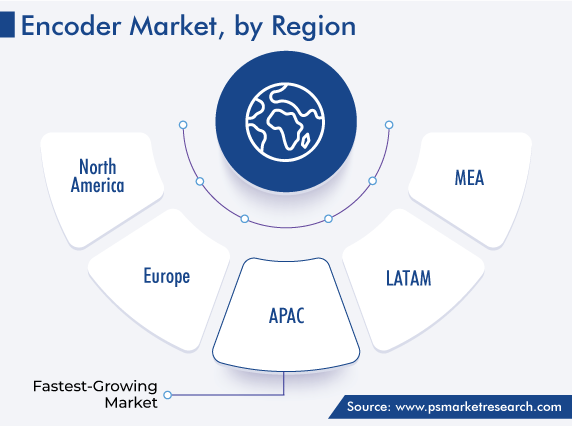 Rising Adoption of Encoders in Advanced Automotive Systems
Due to the increasing use of IoT, in which encoders have different functions, the automotive industry accounts for a significant share of the global market. In various industrial automated systems, encoders offer solutions for motion controls, which further drive the industry growth. Moreover, various features such as endurance, speed, reliability for factory automation, and accuracy and flexibility help boost the demand for encoders in the industry.
Furthermore, enhanced automated controls aid in improving performance and productivity, and reducing costs for many different industrial applications. Thus, this fuels the demand for encoders in the automotive sector.
Key Players in the Encoder Market Are:
Omron Corporation
Honeywell International
Schneider Electric
Rockwell Automation Inc.
Panasonic Holding Corporation
Alps Alpine Co. Ltd.
Grayhill Inc.
Dr. Johannes Heidenhain GmbH
Bourns Inc.
Elco Industrial Automation GmbH
Market Size Breakdown by Segment
This fully customizable report gives a detailed analysis of the market from 2017 to 2030, based on all the relevant segments and geographies.
Based on Encoder Type
Rotary Encoder
Linear Encoder
Based on Signal Type
Incremental Encoder
Absolute Encoder
Based on Technology
Magnetic Encoder
Optical Encoder
Inductive Encoder
Based on Application
Industrial
Healthcare
Printing
Textile
Automotive
Geographical Analysis
North America
Europe

U.K.
Germany
France
Italy
Spain

Asia-Pacific

China
Japan
Australia
India
South Korea

Latin America
Middle East & Africa

Saudi Arabia
South Africa
U.A.E.