Market Overview
The electronic design automation market generated revenue of USD 14,109.5 million in 2022, which will reach USD 31,121.1 million by 2030, advancing at 10.4% CAGR between 2023 and 2030. This is due to the increasing complexity of electronic systems and the need for efficient design tools.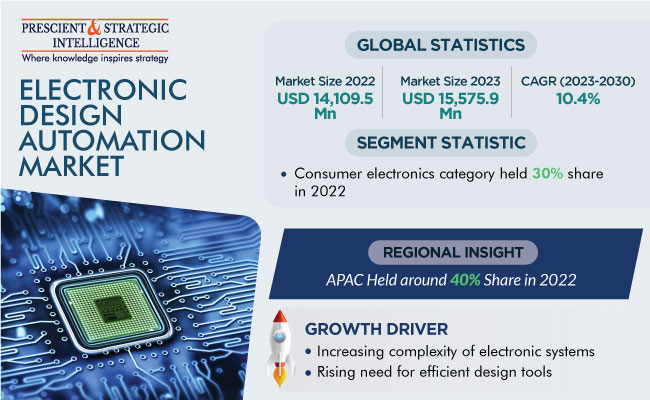 Additionally, a number of sectors have contributed to the market expansion by establishing unique design specifications, such as telecommunications, automotive, consumer electronics, and healthcare. This creates the demand for customized design solutions.
Furthermore, the consumer electronics industry has experienced significant growth and innovation in recent years, primarily due to technological breakthroughs to cater to the rising demand for cutting-edge equipment. In this sector, EDA is important for the development of sophisticated design tools, as it allows manufacturers to create complex electronic systems. This technology essentially expedites and lowers the cost of designing electronic circuits.
Moreover, EDA's usage is driven by the rising demand for sophisticated integrated circuits (ICs). Electronic devices, such as smartphones, tablets, wristbands, smartwatches, and laptops, are already ubiquitous in daily life. Additionally, they continue to become smaller yet laden with more features, because of technological innovations. In addition, as broadband networks have become more widely available and accessible at high speeds and more-reasonable prices, many novel services, such as social networking and streaming platforms, have been developed.
Further, every industry, such as healthcare, electronics, automotive, and aerospace & defense, is incorporating ML and AI. These trends are opening up more opportunities for EDA solution providers as software testers look to switch from manual testing to automated process testing.
Advancements in the Semiconductor Industry
The semiconductor industry has gained momentous headway in contracting process nodes, thus empowering the development of more-modest and power-proficient ICs. The need to reduce power consumption and heat dissipation and, yet, maintain signal integrity creates design issues, as a result of this miniaturization. EDA apparatus gives the important capacities to address these difficulties and improve the IC design for smaller interaction nodes.
Moreover, companies in a variety of industries, including consumer electronics, healthcare, aerospace & defense, and automotive, have been able to produce compact electronic equipment, leveraging the trend of miniaturization. Small semiconductor components are integrated into a variety of products, including smart luggage tags, fitness trackers, automotive subsystems, blood glucose monitors, and connected surgical devices.
Additionally, miniaturization makes room for more features and more-powerful batteries. Customers' increasing fitness awareness is driving the demand for small fitness devices, such as smartwatches and fitness trackers. This has driven businesses to offer new products with improved features, with the academia innovating advanced electronic design tools to enable reliable and affordable products.
Furthermore, the use of portable devices has increased among media professionals due to the growing demand for live coverage of a variety of events, including riots, accidents, sports, and political events. Due to the impracticality of using large TV production trucks to cover these events, there has been a rise in the demand for portable, handheld equipment. These devices can easily be carried to the setting in a knapsack. The semiconductor industry's ability to produce miniaturized components in response to the demand for tiny devices across a variety of industries has benefited the market for electronic design automation solutions.
EDA Market Report Coverage

| | |
| --- | --- |
| Report Attribute | Details |
| Historical Years | 2017-2022 |
| Forecast Years | 2023-2030 |
| Market Size in 2022 | USD 14,109.5 Million |
| Market Size in 2023 | USD 15,575.9 Million |
| Revenue Forecast in 2030 | USD 31,121.1 Million |
| Growth Rate | 10.4% CAGR |
| Report Scope | Market Trends, Drivers, and Restraints; Revenue Estimation and Forecast; Segmentation Analysis; Companies' Strategic Developments; Market Share Analysis of Key Players; Company Profiling |
| Segments Covered | By Application; By Type; By Region |
Explore more about this report - Request free sample pages
Industries' Reliance on Advanced EDA Tools to Tackle Increasing Complexity
The increasing complexity of EDA requires specialized knowledge to create and optimize these systems. Engineers and designers with the expertise and ability to handle complicated designs are in high demand among the businesses in the market. As a result, there is a need for trained professionals, which can increase the competition for talent.
Moreover, as the complexity of electronic designing rises, there will be a corresponding increase in the need for tools that can handle these complexities. Industries require electronic design automation tools that can precisely handle large-scale designs and offer effective optimization strategies that are necessary for business.
Furthermore, due to the greater functionality of systems-on-chip (SoCs), EDA tools can handle chips with increased complexities. These technologies aid in raising power, performance, and area (PPA). In addition, every phase of the semiconductor design process, such as simulation, design verification, prototype emulation, and chip rollout, is aided by EDA tools with AI and ML integration.
Additionally, by utilizing ML, manufacturers can improve the IC design, production quality, and speed, leading to impressive, rapid outcomes and satisfied clients. Therefore, AI-integrated EDA enables the production of the devices required to meet evolving consumer requirements.
Consumer Electronics Held the Largest Share
Based on application, the consumer electronics category held the largest share, of 30%, in the electronic design automation market in 2022, and it will continue this way in the future. This is because of the emergence of more-sophisticated electronics, due to the rising demand for cutting-edge smartwatches, smart TVs, and smartphones. Thus, the increasing disposable income around the world is projected to fuel the category's expansion at a strong rate over the forecast period.
The communications category is expected to witness notable growth over this decade too. This is due to the extensive use of EDA software and services for designing and optimizing a range of electronic systems and components and enabling the development of high-performance and highly reliable communication devices and networks faster.
In addition, programming for FPGAs utilizing a high-speed broadband network is effective, suitable, and adaptive for complex communication protocols. EDA tools play an important role in FPGA designing. They are used to design the digital circuit for the desired functionality, using hardware description languages (HDLs). The design is then unified, maximized, and mapped onto the resources available on the FPGA. Moreover, the development of FPGAs is growing to meet the needs of the communications sector for high-speed and good performance. EDA tools also make it easier to develop 5G mobile phones. Many industries offer a portfolio of IPs and security modules for 5G smartphones.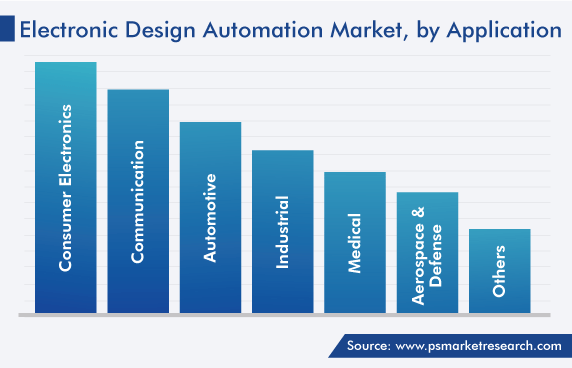 Asia-Pacific Held the Largest Share
Based on region, Asia-Pacific held the largest share, of 40%, in the market in 2022, and it is expected to continue its dominance in the future. This is due to the rising demand for electronic devices, increasing adoption of emerging technologies, such as AI, IoT, and 5G; and the strong attention being paid to innovation and research and development (R&D). The region is a key user of EDA solutions as complex semiconductor chips require sophisticated EDA tools for design and development.
APAC, especially China, Taiwan, South Korea, and Japan, has long served as significant centers for the production of electronics. Consumer electronics businesses, semiconductor foundries, and producers of electronic components for other larger systems are all well-represented in the region. The demand for EDA solutions to enable the design and production of electronic systems is driven by this manufacturing strength.
Moreover, the technology is cost-efficient for the communications sector, which is the most-significant factor driving it to adopt it. This is also driven by the increase in the demand for consumer electronics, especially smartphones, in regional economies. Governments that aim to promote the manufacturing sector are also expected to support the expansion of the market in the region, including Japan, India, China, and South Korea.
Additionally, the Asia-Pacific region has a sizable consumer base, an expanding middle class, and rising income. smartphones, tablets, wearables, and smart home appliances are widely manufactured and bought in the region. As a result, advanced EDA tools are being adopted for the design and development of these products, in order to guarantee performance, power efficiency, and time-to-market advantages.
North America is also expected to grow significantly in the market due to the early adoption of technologies such as 5G, artificial intelligence (AI), and machine learning (ML). Additionally, the rising usage of these solutions in various industries, such as automotive and consumer electronics, helps the regional market grow.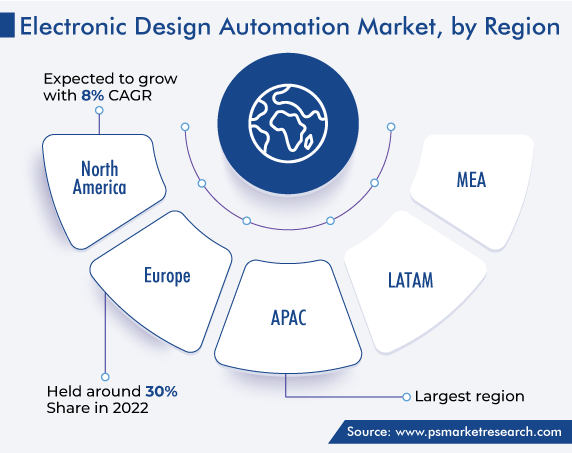 Key Players Offering Electronic Design Automation Services
Cadence Design Systems Inc.
Synopsys Inc.
Keysight Technologies Inc.
Ansys Inc.
Altium Limited
Advanced Micro Devices Inc.
National Instruments Corporation
Silvaco Inc.
Zuken Inc.
Dassault Systemes
JEDA Technologies Inc.
MathWorks Inc.
Aldec Inc.
Market Size Breakdown by Segment
This fully customizable report gives a detailed analysis of the EDA industry from 2017 to 2030, based on all the relevant segments and geographies.
Based on Type
Computer-Aided Engineering (CAE)
Integrated Circuit (IC) Physical Design and Verification
Printed Circuit Board and Multi-Chip Module (PCB and MCM)
Semiconductor intellectual Property (IP)
Based on Application
Communication
Consumer Electronics
Automotive
Industrial
Aerospace & Defense
Medical
Geographical Analysis
North America
Europe

Germany
U.K.
France
Italy
Spain

Asia-Pacific

Japan
China
India
South Korea
Australia

Latin America
Middle East and Africa

Saudi Arabia
South Africa
U.A.E.