Market Overview
The electric vehicle fluids market size stood at USD 1,799 million in 2022, and it is expected to grow at a compound annual growth rate of 28.4% during 2022–2030, to reach USD 13,263 million by 2030. This is due to the rising demand for electric vehicles, the surging use of electric machinery in the construction sector, and stringent regulations by governments to promote electric vehicles.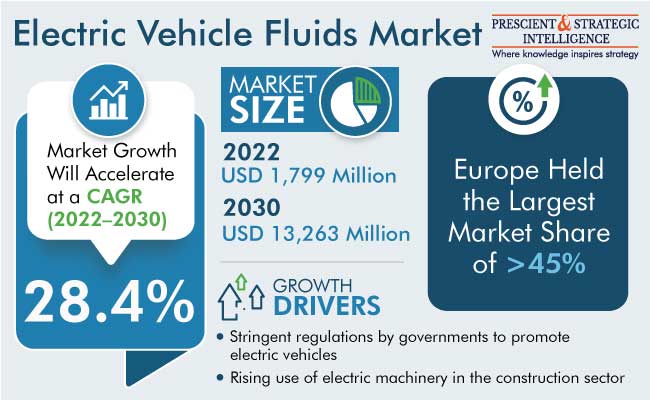 These fluids meet the need for high-tech powertrains and have been engineered and modified accordingly. EV fluids cool the transmission and powertrain systems by stabilizing the temperature of power electronics. Also, the formulation of modern fluids is designed for sustaining peak engine performance by maintaining a low temperature and protecting power trains from wear and tear.
The electric vehicle fluids market saw a major decline during the COVID-19 pandemic time. The outbreak of the pandemic made various industries fall and shut down operations, and supply chains were disturbed due to imposed lockdowns. These led to a decline in the production and sales of oils. Moreover, due to the pandemic, the EV market also had seen a decline, resulting in limited capacity production.
Additionally, the pandemics' negative effects on global supply chains resulted in a shortage of critical components for the EV industry. However, with the increasing need for alternative vehicles for a sustainable environment, the demand for such fluids will continue to grow significantly in the coming years, and in turn, the demand for EV fluids will increase.
Rising Demand for Electric Vehicles
The adoption of EVs is increasing due to the surging need to reduce the usage of depleting fossil fuels and their high costs that lead to the creation of economic pressure. Also, the use of batteries, electricity, and fuel cells in electric vehicles lowers the dependence on fossil fuels.
Furthermore, governments and consumers across the globe are becoming more climate-conscious, and take a major step to promote decarbonized transportation to avoid the effects of climate change and global warming. Recently, many governments are making initiatives to promote the adaption of EVs by providing subsidies on new vehicles to achieve the goal of net-zero carbon emission.
Additionally, recent technological advances in electric batteries and their reduced prices because of economies of scale make automotive companies produce more EVs. Also, low running and maintenance costs attract customers toward these vehicles. Thus, these factors will accelerate the adoption of EVs, which, in turn, drives the demand for electric vehicle fluids. For instance, according to a source, the sales of electric cars doubled in 2021 as compared to 2020.
Growth in Need for Efficient and Durable Fluids for EVs
Different components of an EV, such as e-motor, produce a lot of heat. Modernized electric vehicle fluids have been formulated to meet the requirement of the vehicle's mechanisms. However, traditional fluids can damage these components and can also compromise the performance and longevity of the vehicle. Main fluid types, such as heat transfer fluid, brake fluid, and drive system fluid, are developed to efficiently meet a variety of performance requirements and are only to be used for electrified vehicles. They also help in cooling systems and enhance EV transmission efficiency. With the rise in the number of durable fluids and considering their benefits in EVs, their demand is expected to grow in the near future.
Surging Use of Electric Machinery in the Construction Sector
Construction machines make around 400 Mt of CO2 emission annually, which accounts for 1.1% of global CO2 emission. To reduce such emissions, the construction sector is focusing on the adaption of low-emission drives such as electric drives, and technological advancement in construction machinery. Thus, electrification in the construction industry is growing exponentially.
Moreover, the construction sector is growing significantly, due to the surging focus of governments on the expansion of infrastructure, improving the rural economy, and the development of new buildings. For instance, the Indian government has been focusing on different infrastructural projects like highways, ports, docks, and building airports. The expansion of infrastructure in India will lead to becoming a USD 5 trillion economy by 2025.
Sustainable development and practices are something the governments focus on with infrastructure expansion. In the last few years, they have launched various initiatives to promote the adaption of electric machinery for construction applications. Thus, manufacturers of machinery are adapting techniques to achieve the goals of a sustainable future and offering e-mobility solutions at affordable rates.
With the rising focus on achieving energy efficiency and sustainable construction practices by different governments, the construction sector is witnessing a rise in the demand for e-mobility technology. For example, electric construction vehicles, including mini-excavators and dump trucks, are used in urban environments and cities to lower exhaust emissions and noise.
The benefits of electric machinery include it needs less maintenance and has a longer lifecycle as compared to diesel engines making them a profitable solution, as it can be used in the long run without a downturn in time. Moreover, the development of electric excavators, bulldozers, cranes, and material-handling equipment comes into the picture. These machines are offering a high level of efficiency and mobility. Also, e-mobility-focused players are focusing on the development of improved battery technology.
Electric Vehicle Fluids Market Report Coverage

| | |
| --- | --- |
| Report Attribute | Details |
| Historical Years | 2017-2022 |
| Forecast Years | 2023-2030 |
| Market Size in 2022 | USD 1,799 Million |
| Revenue Forecast in 2030 | USD 13,263 Million |
| Growth Rate | 28.4% CAGR |
| Report Scope | Market Trends, Drivers, and Restraints; Revenue Estimation and Forecast; Segmentation Analysis; Impact of COVID-19; Companies' Strategic Developments; Market Share Analysis of Key Players; Company Profiling |
| Segments Covered | By Product Type; By Propulsion Type; By Vehicle Type; By Distribution Channel; By Region |
Explore more about this report - Request free sample pages
Passenger Vehicles Category To Witness Fastest Growth
The passenger vehicle category is projected to register the highest CAGR in the coming years. This can be ascribed to the improvement in road infrastructure, the rising disposable income of people, and government initiatives such as offering subsidies on electric passenger cars. In addition, the demand for passenger vehicles is expected to get doubled by 2024, as major automakers are working on new model launches and technological advances, to make consumers adopt more electric vehicles.
Heat Transfer Fluids Hold the Largest Share
The heat transfer fluids category accounts for the largest revenue share. This is because these fluids are operated in a way that they maintain temperature control with less risk of handling in a controlled unit and also run at lower pressures as compared to steam. These fluids also provide excellent solutions for the extension of the life of each electric motor part, cooling e-motors and gears, helping in providing insulation for electric current, and improving the mileage of EVs with better machine efficiency.
Furthermore, the early adoption of heat transfer fluids in the industry and the growing share of EVs in the commercial vehicle segment, which includes public transport such as EV buses, are expected to boost the market growth in this category during the forecast period.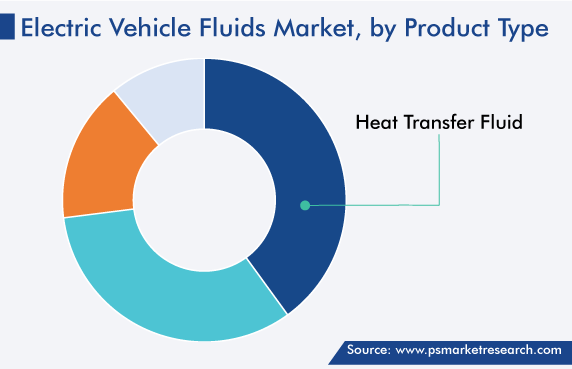 Battery EV Category Dominates the Industry
The battery EV category holds the largest revenue share. This is because battery electric vehicles need no petrol and diesel engines and these require electric vehicle fuel and routine maintenance. Additionally, battery vehicles are responsible for the decarbonization of road transport, which accounts for almost 16% of global emissions. Recent exponential growth has been recorded in the sales of these vehicles, due to their good performance, improved range, and more features. Thus, these factors drive the market growth in this category.
Europe Is the Market Leader
Globally, Europe leads the electric vehicle fluids market, accounting for the largest revenue, of around 45%, in 2022. This is due to a large number of hybrid vehicles produced and sold in Europe, which generates a high demand for EV fluids in the region. Also, the prices of engine oils are higher than other fluids, which are used in hybrid vehicles.
On the other hand, APAC is the second-largest and fastest-growing market for EV fluids. This is due to the expected high demand for electric vehicles in countries like India and China, which are also densely populated in the world. Moreover, stringent government policies to achieve net emissions goals by adopting electric vehicles and the rising young and middle-class population with high purchasing power are driving the market growth.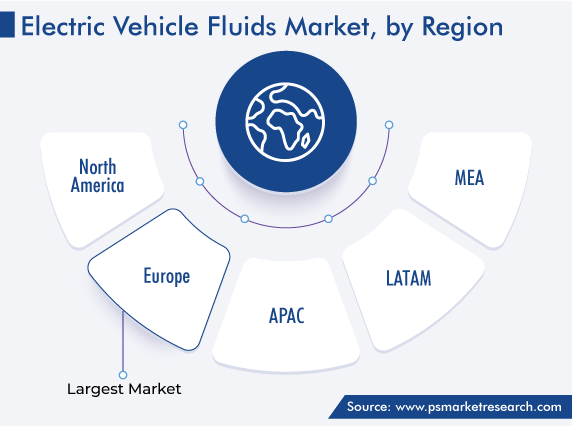 Key EV Fluid Manufacturers Are:
Royal Dutch Shell plc
ExxonMobil Corporation
TotalEnergies SE
Petronas
ENEOS Corporation
Repsol S.A.
Valvoline Inc.
Castrol
Gulf Oil Lubricants India Limited
Valmet
Market Size Breakdown by Segment
The study uncovers the biggest trends and opportunities in the electric vehicle fluids market, along with offering segmentation analysis at the granular level for the period 2017 to 2030.
Based on Propulsion Type
Plug-In Hybrid EV
Battery EV
Based on Vehicle Type
Passenger Vehicle
Commercial Vehicles
Based on Product Type
Heat Transfer Fluid
Grease
Transmission Fluid
Brake Fluid
Based on Distribution Channel
Geographical Analysis
North America
Europe

Germany
U.K.
France
Italy
Spain

Asia-Pacific

Japan
China
India
South Korea
Australia

Latin America
Middle East and Africa

Saudi Arabia
South Africa
U.A.E.