Ambulatory EHR Market Overview
The global ambulatory electronic health record (EHR) market size was valued at $4.0 billion in 2016, and it is projected to grow at a CAGR of 5.9% during 2017 - 2023. Cloud based EHR and on-premise EHR are the two different type of solutions adopted by the end users in the ambulatory EHR market. Cloud based are the most commonly adopted solutions since these are much cheaper as compared to the on-premise solutions.
Hospital owned ambulatory centers and independent ambulatory centers are the key end users in the ambulatory EHR market. The rising focus of the healthcare providers and insurance companies towards global accessibility of patients' health records boosts the growth of the cloud based EHR solutions in the ambulatory EHR market.
GLOBAL AMBULATORY EHR MARKET SPLIT, BY DELIVERY MODE (2016)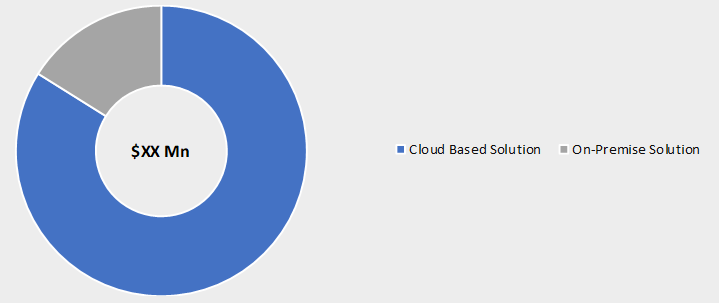 The adoption of ambulatory EHR is high in large size practices as compared to small-to-medium sized and solo practices in the ambulatory EHR market, since large practices have more budgets and trained professionals for operating these advanced solutions. Among the various applications, including practice management, patient management, e-prescribing, referral management, population health management, decision support and health analytics, practice management is expected to witness the highest demand in the ambulatory EHR market during the forecast period, due to various advantages of EHR implementation such as increased efficiency of day-to-day operations of healthcare practices.
Increasing prevalence of chronic diseases and growing number of patient base has led to the rising adoption of these solutions in hospital owned ambulatory centers, followed by independent centers in the ambulatory EHR market.
North America led the global ambulatory EHR market in 2016, followed by the Europe. The leading position of the North American ambulatory EHR market is primarily attributable to the increasing adoption of EHR system, rising government initiatives, and growing aging population. According to the Office of the National Coordinator for Health Information Technology (ONC), 3 out of 4 (76%) hospitals had adopted at least a basic EHR system in 2014. Asia-Pacific is expected to register the fastest growth in the ambulatory EHR market during the forecast period.
Ambulatory EHR Market Dynamics
Growth Drivers
Health Care Intranet Technologies (HCIT) offers health information management across all computer systems and a secure exchange of health information between consumers, providers, payers. According to National Centre for Health Statistics (NCHS) at Centre for Disease Control and Prevention (CDC), EHR adoption by office-based physicians increased by 6.6% from 2013 to 2014, in the U.S. The NCHS also reported that EHR adoption by primary care physicians defined as general practitioners, paediatricians, and obstetricians or gynaecologists increased from 72.1% in 2013 to 78.6% in 2014. This increasing adoption of EHR systems, contributing in the growth of the ambulatory EHR market.
Globally, governments are pressurizing hospitals and clinics to convert traditional health records into electronic format. For instance, the U.S. government is taking initiatives to increase the use of EHR. The Health Information Technology for Economic and Clinical Health (HITECH) Act was authorized as a component of the American Recovery and Reinvestment Act (ARRA). This act was passed in 2009 to advance the utilization of EHR systems, with a specific end goal for modernizing and improving the healthcare system.
Hospitals and physicians adopting EMR systems get incentives under this system. The program focuses on keeping up quality and reducing the expense of healthcare in the U.S. Healthcare organizations in the U.S. are adopting EMR systems, so as to reduce operational expenses. Thus, increasing adoption of HCIT boost the growth of the global ambulatory EHR market.
Opportunities
Due to the development of cloud-based EHR solutions in the ambulatory EHR market, it is possible to keep data safe, secure and fully accessible regardless of time or network traffic. Cloud based solutions require less capital investment, demand fewer IT resources, take up less space, and update automatically, resulting in significant cost savings for clinics without requiring extra time and staff to support bulky hardware installations. The implementation of EHR systems is simpler as it runs on the web instead of computer, therefore no software or hardware is required.
Also, cloud-based solutions do not require any hardware installation or software licenses, therefore the implementation cost is very less. Cloud-based ambulatory EHR solutions require HIPAA compliance through data centers with bank-level security and high-level encryption methods that render data unreadable. Due to several advantages offered by cloud based solutions, demand of such solutions has been increasing in the ambulatory EHR market. The increasing demand of cloud-based solution creates abundant opportunities for the players to develop more advanced solutions in the ambulatory EHR market.
Ambulatory EHR Market Competitive Landscape
The key players in the ambulatory EHR industry are acquiring and collaborating with other players to increase their market share in the coming years. In June 2017, athenahealth Inc., a provider of network-enabled services for hospital and ambulatory clients worldwide, acquired Praxify Technologies Inc., a company providing solutions for improving health data portability, productivity and decision support. The acquisition was aimed at advancing the athenahealth's platform strategy and mobile capabilities to drive workflows.
In April 2017, McKesson Corporation, a provider of healthcare supply chain management solutions, acquired CoverMyMeds LLC that provides electronic prior authorization (ePA) solutions. The purpose of the acquisition was to provide these solutions to pharmacies, providers, payers, manufacturers, and patients.
Some of the other key players operating in the ambulatory EHR industry include General Electric Company, Cerner Corporation, eClinicalWorks, Epic Systems Corporation, McKesson Corporation, Quality Systems, Inc., eMDs Inc., Allscripts Healthcare Solutions, Inc., Greenway Health, LLC.