Market Overview
The ambulatory EHR market was valued at $5,887.3 million in 2022, and it will reach $9,642.9 million by 2030, advancing at a CAGR of 6.4% during 2022–2030. The industry is driven by the adoption of healthcare intranet technologies (HCIT), and increasing use of EHR solutions and the need to reduce the overall healthcare cost.
The adoption rate of EHRs in hospitals has become a main index to measure digitalization in medicine in various countries. A faster adoption of EHRs has been seen in China and the this was an outcome of top-level design and policies of the government, predominantly the inclusion of EHR acceptance as a significant indicator for the evaluation of performance and the appointment of public hospitals. The Chinese government has invested approximately $4,000 million EHRs and has issued 31 national policies and 134 technical standards covering all aspects of medical care digitalization and the construction of a digital medical security system.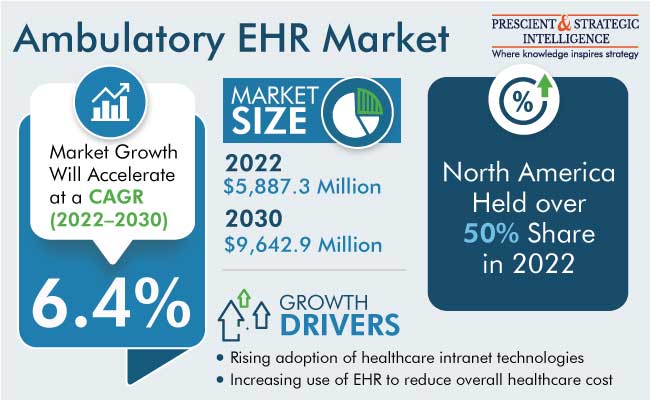 Cloud-Based Solutions Are Preferred
Cloud-based solutions held the larger revenue share of around 80% in 2022. Some of the reasons driving the increasing adoption of cloud-based solutions include healthcare providers' and insurance companies' rising attention on global accessibility of patients' health records, since paperless healthcare recording encourages cloud storage of such records. It is a scalable, adaptable, user-friendly, and affordable option for keeping patient health records off of internal servers at a hospital or office and in the cloud. Administrators can review work processes for assessing the strengths and weaknesses using data mining capabilities, and they can sift through patient data to find trends, possible drug interactions, and health risk factors.
Also, the growth in the category is mainly attributable to the increase in the adoption rate of cloud-based solutions by small and solo practices, as this deployment mode offers easier transferability of heath records and patient history from one source to another.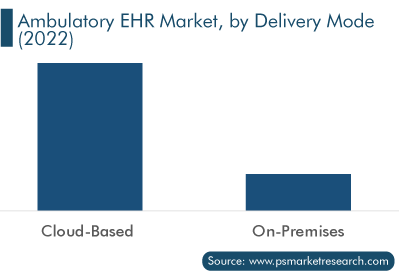 Need to Reduce Overall Healthcare Cost
Switching from traditional data record systems to ambulatory EHR lowers the cost of data storage. Previously, data was stored on paper and had to be handled with extreme caution.
The University of New Mexico Hospital (UNMH) saved more than $0.2 million annually, which is attributed to reduced overtime and healthcare cost, by using EHR. Lack of coordination among healthcare professionals and patients negatively impacts the quality of healthcare and its cost, and has led to the fragmentation of healthcare information (such as diagnoses, medical history, patient demographics, billing and administrative data, and medication). This in turn derives the need for an advanced integrated healthcare system. The World Health Organization (WHO) defines integrated healthcare service delivery as "the organization and management of health services, so that people get the treatment they need, when they need it, in user-friendly methods that accomplish the desired results and offer value for money."
E-Prescribing Category Is Dominating Market
E-prescribing is dominating the market, and it will progress at a CAGR of around 10% during the forecast period. The drive in a country to improve the quality and safety of the prescribing process often centers around e-prescribing. E-prescribing allows clinicians in the ambulatory care setting to electronically send prescriptions to the pharmacy. It can be a stand-alone system or a part of an integrated electronic health record system.
Also, it improves effectiveness, lowers prescribing errors, and lowers healthcare expenditures. Medication mistakes have decreased to as little as one-seventh of their former levels, and practices that use e-prescribing are expected to save between $140 billion and $240 billion over the course of ten years thanks to better patient outcomes and fewer patient visits. It increases efficacy, reduces prescribing mistakes, and lowers healthcare costs.
Moreover, prescribers can track the amount of controlled substance prescriptions for a patient and avoid over-prescribing by using E-Prescription software. The tool also makes it easier to track this information, and the institutions using it has a drug monitoring system.
Due to the various advantages of EHR implementation, such as increased efficiency of day-to-day operations of healthcare practices, e-prescribing will continue to be the largest ambulatory EHR application during the forecast period. The increasing adoption of e-prescriptions because of the various government policies is the key factor driving the growth of e-prescribing.
Moreover, in North America, the number of the medical and surgical specialty organizations are committed toward a growth of e-prescribing movement by either launching their own initiatives, such as the American College of Cardiology's (ACC) e-Prescribing Initiative or by participating in the multi-specialty Get Connected E-Prescribing Campaign.
Further, the growth in the category is attributable to the increasing e-prescribing policy in Europe. E-prescribing started as a grass-roots technology in the Netherlands and the U.K., in the late 1980s and early 1990s through various local, decentralized initiatives of technology-oriented GPs and pharmacists.
Ambulatory EHR Market Report Coverage

| | |
| --- | --- |
| Report Attribute | Details |
| Historical Years | 2017-2022 |
| Forecast Years | 2023-2030 |
| Market Size in 2022 | $5,887.3 Million |
| Revenue Forecast in 2030 | $9,642.9 Million |
| Growth Rate | 6.4% CAGR |
| Report Scope | Market Trends, Drivers, and Restraints; Revenue Estimation and Forecast; Segmentation Analysis; Impact of COVID-19; Companies' Strategic Developments; Market Share Analysis of Key Players; Company Profiling |
| Segments Covered | By Delivery Mode; By Practice Size; By Application; By End User; By Region |
Explore more about this report - Request free sample pages
Decision Support Category To Witness Fastest Growth over This Decade
Decision support is likely to witness the fastest growth, as it provides access to clinical decision support in the workflow and medication error alerts. Introduction of professional electronic decision support solutions into EHRs has also helped to connect an increasing number of professionals to more reliable resources, clinical practice guidelines, and evidence to better inform their decisions.
Major Opportunity Areas
Due to the development of cloud-based ambulatory EHR solutions, it is possible to keep the data safe, secure and fully accessible, regardless of time or network traffic. Cloud based solutions require less capital investment, demand fewer IT resources, take up less space, and update automatically, resulting in significant cost savings for clinics without requiring extra time and staff to support bulky hardware installations. The implementation of EHR systems is simpler as it runs on the web instead of a computer, which means there is no requirement of any software or hardware. Also, cloud-based solutions do not require any hardware installation or software licenses, therefore the implementation cost is considerably less. Cloud-based EHR solutions require HIPAA compliance through data centers with bank-level security and high-level encryption methods that render unreadable data. Due to several advantages offered by cloud based ambulatory EHR, the demand of cloud based ambulatory EHR is increasing. The increasing demand of cloud-based solution is likely to create opportunities for the players in the market to develop advanced solutions.
North America Held Largest Share
North America ambulatory EHR market has been the largest market for ambulatory EHR and the region contributed over 50% to the global market in 2022. The growth of the North American market is mainly driven by increasing adoption of EHR system, government initiatives, and growing aging population.
The Office of the National Coordinator for Health Information Technology (ONC) was mandated by the Health Information Technology for Economic and Clinical Health (HITECH) Act to encourage the adoption and meaningful use of electronic health records. The adoption and increased use of health IT products is a keystone objective of the Federal Health IT strategic plan. The HITECH Act has made money available until 2021 to encourage hospitals, doctors, and other caregivers to adopt electronic health records.
The older population requires intensive care because they are susceptible to infections due to low immune levels and lengthy recovery times. Because of this, their reports are electronically preserved so that they can be kept on hand whenever necessary. The population of people aged 60 years and above was more than 80 million in 2021 in North America, which is estimated to reach more than 100 million by 2030. North America is also expected to remain the largest market in the forecast period, driven by the aforementioned factors.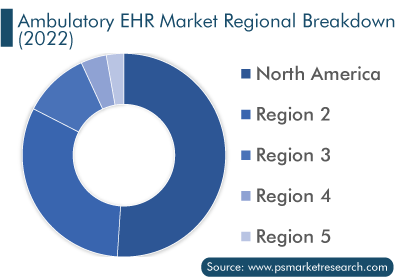 APAC Is Growing Fastest
APAC is expected to grow at the highest CAGR of around 10% in the forecast period. This is due to aggressive investments by governments, non-profit entities and the private sector in EHR systems, growing aging population, and rising incidence of chronic diseases in India and China. The share of people aged 65 years and above will reach approximately 20% of the total population by 2050.
Moreover, COVID-19 has increased the global adoption of digital health technologies. Remote monitoring systems have been favored during the pandemic. The region's governments are encouraging telemedicine, which will provide attractive prospects for the patient portal industry in the coming years. The Indian government established Telemedicine Practice Guidelines in March 2020 to allow qualified medical practitioners to deliver healthcare services using telecommunication and digital technologies.
Key Players in Ambulatory EHR Market Are:
Epic Systems Corporation
Cerner Corporation
Allscripts Healthcare Solutions Inc.
Medical Information Technology Inc.
Computer Programs and Systems Inc.
Getinge Group
Atec Pharmatechnik GmbH
CGI Inc.
Ambulatory EHR Market Size Breakdown by Segment
The report analyzes the impact of the major drivers and restraints on the market, to offer accurate market estimations for 2017–2030.
Based on Delivery Mode
Based on Practice Size
Based on Application
Practice Management
Patient Management
E-Prescribing
Referral Management
Population Health Management
Decision Support
Health Analytics
Based on End User
Hospital-Owned Ambulatory Centers
Independent Centers
Geographical Analysis
North America
Europe

Germany
U.K.
France
Italy
Spain

Asia-Pacific

Japan
China
India
South Korea
Australia

Latin America
Middle East and Africa

Saudi Arabia
South Africa