Market Overview
The edge AI hardware market size stood at 1,058 million units in 2022, and it is projected to grow at a CAGR of 20.50% during 2022–2030, to reach 4,704 million units by 2030. This is due to the development of edge computing devices and services as well as the improvement of real-time low latency. By incorporating artificial intelligence into such apparatus, an enhanced functionality, easier, faster, and more accurate data processing is made possible. Additionally, the industry is seeing chances for growth as a result of rising R&D expenditures for developing advanced gadgets and growing privacy and security concerns.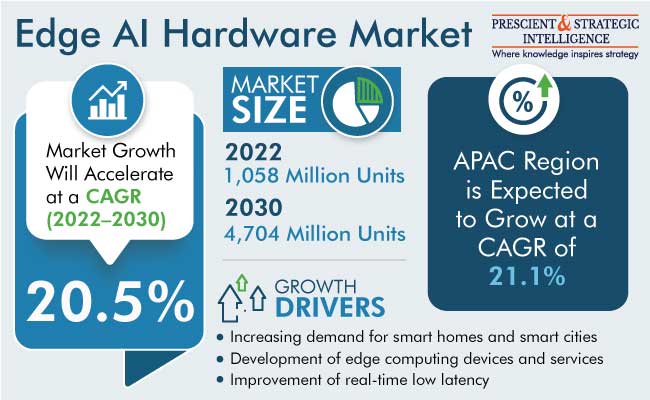 Moreover, the market is expected to rise, as a result of the rapidly expanding adoption of AI, IoT, and 5G technologies across industrial verticals, such as government, BFSI, retail, hospitality, and consumer goods. Also, the surging adoption of hardware boosts the demand for edge AI software in the industry. Furthermore, potential areas of industry advancement include the surging requirement for edge computing in IoT and specialized processors for on-device image analytics; the rising need for IoT-based edge computing solutions; and the increasing uptake of 5G networks to integrate IT and telecom.
In addition, the increased adoption of Industry 4.0 across several industries is driving the demand for these solutions. This is also due to the possibility of doing AI inference without transferring data. Further, AI and edge computing are expected to establish new business models and boost productivity.
Moreover, the demand for AI-enabled devices and services is increasing, with the surging need for edge computing in self-driving cars, high-tech medical devices, and robotics, where real-time automatic decision-making machines are becoming more significant. The demand for edge AI devices has been driven by end-user industries, including government, consumer electronics, automotive, healthcare, manufacturing, and others. Their adoption can also assist businesses in lowering their operational costs in critical cases where latency and accuracy are highly required.
Rising Need for Real-Time, Low-Latency Data Transfer
For edge computing, latency is essentially non-existent because this approach makes nearly zero separation between the locations where data is generated and processed (edge data centers). Artificial intelligence processes IoT-generated data to near-end devices using machine learning algorithms to overcome issues of low security and high latency. An IoT device collects a lot of data, which is sent to the cloud where ML models run and send the processed data back to the device, potentially delaying the response. Thus, network speed is increased and latency is decreased using edge computing. Every millisecond counts toward data accessibility, as a result, microseconds rather than milliseconds are used to assess latency.
On-device AI, however, minimizes data transfer, enabling a quicker response to the generated query. Additionally, storing a lot of data in the cloud might not be practical. Since the processing capacity for edge AI is located on the device, it is not necessary to transfer data to the cloud.
Edge Computing Is Vital for the Development of Smart Cities
Smart cities combine a variety of systems to support the life cycle of people better in both qualitative and quantitative manner. These systems come in a variety of forms, including smart farming, smart energy, smart buildings, smart manufacturing, smart homes, and smart healthcare. As more people choose to live in cities, there will likely be greater demand for automated services in everyday life. Thus, the demand for smart homes is turning from luxury to major requirements.
Moreover, several consumer electronics used in smart homes, including smart speakers, wearables, gaming consoles, drones, and robots for home automation, utilize edge artificial intelligence. The applications of this technology are centered on computer vision, natural language processing, HMI, and customer experience.
Many countries have created initiatives to make their cities smart in order to take advantage of rapid urbanization. Smart cities enable increased operational effectiveness, environmental sustainability, and the development of new services for citizens. As a result of the rising need for smart homes and smart cities, the market for edge hardware for smart homes is experiencing a growth rate of around 21% in the forecast period.
Governments all around the world are making use of advanced technologies to address the essential problem of ensuring the security and protection of citizens. For instance, a general blockchain plan has been outlined by the U.A.E. government to increase security and transparency. Two examples of advanced AI gear used for this purpose by government entities are drones and surveillance cameras.
Due to improved edge computing capabilities and the prudent application of deep learning and machine learning, computing devices have gotten more inventive. Without transferring data to remote cloud servers, AI enables devices to give real-time insights and predictive analytics. Now, various businesses are making use of this by implementing intelligent manufacturing solutions. Thus, to proactively avoid unplanned and frequent downtime and support industrial IoT devices installed in modern factories, the demand for edge AI hardware products is increasing.
Edge AI Hardware Market Report Coverage

| | |
| --- | --- |
| Report Attribute | Details |
| Historical Years | 2017-2022 |
| Forecast Years | 2023-2030 |
| Market Size in 2022 | 1,058 Million Units |
| Revenue Forecast in 2030 | 4,704 Million Units |
| Growth Rate | 20.50% CAGR |
| Report Scope | Market Trends, Drivers, and Restraints; Revenue Estimation and Forecast; Segmentation Analysis; Impact of COVID-19; Companies' Strategic Developments; Market Share Analysis of Key Players; Company Profiling |
| Segments Covered | By Device; By Power Consumption; By Function; By Processor; By Vertical; By Region |
Explore more about this report - Request free sample pages
APAC Is the Market Leader
Due to the arrival of 5G in the region, the rising number of IoT-integrated devices, and the increasing smartphone penetration in China, Japan, India, and South Korea, the APAC region contributed the largest revenue share in 2022 to the global market. Another important factor in the rising demand for vision processing unit integration to speed up AI activities is wearable technology. The region has enormous potential for end-use industries, including manufacturing, telecommunications, and automotive, which create a higher need for such devices.
In the APAC edge AI hardware market, China accounted for the largest revenue share, of more than 34%, in 2022, which is followed by Japan. This is due to the presence of numerous industry players in the country and the growing automotive, electronics, and semiconductor industries that are investing heavily in artificial intelligence technology. Moreover, the number of patents issued over the past year in this area has increased, which leads to the accelerated development in China's edge AI business, demonstrating rapid innovation in the industrial sector.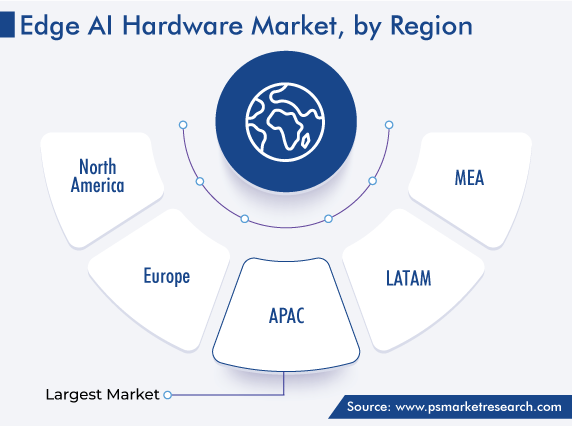 Industry Players Adopting Several Strategic Development Measures
Several market players have been adopting several development measures to outgrow their competitors and gain a competitive edge, such as product launches, partnerships, mergers and acquisitions, funding, and others.
For instance, Edge Bare Metal introduced a pay-as-you-go hardware solution for servers. With connections to the Lumen global fiber network, this solution provides dedicated, pay-as-you-go server hardware housed in various locations. With enhanced security and connection intended to isolate and protect data, it offers great application performance due to running on edge nodes optimized for 5 milliseconds or less latency across the Lumen fiber network. Thus, customers may concentrate on developing applications rather than on labor-intensive infrastructure deployment due to the ability to operate workloads and apps on a single platform.
Similarly, Kneron received USD 50 million in funding in October 2022 for the development of high-tech AI hardware. In order to generate next-generation inference modules, the company intends to use the cash to speed its research and development. This entails putting AI computational capacity on hardware-based devices rather than in cloud software.
Additionally, in November 2022, with assistance from NVIDIA's DGX systems, Run:ai introduced an MLOps Compute Platform (MCP). The platform is a full-stack AI tool for businesses that would assist them in avoiding problems with the implementation of AI models.
Similarly, a more effective and adaptable AI processor was developed by Stanford University experts in August 2022 to power AI in tiny edge devices. The engineers' device, dubbed NeuRRAM, revolutionizes how current chips process and store data with its revolutionary resistive random-access memory (RRAM) design.
1-3 W Power Consumption Will Hold the Significant Market Share
The 1–3 W category holds a significant share in the industry. The is because most edge AI devices consuming 1–3 W power. Moreover, smartphones are key devices that consume 1–3 W of electricity. As the need for smartphones is increasing, the demand for 1–3 W-based AI devices is likely to grow significantly in the coming years.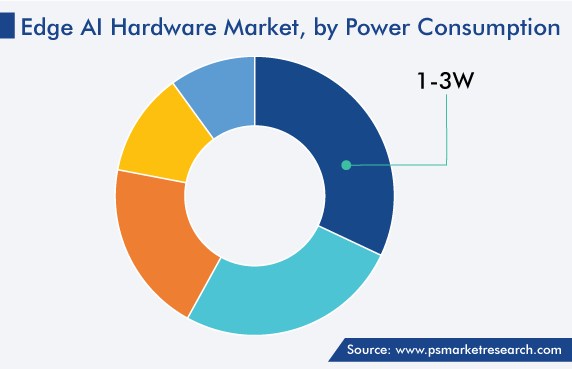 Top Edge AI Hardware Providers Are:
Qualcomm Technologies Inc.
Huawei Technologies Co. Ltd.
Alphabet Inc.
MediaTek Inc.
Intel Corporation
Nvidia Corporation
The International Business Machines Corporation
Google LLC
Microsoft Corporation
Samsung Electronics Co. Ltd.
Market Size Breakdown by Segment
The study uncovers the biggest trends and opportunities in the market, along with offering segmentation analysis at the granular level for the period 2017 to 2030.
Based on Device
Smartphones
Surveillance Cameras
Robots
Wearables
Edge Servers
Smart Speakers
Automotive
Smart Mirrors
Based on Power Consumption
Less Than 1W
1-3W
3-5W
5-10W
More Than 10W
Based on Function
Based on Processor
Central Processing Unit (CPU)
Graphics Processing Unit (GPU)
Field Programmable Gate Arrays (FPGA)
Application Specific Integrated Circuit (ASIC)
Based on Vertical
Consumer Electronics

Smartphones
Wearables
Entertainment robots

Smart Home

Smart speakers
Smart cameras
Domestic robots

Automotive & Transportation

Automotive
Surveillance cameras
Logistics robots

Government

Surveillance cameras
Drones

Healthcare
Industrial

Industrial robots
Drones
Cameras

Aerospace & Defense
Construction
Geographical Analysis
North America
Europe

U.K.
Germany
France
Italy
Spain

Asia-Pacific

China
Japan
Australia
India
South Korea

Latin America
Middle East & Africa

Saudi Arabia
South Africa
U.A.E.