Market Overview
The estimated size of the global e-prescribing market is USD 3,408.3 million in 2023, and it will grow at a rate of 22.8% from 2023 to 2030, to reach USD 14,371.9 million by 2030.
The growing acceptance of e-prescribing for controlled substances, supportive government guidelines allowing it, and rising knowledge about patient wellbeing are projected to fuel the industry's development. During the COVID-19 epidemic, healthcare services were forced to change their approach, to aid in controlling the spread of the infection among the general public and healthcare specialists.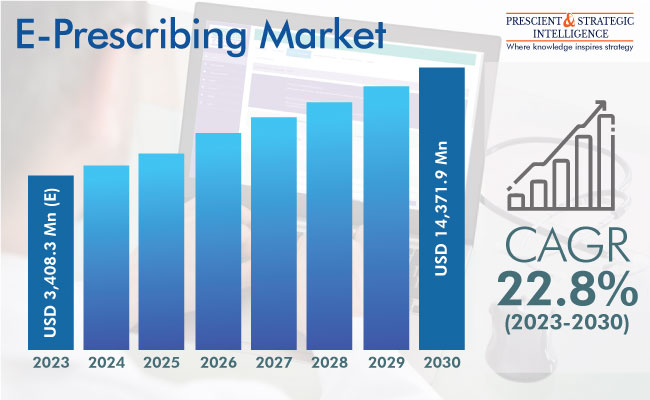 The requirement for e-prescribing solutions has since augmented as they hold the potential for advancing access to prescription drugs and are more suitable for patients. For example, Surescripts' count of e-prescriptions surpassed 1 million prescribers in 2020.
Recent years have also witnessed positive effects on the e-prescribing industry because of the players' growth efforts, including partnerships, acquisitions, and product launches. For example, in August 2021, Meddo, an India-based health startup, bought Doxper, an e-prescription platform that was launched in 2015, to offer health record handling and patient appointment solutions.
The approval for the e-prescribing of controlled substances has been given in almost all the states of the U.S. and countries in Europe. The American Academy of Family Physicians (AAFP) has supported swift EPCS execution. A key reason for governments supporting e-prescriptions is the growing number of people obtaining drugs through bogus prescriptions. Moreover, as per the WHO, opioids are the result of around 70% of the medication-associated demises, with 30% credited to overdose.
The opioid issue, particularly in the U.S., has shown the importance of e-prescribing as it provides a safer and transparent system to prescribe controlled substances legally, while deterring scams and abuse. Moreover, the industry's development has been propelled by digitalization trends, with people all over the world now using mobile health solutions, such as connected medical devices, healthcare smartphone applications, and video conferencing for consultation.
Solutions Category Is Contributing Highest Revenue
Solutions are dominating the industry, credited to their growing usage and substantial price. This category is further divided into integrated and standalone solutions: integrated software combines functionalities across multiple areas, while standalone versions cater to specific operational requirements, such as patient medication prescription. Both kinds of solutions send e-prescriptions from doctors to drugstores and provide patient engagement and information management tools.
Services Category Is Projected to Advance with Fastest Pace
The services category is projected to showcase the fastest development over the projection period. This is owing to the rising demand for network support, training, consulting, data backup & recovery, software upgrades, cybersecurity, and solution implementation. As e-prescribing is a novel approach, users may not be well-versed in it, which is why they require such services.
Web/Cloud-Based Category Is Dominating Industry
On the basis of delivery mode, the web/cloud-based category is leading the market, credited to the lower price of solutions delivered over the web or cloud compared to those deployed on premises. Cloud-based solutions are popular among independent doctors, small hospitals, surgeon offices, and community infirmaries, which are not capable of investing in the costly on-premises systems. Additionally, Allscripts, Cerner, Athenahealth, eClinicalWorks, and many other healthcare IT businesses provide cloud-based e-prescription solutions.
Hospitals Category Holds Largest Market Share
On the basis of end user, the hospitals category holds the largest industry share. The dominance can be credited to the large number of prescriptions hospitals fill out on a daily basis. Additionally, the expenses of installing such solutions is lower for hospitals compared to drugstores and office-based physicians. Furthermore, in many countries, hospitals are offered incentives for using EHR, e-prescription, and other HIT solutions.
The pharmacies category is projected to advance at the highest CAGR during the projection period. The acceptance of electronic prescribing by dispensaries can support in contributing to the improved wellbeing for patients. Electronic prescribing systems can reduce operating expenses, surge the efficiency of refilling & filling, and advance patients' medication adherence.
Handheld Category Holds Larger Industry Share
On the basis of usage method, the handheld category holds the larger share. Handheld devices, including smartphones, PDAs, and tablet computers, permit prescribers to access clinical data, such as formularies, patient medicine records, and other suitability parameters, for decision-making. Essentially, handheld devices offer doctors mobility and save them the trouble of returning to their office desk everything they need to write a prescription.
Controlled Substances Category Is Market Leader
The controlled substances category holds the larger market share under the substance type segment. Any prescription medication that can cause dependence or carries a potential for misuse is a controlled substance. The EPCS technology can aid in curbing prescription medication abuse, which has become increasingly common worldwide. As per the National Center for Drug Abuse Statistics, 16 million people in the U.S. over the age of 12 abuse prescription medications every year, and 2 million of them are addicts.
The non-controlled substances category is projected to advance at the higher rate during the forecast period. Non-controlled substances are used to cure conditions such as high blood pressure, diabetes, and common bacterial infections, and they also include over-the-counter medications. With the growing healthcare expenses and easy availability of the cheaper generics and OTC drugs, patients' preference for them continues to increase.
E-Prescribing Market Report Coverage

| | |
| --- | --- |
| Report Attribute | Details |
| Market Size in 2023 | USD 3,408.3 Million (E) |
| Revenue Forecast in 2030 | USD 14,371.9 Million |
| Growth Rate | 22.8% CAGR |
| Historical Years | 2017-2022 |
| Forecast Years | 2023-2030 |
| Report Scope | Market Trends, Drivers, and Restraints; Revenue Estimation and Forecast; Segmentation Analysis; Impact of COVID-19; Companies' Strategic Developments; Market Share Analysis of Key Players; Company Profiling |
Explore more about this report - Request free sample pages
North America Is Dominating Market
North America is dominating the market, mainly driven by a significant count of government steps to make healthcare more easily accessible via remote means. Additionally, the usage of EHRs is rather high in the region, and they allow doctors to integrate both patient record and e-prescribing functionalities.
Moreover, in Europe, the second-largest industry for e-prescription software, the market growth can be credited to the stringent guidelines to reduce medication errors. Additionally, the IT and telecom infrastructure in the region is quite advanced, which allows for the smooth functioning of such HIT software.
Moreover, a significant count of regional nations did not recognize e-prescriptions from external sources till the EU allowed the usage of e-prescriptions issued by practitioners from different nations by pharmacies within EU member states.
The APAC region is projected to witness the fastest growth during the forecast period. This can be credited to the quick of acceptance of digital health technologies and the surge in the per capita income. Governments in India, China, Japan, and other regional countries are strongly focusing on digitization workflows across industries, which is a key factor boosting the market advance.
Key Companies in E-Prescribing Market
Cerner Corporation
Veradigm LLC
Epic Systems Corporation
DrFirst
Athenahealth Inc.
NXGN Management LLC
McKesson Corporation
Surescripts
Change Healthcare
Practice Fusion Inc.
RXNT
eClinicalWorks LLC
Networking Technology Inc.
Henry Schein Inc.