Market Overview
The global domestic pump market generated revenue of $2,912.9 million in 2020, and it is expected to showcase a CAGR of 2.8% during 2020–2030. The increasing construction activities in the residential sector, rising number of high-rise buildings, where pumps are necessary to maintain the water pressure till the upper storeys, rapid urbanization, and depletion of groundwater are some of the key attributable factors for the growth of the market.
Due to the COVID-19 pandemic, manufacturing and supply chains across the world have been majorly affected. The lockdown in many countries resulted in border closures and affected raw material supply. Many domestic pump components are imported from China and other Asian countries due to their low cost; however, due to border closures, these nations were not able to bridge the component supply–demand gap, due to which manufacturers could not maintain the product margins. This caused a negative impact on the domestic pump market.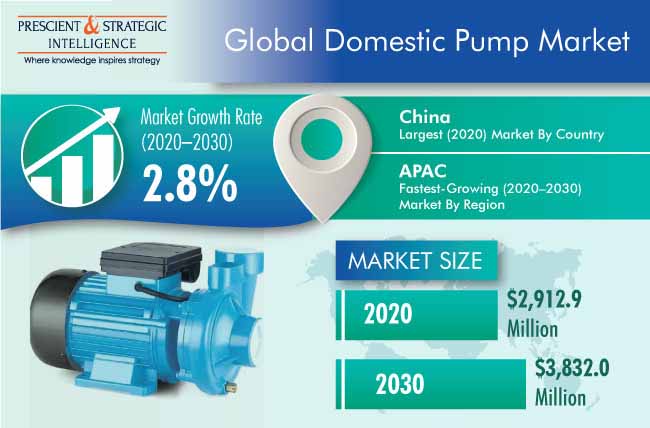 Due to Low Cost and High Efficiency, Centrifugal Pumps Held Largest Share
The centrifugal pump category held the largest share in 2020, and it is expected to witness the fastest growth during the forecast period (2021–2030), based on type. A wide application area, low costs, and high efficiency when pumping low-viscosity fluids, such as water, are some of the key factors for their popularity. Further, the vast portfolio of centrifugal pumps gives end users the flexibility to choose as per their requirement.
Due to Groundwater Being Primary Source of Drinking Water, Groundwater Intake Application Dominates Market
The groundwater intake category held the largest share in 2020, based on application. This is mainly attributed to groundwater being the primary source of drinking water and for other household applications. In addition, the lowering of the groundwater level increases the importance of pumps, as without them, obtaining it would become a time-consuming and unfeasible task.
Asia–Pacific (APAC) Region Captured Largest Share owing to Its Huge Population
Geographically, the APAC region held the largest share in the global domestic pump market in 2020. This is mainly attributed to the large population, along with an increase in the number of ongoing housing projects to accommodate them. Further, the availability of electricity for operating these pumps is a key reason for the high demand for them in the region. Further, the low cost of Chinese pumps compared to that of branded pumps allows consumers to purchase them.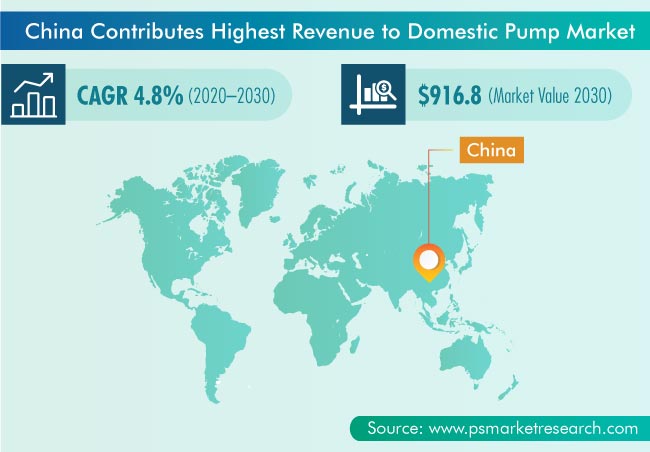 Integration Of Artificial Intelligence in Operational Processes Is Key Trend
Water pumps can utilize the knowledge and data available to make better decisions, while improving service delivery and lowering costs by leveraging the power of artificial intelligence (AI) algorithms and big data analytics. AI or machine learning is primarily used in decision-making tasks, such as optimizing capital investment (CAPEX) and reducing operating costs. Using the internet of things (IoT) based on a set of sensors and multi-layer perceptron (MLP) neural network, operators are no longer required to assess complicated factors for critical decision making. Whether it is switching the pumps on and off or choosing when to maintain them, AI can optimize pump runtime, so that they only use energy when necessary, thus helping save costs.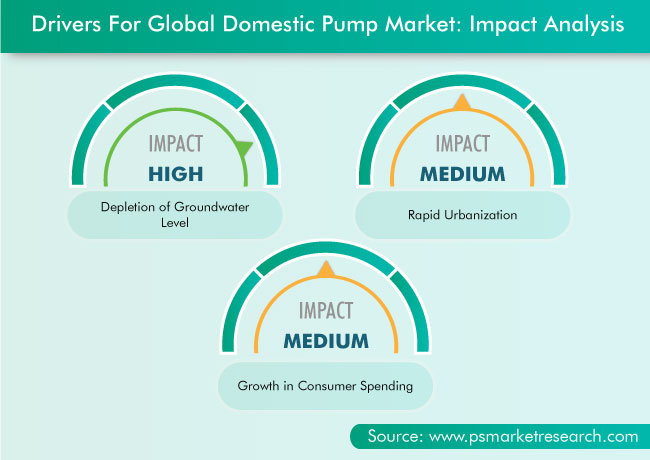 Rapid Urbanization Is Driving Market
One of the major factors driving the growth of the domestic pump market is the increasing level of urbanization. According to Our World in Data, the population of the world would be 8.2 billion in 2025 and 8.6 billion in 2030. This rapid growth of the population would create pressure on the existing water infrastructure, which supplies utility water and drinking water. Additionally, more of this population is shifting to urban areas from rural pockets each year. According to the World Bank, the global urban population increased from 55.2% in 2018 to 56.1% of the total in 2020. Due to the increasing urbanization rate, governments around the world are focusing on improving the infrastructure, which would drive the growth of the domestic pump market by leading to massive-scale residential construction.
Depletion of Groundwater Level another Major Reason for Market Growth
The decreasing groundwater level is another factor driving the domestic pump market. According to the Population Action International, by 2025, around 2.8 billion people in 48 countries (including around 40 countries in West Asia, Sub-Saharan Africa, and North Africa) are expected to experience water scarcity. Moreover, according to the United Nations, about 1.2 billion people, or one-fifth of the population of the world, are already living in areas with water scarcity, while 500 million more people are approaching this situation. Another 1.6 billion people are experiencing economic water shortage scenarios, where they lack the infrastructure to obtain clean and potable water. The lower the water level, the more efficient will be the pumping systems required to fulfill daily household water needs. The depletion of the groundwater level is, thus, expected to create a high demand for domestic pumps offering increased capacity and efficiency.
Domestic Pump Market Report Coverage

| | |
| --- | --- |
| Report Attribute | Details |
| Historical Years | 2015-2020 |
| Forecast Years | 2021-2030 |
| Base Year (2020) Market Size | $2,912.9 Million |
| Market Size Forecast in 2030 | $3,832.0 Million |
| Forecast Period CAGR | 2.8% |
| Report Coverage | Market Trends; Revenue Estimation and Forecast; Segmentation Analysis; Regional Breakdown; Companies' Strategic Developments; Company Profiling |
| Market Size by Segments | By Type; By Application; By Region |
| Market Size of Geographies | U.S.; Canada; U.K.; Germany; France; Spain; Italy; China; India; Japan; South Korea; Australia; Mexico; Brazil; Saudi Arabia; South Africa |
| Secondary Sources and References (Partial List) | British Pump Manufacturers Association, Indian Pump Manufacturers' Association, Pump Industry Association, Submersible Wastewater Pump Association, Association of Danish Pump Manufacturers, Heat Pump Association, European Heat Pump Association |
Explore more about this report - Request free sample pages
Market Players Are Focusing on Product Launches to Gain Competitive Edge
The global domestic pump market is fragmented in nature, with key players Grundfos Holding A/S, Wilo SE, Ebara Corporation, Sulzer Ltd., Xylem Inc., and KSB SE & Co. KGaA.
In recent years, players in the industry have focused on product launches to gain a competitive edge.
In July 2021, Daikin Europe N.V. launched Daikin Altherma M HW, its second-generation domestic hot-water heat pump for small houses and apartments. Daikin Altherma M HW is ideal for homes where hot water is needed for three-to-four persons. It does not require fossil fuels and, instead, depends on readily accessible outdoor air. Electricity accounts for just 25% of the system's energy requirement, earning it an A+ energy rating.
In March 2021, Ebara Corporation launched a new pump model, EVMS-K, mainly for the European market. The integrates the EVMS model with the E-SPD inverter model. The inverter helps reduce the energy consumption of the motor, drives the pump more effectively, saves installation space, and simplifies wiring and installation.

Key Players in Domestic Pump Market
Grundfos Holding A/S

Wilo SE

Ebara Corporation

Sulzer Ltd.

Xylem Inc.
KSB SE & Co. KGaA

Kirloskar Brothers Limited

Zhejiang Doyin Technology Co. Ltd.

Shanghai East Pump (Group) Co. Ltd.

Leo Group Pump (Zhejiang) Co. Ltd.
Market Size Breakdown by Segments
The domestic pump market report offers comprehensive market segmentation analysis along with market estimation for the period 2015-2030.
Based on Type
Centrifugal Pump
Submersible Pump

By drive type
By type

Submersible borewell pump
Submersible open-well pump

Compressor Pump
Self-Priming Pump
Pressure Booster Pump
Based on Application
Groundwater Intake
Wastewater
Water Pressure Boosting
Rainwater Harvesting
Hot Water Recirculation
Heating
Geographical Analysis
Europe

Germany
France
U.K.
Italy
Spain

Asia-Pacific (APAC)

Japan
China
India
Australia
South Korea

Latin America (LATAM)
Middle East and Africa (MEA)

Saudi Arabia
South Africa
Market Segment Analysis of Countries