Earlier, documentaries were considered to be a subject of interest for people in higher age groups, as they were mostly designed on a serious note. However, now-a-days people from lower age groups, especially between 11 – 18 years are inclined towards watching documentaries. The involvement of youth towards political happenings is encouraging the documentary producers to make their content more contemporary. The transformation in the documentary production with the incorporation of new interactive technologies has been attracting viewers from all age groups. This is boosting the revenue of the global documentary television market.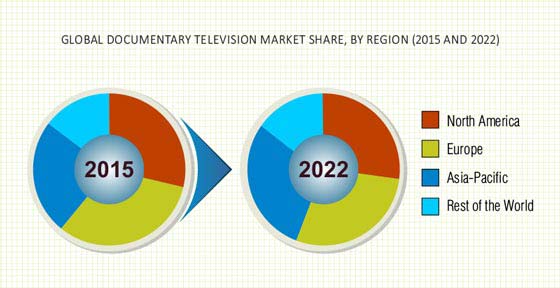 Pay TV, also referred as subscription television and premium television is a television service, provided by both analog and digital cable satellite television. The pay television (Pay TV) market has been expanding globally, which is adding subscription revenue to the broadcasting companies. The global pay TV market expanded from $143 billion in 2010, and reached $203 billion in 2014. The documentary television market is also benefitting from the growth of the global pay TV market. There are several companies offering a separate channel for documentaries. The numbers of subscribers for such channels are increasing.
With the increasing awareness about self-identity, people of several races and ethnicities have started showing interest in TV programs showing cultural content. This is also attracting the attention of documentary producers and they are starting to involve themselves more into documentary of such sub-genres. The major types of race-based documentaries include White, Latino, Asian and Black. The recent documentaries in this sub-genre include "White People" by MTV, a part of Viacom Music and Entertainment Group and "Corsican Nationalism" by France 24.
The demand for region specific documentaries has been increasing, which is encouraging the companies to produce more documentaries with local content. This is expected to provide growth opportunities for the broadcasters, who increase the number of locally produced documentaries. The broadcasting companies are also expanding their distribution network to newer countries, where they are focusing to air more numbers of documentaries with local content.
The growth of the global documentary television is being restrained by two major factors including regulations related to content broadcast, and unpredictable and volatile preferences of viewers. Documentary is one of the genres of television broadcast, where it is difficult to gauge the estimated viewership for a particular program. This not only leads to difficulty in content planning, but also drains the broadcasting company's money, if the viewership is less. The preference of documentary viewers changes with variation in taste, information they seek and their satisfaction level with the previous documentaries aired by a particular broadcaster. It becomes tough for the documentary producers to decide, which sub-genre they should pick for their target audience. Several times, the documentaries of a specific type do not receive the expected audience gain by the broadcasting company, due to wrong analysis of target viewer preference.
The major companies in the global documentary television market include Time Warner Inc., Discovery Communications Inc. British Broadcasting Corporation (BBC), Turkish Radio and Television Corporation (TRT), Al Jazeera Media Network, Australian Broadcasting Corporation (ABC), AMC Networks Inc., News Corporation, France 24, and CBS Corporation.
Browse Report on Turkey Documentary Television Market at: https://www.psmarketresearch.com/market-analysis/turkey-documentary-television-market