Market Overview
The district cooling market stood at USD 26,894 million in 2022, and it is expected to grow at a compound annual growth rate of 7.9% during 2022–2030, to reach USD 45,836 million by 2030. This is ascribed to the rising population, rapid urbanization, surging investments in infrastructure development, and subsequently the soaring temperatures in various geographic regions.
District cooling systems (DCSs) enable the distribution of cooling capacity in varied forms such as chilled water or a different medium, which is supplied from a centrally located source to multiple buildings such as residential or commercial buildings through an entire network of underground pipes that are used for space as well as process cooling.
It comprises equipment of industrial grade that works by utilizing thermal energy storage technology for storing as well as supplying cooling. It aids in supplying chilled water by aggregating the cooling needs in residential buildings, offices, and other commercial spaces.
Hot Climatic Conditions in Various Regions
People residing in regions, such as the Middle East and Africa that has hot climates, require equipment and systems to bring down the temperature of their surroundings to live in comforting situations. According to an article published by a newspaper in the U.S., the temperature in the Middle East is rising at almost double the speed as compared to the rest of the world. The soaring temperature conditions would increase the instances of long heat waves, severe drought, as well as frequent sandstorms.
For instance, in countries, such as the U.A.E., the temperature during the day ranges somewhat between 38 oC and 42 oC. Moreover, there are certain Arab countries where the highest temperature recorded was approximately 52.7 oC.
For dealing with such hot and dry climatic conditions, the demand for air conditioning and cooling systems has been escalating in recent years. These systems used for maintaining temperature conditions have been leading to subsequent consumption of power and energy. A surge in electricity consumption for maintaining comfortable temperature settings in the surroundings is being witnessed. Thus, for improved efficiency and decreased electricity consumption, DCSs are widely used.
Demand for Sustainable and Efficient Systems Is on the Rise
The rising global warming levels across the globe are leading to rapid changes in the climatic conditions of various regions. There are regions such as the Middle East and Africa that are quite vulnerable to changes in climatic conditions and are facing severe situations, such as heat waves, arid conditions, and drought, which affect the water and food supply.
According to an international agency, there were approximately more than 2 billion air conditioning units operating worldwide in the past year and conventional air conditioning and cooling systems have a significant contribution to the rising global warming conditions. They not only require and consume high amounts of energy but also emit tons of greenhouse gases that are deteriorating the overall environmental conditions making it difficult for living beings to survive.
According to the energy department of a country in the Middle East, the district cooling systems are energy efficient. It can significantly reduce the consumption of electricity by approximately 35–45% along with low carbon emission levels as compared to a traditional system. Moreover, people are becoming conscious of global warming and its impact on their survival. They are now willing to understand and consciously make choices that are sustainable. Thus, these factors are expected to boost the market growth during the projection period.
District Cooling Market Report Coverage

| | |
| --- | --- |
| Report Attribute | Details |
| Historical Years | 2017-2022 |
| Forecast Years | 2023-2030 |
| Market Size in 2022 | USD 26,894 Million |
| Revenue Forecast in 2030 | USD 45,836 Million |
| Growth Rate | 7.9% CAGR |
| Report Scope | Market Trends, Drivers, and Restraints; Revenue Estimation and Forecast; Segmentation Analysis; Impact of COVID-19; Companies' Strategic Developments; Market Share Analysis of Key Players; Company Profiling |
| Segments Covered | By Production Technique; By End User; By Region |
Explore more about this report - Request free sample pages
Electric Chillers Dominate the Industry
On the basis of production technique, the electric chillers category leads the market share, and it is expected to grow at a CAGR of 8.0% in the coming years. The electric chillers are quite energy-efficient and reliable, and consume a really low amount of electricity to provide for cooling needs. They utilize an electric motor for operating a compressor, and the compressor is used to increase the refrigerant vapor pressure.
Moreover, these chillers would curtail or somewhat limit the surging demand for energy consumption and are environment-friendly as well. In areas with electricity and water shortage issues, these chillers that have high refrigeration capacities can be used to provide chilled water from a single source to multiple buildings.
Commercial Application Leads the Market Numbers
Based on application, the market is categorized into residential, commercial, and industrial. Likely, the commercial category includes buildings or spaces used for various purposes such as offices, schools, retail outlets, and hospitals. Among different applications, the commercial category holds the largest revenue share. This is attributed to rapid infrastructural developments, increasing awareness about climatic conditions, and sustainability objectives of various companies to reduce their carbon footprint.
In addition, the district cooling systems through their network of insulated pipes would be able to cater to the needs of commercial spaces. According to an article published by an intergovernmental organization, there are ways in which these modern district energy systems can efficiently create a combination of thermal storage, thermal and power grids, and heat pumps, as well as renewables to provide heating and cooling at a significantly lower energy consumption level.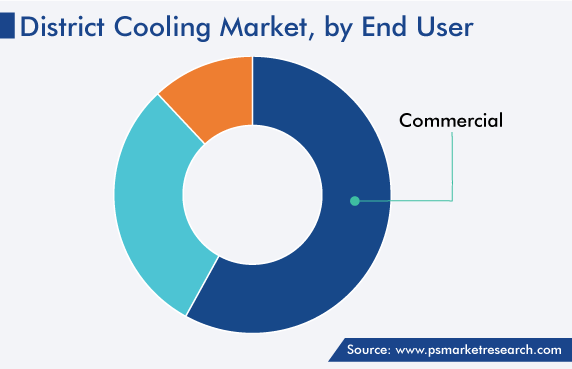 Middle East & Africa Is the Market Leader
During the projected period, the MEA market has accounted for the maximum revenue share, and it is expected to grow at a CAGR of 8.2% during 2022–2030. It is a region characterized by arid conditions, a hot climate, and temperatures going up to more than 50 oC in some countries. The heated conditions become unbearable, especially during the summer season; hence, to live comfortably, people adopt artificial or mechanical systems to adjust the temperature in their residential as well as commercial spaces.
Thus, the harsh climatic conditions, the increasing awareness about environmental conditions, and the growing population in the region would aid in fostering the demand for district cooling systems.
The Asia-Pacific market is also expected to witness steady growth during the projected period. It is likely to be one of the fastest-growing markets for district cooling, owing to the presence of highly populous countries such as China and India, rapid urbanization, the surging number of construction projects, the growing concern regarding environmental conditions, and the increasing government initiatives to include these systems in city development plans.
Moreover, energy consumption levels are quite high in APAC because of being highly populous and the existence of countries that are in their developing phase. Thus, DCS is in significant demand, as it is economical to use in the long run because they are energy-efficient and environment-friendly.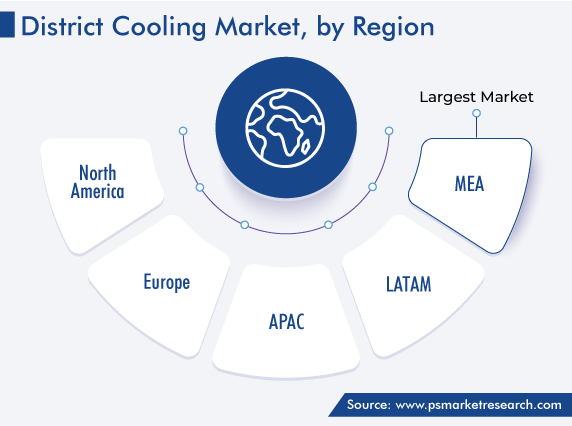 Introduction of District Cooling Initiatives
To achieve climate goals as well as reduce pollution to improve air quality, initiatives like District Energy in Cities have been introduced. These systems would enable people to have access to cleaner and more affordable energy along with better air quality to breathe in. In countries such as India, district cooling is being included in city development plans (smart city plans) so as to bring down electricity consumption and carbon emission levels significantly. Similarly, in Chile, district energy has been included in its National Heat Strategy and Presidential Plan for bringing down pollution levels.
Moreover, several governments are incorporating district energy in their development plans and signing agreements with the District Energy in Cities initiative to ensure that demands are met by optimal utilization of existing resources in sustainable ways.
Some of the Top Companies Providing District Cooling Are:
ADC Energy Systems LLC
Emirates Central Cooling Systems Corporation PJSC
Emicool
Shinryo Corporation
ENGIE SA
LOGSTOR International Sp. Z.o.o.
Siemens
Veolia Environment SA
Keppel Corporation Ltd.
Stellar Energy
Ramboll Group A/S
District Cooling Market Size Breakdown by Segment
This fully customizable report gives a detailed analysis of the district cooling market from 2017 to 2030, based on all the relevant segments and geographies.
Based on Production Technique
Free Cooling
Absorption Cooling
Electric Chillers
Based on End-User
Commercial
Industrial
Residential
Geographical Analysis
North America
Europe

U.K.
Germany
France
Italy
Spain

Asia-Pacific

China
Japan
Australia
India
South Korea

Latin America
Middle East & Africa

Saudi Arabia
South Africa
U.A.E.