Market Overview
The global digital isolator market was valued at USD 2,169 million in 2022, and the market size is predicted to reach USD 4,135 million by 2030, advancing at a CAGR of 8.4% during 2022–2030. The market is driven by the stringent battery safety requirements for automobiles, increase in the demand for noise-free electronic and electrical devices, and rise in the adoption of digital isolators as alternatives to optocouplers.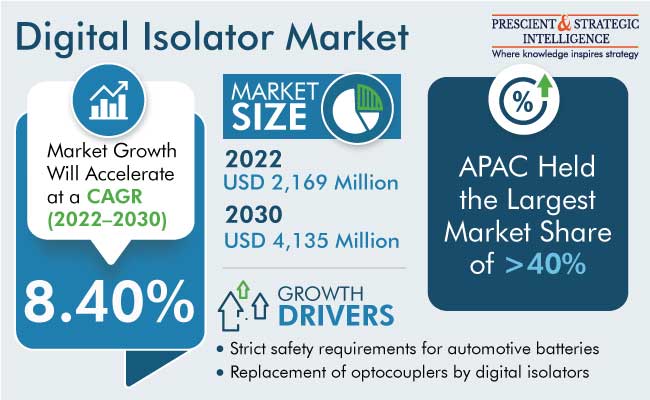 In many applications, optocouplers are being replaced by digital isolators to reduce the power requirement and perform the same degree of signal isolation, while occupying less board space. Isolation products are available for usage with many industry communication standards.
There is a growing necessity to pass control data from one end of the interface to the other, while isolating the receivers, such as USB or RS-232 ports, from the path of the current. Optical isolators are popular in AC-to-DC converters for their low price and a high degree of isolation. Digital isolators are encroaching on optocouplers' traditional turf with their ability to pass Megabits of data, rather than kHz.
There is a need for isolation to protect equipment from or safely withstand high voltages, which would, otherwise, lead to damage. Additionally, it is required to tolerate large ground voltage and disruptive ground loops in circuits operating on high energy levels or those separated by long distances.
Additionally, digital isolators are being increasingly adopted for motor drive applications. This is because with the availability of highly efficient power electronic switches and cost-effective electronic control circuits, variable-speed motor drives have found widespread adoption in industrial applications. Digital isolators make full use of state-of-the-art semiconductor technology and offer several key advantages in terms of size, speed, power consumption, ease of use, and reliability to system designers over traditional optocouplers. Therefore, these devices would help revolutionize the green energy, power supplies, and automotive industries in the forecast period.
Capacitive Coupling Is Dominating Market
The capacitive coupling technology held the largest share in 2022. The benefits of using a capacitive isolation barrier are size and energy transfer efficiency and resistance to magnetic fields. The former enables low-power and cost-effective integrated isolation circuits, while the latter enables operations in saturated or dense magnetic fields. Variants utilizing this technology can minimize the possibility of poor physical contact between two circuits due to vibrations, corrosion, and other factors. Thus, the stability and reliability of the data transferred between the circuits improve.
Moreover, to connect two analog circuits, this capacitor is useful as it allows only the AC signal to pass from the first circuit through to the next, while the DC signal is blocked. It is, thus, used to transmit an alternating current signal from one node to another.
Digital Isolator Market Report Coverage

| | |
| --- | --- |
| Report Attribute | Details |
| Historical Years | 2017-2022 |
| Forecast Years | 2023-2030 |
| Market Size in 2022 | USD 2,169 Million |
| Revenue Forecast in 2030 | USD 4,135 Million |
| Growth Rate | 8.4% CAGR |
| Report Scope | Market Trends, Drivers, and Restraints; Revenue Estimation and Forecast; Segmentation Analysis; Impact of COVID-19; Companies' Strategic Developments; Market Share Analysis of Key Players; Company Profiling |
| Segments Covered | By Technology; By Data Rate; By Channel; By Insulating Material; By Application; By Vertical; By Region |
Explore more about this report - Request free sample pages
Increasing Usage of Digital Isolators in Automotive Sector
The automotive category held the largest global digital isolator market share, of around 36%, in 2022. With electronic engine control systems, automobiles have transformed from a mere physical integration of mechanical systems into an intricate system of sensors, microcontrollers, and other electronics. Automotive designers are rapidly deploying this new technology and expanding their skillset to include more electronic components in their models. With the beginning of the era of EVs and HEVs, manufacturers are abandoning the low-voltage, low-power systems rated at 12 Volts, as modern BEVs and HEVs have systems rated at 800 Volts, with even greater voltages a possibility in the future.
Further, automotive designers are now studying and adopting a new technology in digital isolation, known as galvanic isolation. It splits the high voltage from the low-voltage domain in a vehicle and ensures the safety and operation of modern, high-voltage vehicle systems. The technology behind galvanic isolation has also advanced quickly. Now, the use of simple optocouplers is fading, as advances in CMOS processes have opened the door to advanced digital isolation.
Moreover, an isolated-gate driver allows system controllers to safely govern the switching of field-effect transistors (FETs) from the realm of low voltages. In addition, isolation offers critical safety to the system by continuously protecting low-voltage circuits from the hazardous high voltages. Apart from ensuring device and user safety, the isolation barrier significantly lowers the noise created by the ground loops between two different circuits. This is especially useful in vehicle communication systems, where data integrity is vital.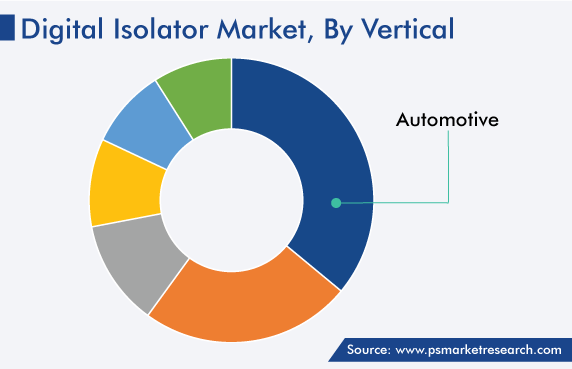 Rise in Adoption of Digital Isolators as Alternatives to Optocouplers
Optocouplers are traditional isolators use high amounts of power and do not support data rates of more than 1 Mbps. Digital isolators have been introduced to decrease the penalties associated with optocouplers, as they use circuitry based on the CMOS technology to provide substantial price and power savings and improve data rates, at the same time. More-advanced circuitry is used in digital isolators to encode and decode data, which permits more-rapid data transmission and the ability to handle complex, bidirectional interfaces, including I2C and USB.
These instruments are available in several variants, from 4-pin devices with a rather low price to more-expensive higher-speed devices. Moderately priced isolators, which are used the most widely, are typically 8-pin LED-based devices that entail an output-side bias voltage and use input-side current to control the output state.
The demand growth rate of digital isolator products is almost twice as that of the overall isolator market, which shows the increasing assurance among the end users to switch from the traditional optocouplers to digital isolators. This is because the latter enables higher throughput and efficiency for the end product, has a longer life, and conforms to higher safety standards.
APAC Held Largest Share
APAC held the largest share, of around 40%, in 2022, as China is the hub for the manufacturers of electronic devices and a range of other equipment. The revenue of the electronic component manufacturing industry in the country increased at an annual rate of 5.5% over the previous five years, reaching around USD 0.3 trillion in 2022. The country is the center of the manufacturing of electronic products, including PCs, TVs, and handsets. Additionally, China's output of certain electronic components is the highest globally, especially low- and medium-end electronic components that are used in everyday life.
For the last 10 years, China has dominated electronics manufacturing. The country remains a vital manufacturing area for electronics even after the COVID restrictions and the recent trade standoff with the U.S. It exports almost half the laptops and cellphones worldwide and supplies many of the subcomponents used during the manufacturing of other products elsewhere.
Moreover, the market in India is growing due to the booming healthcare sector and the Make in India initiative of the government. The Indian healthcare sector is one of the fastest-growing, with a large revenue contribution to its GDP from hospitals, health insurance, telemedicine, medical devices, clinical trials, and medical tourism. For the past two years, healthcare has been a key contributor to the economy of the country. This shift of the focus to the healthcare infrastructure has led the country to realize that there is a massive opportunity beyond the pharmaceutical sector in India. The hospital and diagnostics sector of the country had attracted FDI of more than USD 6.5 billion till June 2020.
Moreover, North America held a significant share, of around 31%, in 2022, attributed to the increasing sales of EVs in the region, with automotive manufacturers aggressively trying to boost their adoption. In 2022, more than 0.8 million EVs were sold in the U.S., with Tesla dominating the market with more than 60% of the total sales. Currently, only around 1% of the 250 million cars, LCVs, and SUVs in the country are electric, and it is expected that by 2030, their share in the total number of cars on the roads will increase to 25–30% and, further, to 40–45% by 2035.
Electronics with high Wattage are becoming an important factor in the drivetrain and battery system of vehicles, since automotive designs are increasingly moving toward electrification. High-power electronics require to be communicated with and governed by digital controllers, thereby requiring digital isolation. Isolators are widely used in battery management systems (BMS), onboard chargers, traction inverters, DC–DC converters, and cooling/heating units.
Additionally, the advancements in medical imaging devices are propelling the demand for digital isolators. These devices help in transferring large volumes of video imaging data from image sensors to image processors, maintaining high levels of electrical isolation. Therefore, digital isolators are being adopted increasingly in North America, which is one of the biggest centers for medical device manufacturers. Hence, the rising electrification of vehicles, increasing pace of advancements in medical imaging, and implementation of safety standards for industrial automation are propelling the growth in the demand for these devices across the region.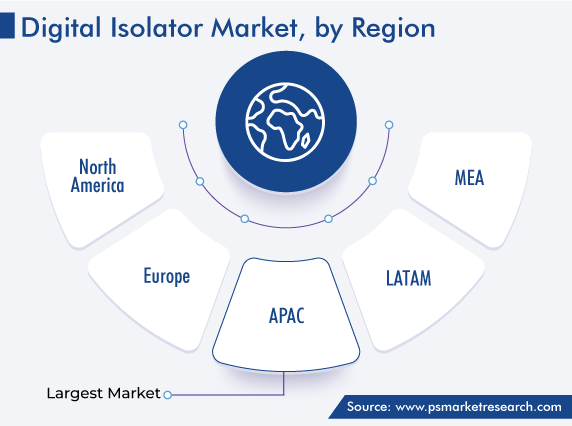 Top Digital Isolator Manufacturing Companies Are:
Texas Instruments Incorporated
Analog Devices Inc.
Skyworks Solutions Inc.
Infineon Technologies AG
NVE Corporation
Rohm Semiconductor
Broadcom inc.
Vicor Corporation
STMicroelectronics N.V.
Renesas Electronics Corporation
Market Size Breakdown by Segment
This fully customizable report gives a detailed analysis of the digital isolator industry from 2017 to 2030, based on all the relevant segments and geographies.
Based on Technology
Capacitive Coupling
Magnetic Coupling
Giant Magnetoresistive
Based on Data Rate
Less Than 25 Mbps
25 Mbps To 75 Mbps
Above 75 Mbps
Based on Channel
2-Channel
4-Channel
6-Channel
Based on Insulating Material
Silicon Dioxide (Sio2)-Based
Polyimide-Based
Based on Application
Gate Drivers
Dc/Dc Converters
Analog To Digital Converters
USB And Other Communication Ports
Can Isolation
Based on Vertical
Industrial
Healthcare
Automotive
Aerospace & Defense
Energy & Power
Geographical Analysis
North America
Europe

Germany
U.K.
France
Italy
Spain

Asia-Pacific

Japan
China
India
South Korea
Australia

Latin America
Middle East and Africa

Saudi Arabia
South Africa