Market Overview
The dicyclopentadiene market size stood at $863.5 million in 2021, and it is expected to reach $1,373.9 million in 2030, growing at a CAGR of 5.3% during 2021–2030. The market growth is primarily attributed to the growing usage of dicyclopentadiene for polymers, resins, and other specialty chemicals. Moreover, due to its highly reactive nature, it can be used as an intermediate for the manufacturing of several performance chemicals used in the building & construction, automotive & marine, packaging, and other industries.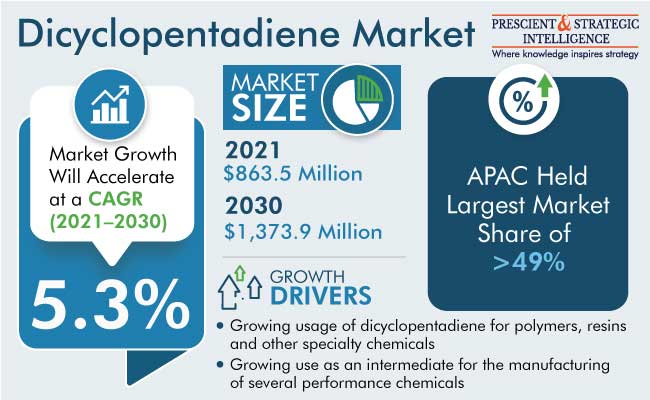 Unsaturated Polyester Resin Dominates Market
Based on type, the UPR category held the largest market share in 2021, and it is expected to reach $644.8 million by 2030, growing at a CAGR of around 5.4% during the forecast period. The UPR grade of DCPD is a key intermediate of paints, coatings, rubber, adhesives, pesticides, insecticides, varnishes, and other products. This is because it has superior mechanical and functional properties, contains fewer trimers and co-dimers, and exhibits better color characteristics than other resins.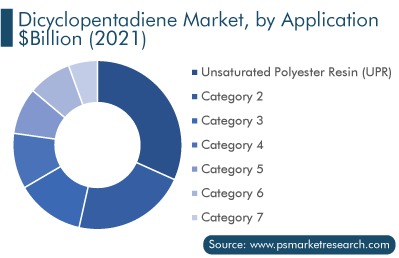 High Purity Category To Witness Highest Growth Rate
The high purity category is projected to witness the highest growth rate, of 5.7%, in the dicyclopentadiene market, owing to the rising demand for specialty & fine chemicals. It is most appropriately described as a class of highly reactive intermediates that result from the high-temperature cracking of petroleum fractions. The high-purity grade of dicyclopentadiene is useful in the manufacturing of unsaturated polyester resins, cyclic olefin copolymers, flavorings, antioxidants, and perfumes.
Hydrocarbon Resin To Witness Highest Growth Rate
Based on application, the hydrocarbon resins category is projected to witness the fastest growth in the DCPD market, of around 5.7%, during the forecast period. Unsaturated hydrocarbons are polymerized to create amorphous thermoplastic polymers, known as hydrocarbon resins. The major applications of hydrocarbon resins are PSA tapes, labels, and hot-melts. These intermediates are also used as a tackifier during the manufacturing of paints, printing inks, adhesives, coatings, rubbers, and other kinds of products.
Building & Construction Category Dominates Market
The building & construction category, based on industry, held the largest dicyclopentadiene market share, of around 23.9%, in 2021. Moreover, its revenue contribution is expected to reach $328.7 million by 2030, growing at a CAGR of 5.3%. In this industry. This chemical is widely utilized in a variety of applications demanding resistance and flexibility, including roofing, glass, concrete, and artificial marble. UPRs also provide structures with impact resistance, reduced weight, enhanced load-bearing capacity, improved sealing, better space use, lower maintenance requirements, and longer durability.
Dicyclopentadiene Market Report Coverage

| | |
| --- | --- |
| Report Attribute | Details |
| Historical Years | 2017-2021 |
| Forecast Years | 2022-2030 |
| Market Size in 2021 | $863.5 Million |
| Revenue Forecast in 2030 | $1,373.9 Million |
| Growth Rate | 5.3% CAGR |
| Report Scope | Market Trends, Drivers, and Restraints; Revenue Estimation and Forecast; Segmentation Analysis; Impact of COVID-19; Segmentation Analysis of Countries; Companies' Strategic Developments; Market Share Analysis of Key Players; Company Profiling |
| Segments Covered | By Type; By Application; By Industry; By Region |
Explore more about this report - Request free sample pages
Asia-Pacific Accounts for Largest Market Share
Asia-Pacific dominates the DCPD market with a size of $422.9 million in 2021, and it is expected to grow at a CAGR of 5.4%, due to the rising demand for this chemical from the plastic & resin industry in this region. Moreover, the growing infrastructure development and the presence of major automotive and electronic appliance manufacturers in China, Japan, and India are propelling the growth of the DCPD market.
The rise in the demand for lightweight automobiles and increase in polyester resin usage in the electrical and electronic components, such as meter boxes and distribution boxes and key building & construction applications such as bathtubs and swimming pools, are driving the chemical demand in the Asia-Pacific region.
Furthermore, China leads the market in Asia-Pacific due to the rising urbanization rate in the country. The world's largest building & construction market is now in China, with a worth of $1,049 billion in 2020. The government intends to enhance the infrastructure in small and medium-sized cities, which is why the construction sector would continue to develop at a significant rate in the coming years. The government investments in highways, railways, waterways, and aviation projects are rising in India and Japan as well, which would drive the need for dicyclopentadiene.
North America To Witness Highest Growth Rate
North America is expected to grow at the highest CAGR, of around 5.6%, during the forecast period, due to the growing marine, plastics, automotive, and adhesives industries in this region. Moreover, the ready availability of key petroleum feedstocks has been projected to boost the production of and demand for dicyclopentadiene in North America. Additionally, the increasing disposable income of consumers and rapid economic developments in this region are responsible for the fastest growth of the dicyclopentadiene market in North America.
Rising Demand for Plastics & Resins Is Driving Market
The increasing demand for dicyclopentadiene in the plastics & resins industry is due to its highly reactive nature. It is used as an intermediate in manufacturing a variety of resins, including aromatic hydrocarbon resins, acrylates, phenolic resins, epoxy resins, specialty resins, lattices, UPRs, and other specialty chemicals.
In addition, dicyclopentadiene is used to manufacture varnishes, paints, elastomers, flame retardants for plastics, pesticides, metallocenes, insecticides, and hot-melt adhesives. Additionally, glass-fiber-reinforced plastic, items including sanitaryware, tanks, gratings, pipelines, and high-performance parts for the transportation and marine industries, including closure panels, fenders, boat hulls, body panels, and decks, may all be made from dicyclopentadiene-modified polyester resins.
Growing Usage of DCPD in Various Industrial Applications Is Driving Market
Dicyclopentadiene is used for several industrial applications, including UPR, hydrocarbon resins, elastomers, ethylene propylene diene monomer (EPDM), poly-dicyclopentadiene, and cyclic olefin polymers & copolymers (COPs & COCs).
A highly pure form of the base chemical is required for the synthesis of COCs and COPs, which are used in several applications, including high-performance films, high-quality lenses, optical discs, and high-density electronic storage media.
Moreover, poly-dicyclopentadiene has stronger resistance to low temperatures and is generally recommended over ordinary polymers, which can become brittle in cold environments. As a result, it is used to create body panels for trucks, tractors, buses, construction equipment, and other types of vehicles.
Additionally, EPDM has a wide application scope in the automotive industry, for the manufacturing of window & door seals, gaskets & O-rings, radiator & heater hoses, wire & cable connectors, diaphragms, and accumulators' bladders. R&D to develop eco-friendly products, such as bio-based EPDM, is likely to provide opportunities to the dicyclopentadiene market due to the growing concerns about the harmful effects of certain petrochemicals on the environment.
Top Players in Dicyclopentadiene Market Are:
Dow Chemical Company
Braskem
Chevron Phillips Chemical Company LLC
Cymetech (Sojitz Corporation)
ENEOS Corporation
Kolon Industries Inc.
LyondellBasell Industries Holdings BV
Merck KGaA
NOVA Chemicals
PJSC Nizhnekamskneftekhim
Global Dicyclopentadiene Market Size Breakdown by Segment
The study offers a comprehensive market segmentation analysis along with market estimation for the period 2017-2030.
Based on Type
DCPD UPR
DCPD High Purity
DCPD Resin
Based on Application
Unsaturated Polyester Resin (UPR)
Hydrocarbon Resins
Ethylene Propylene Diene Monomer (EPDM)
Elastomers
Cyclic Olefin Copolymer (COC)
Cyclin Olefin Polymer (COP)
Poly-DCPD
Based on End Use Industry
Building & Construction
Automotive & Marine
Electrical & Electronics
Packaging
Regional Analysis
North America
Europe

U.K.
Germany
France
Spain
Italy

Asia-Pacific

China
India
Japan
South Korea
Australia

Latin America
Middle East and Africa

Saudi Arabia
South Africa