Dermatology Devices Market Size & Share
The dermatology devices market size stood at USD 7,117.4 million in 2023, and it is expected to grow at a CAGR of 12.9% during 2024–2030, to reach USD 16,552.7 million by 2030. This is ascribed to the rising prevalence of skin disorders, growing awareness of aesthetic procedures, escalating healthcare expenditure in emerging countries, and dermatology devices allowing surgeons and dermatologists to diagnose and treat various skin disorders in time. Additionally, the rising concerns of skin tone lightning, dark spot removal, sketch mark reduction, and scarring wrinkles reduction among adults and elderly people are contributing to the surging demand for these devices.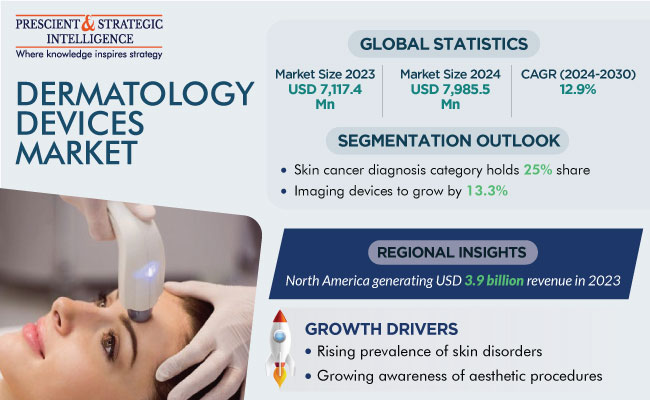 Moreover, consumers are rapidly shifting toward more advanced technology devices from conventional skincare products, as these devices are beneficial for individuals who have a fairness desire and the geriatric population to look good and younger. Also, elderly people are very eager to undergo wrinkle removal procedures as well as skin resurfacing, in turn, contributing to the revenue generation in the industry.
In addition, a rise in product launches by major players is expected to drive the market growth over the forecast period. For instance, in December 2021, Obagi announced the launch of its skincare device, the Skintrinsiq System. This system offers a relaxing, spa-like facial experience and extracts impurities then infuses skincare products with customized treatment protocols for individual skincare needs. Similarly, in April 2022, Skin Science Solutions announced the launch of icoone roboderm at exhale spa, located in the NoMad Hotel in New York City. This new-generation device makes use of unique cellular technologies to provide painless and non-invasive facial and body rejuvenation.
Rising Prevalence of Skin Disorders Drives the Industry
There has been a significant increase in the prevalence of skin disorders around the world in recent years, especially among people living in regions with higher ozone depletion. The most common among these conditions are acne vulgarism, eczema, herpes zoster, urticaria, sunburn, and rosacea, among others, which are contributing to the rising popularity of dermatology devices.
For instance, acne vulgaris is the most common skin condition in the U.S., as per the American Academy of Dermatology, affecting over 50 million Americans every year and resulting in permanent physical and mental scarring. Moreover, as per the same source, approximately 7.5 million individuals have psoriasis in the country. Thus, the surging prevalence of these conditions increased the need for fast diagnosis and treatment, which, in turn, influences the demand for dermatology devices.
Imaging Devices To Emerge as Most-Significant Diagnostic Device Product Category
The imaging devices category is expected to witness a CAGR of 13.3% during the forecast timeline. This can be ascribed to the increasing demand for diagnostic devices due to the rising incidence of skin cancer and skin disorders. Moreover, through these 3D imaging systems, the visualization of skin texture, scale, and captivation of images becomes easy for doctors to understand. Also, these pictures are produced by software that allows for the most accurate observation of newly emerging lesions.
Furthermore, the rise in the frequency of product launches and the technological advancements in imaging devices are projected to drive the market growth in the coming years. For instance, in March 2020, Lumenis Ltd. launched an advanced, intelligent skincare innovation, Stellar M22. This system provides quick and easy management of vascular lesions, tone, skin texture, and hair removal.
On the other hand, the demand for dermatoscopes is projected to expand at a high rate over the forecast period. This can be due to their high sensitivity, accuracy of skin cancer detection, and specificity, and the presence of a large number of skin cancer patients. Additionally, dermatoscopes are gaining enormous popularity as a novel technology due to the integration of artificial intelligence and these are extensively utilized in routine medical operations.
Dermatology Devices Market Report Coverage

| | |
| --- | --- |
| Report Attribute | Details |
| Market Size in 2023 | USD 7,117.4 Million |
| Market Size in 2024 | USD 7,985.5 Million |
| Revenue Forecast in 2030 | USD 16,552.7 Million |
| Growth Rate | 12.9% CAGR |
| Historical Years | 2017-2023 |
| Forecast Years | 2024-2030 |
| Report Scope | Market Trends, Drivers, and Restraints; Revenue Estimation and Forecast; Segmentation Analysis; Impact of COVID-19; Companies' Strategic Developments; Market Share Analysis of Key Players; Company Profiling |
| Segments Covered | By Product Type; By Application; By End User; By Region |
Explore more about this report - Request free sample pages
Skin Cancer Diagnosis Dominates the Market
The skin cancer diagnosis category held the largest market share, of 25%, in 2023. This is attributed to the increasing occurrence of skin cancer. According to the Skin Cancer Foundation, approximately 197,700 incidences of melanoma were diagnosed in the U.S. in 2022. Among these, 97,920 were non-invasive incidences limited to the epidermis and 99,780 were invasive incidences that were penetrating the epidermis into the dermis. Additionally, as per the same source, 1 in 5 Americans are expected to develop skin cancer by the age of 70. Hence, there is a rising need for rapid skin cancer diagnosis.
Moreover, there is an increasing demand for research on skin cancer diagnosis technologies and a number of companies are significantly focusing on launching innovative products for the same, contributing to the growth of the market. For instance, in August 2020, LASEROPTEK Co. Ltd. launched its PALLAS Solid-State 311 nm UVB Laser for the treatment of vitiligo, psoriasis, atopic dermatitis, and leukodermas. This clinically proven and FDA-cleared laser delivers efficacious and safer treatment for a variety of skin conditions.
North America Is Principal Revenue Contributor
In 2023, North America accounted for the largest revenue share, of 55%, in the dermatology devices market. This is attributed to the rising incidence of skin diseases, the increasing awareness regarding aesthetic cosmetic surgeries, the presence of leading industry players, the surging government healthcare expenditure, and easy accessibility to advanced technologies in the region.
Additionally, in the U.S., over the past five years, approximately 7,000 new incidences of self-reported skin problems have occurred every year. Among these, roughly 53% of contact dermatitis cases were allergic, and 60% were due to irritants. Therefore, the adoption of advanced dermatology diagnostics is rising, and, in turn, propelling the industry growth in the country.
Moreover, the Asia-Pacific is the second-largest market, due to the huge patient base in countries such as China and India, the growing beauty consciousness and accessibility to affordable treatments and their alternatives, and the presence of various companies offering advanced equipment for cosmetic procedures, in the region. Furthermore, government initiatives as well as the expansion of the medical cosmetic industry are projected to lead to the progress of the regional market in the coming years.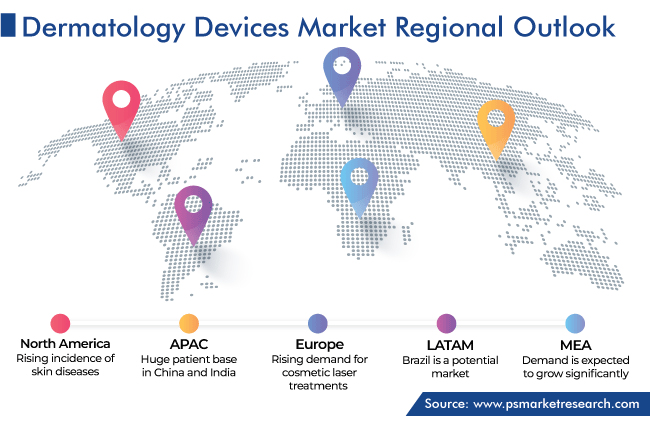 Increasing Adoption of Minimally Invasive and Non-Invasive Aesthetic Procedures Offering Lucrative Opportunities
There has been considerable growth in the choice of minimally invasive and non-invasive aesthetic procedures as compared to traditional surgical procedures in the last decades. These minimally invasive procedures are preferred due to their several benefits including quicker recovery, reduced scarring, less pain, and more economical.
Additionally, there is a rise in the demand for aesthetic procedures among the geriatric population for progressive deterioration of the skin, which is driving the need for treatment devices, cosmetic dermatology, and aesthetic lasers. For instance, according to the 2021 Aesthetic Plastic Surgery Statistics, by the Aesthetic Society, the total number of aesthetic cosmetic procedures performed in 2021 globally for breast augmentations was 364,753, liposuction (491,098), abdominoplasty (242,939), mastopexy (167,395), blepharoplasty (149,668), and breast implant removal/replacement (147,684). With the rising numbers of these procedures, the need for products, including chemical peels, botulinum toxin, and photo rejuvenation products, is expected to increase in the coming years.
Hospital Category Accounts for the Largest Share
The hospital category held the largest revenue share, of 45%, in 2023. This is due to the rising number of hospitals globally, the surging adoption of advanced dermatology equipment by small and large care facilities, the growing cosmetic sector in emerging countries, and the increasing number of dermatology practices in developed countries. In addition to that, hospitals offer a range of treatment and diagnostic options for skin disorders and have better access to modern technologies.
On the other hand, the specialty dermatology clinics category is projected to witness the fastest growth, advancing at a CAGR of 13.5%, in the forecast timeline. This can be due to the upgradation of healthcare infrastructure, easy access to quicker and more effective services in specialty dermatology clinics, an increase in the number of small dermatology businesses, and the availability of dermatologists. For instance, in May 2021, according to the U.S. Bureau of Labor Statistics, approximately 9,230 dermatologists are employed in the country.
Moreover, the growing need for specialized cosmetic procedures, such as facial skin ablation treatment, scar treatment, skin surfacing, and wrinkle removal treatment, is propelling the need for dermatology equipment in specialized dermatology clinics for rapid and effective treatments of such conditions.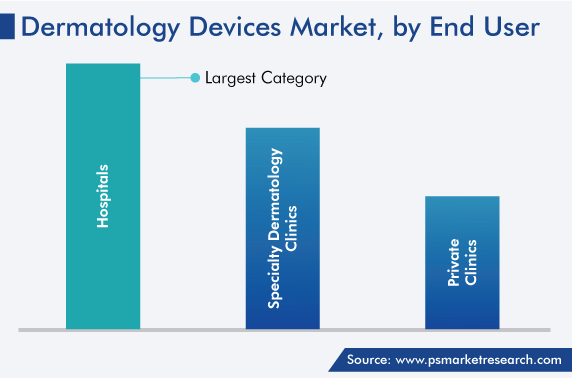 Surging Usage of Smart Devices Is a Key Industry Trend
A prominent trend in the beauty devices sector is the surging use of smart devices for skin treatment. Gadgets such as tablets, computers, and smartphones are finding their way into the skin treatment domain, primarily because of advancements in information and communication technology. Mobile devices and applications help healthcare practitioners take effective decisions, by consulting the general medical data. Due to their high convenience, mobile applications and devices are becoming an industry trend. Also, these mobile applications are being developed and launched to recognize skin cancer at its early stages by using imaging techniques.
Moreover, the rising popularity of artificial intelligence-powered dermatological applications together with simple online access to excellent-quality skin treatments from expert dermatologists via smartphones is expected to drive the industry size.
Key Dermatology Device Producers Are:
Cutera Inc.
Cynosure Inc.
Alma Lasers Ltd.
Bausch Health Companies Inc.
Bruker Corporation
Michelson Diagnostics Ltd.
Olympus Corporation
Candela Corporation
Genesis Biosystems Inc.
HEINE Optotechnik GmbH & Co. KG
Market Size Breakdown by Segment
This report offers deep insights into the dermatology devices market, with size estimation for 2017 to 2030, the major drivers, restraints, trends and opportunities, and competitor analysis.
Based on Product Typ
Diagnostic Devices

Dermatoscopes
Microscopes
Imaging devices

Treatment Devices

Light therapy devices
Lasers
Electrosurgical equipment
Liposuction devices
Microdermabrasion devices
Cryotherapy devices
Based on Application
Skin Cancer Diagnosis
Vascular Lesion Removal
Scar Removal
Hair Removal
Skin Rejuvenation
Acne Treatment
Tattoo Removal
Pore Reduction
Skin Resurfacing and Wrinkle Removal
Body Contouring and Fat Removal
Wart, Skin Tag, and Weight Management
Based on End User
Hospitals
Specialty Dermatology Clinics
Private Clinics
Geographical Analysis
North America
Europe

Germany
U.K.
France
Italy
Spain

Asia-Pacific

Japan
China
India
South Korea
Australia

Latin America
Middle East and Africa

Saudi Arabia
South Africa
U.A.E.