Market Overview
The global depyrogenated sterile empty vials market was valued at USD 3,089.8 million in 2022, and it is predicted to reach USD 4,521.7 million by 2030, advancing at a CAGR of 4.9% during 2022–2030. This is ascribed to the rising number of clinical laboratories, the advancement of technologies in pharmaceutical packaging , and the rapid expansion of the pharmaceutical sector.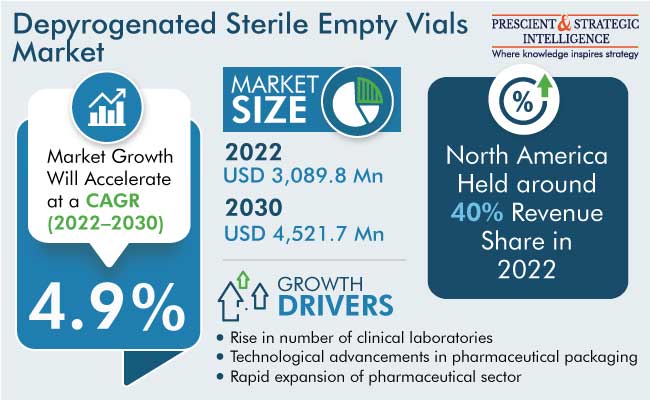 Germany is certainly one of the leading markets for life sciences solutions across the globe. It is Europe's largest pharmaceutical market and has the presence of a large number of industry leaders, a well-developed biotech sector, and an improved public healthcare system. Since the demand for personalized medicine is growing tremendously all over the world, the country has developed as one of the major producers of pioneering biopharmaceuticals. Also, over 500 pharmaceutical players and over 650 biotechnology companies are present in the nation.
In the German market, the need for pharmaceuticals is increased by diverse demographic expansions. The growing geriatric population in the country will drive the demand for medical treatments, particularly for mobility and chronic illnesses. Thus, demographic variations will be advantageous for manufacturers of new and advanced drugs and also for producers of generic medicines. Further, the healthcare industry in the country is highly regulated. The regulations are putting a burden on pharmaceutical companies to lower the costs of drugs for easy accessibility.
Advancements in Pharmaceutical Packaging Technologies
Technological advances in pharmaceutical packaging are also boosting the growth of the market. The pharmaceutical packaging sector is continuously evolving and has experienced annual growth of at least 5% per annum in the past few years. Also, most packaged goods and pharmaceuticals require speedy and reliable packaging for the safe delivery of products, product protection, patient comfort, tampered evidence, and security needs.
Moreover, in the coming next 10 years, the pharmaceutical sector is projected to witness a significant change in primary packaging. The key trends are the growing use of smart packaging, more emphasis on sustainability, more personalized packaging, more importance on safety features, and greater use of digital technologies. These variations enhance supply chain efficiency, improve patient safety, reduce waste, and minimize the risk of counterfeit drugs.
Depyrogenated Sterile Empty Vials Market Report Coverage

| | |
| --- | --- |
| Report Attribute | Details |
| Historical Years | 2017-2022 |
| Forecast Years | 2023-2030 |
| Market Size in 2022 | USD 3,089.8 Million |
| Revenue Forecast in 2030 | USD 4,521.7 Million |
| Growth Rate | 4.9% CAGR |
| Report Scope | Market Trends, Drivers, and Restraints; Revenue Estimation and Forecast; Segmentation Analysis; Impact of COVID-19; Companies' Strategic Developments; Market Share Analysis of Key Players; Company Profiling |
| Segments Covered | By Type; By End User; By Region |
Explore more about this report - Request free sample pages
Clinical Laboratories Dominate the Industry
The clinical laboratories held the largest revenue share, around 60%, in 2022 in the depyrogenated sterile empty vials market, owing to the increasing number of such laboratories. For instance, India has a large number of populations, over 1.4 billion, and thus the country has a large number of clinical laboratories. In the past few years, the number of clinical laboratories in the country has grown rapidly. This is mainly because of the rising requirement for medical testing services, as well as the efforts of the government to enhance access to healthcare. Also, the government is investing in infrastructure and training for pathology labs, for improving testing quality. It is expected that with the surging number of labs in the country, the medical care quality will improve.
Moreover, the increasing number of infectious diseases is also driving the number of clinical laboratories and eventually driving the market growth. In 2021, globally, there were more than 38 million people living with the human immune virus (HIV), more than 1 million acquiring HIV, and more than 0.5 million people dying from HIV-related causes. Thus, the surging number of people with infectious diseases will drive the requirement for clinical laboratories and thus boost the need for depyrogenated sterile empty vials for proper storage of samples.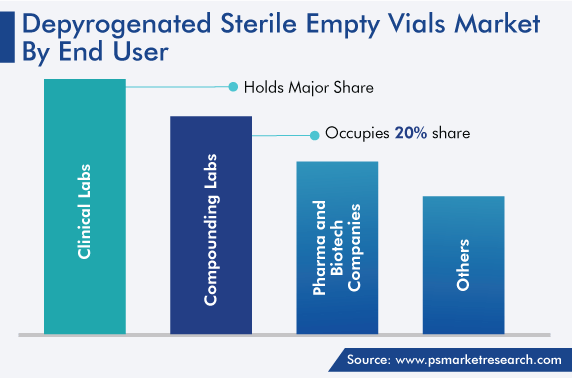 North America Is the Market Leader
Globally, North America held the largest revenue share, around 40%, in 2022. This is mainly because of the mounting demand for such vials in various research laboratories and clinical settings, technological advances in pharmaceutical packaging, and the increasing prevalence of infectious diseases. For instance, Chlamydia is the most common disease in the U.S., accounting for around 1.7 million cases in 2021. Other most common infectious diseases in the country are Staph, E. coli, Herpes, and HIV.
Moreover, the rising number of clinical laboratories in the region for various diagnostic tests is also driving the market. For instance, in the U.S., the number of clinic laboratories is over 0.2 million. Also, governments are funding for these labs to provide advanced clinical services to people. For instance, due to the COVID-19 pandemic, the American Clinical Laboratory Association funded $25 billion for laboratories and testing.
Furthermore, the rising number of research institutes and laboratories and the surging preference of patients for testing and personalized medicine will boost the need for depyrogenated sterile empty vials. For the detailed and improved management of patients, which will result in better outcomes of health, these labs help offer personalized medication.
Moreover, pharma and biotechnology companies are growing at a good pace in the region. There are numerous companies in the U.S. that are experiencing growth and making significant contributions to medical research and patient care. These companies invest heavily in R&D activities. They allocate significant resources to discover and develop new drugs, therapies, and biologics.
The U.S. government also supports R&D through funding programs, grants, and tax incentives, encouraging innovation. The U.S. regulatory framework provides a clear pathway for drug development, clinical trials, and approvals. The U.S. FDA plays a crucial role in ensuring safety and efficacy standards. This regulatory clarity and efficiency enable companies to bring new therapies to market in a timely manner.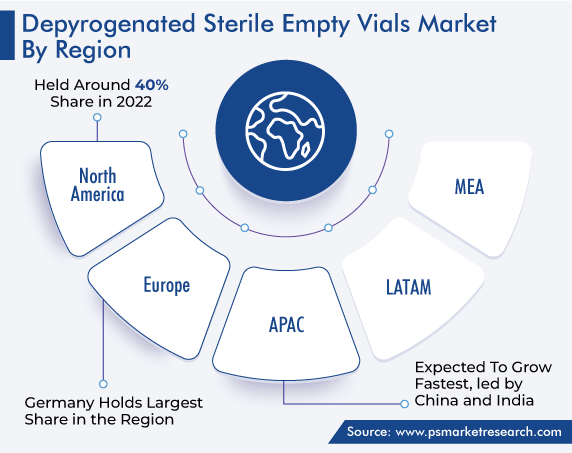 APAC Market To Witness the Fastest Growth
The APAC market is expected to grow at the highest CAGR in the forecast period. This is mainly ascribed to the increasing cases of infectious diseases due to the changes in human behavior, growing antimicrobial resistance, and improved screening intensity and diagnostic technologies. The most frequently occurring diseases are pneumonia, zoster, and influenza. For instance, in 2022, according to a study, among 4 million patients in China, more than 0.1 million people were found to be affected by infectious diseases, with an occurrence density of 695 per 100,000 persons per year.
The most common infectious diseases among the Chinese population are respiratory, which is reported as 20 of the disease types, and mucocutaneous, which is reported as 30 of the disease types. Among the rest, gastrointestinal is reported as 35, vector-borne is reported as 25, and blood and sexually transmitted is reported as 15. It was also identified that specifically vulnerable groups in urban areas had significantly higher rates of infectious diseases as compared with those in rural areas.
Moreover, the country has experienced a swift advancement in the pharmaceutical industry. In 2021, the country had over 5 thousand pharmaceutical producers, and the government is supporting the association of pharmaceutical companies very strongly. In addition, due to the high population size of the country, adequate numbers of patients for testing vaccinations on rare diseases are recruited for testing in China, compared to the U.S. and other Western countries. This, in turn, generates a larger quantity of clinical data and lifts the development of ground-breaking drugs in China.
Moreover, in India, the risk of communicable diseases is high for various reasons such as poor hygiene, poor sanitation, lack of clean drinking water, poverty, and many more. There are more than 1 billion people who are susceptible to falling sick due to communicable diseases. Some of the most common diseases in India are COVID-19, malaria, typhoid, tuberculosis, HIV, hepatitis, and influenza.
Also, globally, India ranks third in pharmaceutical manufacturing by volume and is known for its low-cost vaccines and generic medications. India also accounts for around 60% of vaccines needed globally, and it is a leading supplier of diphtheria (DPT), bacillus Calmette-Guerin (BCG), and Measles vaccines. Further, around 70% of vaccines for WHO usage are sourced from India.
In the Union Budget of 2022, the Indian pharma sector was titled the "sunrise sector" for its economy and is projected to grow threefold in the coming 10 years. By 2024, the Indian pharmaceutical sector is also predicted to reach more than $60 billion. The enormous growth in the sector is due to the leading share of domestic players offering generic formulations to diverse markets, globally.
Top Depyrogenated Sterile Empty Vials Manufacturers Are:
Thermo Fisher Scientific Inc.
VWR International LLC
Corning Incorporated
APG Pharma
DWK Life Sciences
Gerresheimer AG
Stevanato Group
SGD Pharma
SCHOTT AG
Market Size Breakdown by Segment
This fully customizable report gives a detailed analysis of the depyrogenated sterile empty vials market from 2017 to 2030, based on all the relevant segments and geographies.
Based on Type
2 mL
5 mL
10 mL
20 mL
More than 20 mL
Based on End User
Clinical Labs
Compounding Labs
Pharma and Biotech Companies
Geographical Analysis
North America
Europe

France
Germany
Italy
Spain
U.K.

Asia-Pacific

China
India
Japan
South Korea
Australia

Latin America
Middle East and Africa

Saudi Arabia
South Africa