Dental Contouring Market Size & Share
The dental contouring market size stood at USD 2,848.3 million in 2023, and it is expected to advance at a compound annual growth rate of 6.1% during 2024–2030, to reach USD 4,283.7 million by 2030.
The growth can be primarily ascribed to the rising consciousness of aesthetics and the increasing demand for high-precision equipment for several teeth and gum procedures. Due to tooth issues, people become insecure about their smiles. The dental contouring procedure aids in enhancing the symmetry of the teeth and alleviates their overlapping, by lowering the amount of enamel present on them, so they appear good.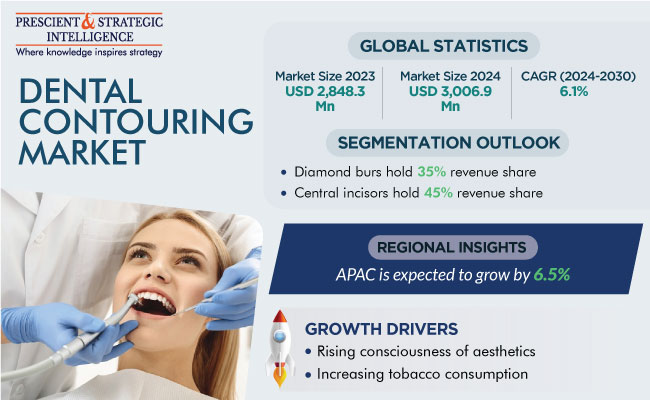 Apart from the increasing consciousness regarding appearance and the aesthetic value of the teeth, the growing prevalence of dental issues contributes toward the growth of the market. Cosmetic dentistry procedures are quite expensive, because of which people now prefer to travel overseas, in order to get the best facilities. Additionally, the presence of skilled professionals has made several countries, such as Colombia, Thailand, Turkey, and India, popular medical tourism destinations for dental procedures. This will provide opportunities to the key players in the market in emerging economies.
Another factor boosting the advance of the market is the increasing tobacco consumption, which causes cancer and white and gray patches. Other major oral health issues are cavities, loss of teeth, and gum diseases. All these factors will augment the number of people visiting clinics for dental contouring procedures.
Among Different Types of Instruments, Diamond Burs Accounted for Largest Share
Diamond burs accounted for the largest share, of 35%, in 2023, attributed to their extreme hardness, because of which they can even grind enamel and enable smoother and faster cutting. These devices are used when a high level of precision is required during shaping and placing crowns, cutting through zirconia, and grinding porcelain.
Moreover, the demand for sanding discs is expected to grow in the coming years because they aid in enhancing oral hygiene and correcting teeth overlap. Moreover, the category is growing because these products can be modified according to the surfaces of the teeth to be contoured or reshaped. They are sandpaper-like strips, which can also be used for mild contouring procedures.
Dental drill demand is also growing at a significant pace in the instrument type segment, as they are needed to remove tooth decay, perform cosmetic procedures, and polish fillings. These electric drills are handheld and quieter, offer more versatility and precision, and minimize vibrations.
Central Incisors Dominate Contouring Site Segment
Central incisors dominate the contouring site segment with a share of 45%, because they are present at the front and are visible whenever someone speaks or laughs. They are the first to suffer damage whenever any accident takes place, and most of the fractures, cracks, and chips also occur at this site. If they are affected, biting becomes difficult and improper. In case the problem is not too severe, it can be addressed through dental contouring, while in the case of a severe issue, the patient requires orthodontics.
Additionally, the lateral incisors category is growing as they are present beside the central incisors. After the removal of braces, central contouring is done for fixing minor injuries. The procedure can also be used for repairing crooked teeth and filling the gaps between them.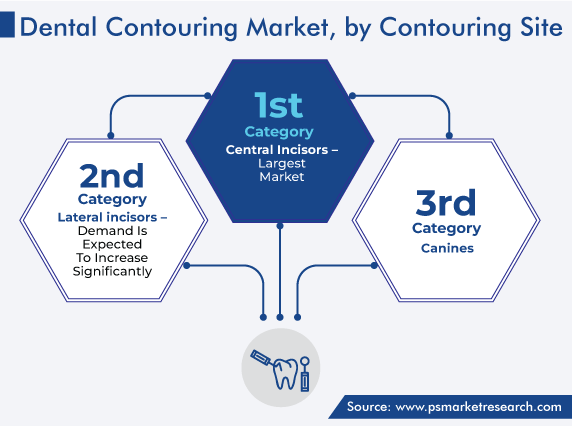 Irregular Edges Are Major Application
Irregular edges are a key application of the procedure, attributed to the benefits of reshaping irregular edges, such as a boost in self-confidence and improvement in appearance. Wear and tear and chipping cause irregularly edged teeth, which further results in bad oral hygiene. Teeth with irregular edges can cause the tongue to get bitten, which causes pain. The procedure helps eliminate this issue by smoothening them and improving the appearance at an affordable cost.
Dental contouring also has an application in tooth overlapping, which can be solved in just one visit, by reshaping and cutting the teeth. However, only minor tooth overlapping can be treated with this procedure; severe cases require the use of different instruments.
Clinics Are Major End Users
Clinics are the major end users in the industry, as patients do not have to wait for long durations at these places. Additionally, these places are rapidly adopting advanced equipment, to offer high-quality services. Further, the less administrative work, flexibility, easy service customization for all patients, and control over the practice are boosting the category's development. According to government reports, in February 2023, the last remaining NHS dentists in Felixstowe went private and, further, started practicing on their own from April. The rising healthcare expenditure and the usage of advanced products for the diagnosis of oral issues are contributing to the increasing customer preference for clinics.
Dental Contouring Market Report Coverage

| | |
| --- | --- |
| Report Attribute | Details |
| Market Size in 2023 | USD 2,848.3 Million |
| Market Size in 2024 | USD 3,006.9 Million |
| Revenue Forecast in 2030 | USD 4,283.7 Million |
| Growth Rate | 6.1% CAGR |
| Historical Years | 2017-2023 |
| Forecast Years | 2024-2030 |
| Report Scope | Market Trends, Drivers, and Restraints; Revenue Estimation and Forecast; Segmentation Analysis; Impact of COVID-19; Companies' Strategic Developments; Market Share Analysis of Key Players; Company Profiling |
| Segments Covered | By Instrument Type; By Contouring Site; By Application; By End User; By Region |
Explore more about this report - Request free sample pages
North America Holds Significant Share in Market
North America has the leading position in the dental contouring market, and it will hold the same position till 2030, with a value of USD 1.2 billion, attributed to the fast adoption of new and advanced technologies in the region.
Moreover, the growing adoption of these instruments and procedures, with the high spending power of citizens, is expected to drive the market in the region. Furthermore, the key players are focusing on the development of new products, mergers, collaborations, and acquisitions, to gain a better position and larger consumer base.
In addition, the availability of various convenient treatments for misaligned teeth, the increasing awareness regarding the recent developments in dental hygiene practices, and a sudden increase in beauty standards have urged people to for this procedure, which will, in turn, propel the growth of the industry in the region.
In North America, the U.S. holds the leading position, attributed to the robust healthcare infrastructure and existence of a large number of key players in the country.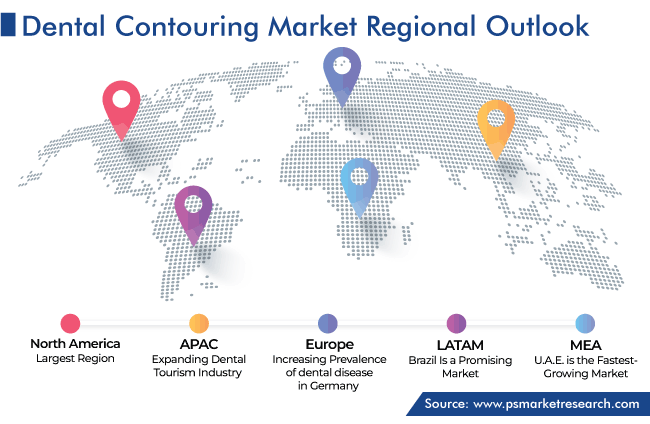 Unhealthy Dietary Habits and Growing Prevalence of Oral Health Problems Boost Procedure Volume
Various prevalent dietary habits are unhealthy, such as chewing tobacco, alcohol consumption, and high-volume intake of sugary foods. With a major chunk of the population adopting these habits, the growing prevalence of oral health problems boosts the market. According to the WHO, around 3.4 billion people across the world suffered from oral health problems in 2022.
A diet rich in sugar and starch, along with carbohydrates, destroys the teeth with time, because it reacts with plaque and converts it to acid. This is why soft drinks are a major cause of tooth decay and dental erosion. Similarly, tobacco causes the loosening of the gums and also irritates the tissues in the teeth.
According to reports, the prevalence of dental diseases is high in European and Asian countries, with cavities and dental caries being the most common. In the same vein, in the U.S., approximately 26% of the adults are suffering from untreated tooth decay, and their number is increasing with the aging of the population. Additionally, emerging economies, such as China and India, are increasingly consuming food that contains high amounts of sugar, a problem that worsens because of the poor brushing habits. Due to these reasons, the teeth weaken, and the chances of fractures and chipping increase. This is why people require contouring, hence contributing to the rise in the industry revenue.
Due to the consumption of food rich in sugar content, oral health issues, including cracks and decay, occur, which require contouring. Smoking also causes tooth decay, and the contouring procedure aids in polishing, whitening, and reshaping them. Therefore, the increasing awareness of dental contouring to counter the damage to the teeth and gums due to unhealthy habits is expected to drive the market growth.
Key Players in Dental Contouring Market Are:
3M company
Young Innovations Inc.
Roland DG Corporation
Henry Schein Inc.
DENTSPLY SIRONA Inc.
Align Technology Inc.
Planmeca Group
Market Size Breakdown by Segment
The report analyzes the impact of the major drivers and restraints on the dental contouring market, to offer accurate market estimations for 2017–2030.
Based on Instrument Type
Sanding Discs
Dental Drills
Diamond Burs
Based on Contouring Site
Central Incisors
Lateral Incisors
Canines
Based on Application
Irregular Edges
Chips & Cracks
Minor Crowding
Teeth Overlapping
Based on End User
Geographical Analysis
North America
Europe

Germany
U.K.
France
Italy
Spain

Asia-Pacific

Japan
China
India
South Korea
Australia

Latin America
Middle East and Africa

Saudi Arabia
South Africa
U.A.E.