Market Overview
The global decanter centrifuge market revenue was valued at USD 1,811.1 million in 2022, which is projected to reach USD 2,561.1 million by 2030, advancing at 4.4% CAGR between 2023 and 2030.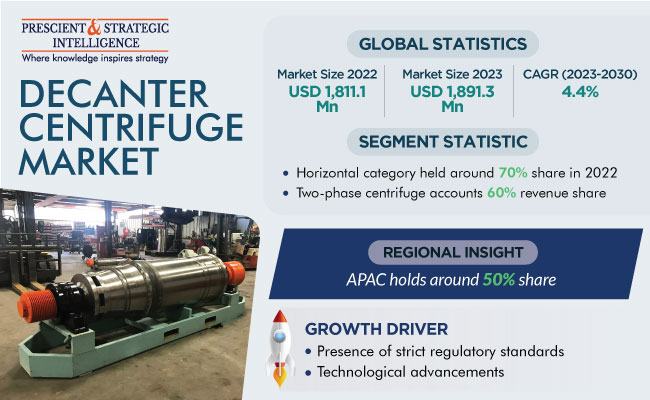 This is mainly due to the surging demand for decanter centrifuges in industries, the presence of strict regulatory standards in the case of product manufacturing, technological advancements, and the surging need for pharmaceutical separation in the food and beverage industry.
Moreover, there is an increase in the demand for solid-liquid separation, which is done by decanter centrifuge, as it possesses good efficiency, great processing capacity, and enhanced product quality. A decanter centrifuge is used to separate different density-carrying substances or differentiate components like solid, liquid, and gaseous. The working principle of this device is based on separation with the help of buoyancy. When components are put in a centrifuge and after that, it rotates, then due to gravity force, heavy particles like sediments and solids automatically fall to the bottom and lighter particles come up to the top.
In the operations of separating components, this device fastens the settling rate by the use of continuous rotation, achieving g-force equal to between 1000 and 4000 G's. This helps in reducing the settling time by large fractions, resulting in mixtures settled in a matter of seconds as compared to previous ones. This type of separation facilitates rapid and controllable results.
Moreover, the decanter centrifuge is employed in processing raw materials in several industries, such as water treatment, mineral processing, chemical, pharmaceutical, and food processing. It can also help in raising the scope of the separation process by employing centrifugal force as a result of rotations, which can remove total moisture from solid products.
Solid bowl centrifuge is also a nickname for decanter centrifuge. It has got applications in the wastewater and sludge treatment industry, as there is a surge in waste products throughout the world. Further, the decanter centrifuge has a spotless appearance and little to no smell problems. In addition, fast start-up and shut-down time, easy installation, requires a small space for operation compared to other devices, low labor costs, and low continuous maintenance are some other reasons that make it a widely used device in different industries.
Surging Demand for Sustainable Solid-Liquid Separation Solutions
There is an increasing demand for efficient solid-liquid separation solutions, as industries worldwide like oil & gas, wastewater management, and food processing demand the best methods for separating solids from liquids, and decanter centrifuge offers this service at an optimum level.
Thus, the growing industrial waste management industry and the rising investments in sludge and industrial waste treatment are propelling the market growth. This is also because governments all around the world are moving toward sustainable growth and the presence of strict regulations to mandate policies like low carbon footprint, low energy consumption, and proper waste management. Further, the decanter centrifuge aids in this field by differentiating solid waste from liquid waste, ultimately lowering environmental impact.
Furthermore, every sector is aware of technological advancements as they aid in an increased amount of work done in less time with greater accuracy. Similarly, exceptional advancements in decanter centrifuge technologies, like enhanced automation, digitalization, and integration with IoT, have improved their overall performance and efficiency, which, in turn, boosts the adoption of decanter centrifuges in diverse industries.
Additionally, massive industrialization and infrastructural advancements in emerging economies make way for remarkable growth opportunities for industry players. These economies present unexplored market potential, and MNCs can increase their footstep by focusing on these countries. Also, MNCs focus on research and development to innovate AI-based control systems for decanter centrifuges, allowing optimization and real-time monitoring.
Decanter Centrifuge Market Report Coverage

| | |
| --- | --- |
| Report Attribute | Details |
| Historical Years | 2017-2022 |
| Forecast Years | 2023-2030 |
| Market Size in 2022 | USD 1,811.1 Million |
| Market Size in 2023 | USD 1,891.3 Million |
| Revenue Forecast in 2030 | USD 2,561.1 Million |
| Growth Rate | 4.4% CAGR |
| Report Scope | Market Trends, Drivers, and Restraints; Revenue Estimation and Forecast; Segmentation Analysis; Impact of COVID-19; Companies' Strategic Developments; Market Share Analysis of Key Players; Company Profiling |
| Segments Covered | By Type; By Design Type; By Operation; By Region |
Explore more about this report - Request free sample pages
Two-Phase Decanter Centrifuge Dominates the Market
Based on the type segment, the market is divided into two-phase decanter and three-phase decanter. The two-phase decanter category holds the largest revenue share, owing to its widespread applications in various industries. Also, this centrifuge is needed to separate solid and liquid in the waste management, oil and gas drilling, manufacturing, food processing, and hemp industries.
It works on the principle of gravitational force. Continuous rotation ensures reaching gravitational force ranging from 1000 to 4000 times the normal G's, ultimately reducing separation time from hours to minutes. It looks like a bowl tube that rotates at an exceptionally high speed. The bowl tube is connected to an internal conveyor, which moves in the same direction but with a different velocity, resulting in the removal of solids from the centrifuge.
Moreover, the three-phase decanter category shows a significant growth rate in the market. This is because it is primarily used when three components are present, one solid and two liquids of different densities, which need to be separated from the solid component. The key quality of a three-phase decanter also known as a tri canter is the continuous separation of three phases in a single operation, which is very valuable in many processes across industries, ultimately resulting in time-saving and efficiency.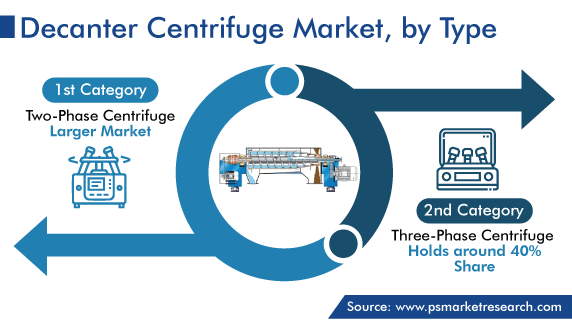 Horizontal Decanter Centrifuge Leads the Market
Based on design type, the market is categorized into horizontal and vertical decanter centrifuges. Between the two, the horizontal category holds a significant share in the market, owing to its widespread usage and growing popularity.
Moreover, in the horizontal decanter centrifuge, the rotating assembly is connected horizontally with bearings on both ends to a solid frame, which facilitates a sealing surface for high-pressure applications. The slurry enters from one end of the bearing, while the gearbox is connected to the other end and is operated at lower speeds. The horizontal machine is set up in a way that slurry can be put in the middle of a rotation horizontal cylindrical bowl.
Whereas, the vertical category is expected to grow at a considerable rate in the coming years, as its usage is very specific. In the vertical decanter centrifuge, the rotating assembly is connected vertically with its weight handled by a single bearing at the bottom. The gearbox and bowl are hung from the drive head, which is attached to the frame. The vertical decanter permits high-temperature operation because of the orientation and rotation seals mounted at one end. This type of structure makes it more expensive than the contrary one.
Asia-Pacific Is the Market Leader
Globally, the APAC market holds the largest revenue share and it is also expected to witness the fastest growth in the coming years. This is due to the growing end-use industries, such as chemical, manufacturing, pharmaceutical, and wastewater, in the region. In APAC, China is the market leader, as it has a well-developed manufacturing industry across the world and also has supremacy in the production of steel, power, chemical, cement, petrochemical, and refining industries. Additionally, Japan recently became one of the world's key manufacturing hubs, owing to the surge in manufacturing processes and the availability of decanter centrifuges in the country.
Furthermore, the North American market is projected to grow at a significant rate. This is due to the advent of advanced technologies in decanter centrifuge, the growing end-use industries, high economic growth, and the presence of key industry players, in the region.
Also, the European market is expected to witness significant growth during the prediction period. This can be because there is surging consciousness of handling industrial waste and sludge, the increasing investments in the industrial waste treatment sector, the existence of prominent manufacturing players such as GEA Group AG, Alfa Laval AB, and Flottweg SE, and the rising need for component separation processes in the region.
In addition, the Middle East and Africa region has several opportunities for market players. This is because of the existence of prominent oil-producing companies in the region, which require decanter centrifuges to a great amount for separation processes.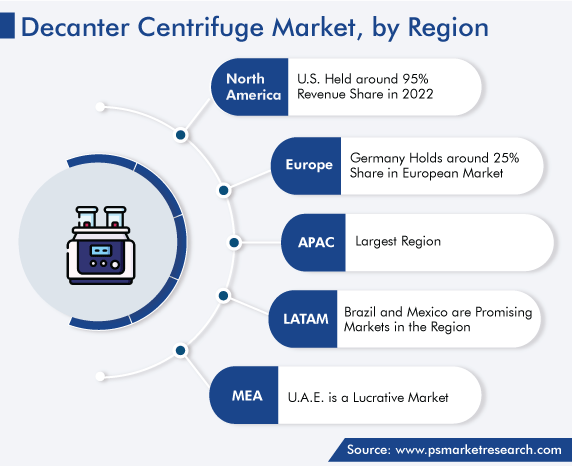 Top Decanter Centrifuge Manufacturing Companies Are:
Alfa Laval AB
Andritz AG
Flottweg SE
GEA Group AG
Mitsubishi Kakoki Kaisha Ltd.
Hiller GmbH
Pieralisi Group
SIEBTECHNIK TEMA
Tomoe Engineering Co. Ltd.
US Centrifuge Systems
Market Size Breakdown by Segment
This fully customizable report gives a detailed analysis of the decanter centrifuge market from 2017 to 2030, based on all the relevant segments and geographies.
Based on Type
Two-Phase Centrifuge
Three-Phase Centrifuge
Based on Design Type
Based on Operation
Based on Application
Chemical
Oil & Gas
Wastewater Treatment
Petrochemical
Pharmaceutical
Geographical Analysis
North America
Europe

Germany
U.K.
France
Italy
Spain

Asia-Pacific

Japan
China
India
South Korea
Australia

Latin America
Middle East and Africa

Saudi Arabia
South Africa
U.A.E.