Data Science Platform Market Overview
The global data science platform market is projected to advance at a CAGR of 39.3% during the forecast period, to reach $195.6 billion by 2023. The growing focus on big data analytics and need for insights on consumer behavior and purchasing patterns are some of the key factors driving the demand for data science platforms globally.
Data science refers to next-generation computing, wherein specific tools and algorithms are applied for in-depth analysis of big data. Several organizations are deploying data science platforms to sustain in the competitive landscape through the optimal use of analytics and to obtain valuable insights from structured and unstructured data available within the ecosystem.
GLOBAL DATA SCIENCE PLATFORM MARKET BY BUSINESS FUNCTION $M (2013–2023)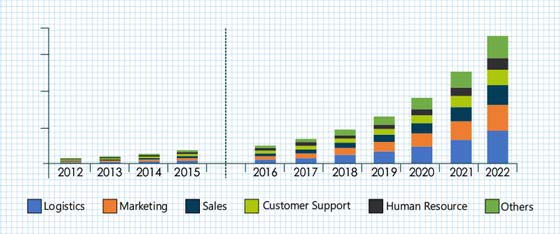 Data science platform is the amalgamation of mathematical programming, statistics, problem-solving techniques, data filtration methods, and other algorithms, which, otherwise, require a number of interventions. These platforms are attracting the interest of organizations looking for enhancing business effectiveness and reducing human intervention. Thus, the adoption of such data-driven solutions is supporting the growth of the data science platform market.
Data Science Platform Market Dynamics
Trends
Key trends observed in the data science platform market include increasing spending on big data and analytics by businesses and their swift progression toward artificial intelligence (AI) solutions. With proliferating opportunities of fast business growth through data science, industries such as fintech and IT are restructuring their traditional method of using data to enhance business outcomes, such as through one-on-one consumer interactions and social media analyses. Moreover, the data science platform industry is expected to flourish on account of constant developments in data-driven technologies in the multifaceted IT landscape.
Drivers
To sustain in the era of digitization, wherein big data analytics plays a pivotal role, organizations are increasingly focusing on optimizing structured and unstructured data to produce meaningful insights, which can further add value to the business. Advanced technologies, such as the internet of things (IoT), machine learning (ML), and AI, derive a lot of data from multiple devices such as cameras, smartphones, and routers, among others, which can be utilized to enhance business operations.
The data science platform market is majorly driven by the fast development in big data technologies, increasing requirement for technologies to enhance operational efficiency, and growing adoption of big data analytics to obtain insights into the buying behavior and purchasing patterns of consumers.
Moreover, data science is opening vast possibilities for learning unobserved consumer purchasing patterns. These patterns enable organizations to comprehend key insights to help their business work efficiently, target potential customers, and offer better services. Furthermore, companies are adopting business analytics solutions that can provide effective outcomes from a large set of data, which, in turn, is boosting the growth of the data science platform market.
Opportunities
Funding and enormous investments in the development of big data and related technologies by public and private sectors are expected to boost the growth of the data science platform market. Players operating in the market can thus leverage from the increasing adoption of data-driven technologies by enterprises and end-to-end execution of data science for greater return on investment (ROI).
Data Science Platform Market Competitive Landscape
Some of the key players in the data science platform market are Microsoft Corporation, Google Inc., IBM Corporation, Wolfram Research, DataRobot Inc., Sense Inc., RapidMiner Inc., Domino Data Lab, and Alteryx Inc. Competition in the data science platform market is moderate. Advancements in data science technologies are encouraging technology providers to enhance their products as per the changing requirements of the end users and adopt organic and inorganic growth strategies for business growth.
The global data science platform market is characterized by players offering technologically advanced data science platform services. Moreover, with growing data complications, several new players are entering the market, to capitalize on the growing demand for consumer-specific data science solutions.
Key questions answered in the report
What is the current scenario of the data science platform market?
What are the emerging technologies for the development of data science platforms?
What is the size (historical and present) of the market segments and their future potential?
What are the major catalysts for the data science platform market and their impact during the short, medium, and long terms?
What are the evolving opportunities for the players in the market?
What are the key regions from the investment perspective?
What are the key strategies adopted by the major players to expand their market share?