Market Overview
The customer experience management market had an estimated value of USD 11,132.5 million in 2023, and it will touch USD 24,546.1 million by 2030, propelling at 12% CAGR during 2023–2030. The growth is mainly because of the increasing usage of online tools, such as websites and mobile apps, by companies to engage with customers, their adoption of AI, NLP, and ML to make clients' experiences more enjoyable, proliferating number of contact centers, and strong need for retaining customers and reducing churn rates.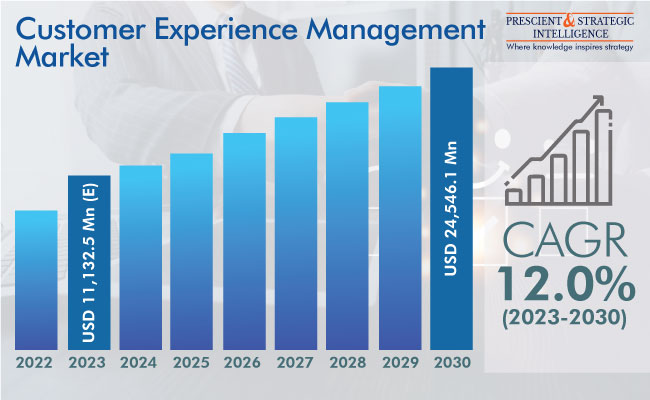 The field of customer experience management encompasses procedures that a business utilizes to track, oversee, and organize every interaction between a client and itself, throughout the consumer lifecycle. The market is thus driven by the utilization of systematic tools for examining consumer feedback from various touchpoints, such as the web, company websites, mobile, and social media.
Satisfying consumers and clients is a major factor that influences the success of a business. Dissatisfied consumers not only shift to other businesses but also share their unpleasant experiences regarding the service or product among others. An effective approach to customer experience management aids businesses in understanding consumers, which enhances the probability of developing a loyal consumer base.
This approach benefits a business in comprehending the suggestions, experiences, and opinions of its users and offering them services and recommendations tailored accordingly. Additionally, the utilization of social media and mobile phones for sharing ideas and expectations is mounting at a rapid pace. Emphasizing a customer-centric method instead of a company-centric one, CXM businesses are implementing innovative methods to connect consumers with businesses for systematic feedback.
Increasing AR and AI Implementation To Drive Market
The increasing implementation of augmented reality (AR) and AI across the media & entertainment, telecommunications, retail & consumer goods, and BFSI industries is a major driver for the market.
The incorporation of ML and AI into CXM solutions makes it easier to predict the behavior of consumers in the future more effectively, based on the analysis of their current preferences. AI-enabled predictive analytics solutions help in the extraction of valuable information from consumer data, which ultimately enables companies to enhance users' experience in the short and long runs.
For instance, in December 2021, TPG launched Anna, an AI-based communication assessment platform, which offers scalability and rapid analysis of communications. This platform can capture human sentiment, advise on strategic customer support process improvements, and offer insights into decision-making.
Additionally, businesses implement advanced AI applications, for instance, biometric measures, facial recognition, digital assistants, and chatbots, to enhance consumer satisfaction.
Text Analytics Leads Analytical Tool Segment
The text analytics category, based on analytical tool, accounted for the largest share in 2022. This is attributed to the increasing demand for social media analytics and the necessity for sorting consumer interactions across several digital touchpoints. Moreover, such tools allow for predictive analytics with precise sentiment analysis and help users in making important business decisions, by evaluating historical and current data.
The web analytics category will exhibit significant growth during 2023–2030. This is mainly attributed to the increasing emphasis of businesses on enhancing their revenue by improving communications with consumers online, maintaining a brand presence, and offering personalized content to consumers. This is itself boosted by the growing number of people with internet access, with the World Bank estimating the percentage of people on earth with internet access at over 63%.
Call Center Touchpoint Account for Largest Share
Based on touchpoint, the call center category held the largest share of the customer experience management market in 2022. This is mainly because of the increasing adoption of advanced contact center software, growing deployment of cloud-based and virtual contact center solutions, increasing need to attain better customer satisfaction, and evolving role of social media in contact center operations.
The web category will observe significant growth, mainly attributed to the increasing communication with customers over apps or websites, as well as the growing role of digital content. Here, automatic content recognition software plays a key role in customer engagement, by analyzing people's content choices and then recommending them similar stuff the next time.
Retail & Consumer Goods Is Largest End User
The retail & consumer goods category, based on end user, dominated the market in the past. The retail & consumer goods sector heavily invests in product promotion and marketing to gain consumers and boost sales. Moreover, customers have increasingly become aware of the product/service quality and are willing to pay more for better-quality goods.
Therefore, it has become slightly difficult for companies to differentiate themselves on the basis of product/service prices, which has shifted their focus on enhancing their quality as well as addressing people's concerns regarding the same.
The banking, financial services, and insurance (BFSI) category is expected to observe significant growth, primarily attributed to the growing popularity of digital banking solutions among customers. This has encouraged the BFSI sector to invest in analytical tools that offer multi-channel customer experience management capabilities, to efficiently meet consumers' expectations.
A lot of people now communicate with banks via mobile apps, websites, and call centers as the first choice of contact, rather than visiting the institution itself. Additionally, BFSI organizations can uphold quality standards, while lessening internal inefficiencies, by using customer experience management solutions.
Customer Experience Management Market Report Coverage

| | |
| --- | --- |
| Report Attribute | Details |
| Market Size in 2023 | USD 11,132.5 Million (E) |
| Revenue Forecast in 2030 | USD 24,546.1 Million |
| Growth Rate | 12.0% CAGR |
| Historical Years | 2017-2022 |
| Forecast Years | 2023-2030 |
| Report Scope | Market Trends, Drivers, and Restraints; Revenue Estimation and Forecast; Segmentation Analysis; Impact of COVID-19; Companies' Strategic Developments; Market Share Analysis of Key Players; Company Profiling |
Explore more about this report - Request free sample pages
North America Ise Market Leader
Globally, North America leads the global customer experience management market, attributed to the increasing investments in marketing via digital channels by Canadian and U.S. businesses. Additionally, the U.S. has been among the first countries to embrace the AI, ML, and NLP technologies for marketing and customer engagement purposes.
Further, social media is becoming a key channel for businesses to enhance brand awareness, share and receive feedback, and analyze product reviews. Social middleware, social monitoring, social measurement, and social management solutions allow businesses to establish customer engagement and enhance their brand presence.
The APAC market will exhibit the fastest growth in the years to come. This is because of the continuous development of self-service competencies and AI-based tools, for instance, IVR, chatbots, and web self-service. These tools enable businesses in providing instant support, initiating proactive responses, and understanding the shifting customer behavior better.
Moreover, India and China are two key hubs for North American and European companies to outsource their customer support operations. To cater to the demands of call centers for better CXM solutions, overseas and domestic IT vendors are offering a range of functionalities via the on-premises and cloud models.
Healthcare Industry Expansion Is a Key Opportunity
The healthcare industry is ever more focused on enhancing the experience of patients. Customer experience management solutions can be utilized to examine patient data and offer personalized experiences, which can enhance the outcomes for patients.
Additionally, the healthcare industry is swiftly implementing digital health solutions, for instance, remote patient monitoring and telemedicine. CXM solutions can be combined with these functionalities to offer a better personalized care to patients. Moreover, the growth of the healthcare industry creates numerous opportunities for customer experience management industry players to offer solutions that enhance the patient experience by enabling healthcare firms to shift toward value-based care.
Key Players in Customer Experience Management Market Are:
Alcatel-Lucent
Amdocs Inc.
Adobe Inc.
Cisco Systems Inc.
Hewlett-Packard Enterprises
Ericsson L.P.
International Business Machines Corporation
Nokia Corporation
Zendesk Inc.
SAP SE
Oracle Corporation
Genesys
Microsoft Corporation
Avaya
SAS Institute