Market Overview
The global cryocooler market size was valued at $2.51 billion in 2021, and it is expected to reach $4.45 billion by 2030, advancing at a growth rate of 6.6% during 2021–2030. The market growth has been spurred by the surging need for medical and healthcare services in developing economies and the increasing utilization of cryocoolers in proton therapies, nuclear magnetic resonance instruments, magnetic resonance imaging (MRI) systems, cryosurgeries, and liquefaction of oxygen in hospitals.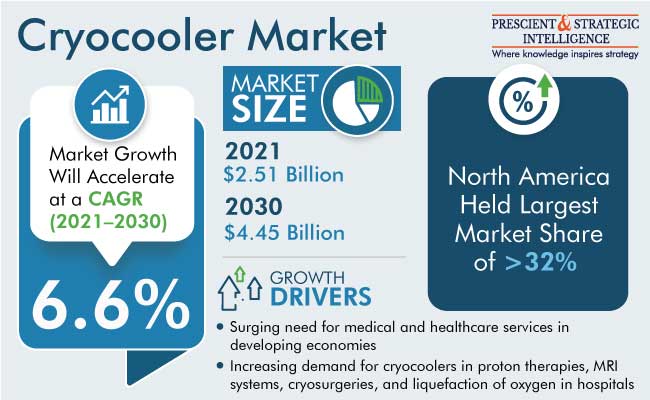 Aerospace and Defense Category To Witness Highest Growth Rate
The aerospace and defense category is expected to record the fastest growth, advancing at a CAGR of more than 7%, during the forecast period in the cryocooler market outlook. Cryocoolers are accepted in association with sensitive electronics and sensors for commercial, military, or scientific space payloads. The most well-known of the publicly available LEO sensors are MODIS and LANDSAT sensors, with spatial resolutions of 250/500/1,000 m and 30 m, respectively. These applications' overall requirements are low vibration and ability to survive satellite launch vibration, high reliability and power efficiency, and long-term exposure to space radiation.
Besides these, cryocoolers are increasingly being used in the missile guidance application, as advanced guided-weapons technology is now a prerequisite of a modern military inventory. From very short-range anti-air and anti-armor missiles to short, medium, and long-range air-to-air and air-to-surface weapons, ballistic and cruise missiles now form a central element of the most capable national militaries. The increasing adoption of such systems is, in large part, a function of their perceived military effectiveness.
For instance, the recent advent of low-frequency pulse tube cryocooler has proven to be highly beneficial for cooling infrared sensors used in military applications such as missile guidance, range detection, and many others.
Also, the locally developed rugged cryogenic liquefication generation plants from EHL Group and AFCryo enable an ongoing reliable LOX supply for military or commercial applications. EHL Group and AFCryo's robust and reliable cryocoolers and liquefication systems embrace mechanical simplicity in the dual-diaphragm pressure wave generators. When combined with the lack of moving parts of the large linear pulse tubes, this connects to deliver a cryocooler ideally suited to the liquefaction and reliquefaction of gases in any environment.
In addition, Northrop Grumman Space Technology has developed a high-frequency coaxial pulse tube micro cooler optimized for rapid cool down. It provides a 1.3 W heat lift at 77 K and a 4.0 W heat lift at 150 K, with an input power of 35 W. With reduced heat lift capacity, temperatures below 77 k can be achieved. A few miniature cryocoolers have the potential to meet microsatellite military needs.
By using R&D methods, such as computational fluid dynamics, particle image velocimetry, and innovative pursuits in vibration reduction and solid-state cooling, the potential to decrease the size, weight, and power is significant. Further research into efficiency is likely to lead to cryocoolers for microsatellite military applications becoming accessible for any electro-optical and infrared sensor, hence enabling the desire for inexpensive, more responsive, and smaller microsats.
In addition, cryocoolers are increasingly finding applications in the semiconductor fabrication industry, due to the diminished costs of large-scale fabrication processes and the increased sales of semiconductors. Also, the demand for cryocoolers is projected to grow significantly for high-temperature superconductors in wireless cellphone base stations globally. With the energy conservation advantage of high-temperature superconductors, the downstream application industries will need more superconductor products, thus driving the demand for cryocoolers.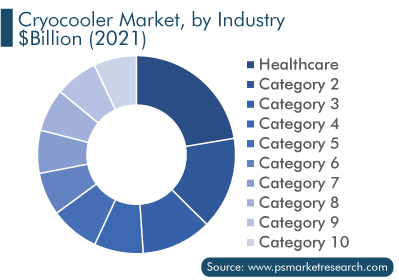 Moreover, the rising need for cooling down IR sensors used in infrared thermography provides several opportunities to small-sized cryocoolers manufacturers. An infrared camera or thermal imaging camera is a notable application of mid-IR sensors and is swiftly adopted in space exploration activities for data mining and image sensing. For example, according to Jet Propulsion Laboratory (JPL), NASA launched the James Webb Space Telescope in 2021.
Besides, the sensitivity of nuclear magnetic resonance (NMR) spectrometer is limited by thermal noise, and thus, to increase the signal-to-noise ratio (SNR), cryogenically cooled probes with cryocoolers are used. To cool RF coils in the probe below 10 K, Gifford McMahon/Joule-Thomson (GM/J-T) cryocoolers are used.
Furthermore, cryocoolers are significantly finding applications in superconducting magnetic energy storage for peak shaving. It is a direct electric energy storage technology that is solely in the early commercial stage in the energy storage market. The superconductor industry is firmly linked to the cryogenic industry, due to the working temperatures needed for superconductivity being below 130 K. Such cooling comes from cryogens or cryocoolers.
Energy storage has become a key issue to facilitate the widespread adoption of renewable energy resources. Similarly, liquid hydrogen is expected to serve as a medium for storing renewable energy resources. However, the gas (helium or hydrogen) compression cycle cooling technique is expected to be used widely for the liquefaction of hydrogen, which suffers from high operational costs currently.
In addition, cryocoolers also find use in cryopreservation, which is a process that preserves cells, tissues, organelles, or any other biological constructs by cooling the samples to very low temperatures. The technologies and understanding of cell and tissue cryopreservation have developed rapidly over the years. There is the widespread application of cryobiology in many areas, including reproductive medicine, hematopoietic stem cell treatments in cancer, targeted immune cell therapies such as CAR T-cells, and animal and plant gene banks.
The cryocoolers are also massively used in the mining and metal sectors to prevent corrosion and wear resistance. Deep cryogenic treatment (DCT) is a type of cryogenic treatment where a metallic material is subjected to temperatures below –150 oC, normally to temperatures of liquid nitrogen (–196 oC).
Cryocooler Market Report Coverage

| | |
| --- | --- |
| Report Attribute | Details |
| Historical Years | 2017-2021 |
| Forecast Years | 2022-2030 |
| Market Size in 2021 | $2.51 Billion |
| Revenue Forecast in 2030 | $4.45 Billion |
| Growth Rate | 6.6% CAGR |
| Report Scope | Market Trends, Drivers, and Restraints; Revenue Estimation and Forecast; Segmentation Analysis; Impact of COVID-19; Companies' Strategic Developments; Market Share Analysis of Key Players; Company Profiling |
| Segments Covered | By Offering; By Heat Exchanger; By Industry; By Temperature Range; By Region |
Explore more about this report - Request free sample pages
North America Is Principal Revenue Contributor
In 2021, North America accounted for the largest market share, of more than 32%, in the cryocooler market, owing to medical research and healthcare innovations and the rising investments in the defense sector. Moreover, the increasing number of cancer cases is one of the important factors that is expected to impact the regional market positively.
For instance, in December 2020, the Department of Defense of the U.S. initiated a project, "Compact Cryocooler for Maritime Operations". The objective of the project underlines the development of a scalable, compact, high-efficiency, low-cost cryocooler, which is capable of operations for maritime environments.
Moreover, the U.S. Navy sought plans on using HTS in several applications, including degaussing operations of large surface combatant ships. The requirement specifies large cryocoolers, which are less sensitive to the impacts of size, weight, and efficiency than tactical applications. The Navy highlighted the movement toward smaller-scale applications in the future, which further fuels the requirement for novel compact cooling solutions. For example, the Navy's development of superconducting magnets on the order of 6–24" diameter requires cooling to cryogenic temperatures between 20 K and 50 K with 40–80 W of available cryogenic cooling power.
In addition, the presence of key players and the increase in product launches are driving the regional market. For instance, in August 2020, RIX Industries (CSA CSM) announced the supply of mission-critical cryocooler technology for shipboard pilot and medical applications for the USS Gerald R. Ford (CVN-78). The company offered its experience in providing the U.S. Navy with military-grade compressors and nitrogen generators for decades to design and manufacture a liquid and gaseous oxygen generator.
Furthermore, an industry leader, Ricor-USA Inc. developed the K562S, a rotary Sterling mini micro-cooler. With a cooling capacity of 200 mW at 95 K and 300 mW at 110 K, it has been used in several small gimbals designed for military applications.
The European market is expected to witness a decent growth rate during the forecast period. This can be because cryocoolers are widely used in high-end systems & detectors such as scaled-downed payloads, thermal weapon sights, and missile warning systems, in the region.
Enhanced performance with increased features, such as detector sensitivity, for an EO and IR application in microsatellites, is projected to generate a more innovative opportunity for cryocooler businesses in the coming years. The new trend of developing mini and microsatellites for budget-constrained missions has presented new opportunities in space cryocooler applications, consequently fostering the market growth.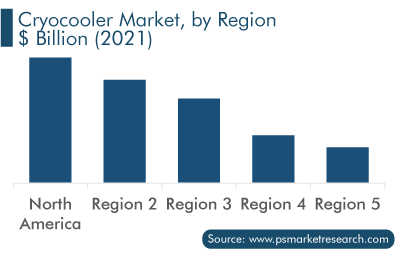 Apart from the above, in June 2020, the European Space Agency (ESA) closed TDE activity with Lumium, in the Netherlands, and the University of Pisa, Italy, made the first step in engineering optical cryocoolers for space applications. The activity aimed to investigate the roles of rare-earth ion codoping of fluoride crystal hosts and the effects of active ion concentrations. In addition, the activity found that optical solid-state cryocooling technologies can provide truly vibration-free cooling in a miniaturized and robust format, filling a significant technology gap. A record cooling temperature of 87 K was recorded during the testing.
Key Players in the Cryocooler Market Are:
Sumitomo Heavy Industries Ltd.
Chart Industries Inc.
Sunpower Inc. (AMETEK Inc.)
Cryomech Inc.
Northrop Grumman Corporation
Advanced Research Systems Inc.
RICOR
Superconductor Technologies Inc.
L'AIR LIQUIDE S.A.
Market Size Breakdown by Segment
The study offers a comprehensive market segmentation analysis along with market estimation for the period 2017-2030.
Based on Offering
Based on Heat Exchanger
Regenerative
Recuperative
Based on System Type
Aerospace and Defense
Healthcare
Semiconductor and Electronics
Energy
Environmental Monitoring
Agriculture & Biology
Nuclear
Mining and Metals
Transportation
Geographical Analysis
North America
Europe

Germany
France
U.K.
Italy
Spain

Asia-Pacific

China
India
Japan
South Korea
Australia

Latin America
Middle East and Africa

Saudi Arabia
South Africa