The global personal protective equipment (PPE) market, which was valued at $48.7 billion in 2019, is projected to advance at a 7.7% CAGR during the forecast period (2020–2030). The growth in the market is majorly due to the increasing prevalence of COVID-19 and surging demand for PPE from healthcare workers and individuals.
Intensifying Demand from Healthcare Facilities
According to worldometer.info, worldwide cases of COVID-19 increased to over 11.6 million on July 06, 2020, from around 0.2 million on March 18, 2020. The virus has spread to almost every country, due to which the number of infected patients is rising. This is straining the countries' healthcare resources, thus leading to a heavy demand for PPE from healthcare facilities. Hence, the above-mentioned situation is boosting the PPE market growth currently.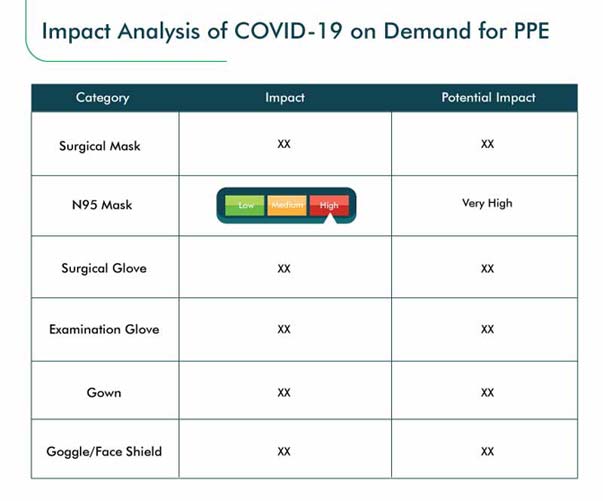 Current Obstacles in PPE Industry
The demand for numerous medical supplies and drugs has increased multifold, due to the surge in COVID-19 patients, globally. People who are not at risk of infection or currently not infected are, as a precaution, purchasing PPE, including masks and gloves. Government and private organizations have started storing these items, thereby leading to huge growth in the demand, currently. Furthermore, the disruptions in the global supply of PPE items are mainly being caused by the surging demand leading to panic purchasing, hoarding of these items, which is leading to less access to others. Furthermore, export bans and workforce shortage are other prime reasons behind the disruption. The aforementioned scenario is expected to result in a further shortage of these items, globally.
Industry Analysis
Among all the PPE items, masks and respirator items are witnessing significant market growth. It is majorly due to the high demand being generated from healthcare facilities and individuals, to meet their precautionary and regulatory requirements during the pandemic. Furthermore, as per the United Nations International Children's Fund (UNICEF), during the first quarter of 2020, the delivery of over 6.4 million gloves, 1.8 million surgical masks, and one million gowns was done in countries across the world.
Further, among all industry verticals, the healthcare industry is witnessing rather robust growth, majorly due to the huge number of infected patients across the world, which is continuously rising. However, during the pandemic, most of the other industry verticals, such as manufacturing and construction, have gone in temporary lockdowns and are witnessing a shortage of workers, which is leading to a low demand for PPE.
Geographical Outlook
Among all regions, North America is expected to generate significant revenue in the global PPE market during the forecast period. It would majorly be due to the strict regulatory requirements and huge growth in COVID-19 cases in the U.S. In addition, the surge in the demand for essential healthcare items has led to an increase in the prices of PPE items, such as surgical and respiratory masks. The prices of respiratory masks offered to individuals increased to over $7.0 each, from around $0.3 each before the crisis.
Competitive Landscape
To fulfil the demand for PPE kits and related items, many companies in the PPE market are signing contracts with government and public entities. For instance, in April 2020, the U.S. Department of Defense finalized contracts worth nearly $133.0 million for N95 respirators, including a $76.0-million contract with 3M Company, $29.0-million contract with Owens & Minor, and a $27.4-million contract with Honeywell International Inc.
Earlier, in March 2020, the German government had signed a contract worth nearly $177.0 million (EUR 163.0 million) with Italy. The former was expected to send one million face masks to the latter, to deal with the COVID-19 situation.
Some of the key market players in the PPE Market are:
UVEX ARBEITSSCHUTZ GmbH

Top Glove Corporation Bhd

Ansell Ltd.

Kimberly-Clark Corporation

Dynarex Corporation

Mölnlycke Health Care AB

Gentex Corp.

Joyson Pte. Ltd.

SUPERMAX Corporation Berhad

Cleanroom.de GmbH
Browse Deatiled Report on PPE Market