Corrugated Boxes Market Overview
The global corrugated boxes market size was $180.9 billion in 2019, and it is projected to witness a CAGR of 4.3% during the forecast period (2020–2030).This growth can be majorly attributed to the rising demand for lightweight and convenient packaging solutions across diverse industries. In addition, the strong growth in the e-commerce and offline retail sectors has resulted in the increasing demand for corrugated boxes for retail-ready packaging.
Despite the imposition of lockdowns by various governments during the COVID-19 situation, the global demand of corrugated boxes has witnessed a rise, as they are considered the backbone of the supply chain, especially in countries such as the U.S., Germany, China, and India, as stated by the Fibre Box Association in 2019. Owing to the high demand for these boxes for the supply of goods to grocery stores, retailers, pharmacies, and hospitals, COVID-19's impact was limited on this industry.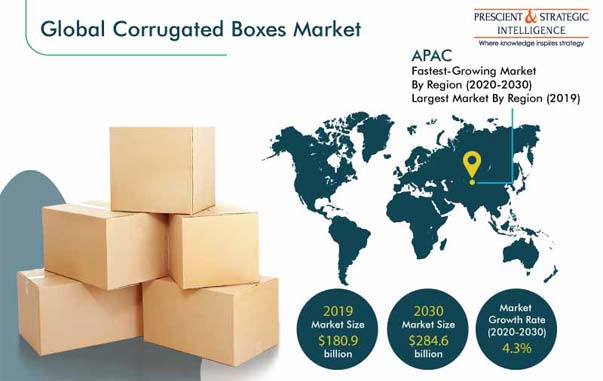 C Flute Is Largest Flute Type Category in Industry
Owing to its good crush resistance, high stacking strength, and suitability for high-quality printing, C flute was the most popular product in the corrugated boxes industry in 2019, on the basis of flute type. This flute type finds widespread usage in corrugated boxes for shipping purposes, primarily for the packaging of glass products, dairy products, and furniture. In addition, this flute type is compatible and can be used in combination with the E and B flute types, for double-wall boxes, in order to achieve structural strength for transporting heavier items.
Single Wall Is Highest-Revenue-Generating Board Style
Boards with a single wall, on the basis of board style, held the largest revenue share in the global market in 2019. These boxes are made from single-wall corrugated boards, which are lightweight and are, therefore, ideal for carrying low-weight objects. Owing to their flexibility, these boards can be easily converted to boxes of any size, as per the specific industry requirement. Furthermore, the inner and outer liners give structural strength to the box, with the flute in between capable of absorbing shocks during the transportation of products.
Slotted Boxes To Dominate Market during Forecast Period, under Box Style Segment
During the forecast period, the slotted boxes category is expected to hold the largest revenue share in the box style segment. These boxes are made from one-piece corrugated boards, which facilitate easy foldability, due to their flexibility. The slotted configuration consists of dividers/separators that help organize assorted products in the box with minimum product movement, which is why such boxes are generally used for shipping fragile products. In addition, overlapping flaps and fill-in pads provide extra cushioning to the material being transported.
Processed Food Sector Rapidly Embracing Corrugated Boxes
Owing to the rising concerns over food freshness and safety, particularly during the shipping of grain-based food, canned & frozen food, and bakery & dairy products, the demand for corrugated boxes among processed food manufacturers is considerably high. These boxes ensure the safety and freshness of processed food items during their transit from the manufacturers to the retailers or end users. Owing to the aforementioned reasons, the processed food category accounted for the largest value share, under the end use segment.
Asia-Pacific (APAC) Region To Witness Highest and Fastest-Growing Consumption
Some of the major factors credited for driving the market growth in the region are the increasing environmental awareness and rising focus on sustainable packaging, growing e-commerce activities, and increasing demand for electronic goods and personal care products. Moreover, the easy availability of raw material and increasing government initiatives to support environmentally sustainable developments are encouraging the use of corrugated boards for primary and secondary packaging applications.
Furthermore, APAC remains a prominent manufacturing hub, owing to low labor and logistics costs. In view of this, several companies across the world outsource their manufacturing operations to countries in the APAC region, in order to cut down on expenses. This also creates growth opportunities in the corrugated boxes market of the region, as the products manufactured are packaged at the same place, thus resulting in the high adoption of corrugated packaging for the transportation of the final products to the end markets.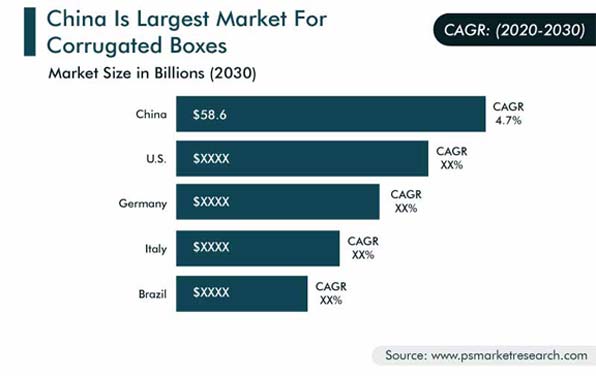 Growing Focus on Product Recycling and Sustainable Packaging Is Key Market Trend
Conventionally,corrugated boxes were disposed of after use, which led to massive waste accumulation in landfills, resulting in harmful environmental effects. However, manufacturers have now started using advanced technologies for shredding and compaction, which help in the recycling of corrugated boxes. When the corrugated material is recycled, fiber is produced, which can be utilized for the development of new corrugated boards. Furthermore, recycling helps in waste reduction, thereby benefiting the environment at large. Due to this, manufacturers are increasingly focusing on the recycling of old corrugated packaging materials for the development of new products.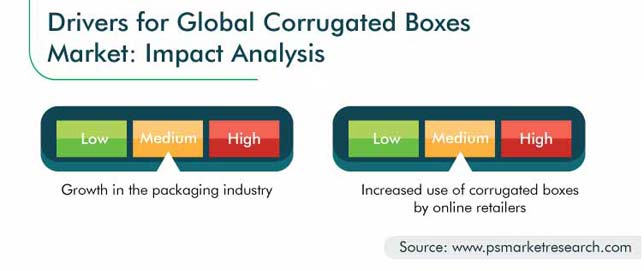 Growing Packaging Industry Augmenting Corrugated Box Demand
According to Interpack Emerging Market Outlook, the global packaging industry was valued at $839 billion in 2015. The rise in the demand for manufactured goods, ranging from smartphones and television sets to consumable items such as candies, has pushed the demand for corrugated packaging, especially corrugated boxes, owing to their high structural strength and crush resistance. Further, the packaging industry valued more than $900 billion in 2019, and it is witnessing growth despite the COVID pandemic. Furthermore, corrugated boxes are mostly recommended for shipping applications, as they are pressure-resistant and stronger than regular cardboard box packaging. Hence, corrugated cartons are widely used for transporting heavy and fragile consumer goods. Additionally, the robust growth in on-demand delivery services and online shopping has resulted in the increasing use of corrugated boxes.
Corrugated Boxes Market Report Coverage

| Report Attribute | Details |
| --- | --- |
| Historical Years | 2014-2019 |
| Forecast Years | 2020-2030 |
| Base Year (2019) Market Size | $180.9 Billion |
| Forecast Period (2020-2030) CAGR | 4.3% |
| Report Coverage | Market Trends, Revenue Estimation and Forecast, Segmentation Analysis, Regional and Country Breakdown, Company Share Analysis, Companies' Strategic Developments, Product Benchmarking, Company Profiling |
| Market Size by Segments | By Flute Type, By Board Style, By Box Style, By End Use, By Geography |
| Market Size of Geographies | U.S., Canada, Germany, France, Italy, U.K., Spain, Japan, China, India, South Korea, Brazil, Mexico, Saudi Arabia, South Africa, Turkey |
| Secondary Sources and References (Partial List) | Asian Corrugated Carton Association, Canadian Corrugated and Containerboard Association, Corrugated Box Manufacturers Association, European Federation of Manufacturers of Corrugated Board, Fibre Box Association, International Corrugated Case Association, Packaging Manufacturers Association |
Rising Use of Corrugated Boxes by Online Retailers Propelling Global Market
The global e-commerce market valued around $3.5 trillion in 2019, with India and China emerging as the fastest-growing markets for online retail. This growth is driven by the aggressive discount-driven sales, development of the delivery infrastructure, and increasing smartphone penetration and data usage. This has led to a considerable rise in the use of corrugated packaging by online retailers over the past few years. Additionally, the global e-commerce sector is driven by the emergence of scale-open retail ecosystem platforms across regional markets, which offer retailers a compelling alternative to building and scaling their capabilities. The popularity of these platforms is driven by strategic initiatives such as the Amazon Prime Day organized in July 2019, which was one of the largest shopping events in history. This event led to huge product sales, which further led to a high demand for corrugated boxes for their packaging across the globe.
Leading Players Entering into Mergers & Acquisitions to Collectively Gain Larger Foothold in Industry
The corrugated boxes market is fragmented in nature, with the presence of numerous major players, such as International Paper Company, WestRock Company, Smurfit Kappa Group, Oji Holdings Corporation, Packaging Corporation of America, Stora Enso Oyj, Nine Dragons Paper (Holdings) Limited, DS Smith Plc, and Mondi plc.
In recent years, players such as WestRock Company and Smurfit Kappa Group have entered into many mergers and acquisitions with other market players. For instance:
In December 2018, Smurfit Kappa Group acquired Papcart SAS to strengthen its packaging solutions business in France. Papcart's expertise lies in offset printing and conversion of cardboard and corrugated boards into consumer packaging. Its facilities total a combined production, storage, and office area of 50,000-square meters.
In November 2018, WestRock Company acquired paper and packaging solutions provider KapStone Paper and Packaging Corporation. The acquisition, as per the agreement, is expected to generate $200 million through synergy and performance improvements by 2021 and strengthen the market presence of WestRock in the U.S.

Some of the key market players in the corrugated boxes market include:
International Paper Company

WestRock Company

Georgia-Pacific LLC

Smurfit Kappa Group

Mondi plc

Packaging Corporation of America

Nine Dragons Paper (Holdings) Limited

Oji Holdings Corporation

DS Smith Plc

Stora Enso Oyj
VPK Packaging Group NV

Wertheimer Box Corporation

Tat Seng Packaging Group Ltd.

Nelson Container Corporation

Great Little Box Company Ltd.

Acme Corrugated Box Co. Inc.

Shillington Box Co. LLC

Packing Bee

A.D. Incorporated of Milwaukee

Shanghai DE Printed Box
Corrugated Boxes Market Size Breakdown by Segment
The corrugated boxes market report offers comprehensive market segmentation analysis along with market estimation for the period 2014–2030.
Based on Flute Type
Based on Board Style
Single-Face
Single-Wall
Double-Wall
Triple-Wall
Based on Box Style
Slotted
Telescope
Folder
Rigid
Based on End Use
Processed Food
Fresh Food and Produce
Beverages
Paper Products
Electrical Goods
Personal/Household Care
Glassware and Ceramics
Chemicals
Tobacco
Wood/Timber Products
Textiles
Transport
Direct Mail
Geographical Analysis
North America
Europe

Germany
France
Italy
Spain
U.K.

Asia-Pacific (APAC)

China
India
Japan
South Korea

Latin America (LATAM)
Middle East and Africa (MEA)

Saudi Arabia
South Africa
Turkey