Market Overview
The corrosion-under-insulation (CUI) and spray-on insulation (SOI) coatings market revenue has been estimated at USD 1,965.4 million in 2023, which will reach USD 2,731.8 million by 2030, advancing at 5.0% CAGR between 2024 and 2030.
CUI refers to the corrosion that occurs on metallic surfaces covered by insulation substances, commonly in commercial spaces. It can lead to structural damage, safety risks, and hefty maintenance charges. Spray-on insulation coatings are designed to protect against CUI by offering a barrier between the metallic structure and the insulation fabric.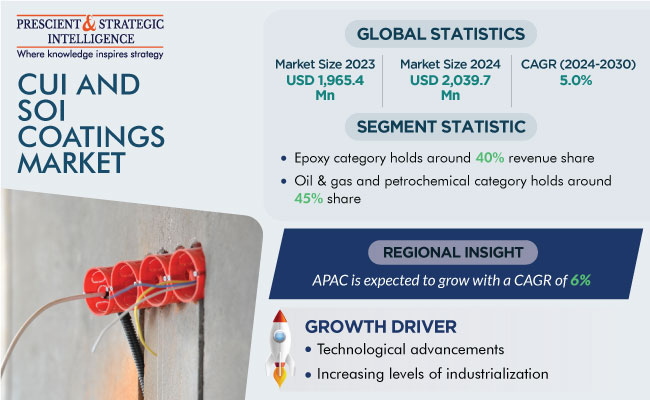 The market is witnessing advancements in the coating technology, which include the development of high-performance polymer-based coatings and nano coatings. These innovations provide improved corrosion resistance, enhanced sturdiness, and better thermal insulation. As a result, industries such as oil & gas, chemicals, petrochemical, and marine are increasingly adopting these materials to achieve higher safety for workers and the infrastructure. They rely heavily on systems and infrastructure that are, as a downside, prone to CUI, and consequently, they require effective coatings to mitigate the corrosion potential.
Technological Advancements
The development of advanced coating technologies is driving the growth of the CUI and SOI coatings market. Manufacturers are constantly innovating coatings with stronger corrosion resistance, utilizing high-performance materials and ingredients. They can resist harsh environmental factors, such as high temperatures and humidity, as well as exposure to corrosive and highly reactive chemicals, thus effectively protecting metallic surfaces from corrosion beneath the insulation.
Furthermore, technological advancements have enabled the creation of SOI & CUI coatings with better durability. These materials are designed to resist the effects of environmental forces and prolonged usage, including mechanical stress and abrasion. They offer long-lasting safety, decrease the frequency of reapplication, and extend the lifespan of the coated assets. Thus, their durability contributes to cost savings for industries by minimizing maintenance and repair expenses.
Additionally, spray-on insulation coatings play an important role in reducing CUI by providing powerful thermal insulation. They display remarkable thermal conductivity, which lessens thermal bridging by reducing heat transfer between the metallic structure and the insulation material. Enhanced thermal insulation also helps maintain temperature differentials, as well as preventing condensation and the formation of corrosive environments.
Increasing Levels of Industrialization
As operations continue to expand throughout sectors such as oil & gas, chemical, petrochemical, power, and marine, the demand for powerful anti-corrosion solutions is rising. The infrastructure and pieces of equipment used in these industries are vulnerable to CUI, which drives the need for coatings to guard these assets and prevent costly corrosion-related damage.
Around the world, industrialization is driving the development of infrastructure including power plants, refineries, chemical plants, and manufacturing facilities. These installations extensively require insulative substances to maintain temperature differentials and energy efficiency. However, the presence of insulation materials creates a conducive environment for CUI. Thus, as the level of industrialization increases, the need for CUI and SOI coatings to defend infrastructure and equipment from corrosion will continue to rise.
Sectors such as oil & gas, petrochemical, and chemical depend on various pieces of high-priced equipment and assets. Corrosion under insulation can cause considerable harm to these assets, thus resulting in excessive maintenance expenses, downtime, and even safety hazards. As industrialization speeds up, there would be a growing focus on the need to protect these valuable belongings from corrosion. CUI and SOI coatings offer an effective barrier against corrosion, thus ensuring the longevity and integrity of industrial equipment.
COI and SOI Coating Market Report Coverage

| | |
| --- | --- |
| Report Attribute | Details |
| Market Size in 2023 | USD 1,965.4 Million |
| Market Size in 2024 | USD 2039.7 Million |
| Revenue Forecast in 2030 | USD 2,731.8 Million |
| Growth Rate | 5.0% CAGR |
| Historical Years | 2017-2023 |
| Forecast Years | 2024-2030 |
| Report Scope | Market Trends, Drivers, and Restraints; Revenue Estimation and Forecast; Segmentation Analysis; Companies' Strategic Developments; Market Share Analysis of Key Players; Company Profiling |
| Segments Covered | By Type; By Product Type; By End User; By Region |
Explore more about this report - Request free sample pages
Epoxy Category Holds Largest Share
Based on type, the epoxy category accounts for the largest share, of 40%, in the corrosion-under-insulation (CUI) and spray-on insulation (SOI) coatings market in 2023, and it will further maintain its dominance in the future.
The demand for epoxy-based coatings has witnessed a substantial growth as they play an important role in protecting industrial equipment and infrastructure from corrosion and insulating them against temperature variations. Epoxy-based coatings have emerged as favored alternatives due to their high-quality benefits and overall high performance in challenging environments.
Essentially, epoxy CUI coatings have gained traction as a dependable way to fight the corrosive effect of moisture and chemical substances that can penetrate insulation materials. CUI happens when moisture leaks through the insulation and comes into contact with metallic surfaces. Epoxy coatings create a barrier that stops the entrance of moisture, thus effectively protecting the underlying metallic structure from corrosion. Their exceptional ability to stick to surfaces ensures that they remain in place for a long time and withstand harsh industrial environments.
Similarly, in the spray-on insulation (SOI) coatings market, epoxy coatings are increasingly being used. These materials can be sprayed on surfaces to offer a steady and uniform insulating layer, offering thermal resistance, and decreasing heat transfer. Epoxy-based SOI coatings provide insulation but can also enhance the structural integrity of the coated surfaces. They can be applied to many substrates, such as pipes, tanks, and devices, thus making them versatile solutions for many industries.
Furthermore, new epoxy coatings have advanced resistance to chemical compounds, moisture, and high temperatures, making them more appropriate for demanding applications. Manufacturers have evolved epoxy coatings with superior adhesion, abrasion resistance, and flexibility, to ensure long-term performance and sturdiness. Moreover, the stringent rules and regulations associated with safety, environmental protection, and energy efficiency have contributed to the growth of the epoxy category within the CUI and SOI coatings market. Industries are forced to comply with these regulations, thus creating the demand for dependable and high-performance coatings.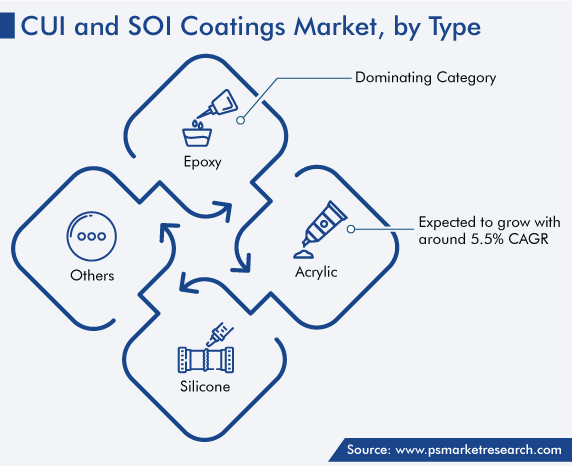 Asia-Pacific (APAC) Is Emerging as Fastest-Growing Region
Asia-Pacific (APAC) is the fastest-growing region in the CUI and SOI coatings market. The robust economic growth in the region, hefty infrastructure investments, and strong recognition of the significance of corrosion safety and insulation contribute to this advance.
Furthermore, APAC countries, including China, India, Japan, South Korea, and Southeast Asian countries, have witnessed substantial advancements in the oil & gas, petrochemical, power generation, and manufacturing industries. The equipment utilized in these industries easily falls prey to corrosion and, thus, requires powerful protective measures, specifically CUI and SOI coatings.
The rapid urbanization, industrialization, and investment in the power, transportation, and manufacturing have created a significant demand for corrosion protection and insulation. Infrastructure including pipelines, refineries, power plants, and chemical processing facilities, requires dependable coatings to safeguard assets from corrosion.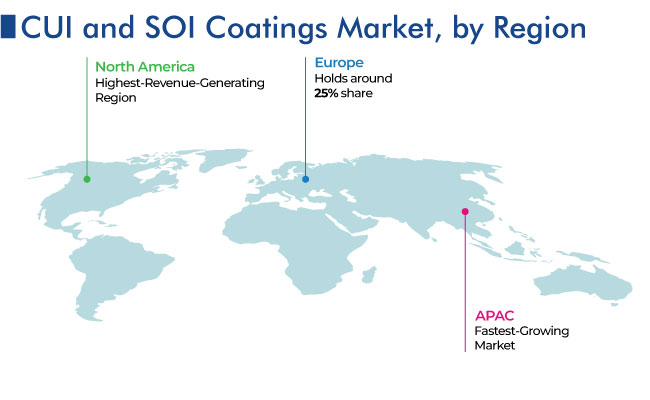 Some Key Players in the CUI and SOI Coatings Market Are:
AkzoNobel N.V.
Hempel A/S
The Sherwin-Williams Company
Jotun A/S
Carboline Company
Akzo Nobel N.V
Kansai Paint Co. Ltd.
Tnemec Company Inc.
Nippon Paint Holdings Co. Ltd.
Syneffex, Inc.
SPI Performance Coatings
Market Size Breakdown by Segment
The study uncovers the biggest trends and opportunities in the corrosion under insulation and spray-on insulation coatings market, along with offering segmentation analysis at the granular level for the period 2017 to 2030.
Based on Type
Based on Product Type
Corrosion under Insulation
Spray on Insulation
Based on End User
Oil & Gas and Petrochemical
Energy & Power
Marine
Geographical Analysis
North America
Europe

Germany
U.K.
France
Italy
Spain

Asia-Pacific

Japan
China
India
South Korea
Australia

Latin America
Middle East and Africa

Saudi Arabia
South Africa
U.A.E.