Market Overview
The global consumer drones market size was $3,522.60 million in 2021, and it will grow at a CAGR of 14.2% during 2021–2030, to reach $11,662.60 million by 2030. This is ascribed to the increasing demand for these platforms for commercial and recreational activities. Moreover, the usage of drones in business operations has expanded in different industries due to their ability to drive efficiency and data analytics.
Moreover, the usage of UAVs requires less human interaction, which can reduce the time and cost involved. They can also facilitate enhanced data analytics, which allows companies to create 3D maps and interactive 3D models. 3D mapping of places struck by manmade and natural mishaps, such as a warzone or areas with significant earthquake, flood, or tornado damage, can help government agencies better plan their disaster response.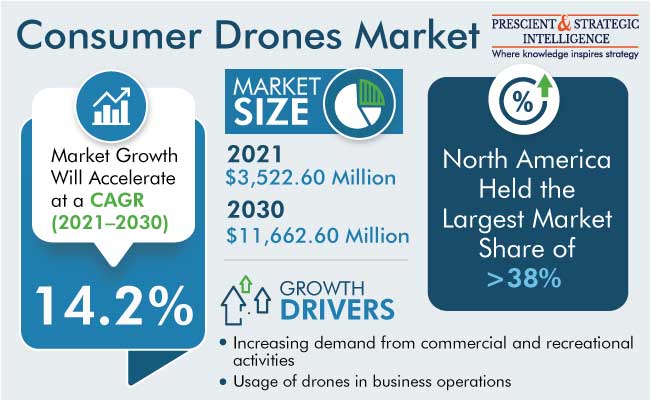 North America Generates Highest Revenue in Market
North America garnered the largest market share, of 38%, in 2021, which is attributed to the high awareness of drones among the regional population. Moreover, the evolution of advanced technologies, such as collision avoidance and geofencing, which make flying drones safer, has led to the increasing adoption of these airborne systems in the North American region.
Moreover, in November 2021, the U.S. planned to invest $1 trillion in order to develop infrastructure, which would drive the expansion of non-military drone fleets. These platforms will be able to deliver location intelligence safely and at a lower cost. Moreover, small drones can now fly at night, as per the recent FAA rule change. In addition, the FAA has granted waivers to many companies wishing to transport products by drone, but with restrictions. Now, the regulatory agency appears to be working on guidelines that would allow drones to fly outside the pilot's visual line of sight without requiring limited waivers.
The Asia-Pacific region is expected to witness the highest CAGR, of around 15%, during the forecast period, majorly due to the rising demand for UAVs in China, Japan, and India. In order to promote the growth of technical skills in industrial sectors, the Chinese government has initiated a number of subsidy programs for drone purchases. China's demand for these products is driven by their expanding applications, which is why the country also plans to build a drone manufacturing base.
Moreover, due to the small size, they are easy to manufacture and the cheapest option for professionals and hobbyists. Moreover, they can take-off and land vertically, which is advantageous in densely populated areas, where ample runway length is not available. Drones make it possible to take pictures safely from the air and send the data to computer systems in a secure manner. This lessens the possibility of any team member getting hurt, which is propelling the consumer drones market demand for hazardous applications, such as offshore oil rigs, mining blast zones, and building demolition sites.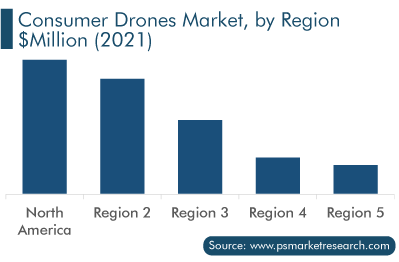 Modern drones offer high-quality imaging and positioning data, since they are equipped with sophisticated technologies, such as LiDAR and inertial sensors. They are increasingly being used in the inspection of the critical infrastructure at renewable energy installations. As both optical and thermal images of wind turbines may be taken and processed for the on-site assessment of the condition of the rotor blades, drone inspection is a cost-effective and efficient inspection method.
Further, artificial intelligence is being used by drone makers to enable their automation. Consumer-oriented UAVs are being outfitted with self-navigating technology through the incorporation of deep-learning algorithms and other machine learning techniques. These drones fly beyond the controller's line of sight, with the help of a wireless remote controller.
Multi-Rotor Drones Garnered Highest Revenue
Aerial photography and videography require multi-rotor UAVs, which have the benefit of vertical takeoff and landing, which is not possible with other variants; hence, the multi-rotor category accounted for a major share in 2021. Moreover, due to their greater payload capacity, these platforms can be used for a variety of purposes.
The market for consumer drones continues to grow as a result of the new manufacturing breakthroughs. New drone model specifications include higher range, faster speeds, navigation systems that can be connected to the user's phone, and efficient, safe, and effective control systems. Consumer drones come with all the components they need for the best control systems and power economy, including motor drivers and position, airspeed, altitude, and angle sensors. These characteristics of consumer drone parts excel in performance and consume less power, positively influencing consumer purchasing decisions.
In addition to having a larger cargo capacity, which enables the use of a wider variety of sensors, multi-rotor drones also have the ability to stop, turn around, and hover in place. They also have more power, to maintain stability in windy circumstances. Moreover, they offer characteristics similar to a helicopter, which include hovering, rapid change in aircraft speed, altitude, and direction, and obstacle avoidance.
Consumer Drones Market Report Coverage

| | |
| --- | --- |
| Report Attribute | Details |
| Historical Years | 2017-2021 |
| Forecast Years | 2022-2030 |
| Market Size in 2021 | $3,522.60 Million |
| Revenue Forecast in 2030 | $11,662.60 Million |
| Growth Rate | 14.2% CAGR |
| Report Scope | Market Trends, Drivers, and Restraints; Revenue Estimation and Forecast; Segmentation Analysis; Impact of COVID-19; Companies' Strategic Developments; Market Share Analysis of Key Players; Company Profiling |
| Segments Covered | By Product; By Application; By Region |
Explore more about this report - Request free sample pages
Hobbyist Drones Category Accounted for Largest Share
Due to the rapid adoption of the autonomous flying technology, certain hobbyist drones can already fly without constant operator control. Aviation enthusiasts all over the world are increasingly using nano drones for hobbyist applications. Additionally, the increase in the need for lightweight drones enabled this category to hold a market share of more than 68% in 2021.
Drone racing is a recreational hobby that has started growing in popularity. Moreover, various tournaments are organized nowadays, which draw a large number of enthusiasts for a tech-powered, immersive sports experience. In such events, users fly drones at up to 90 mph along courses with varying altitudes and sharp turns.
UAVs are also used for capturing detailed, close-up shots, for instance, of famous monuments, nature parks, wildlife, sports events at stadia, as well as agricultural fields. The usage of UAVs integrated with a smartphone app or standalone controller that has a screen to show the live video, to control the drone and camera, is growing. Modern drones can transmit data across thousands of feet; hence, journalists can now work from a comfortable location, while still creating compelling, educational photo blogs and videos that tell a story.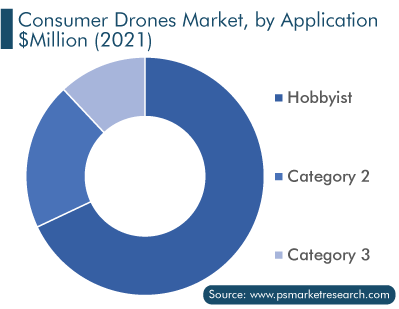 Other applications include the real estate sector, where agents take photos and record videos of the property they wish to sell and upload the pictures to an online listing. Photographs taken from a height provide more-thorough details about the structure, the surrounding area, the roads, and everything else that is in close vicinity to the property.
Construction and reconstruction projects have similar uses for UAVs. For instance, for a building reconstruction effort following a natural disaster, drones can take overhead pictures of the building's surviving frames, using which an architect can plan the restoration of the damaged areas without making the problem worse.
Photogrammetry professionals require these aerial platforms to obtain a 3D model of real-world objects or landmasses. Since it requires taking images from various angles, to get reliable measurements, these users mount a camera on a UAV, to create 3D maps, employing aerial photogrammetry.
Opportunities in the Market
Drones will eventually be used in delivery services, the demand for which will continue to expand in the years to come. Businesses will have to invest continuously in drone delivery initiatives and enabling technological advancements before achieving operational advantages and financial growth. For instance, in November 2021, Walmart and drone delivery service Zipline launched a delivery service in two cities in Arkansas. The delivery will be restricted to health & wellness products, such as OTC allergy medicine, bandages, and ibuprofen.
Consumer drones are widely employed in agriculture to monitor crops and livestock, regulate irrigation, and optimize fertilizer use, and check the effects of pesticides and nutrients on the seedlings. The drone technology is also necessary for the safety of workers in the construction and mining industries.
Top Manufacturers in Consumer Drones Market Are:
Eachine
3D Robotics Inc.
Parrot Drone SAS
Horizon Hobby LLC
Yuneec International Ltd.
Autel Robotics
Market Size Breakdown by Segment
The study offers a comprehensive market segmentation analysis along with market estimation for the period 2017-2030.
Based on Product
Based on Application
Prosumer
Hobbyist
Photogrammetry
Geographical Analysis
North America
Europe

Germany
France
U.K.
Italy
Spain

Asia-Pacific

China
Japan
Australia
South Korea
India

Latin America
Middle East and Africa

Saudi Arabia
South Africa