Market Overview
The global computer numerical control machines market generated revenue of USD 59.9 billion in the year 2022, and it is set to reach USD 133.4 billion by 2030, exhibiting a CAGR of 10.5% between 2023 and 2030. The increasing demand for CNC machines is because of industries' growing adoption of IoT-enabled automation in manufacturing processes to boost efficiency and productivity. Furthermore, the market is set to expand as a result of technological advancements in manufacturing, including the incorporation of higher-accuracy functionalities, such as 4-axis and 5-axis movement.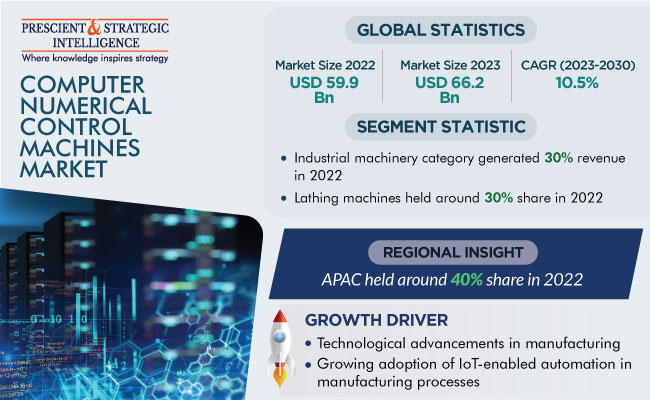 Furthermore, as the degrees of urbanization and industrialization continue to rise rapidly, the manufacturing sector is increasingly utilizing artificial intelligence (AI) and machine learning (ML) tools to improve consistency, accuracy, quality, efficiency, and multitasking abilities during production. As a result, a significant demand for these automated manufacturing systems is being generated, especially in the automotive, aerospace & defense, healthcare & pharmaceutical, oil & gas, and electronics & communication sectors. Additionally, players are witnessing a rise in the demand for CNC machines with multiple axes and ultra-precision capabilities, thus further fueling the advance of the market.
Computer numerical control is a rather efficient production technique that uses machine tools with pre-programmed computer software to enable automated control and extremely accurate movements. This technology revolutionizes how machine tools are operated, controlled, and moved. The main aims behind using CNC machines are reducing costs and waste, enhancing worker safety, minimizing human error, and enhancing operational efficiency.
These machines have a wide range of applications in the manufacturing sector, especially when it comes to the machining of metal and plastic components. It automates the processes of numerous cutting equipment, such as millers, lathes, routers, drills, grinders, water jets, winders, and lasers. Additionally, this technology can be used to operate non-machine tools, such as filament winding machines, electronic assembly equipment, and welding equipment. Industries may significantly improve their productivity, efficiency, and quality across a variety of manufacturing processes, which also lowers labor costs and the chances of human error.
Based on Type, Lathe Machines Hold Largest Market Share
The lathe machines category dominated the market, with a share of 30%, in the year 2022, due to the escalating demand for CNC lathes in the automotive sector for shaping, drilling, sanding, and cutting metals for customized components, including gearboxes, cylinder heads, and starter motors.
Lathes operate by rotating a workpiece at a high speed while a cutting tool shapes the surface and creates the desired product. Lathes are particularly effective for manufacturing cylindrical, conical, and flat-shaped objects. They are known for their cost-effectiveness and efficiency in handling fast and straightforward tasks.
Furthermore, the category is projected to advance with the technological progressions in the current CNC lathe systems. The key advancements are improved precision, enhanced automation, multi-axis machining capabilities, better software and programming options, integration of IoT and connectivity, and advancements in materials of tooling. These advancements also entail integrating new functionalities that accommodate a wide range of applications. Moreover, the increasing demand for modern automobiles with improved fuel efficiency and enhanced safety features has augmented the need for CNC lathe machines.
Miller machines are the fastest-growing category due to the growth of the global metalworking sector and the construction of various metalworking facilities. In addition, there has been an increasing focus on technological breakthroughs and industrial automation. The growing emphasis on Industry 4.0 and the incorporation of cutting-edge technologies, such as robotics, AI, and ML have made milling machines intelligent and efficient tools with the capability to perform complex tasks.
Laser machines are also contributing significantly to the market growth, by revolutionizing various industries, including electronics and metal processing. High-power beams of light are used by laser cutting machines to precisely cut through and create intricate designs on a variety of materials, thus improving productivity and enabling complex designs, which are now widely prized in consumer electronics and automobiles. With the use of lasers, CNC machines have been upgraded, allowing for higher production rates, better precision, more options for customization, and wider applications in sectors such as automotive, aerospace, and electronics.
Hence, laser machines have revolutionized the CNC industry by allowing for more flexibility, less waste, and the production of complicated assemblies and specialized goods.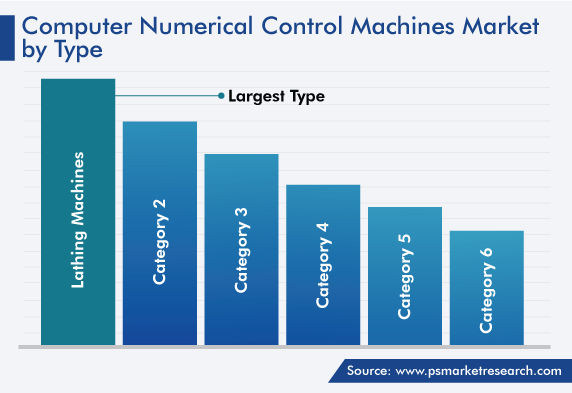 Based on End User, Industrial Machinery Held Largest Share
The industrial machinery category is the largest due to the growing adoption of automated manufacturing technologies to enhance the quality and accuracy of production with reduced errors. The global CNC machines market is essentially expanding due to the increasing application of these systems for various pieces of industrial machinery
The automotive category is the fastest-growing, driven by the rising need for the faster production of highly efficient parts for automobiles, including components for combustion engines, suspension systems, exhaust parts, such as crankshafts, cylinder heads, motor pumps, fluid systems, and bushings. With the growing emphasis on accuracy, precision, efficiency, innovation, shorter operational times, and the capacity to complete repetitive activities without making errors, this industry has always been at the forefront of technical advancements. As a result, the automotive sector's rising requirement for CNC machines is expected to drive the growth of this category in the forecast period.
Furthermore, the surge in electric vehicle (EV) sales and the increase in the demand for ultra-precise components for them are set to favorably impact the expansion of the automotive sector in the market throughout the projection period. This would itself be a result of the global outcry for pollution and governments' steps to reduce vehicular emissions.
The aerospace & defense sector is also significantly increasing its utilization of tools, equipment, and complete parts manufactured using CNC machines. For the precise fabrication of defense and aircraft parts, companies rely on CNC machines, as these parts are highly complex and demand high efficiency. CNC machines enable complicated machining capabilities with their high accuracy, efficiency, and adaptability. They must adhere to strict quality and safety requirements, as well as accommodate the current trends in technology.
CNC Machines Market Report Coverage

| | |
| --- | --- |
| Report Attribute | Details |
| Historical Years | 2017-2022 |
| Forecast Years | 2023-2030 |
| Market Size in 2022 | USD 59.9 Billion |
| Market Size in 2023 | USD 66.2 Billion |
| Revenue Forecast in 2030 | USD 133.4 Billion |
| Growth Rate | 10.5% CAGR |
| Report Scope | Market Trends, Drivers, and Restraints; Revenue Estimation and Forecast; Segmentation Analysis; Impact of COVID-19; Companies' Strategic Developments; Market Share Analysis of Key Players; Company Profiling |
| Segments Covered | By Type; By End User; By Region |
Explore more about this report - Request free sample pages
APAC Region Is Highest Revenue Generator in Global Market
The APAC region secured the largest market share, of 40%, in 2022. Moreover, it is projected to exhibit a CAGR of 12% during the forecast period. This is due to the growing demand for CNC machines in diverse industries, including electrical & electronics, consumer goods, automotive, and aerospace & defense.
The increasing popularity of mobile phones and laptops is contributing to the growth of the consumer electronics industry, where precise and complexly shaped parts are an omnipresent requirement. Additionally, the APAC region has undergone significant industrial growth with the swift expansion of its manufacturing sector in recent years. Notably, countries such as India, China, South Korea, Japan, and Taiwan have become prominent global manufacturing hubs.
Moreover, India and China have developed into important markets in the region because of the massive investments from both the public and private sectors. Their favorable policies, such as the Make in India and Made in China 2025 initiatives, have boosted the support for establishing manufacturing units within their respective countries. Additionally, China is the world's largest producer of automotive components, which has a direct positive effect on the APAC market for computer numerical control machines.
The North American market will also witness significant growth during the forecast period, because of the rise in the investment in automation in the region, to make manufacturing operations more efficient. This trend is quite prevalent in the automotive industry, with the increasing popularity of sleek vehicles with cutting-edge features. The market is also driven by the increasing adoption of advanced CNC machines in the U.S. and Canada to cater to the growing demand for semiconductor chips across the world.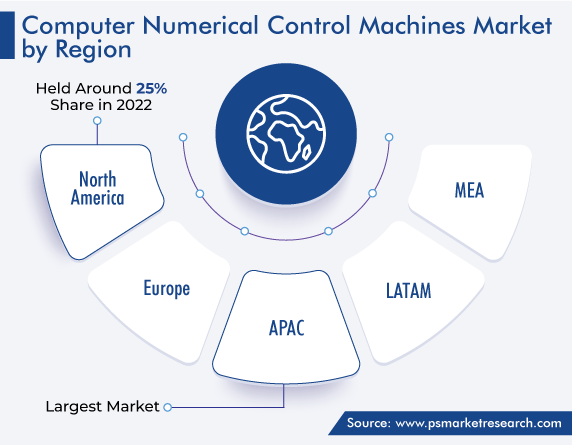 Some Key CNC Machine Manufacturers Are:
AMADA CO. LTD.
DN Solutions
FANUC CORPORATION
General Technology Group Dalian Machine Tool Corporation (DMTG)
Haas Automation Inc.
Hitachi Ltd.
Hurco Companies, Inc.
HYUNDAI WIA
JTEKT Corporation
Mitsubishi Heavy Industries Ltd.
Okuma Corporation
Siemens AG
TRUMPF
Yamazaki Mazak Corporation
Market Size Breakdown by Segment
This fully customizable report gives a detailed analysis of the computer numerical control machines industry from 2017 to 2030, based on all the relevant segments and geographies.
Based on Type
Grinding Machines
Laser Machines
Lathing Machines
Milling Machines
Routing Machines
Welding Machines
Winding Machines
Based on End User
Aerospace & Defense
Automotive
Construction
Medical
Industrial Machinery
Power & Energy
Geographical Analysis
North America
Europe

Germany
U.K.
France
Italy
Spain

Asia-Pacific

Japan
China
India
South Korea
Australia

Latin America
Middle East and Africa

Saudi Arabia
South Africa
U.A.E.