Market Overview
The global compression therapy market generated USD 3.92 billion revenue in 2022, and it is projected to witness a CAGR of 5.80% during 2022–2030, reaching USD 6.15 billion by 2030. It will be due to an increase in the number of patients suffering from diabetes, lymphedema, DVTs, and varicose veins. For instance, an estimated half the U.S. population more than 50 years old is suffering from varicose veins, according to the Chicago Vein Institute.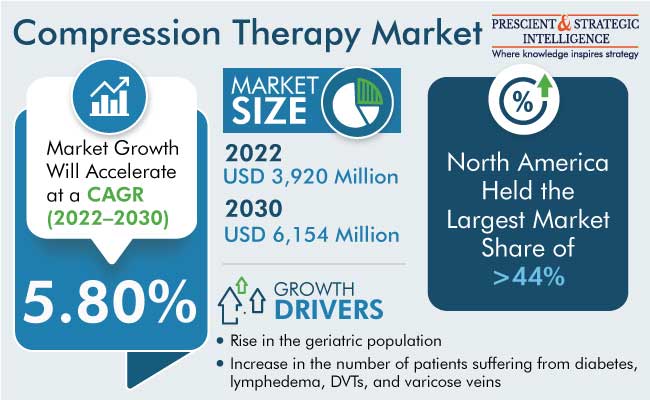 Moreover, the rise in the geriatric population and count of obese people across the globe is a major factor supporting the growth. This is because the older population is more prone to diseases including varicose veins and DVTs. Further, according to the WHO, global obesity incidence has nearly tripled since 1975.
Moreover, compression therapy products, such as garments, stockings, braces, bandages, and wraps, are wear-and-forget-type products, thus leading to high patient compliance. In addition, compression is widely used in orthopedic surgeries for reducing swelling and pain, ensuring the proper movement of the bones, ligaments, tendons, and joints, as well as for dislocated joints.
The rise in the use of compression braces and garments during sports activities is also expected to provide vast growth opportunities. Compression therapy is also being increasingly used to prevent inflammation following injury or trauma. These products are used to increase the blood flow in the body and prevent the coagulation of fluids in the tissue space.
Compression Garments Accounted for Largest Share
Compression garments accounted for the largest share in 2022, and their sales will rise with a CAGR of 6.6% during 2022–2030. This will be because of the wide range of applications of these products for patients suffering from various diseases, such as varicose veins, lymphedema, deep vein thrombosis, and hypotension.
Compression garments are specialized clothes made of elastomeric fibers and yarns that are worn to exert significant mechanical pressure to specific body zones, in order to compress, support, and stabilize the underlying tissues. They have witnessed extensive research for usability in the domains of medicine, sports, and body shaping.
Moreover, the advancements in these products will fuel the growth of the market. For instance, in December 2022, KCEPT Inc. released the KneeCap therapeutics compression wrap, developed in collaboration with Johns Hopkins University School of Medicine, for pain in the elbows and knees.
Moreover, some research studies also supported compression stocking treatment during the COVID-19 pandemic. After vaccination, many people experienced postural orthostatic tachycardia syndrome (POTS), which is marked by orthostatic intolerance, a sudden decrease in the blood flow returning to the heart after a person stands. Common symptoms include an increased heart rate, fainting, and lightheadedness. Treatments include consuming salt tablets, staying hydrated, wearing compression stockings, and taking certain medications.
Moreover, several new guidelines now support the intermittent pneumatic compression method. For instance, the American Heart Association and American Stroke Association believe that many techniques widely considered "standard care" are not necessary. Research confirms that stockings are not effective at preventing DVTs. Instead of that, intermittent pneumatic compression may be useful in intracerebral hemorrhage.
Compression braces also hold a significant share in the market, attributed to the partnerships among medical technology companies to come up with better products. For instance, in January 2022, Nextiles and KineticPro Performance entered into a collaboration to launch a novel workload management sleeve at the American Baseball Coaches Association Convention, which was held on January 6–9.
Moreover, in August 2021, OPUM Technologies Inc. signed a partnership agreement with orthopedic bracing manufacturer Thuasne Group for a digital solution for the treatment of osteoarthritis. The aim of this partnership is to digitize musculoskeletal care, to determine the best option treatment for OA and, in turn, reduce the overall costs.
Additionally, in February 2022, Therabody launched the second generation of recoveryAir pneumatic compression boots, which help in increasing blood flow, to minimize pain and soreness.
Compression pumps also held a significant share in 2022, and this category will witness a significant CAGR during the forecast period, due to the increase in the number of lymphedema and venous disorder cases. Moreover, the pressure of the pumps can be controlled according to the requirement or the severity of the disorder.
Compression Therapy Market Report Coverage

| | |
| --- | --- |
| Report Attribute | Details |
| Historical Years | 2017-2022 |
| Forecast Years | 2023-2030 |
| Market Size in 2022 | USD 3.92 Billion |
| Revenue Forecast in 2030 | USD 6.15 Billion |
| Growth Rate | 5.80% CAGR |
| Report Scope | Market Trends, Drivers, and Restraints; Revenue Estimation and Forecast; Segmentation Analysis; Impact of COVID-19; Companies' Strategic Developments; Market Share Analysis of Key Players; Company Profiling |
| Segments Covered | By Product; By Technique; By Application; By Region |
Explore more about this report - Request free sample pages
Static Compression Therapy Dominated Technique Segment
Static compression therapy dominated the technique segment, with a share of around 66%, in 2022. This is attributed to its high convenience and ease of use in the treatment of edema, chronic venous insufficiency, and chronic pain. Moreover, with time, people have become aware of this non-invasive technique, thus propelling its adoption. In addition, in emerging economies, funding is being provided to enhance the outcomes for people suffering from chronic conditions.
For instance, the International Association for the Study of Pain (IASP)'s Developing Countries Project provides grants of up to USD 10,000 to support pain management education and practice in developing countries. These grants are intended to improve the scope and availability of the essential education to clinicians involved in pain treatment in all disciplines. This is to be done by integrating practical and theoretical knowledge, developing specific written teaching materials or distance-learning materials, and implementing institutional policies for pain management.
Dynamic compression therapy will be the faster-growing revenue contributor in the compression therapy market, with a CAGR of 6.2%. This is attributed to the recent approvals for the commercialization of products that help deploy this technique. For instance, in April 2022, Koya Medical announced that its Dayspring active compression system is now available in the U.S. for the treatment of lymphedema and diseases of the veins in the lower extremities.
The Dayspring for the upper extremities had been commercialized in 2021, and the expansion into lower extremities care, for both full and lower leg applications, permits the company to offer better care to people suffering from lymphedema and venous diseases.
A non-pneumatic active dynamic compression device, Dayspring is specifically made for patient mobility. This FDA-approved product supports essential body movements, so patients' daily work is not hampered during treatment, unlike some other pneumatic compression pumps, which need patients to stay still and the devices to be plugged into a power socket.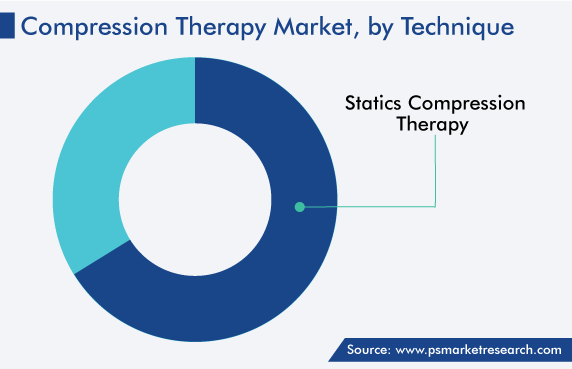 Compression Therapy Is Majorly Used for Treatment of Lymphedema
Compression therapy is widely used for lymphedema, also called lymphatic obstruction, which has swelling in the limbs or another part of the body as its primary symptom. Compression treatment reduces the swelling caused by the buildup of the lymphatic fluid by putting even but firm pressure on the swollen area.
According to Cancer Research UK, there are different ways to apply compression, including bandaging and garments. The pressure helps the trapped lymphatic fluid flow through the lymph nodes. These products also act as an extra force for the muscles to work against, which helps the fluid drain out of the area. Compression therapy, thus, prevents lymphoedema from becoming more severe.
North America Generates Highest Demand for Compression Therapy
North America held the largest share, of around 44%, in 2022, and it is expected to grow at a significant CAGR during the forecast period. This is attributed to the increase in the awareness of conditions that require compression therapy, rise in the number of orthopedic surgeries, and strong presence of the manufacturers of compression therapy products in the continent. Additionally, the rising number of road accidents will lead to the increasing adoption of compression therapy for the healing of injuries.
The U.S. is one of the busiest countries in terms of road traffic, with nearly 284 million vehicles in operation. Dense traffic is a prime cause of road accidents in the country. The National Highway Traffic Safety Administration says that an estimated 20,175 people died in motor vehicle crashes in 2022, an increase of about 0.5% from 2021, which saw 20,070 fatalities due to MVAs.
Moreover, companies are launching their products on e-commerce websites to boost their sales. For instance, in January 2022, AIROS Medical Inc., a manufacturer and distributor of compression therapy devices; and Fist Assist Devices LLC, a medical device company; announced the launch of an e-commerce website for the sale of the Fist Assist FA-1 compression device.
LATAM is also growing with a steady rate in the market. This is primarily due to the surging geriatric population, rising healthcare expenditure, improving healthcare infrastructure, enforcement of health insurance-related laws by governments, widespread burden of rheumatic diseases, and growing medical tourism industry. Additionally, the growing cases of musculoskeletal or orthopedic diseases, which is the major cause of pain-related issues, is resulting in the increasing demand for compression therapy.
Moreover, the rising number of physiotherapists in the region is expected to drive the LATAM market. In addition, regional governments are working on a number of projects to improve physiotherapy practices, including undertaking projects related to entry-level educational programs and advanced practices. This is expected to increase the public awareness about this medical field and impact the LATAM market positively in the coming years.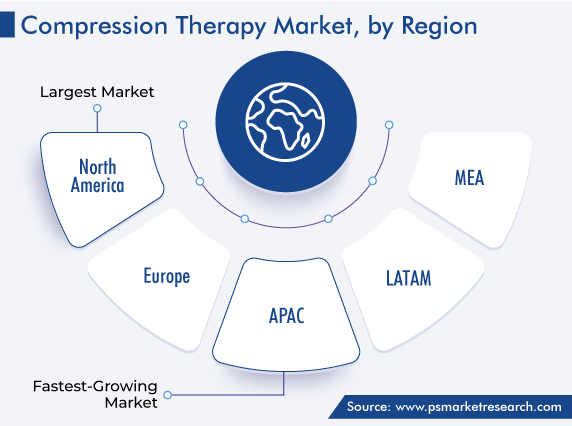 Some of the Key Players in the Market Are:
DJO Global Inc.
BSN medical GmbH
Medi GmbH & Co. KG
Tactile Medical
SIGVARIS GROUP
Paul Hartmann AG
Sanyleg Srl
3M
ConvaTec Inc.
Arjo
Julius Zorn GmbH
Bio Compression Systems Inc.
Cardinal Health Inc.
Smith & Nephew plc
Market Size Breakdown by Segment
This report offers deep insights into the compression therapy market, with size estimation for 2017 to 2030, the major drivers, restraints, trends and opportunities, and competitor analysis.
Based on Product
Compression Garments

Compression stockings
Compression bandage & wraps
Compression braces

Compression Pumps
Based on Technique
Statics Compression Therapy
Dynamic Compression Therapy
Based on Application
Varicose Vein Treatment
Lymphedema Treatment
Deep Vein Thrombosis Treatment
Geographical Analysis
North America
Europe

Germany
U.K.
France
Italy
Spain

Asia-Pacific

Japan
China
India
South Korea
Australia

Latin America
Middle East and Africa

Saudi Arabia
South Africa
U.A.E.