Market Overview
The compound semiconductor market size stood at USD 38,552 million in 2022, and it is expected to advance at a CAGR of 6.10% during 2022–2030, to reach USD 61,911 million by 2030.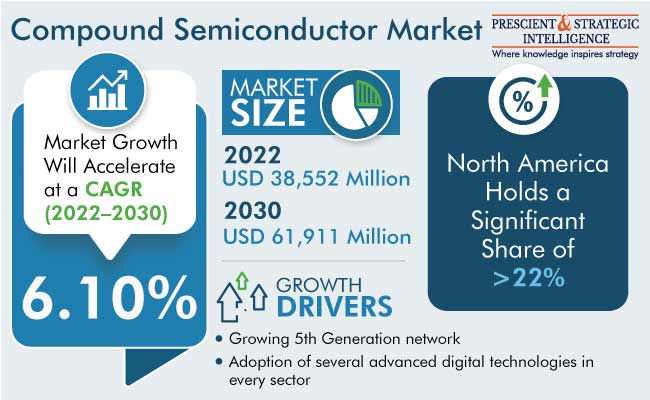 The growth can be primarily ascribed to the rising demand for SiC devices in power electronics. Furthermore, the increasing demand for consumer electronics propels the sale of semiconductors around the world. According to the Semiconductor Industry Association, semiconductor sales stood at USD 152.5 billion in the Q2 of 2022, which was an increase of 13.3% from 2021.
GaN Semiconductors Generated Highest Revenue
The GaN category accounted for the largest revenue share, of more than 30%, in 2022, and it is expected to remain the largest during the forecast period. GaN maintains a high breakdown voltage and low conduction resistance, which allow for high-speed switching and the miniaturization of equipment. Moreover, GaN devices can easily support high electron mobility and densities because of their compact size.
Moreover, the advantages such as the higher energy efficiency, faster device speed, lower costs, high power density, operability at higher temperatures, higher frequency, and higher operating voltage of GaN semiconductor devices over silicon variants are likely to drive the market progress.
Moreover, the surging penetration of GaN in RF devices in power applications is likely to intensify the market growth. This is because of the consistent surge in the demand for smartphones, tablets, laptops, gaming consoles, surveillance systems, computers, televisions, networking equipment, and IoT devices. Along with this, the rapid infrastructure development is driving the demand for power amplifiers.
In addition, the rising demand for ADAS around the globe can be viewed as a growth opportunity for the players operating in the opto-semiconductors market. For instance, both the U.S. and the European Union have mandated that all new vehicles be installed with forward-collision warning systems and autonomous emergency braking systems.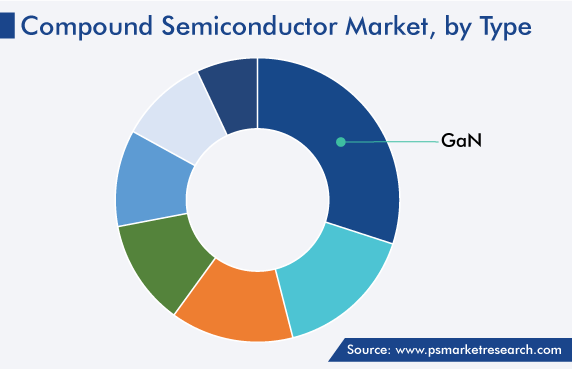 Power Electronics Expected To Hold Largest Market Share
The power electronics category dominated the market in 2022, and it is expected to remain the largest over the next few years. This is because of the growing usage of compound semiconductors in smart home appliances and advanced consumer electronics. GaN has become an important building block for power electronics, helping improve the energy efficiency of mobile devices, LEDs, and other appliances.
Moreover, SiC devices have three times the thermal conductivity and ten times the breakdown electric field strength of devices made purely of silicon. These features reduce the complexity and cost of the device, improve its reliability, and allow it to be used in several high-voltage applications, such as solar inverters, power supplies, and wind turbines. The market for silicon carbide power devices is significantly growing because of the rising need for power electronics, which effectively manage and convert electrical power. As a result, SiC power devices are increasingly being used in the aerospace and defense sector.
In addition, the electric vehicle (EV) market is a key growth driver because semiconductors are essential to modern EVs. In the same way, military systems, sensor systems, solar power inverters, wind turbines, and many other pieces of equipment are increasingly being equipped with SiC semiconductors. Seeing the rising demand, in August 2022, Infineon Technologies AG and II-VI Incorporated signed a multi-year supply agreement for SiC wafers.
Telecommunications Category To Remain Dominant till at least 2030
The telecommunications category accounted for the largest market share, of 44%, in 2022, and it is expected to remain the largest in the next few years. The increasing use of GaAs, InP, SiGe, and GaN compound semiconductors in mobiles and other wireless communication platforms is boosting the market growth. This is itself due to the growing demand for 5G networks, which will transform the wireless communication sector. The demand for higher bandwidths is increasing because of the booming mobile data usage, which implies greater stress on networks for the availability of the wireless spectrum. Mobile data traffic is anticipated to reach 160 Exabytes per month by 2025.
Therefore, the telecom sector is looking for extremely high-frequency bands, which fulfill the need for large bandwidths and high data rates. For instance, AT&T Inc. introduced its mmWave 5G network with the launch of the Galaxy S20 Plus and S20 Ultra by Samsung Electronics Co. Ltd. in March 2020.
Additionally, the high speed and efficiency of compound semiconductors over silicon semiconductors are the main driving factors for the former's use in enhanced communication devices. Moreover, the advancement in multiple emerging technologies, such as the internet of things (IoT), artificial intelligence, and machine learning, is propelling the need for semiconductor technologies.
Moreover, GaAs devices are frequently used in power switches, amplifiers, and cell phones. Further usage growth in the usage of GaAs semiconducting material in wireless communications would be due to their superior speed and efficiency over silicon semiconductors. These materials are also widely used in the aerospace & defense industry for a broad range of purposes, such as power supplies for space equipment and aircraft, VLF transmitters, and solid-state relays and contractors. In this regard, the increasing defense spending and rising usage of electronic components in fighter jets, tanks, and armored carriers are expected to propel the market growth.
Compound Semiconductor Market Report Coverage

| | |
| --- | --- |
| Report Attribute | Details |
| Historical Years | 2017-2022 |
| Forecast Years | 2023-2030 |
| Market Size in 2022 | USD 38,552 Million |
| Revenue Forecast in 2030 | USD 61,911 Million |
| Growth Rate | 6.10% CAGR |
| Report Scope | Market Trends, Drivers, and Restraints; Revenue Estimation and Forecast; Segmentation Analysis; Impact of COVID-19; Companies' Strategic Developments; Market Share Analysis of Key Players; Company Profiling |
| Segments Covered | By Deposition Technology; By Type; By Product; By Application; By Region |
Explore more about this report - Request free sample pages
Semiconductor Usage Burgeoning across Various Sectors
Web-integrated wireless healthcare equipment, wearables, and the 3D printing of organs and medical devices, which depend on semiconductors, will ensure new and innovative ways of providing healthcare in the future. Similarly, auto manufacturers require power diodes and voltage regulators of outstanding reliability for various vehicle components. ICs with different functionalities are used in numerous automotive systems, such as navigation control, infotainment systems, and collision detection systems. Hence, an advanced, connected, and autonomous car can have more than 3,000 chips.
Additionally, the remote business, education, entertainment, and socializing behavior enforced by the COVID-19 pandemic has underpinned the importance of semiconductors in the infrastructure essential for sustaining communication networks outside the traditional brick-and-mortar setting.
Moreover, many smart cities globally are committed to vastly improving public services and the critical civic infrastructure. To do that, every piece of infrastructure needs to be connected to a broad range of equipment that rests with individuals. Semiconductors are essential elements in the electronic devices used in many sectors, including healthcare and medical devices, communications, computing, defense, transportation, clean energy, and key emerging technologies, such as artificial intelligence and quantum computing.
North America Holds a Significant Share
North American has a significant position in the compound semiconductor market with a market share of more than 22%, in 2022, and it is expected to remain dominant over the next few years. The demand for these instruments is mainly rising from the U.S. and Canada as a result of the government measures to enhance communications infrastructure and military capabilities.
Therefore, players are raising their investment to boost the output of smart compound semiconductors for consumer electronics, telecom, and IT applications. For instance, in May 2022, JX Nippon Mining & Metals USA Inc. received financial help from the Japan Bank for the construction of a new establishment in Arizona, U.S.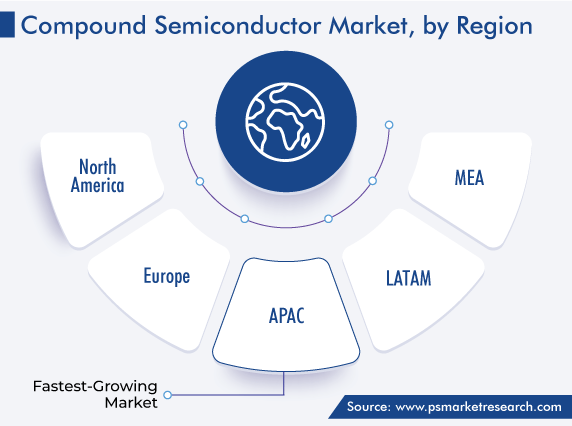 Europe Is Growing at Significant Rate
Europe is expected to grow at a steady rate, led by the U.K., which dominated the compound semiconductor market in the region in 2022 and is projected to stay this way during the forecast period.
Germany is the fastest-growing country in the region, because of the enhancements in the automobile industry, which drive the usage of microelectronics. In this regard, the electrification of vehicles, introduction of artificial intelligence, and digitalization are the main driving factors for the market growth in the country.
Top Compound Semiconductor Manufacturers Are:
Nichia Corporation
Samsung Electronics Co. Ltd.
NXP Semiconductors
Qorvo Inc.
Skyworks Solutions Inc.
NVIDIA Corporation
STMicroelectronics
Canon Inc.
Infineon Technologies AG
Mitsubishi Electric Corporation
Intel Corporation
Taiwan Semiconductor Manufacturing Company Limited
Market Size Breakdown by Segment
This fully customizable report gives a detailed analysis of the compound semiconductor industry from 2017 to 2030, based on all the relevant segments and geographies.
Based on Deposition Technology
Chemical Vapor Deposition (CVD)
Molecular Beam Epitaxy
Hydride Vapor Phase Epitaxy (HVPE)
Ammonothermal
Liquid Phase Epitaxy
Atomic Layer Deposition (ALD)
Based on Type
Gallium Nitride (GaN)

Aluminum Gallium Nitride (AlGaN)
Indium Gallium Nitride (INGAN)

Gallium Arsenide (GAAS)

Aluminum Gallium Arsenide (ALGAAS)

Silicon Carbide (SiC)
Indium phosphide (INP)
Silicon germanium (SIGE)
Gallium phosphide (GAP)

Aluminum gallium phosphide (ALGAP)
Based on Product
LED
Optoelectronics
RF Devices

RF Power
RF Switching
Other RF Devices

Power Electronics

Discrete

Transistor

Metal oxide field-effect transistor (MOSFET)
High electron mobility transistor (HEMT)

Diode
Bare Die
Module
Based on Application
General Lighting
Telecommunication
Military, Defense and Aerospace
Automotive
Power Supply
Datacom
Consumer Display
Commercial
Consumer Devices
Geographical Analysis
North America
Europe

Germany
U.K.
France
Italy
Spain

Asia-Pacific

Japan
China
India
South Korea
Australia

Latin America
Middle East and Africa

Saudi Arabia
South Africa
U.A.E.