Market Overview
The commercial satellite imaging market size stood at USD 3,754 million in 2022, and it is expected to grow at a CAGR of 11.20% during 2022–2030, to reach USD 8,777 million by 2030.
With the use of optically equipped satellites, raw image data is produced in the process of imaging. Aeronautical imaging offers higher image resolution than satellite imaging, since it is closer to the object. Terrestrial imaging is most affordable and provides the highest image resolution, but it has geographical restrictions. Satellites are the preferred option to other imaging methods because they provide faster picture data delivery and extensive coverage. Additionally, once they are in orbit, using imaging the services is affordable, which will fuel industry expansion over the years.
General public did not have initial access to satellite imagery. Customers are now able to quickly access image information due to the introduction of Google Earth, growth of the Internet, and the development of consumer electronics. Even though Google doesn't charge for this service, it makes a sizable portion of its advertising revenue. Commercial satellite imaging is an essential part of the location-based services (LBS) and is extremely helpful in delivering emergency response of life-threatening situations and natural catastrophes.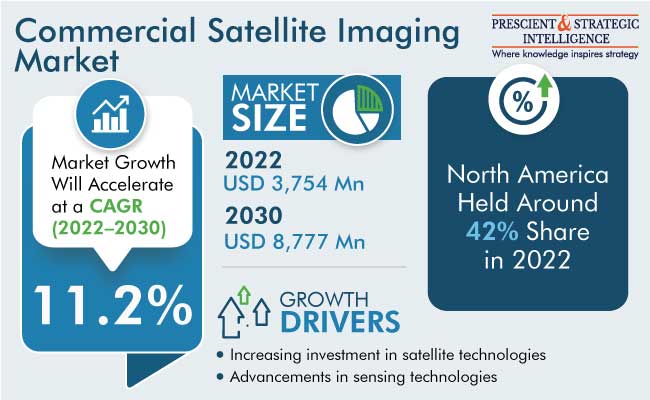 The EnhancedView program, a ten-year, USD 7.3 billion contract with the National Geospatial-Intelligence Agency (NGA), involves the U.S.-based companies GeoEye and DigitalGlobe. It aims to boost image gathering efforts and reinvest in commercial satellite imaging infrastructure. These government contracts, which account for the majority of these businesses' revenue, will support the overall revenue in the upcoming years.
The demand for such images for security purposes and the accessibility of broadband services to end consumers will boost the demand. Technology developments and rising investment are will support product innovation and expansion. Despite the fact that, few businesses possess imaging satellites, several businesses provide software or software as a service (SaaS) integration solution. High-resolution imagery is predicted to play a major role in non-military applications, with North America being the largest contributor.
Growing Demand for Location-Based Service (LBS)
Increasing demand for LBS likely to spearhead the market with a significant share in 2022. LBS is used for various applications, including navigation, local search, enterprise services, mobile advertisements via LBS, location-specific health information, tourism, consumer tracking, and other location-based business intelligence (BI).
Surging customer awareness and supportive government initiatives, especially, in India, China, and Mexico also pushed the growth of the LBS technologies. In addition, real-time geographical data can be also captured with the help of LBS.
Moreover, government of various countries are also taking a number of initiatives to increase consumer adoption and motivating the vendors and start-ups to venture into LBS market.
Defense Contributed Largest Revenue Share
In 2022, defense contributed the largest revenue share of 45%. It is because of the increasing focus of government toward the advancement of defense industry, along with increasing defense budget in several countries.
In addition, increasing terrorism threats coupled with, technological advancements in satellite imaging technologies to gather valuable information and data for governments are the major factors responsible for the growth of this market.
Though, disaster management application is expected to register the fastest growth with during the forecast period. Use of satellite imagery for disaster management has been increasing considerably, owing to the significance of damage assessment, especially in Asian and European countries. Various earth observation programs use these pictures to assess the impact of the disaster. Rapid mapping is used to cover natural disasters, such as floods and by issuing warning by satellites allows damage assessment, for the affected areas to the protection authorities.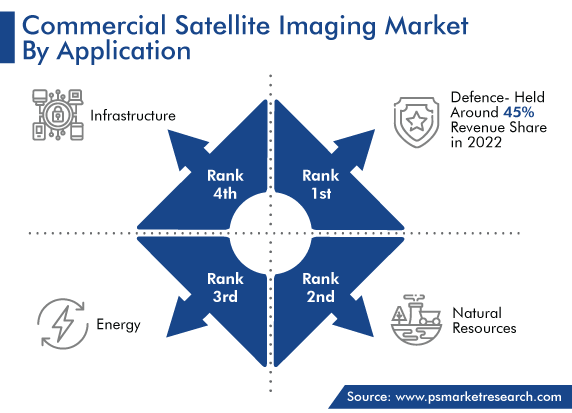 Technological Advancements in Satellite Imaging
Satellite imaging can offer valued data and information. This is used by government and research organizations across various sectors, including oil and natural gas. defense , mining, meteorology, and agriculture for numerous applications, including weather information and forecasting, farming, and forestry.
In addition, the companies involved in offering commercial satellite imaging products and services are heavily investing in research & development to enhance high-resolution cameras and advanced sensing technology, which would help in improving the quality of such earth observation (EO) images.
In addition, with increasing government expenditure in space programs and research & development to adopt advanced technologies is also expected to drive the demand for satellite imaging during the forecast period.
Earth Science Analytics in Energy and Petroleum Industry
Earth science analytics is one of the prominent factors expected to create huge opportunity for the market growth in the coming years. Earth science analytics offer rich quality data and petroleum-geoscience predictions to the energy and petroleum industry. Apart from this, earth science analytics also help in enhancing petroleum-geoscience with higher precision and low cost when compared to the traditional methods.
With large set of data being underutilized in oil and gas sector, currently available methods do not offer accurate analysis of hidden data patterns. In addition, machine learning being the foundation of data analytics, combined with earth imagery can help in developing disruptive new applications for the geoscience and energy and petroleum industry to predict efficient distribution of oil and gas in the coming years.
In addition, with increasing focus of the companies involved in providing commercial satellite imaging services toward technological advancements, including investments in earth science, is expected to drive the demand during the forecast period.
Developments in Imaging Technology
One of the opportunities for the growth of market is the developments in technologies, such as electric propulsion technology and remote sensing technology. Electric propulsion is gaining interest of all the space sectors as a key and revolutionary technology for the new generation of commercial and scientific satellites.
Further, with ongoing developments being carried out in the different areas of electric propulsion, the technology is expected to deliver promising results during forecast period.
Advancements in next-generation GPS satellites, high-resolution cameras, light detection and ranging (LIDAR) technology, and remote sensing, to observe, record and perceive objects or events from remote locations, is another factor that will surge the demand of the services in coming years.
In addition, remote sensors gather critical information by measuring electromagnetic radiations which are reflected, emitted and absorbed by objects in various spectral regions. This helps in studying the environment from a distance using techniques, such as satellite imaging, aerial photography, and radar.
Moreover, the rising adoption of cloud-based technology and decreasing prices of such EO solutions create growth opportunities for the commercial satellite imaging market.
Commercial Satellite Imaging Market Report Coverage

| | |
| --- | --- |
| Report Attribute | Details |
| Historical Years | 2017-2022 |
| Forecast Years | 2023-2030 |
| Market Size in 2022 | USD 3,754 Million |
| Revenue Forecast in 2030 | USD 8,777 Million |
| Growth Rate | 11.20% CAGR |
| Report Scope | Market Trends, Drivers, and Restraints; Revenue Estimation and Forecast; Segmentation Analysis; Impact of COVID-19; Companies' Strategic Developments; Market Share Analysis of Key Players; Company Profiling |
| Segments Covered | By Technology; By Application; By Geography |
Explore more about this report - Request free sample pages
U.S. is Largest Revenue Contributor in North America
North America is growing at a compound annual growth rate of nearly 12.40% during forecast period, wherein the U.S. held the largest market share. The U.S. government is shifting its stance from limiting the commercial satellite capabilities and toward allowing the private firms in the country to use high-resolution satellites to orbit, thereby further increasing intelligence gathering potential.
The major players operating in region include, Digital Globe Inc., Planet Lab Inc., Spaceknow Inc. and Blacksky global. Among various end-users, commercial enterprises remain the largest players in the North American region.
Also, high expenditure on military and intelligence sector coupled with growing geospatial research in the U.S. is expected to drive the growth of the North American satellite imaging demand during the forecast period.
The U.S. is expected to continue its strong presence during the forecast period as well. The high growth is expected due to the country being a hub of research and development for some of the top players. The U.S. government is shifting toward less stringent rules regarding the imagery satellites' potential, privatization of images, and the expenditure on these platforms and the associated systems requirements.
Increasing number of research and development programs are being encouraged in the country to study ice cover, general environmental conditions, hydraulic changes, and associated data. To analyze snow cover, especially in colder regions, the imagery is extensively being used. Market in Canada is expected to witness the faster CAGR of 14.2%, during the forecast period.
The Canada Centre for Remote Sensing (CCRS) develops and advances the use of remote sensing and earth observation data, for assessing, analyzing and planning various associated aspects of disaster management, and environment, with changes in environmental conditions along with increasing development activities in Canada.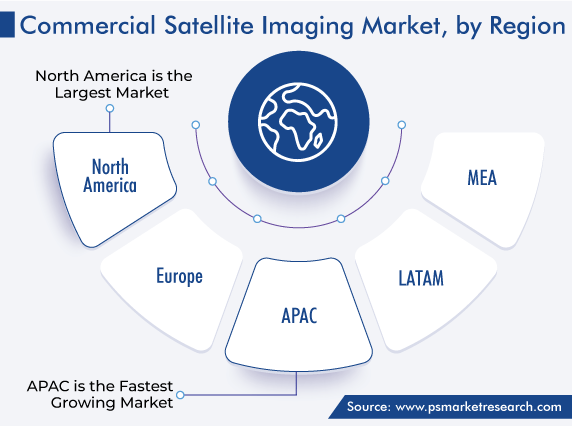 Top Commercial Satellite Imaging Service Providers are:
DigitalGlobe Inc.
Environmental Systems Research Institute Inc. (Esri)
MDA Ltd
Airbus SE
Blacksky Technology Inc.
European Space Imaging (EUSI) GmbH
ImageSat International Ltd.
Galileo Group Inc.
Planet Labs PBC
Skylab Analytics
SpaceKnow Inc.
Market Size Breakdown by Segment
This report offers deep insights into the commercial satellite imaging market, with size estimation for 2017 to 2030, the major drivers, restraints, trends and opportunities, and competitor analysis.
Based on Technology
Based on Application
Defense
Natural Resources
Energy
Infrastructure
Location-Based Services (LBS)
Maritime
Disaster Management
Geographical Analysis
North America
Europe

U.K.
Russia
Germany
France

Asia-Pacific
Middle-East and Africa
Latin America