Market Overview
The global cold plasma market generated USD 1,846 million revenue in 2022, and it is projected to witness a CAGR of 14.80% during 2022–2030, reaching USD 5,568 million by 2030. It will be due to the benefits of the cold plasma technology for a number of applications, such as wound healing, and the advancements in it.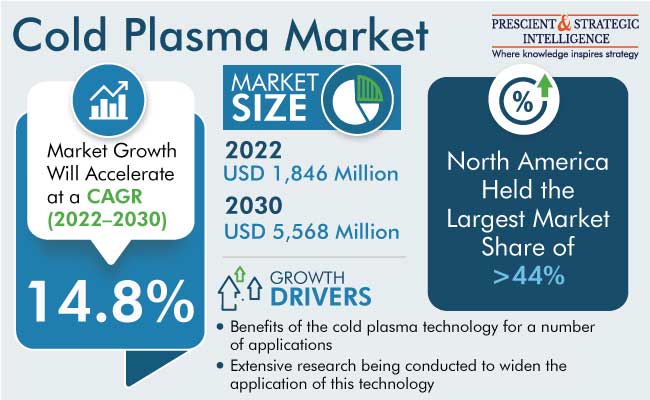 Moreover, in biomedicine, cold plasma is used for the treatment of teeth and skin diseases and the sterilization of medical devices. In material sciences, it is used for surface modifications, while in the food industry, it is used in the packaging process, as well as in the production of food. Moreover, in environmental sciences, it is used in water and air purification.
The low heat capacity of cold plasma, the diversity of its applications, and the cost efficiency of its production have resulted in a strong interest in this technology. Researchers continue to be surprised by the new applications plasma science is becoming suitable for.
Due to its various advantages, including little fiber damage, better wettability, less chemical use, low water and energy requirement, better wettability, and worker-friendliness, the applications of this technology are in various sectors. Additionally, cold plasma does not require the storage of large volumes of processing water or supplies of chemicals on-site, for aftertreatment washing.
Polymer & Plastic Industry Held Largest Market Share
The polymer & plastic category accounted for the largest revenue share, of more than 32%, in 2022. This is attributed to the fact that plastic and polymer applications require strong surface adherence to get the best mechanical functionality and lengthen the life of plastic components. Seeing the widening application of this technology in the polymer & plastic industry, several market players have started launching systems and devices that allow this sector to use it.
For instance, coating, adhesive, and curing technology company Intertronics has introduced a small handheld plasma treatment device, called Piezobrush PZ3, which is convenient to use, lightweight, and handheld.
For altering surface morphology, improving surface wettability, and boosting plastic's bonded shear strength, the cold plasma approach is helpful. In industrial polymer & plastic applications that need homogeneous, pore-free thin films with exceptional electrical, physical, chemical, and mechanical properties, the cold plasma process is frequently used.
Additionally, a major global epidemic is plastic pollution. According to several global research organizations, 8 million metric tons of plastic are thought to reach the oceans annually, and the outlook for the future is also not good. Moreover, at the current pace, plastic production around the world is likely to grow by twice over the next two decades, and by 2050, the oceans may contain more plastic than fish. Hence, with the rise of plastic pollution, efforts to preserve the environment and ensure better public health are imperative.
A process called cold-plasma pyrolysis is widely used to convert plastics into energy and useful chemicals. During pyrolysis, materials are heated at temperatures of 400 to 650 degrees C, in the absence of oxygen. Using cold plasma for the pyrolysis of waste plastic produces hydrogen, ethylene, and methane.
The textile category is expected to register the highest revenue CAGR in the forecast period. This technology is used in the process of hydrophilization, to decrease the level of contamination by microorganisms on textiles.
Technical textiles, known as protective textiles, have UV protection, flame retardancy, and antibacterial characteristics. These properties are often imparted by plasma surface treatment, which also offers them a more-durable finish. Many materials can be altered and made suitable for protective fabrics, without compromising their surface properties, by plasma treatment, due to cold plasma's ecologically benign nature compared to the conventional methods, such as wet, chemical, and mechanical finishes. As a result, plasma treatment is a crucial approach for creating and improving textile production methods and progressing toward resource-efficient, sustainable practices with added economic value.
During the preparation and modification of the surface of textiles, plasma treatment offers an advantage over the conventional pretreatment and finishing processes, since the former is carried out without the use of water and chemicals, some of which are highly toxic to the environment. This enables cost savings and environment-friendly processes. So far, it is only used for modifying the outermost surface characteristics of the textile substrate, without changing its bulk properties.
Because of all such benefits, companies in the textile industry are focusing on plastic treatment. For instance, APJet Inc. targets the market for pre-printing plastic parts that require marking and labeling. The cold plasm technology removes the use of chemicals and heat to enhance adhesion and wettability in substrates.
Additionally, cold plasma is also used in the healthcare industry for the treatment of cancer, currently being the only way to destroy microscopic tumors. It has been approved by the U.S. Food and Drug Administration for further clinical trials.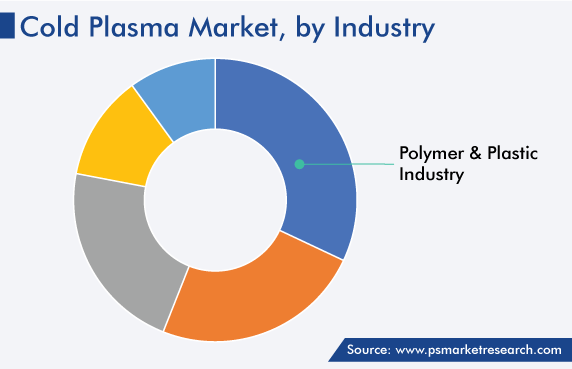 Atmospheric Cold Plasma Held Largest Revenue Share
Atmospheric cold plasma held the larger revenue share of the cold plasma market, due to its usage in various applications. For instance, it has shown promising results in eczema treatment. Researchers from the Institute of Plasma Physics Chinese Academy of Sciences used an animal model to demonstrate the potential of this technology in the treatment of eczema with no side-effect. There is no cure for atopic dermatitis, another term of eczema, till now; it can be only managed with proper care.
Moreover, in April 2021, US Medical Innovations (USMI) completed the first clinical trial approved by the FDA-IDE to evaluate the usage of cold atmospheric plasma to treat cancer. It is now preparing for the launch of several phase II trials in 2023.
Moreover, in September 2022, US Medical Innovations announced that it has secured around USD 10 million from various sources, including new investors and current partners. The company will use these funds to increase the production of its newly launched Canady Plasma XL-1000 SMART electrosurgical generator and fulfill the requirement for its Canady Helios cold plasma generator for selective cancer treatment.
Further, the low-pressure cold plasma category is expected to witness the higher rate of advance during the forecast period. This technology has antimicrobial activity and thus, could be a promising method to reduce contamination. For instance, it was concluded in recent research that the usage of argon-and-helium cold plasma to inactivate microorganisms could enable effective bio-decontamination.
Wound Healing Application Is Expected To Register Fastest Revenue Contribution Rise
The wound healing category is expected to register the highest revenue CAGR, of 15.4%, during 2022–2030. This is because researchers have been using cold plasma to speed up the healing of external wounds for some time now. This technique relies on creating a high-voltage drop between a special device called the plasmaDerm and the skin.
Similarly, scientists in Russia have found that the treatment of cells with cold plasma leads to their rejuvenation and regeneration. According to this study, the results can be useful for the treatment of patients with chronic wounds. In this regard, the increase in the number of physical trauma cases across the globe is driving the need for the cold plasma technology in the healthcare industry.
Cold plasma is also used for adhesion purposes. For instance, a scientist from Spain showed how polyoxymethylene can be a good material for 3D printing when applied on a polycarbonate printing base. Based on this observation, the researcher proposed the use of the cold atmospheric plasma treatment to enhance adhesion.
Cold Plasma Market Report Coverage

| | |
| --- | --- |
| Report Attribute | Details |
| Historical Years | 2017-2022 |
| Forecast Years | 2023-2030 |
| Market Size in 2022 | USD 1,846 Million |
| Revenue Forecast in 2030 | USD 5,568 Million |
| Growth Rate | 14.80% CAGR |
| Report Scope | Market Trends, Drivers, and Restraints; Revenue Estimation and Forecast; Segmentation Analysis; Impact of COVID-19; Companies' Strategic Developments; Market Share Analysis of Key Players; Company Profiling |
| Segments Covered | By Industry; By Regime; By Application; By Region |
Explore more about this report - Request free sample pages
North America Is Expected To Account for Largest Revenue Share
North America accounted for the largest share, of 44%, in 2022, and it is expected to advance with a significant CAGR during the forecast period. This is due to the increase in the healthcare expenditure and R&D activities. For instance, in March 2022, Jerome Canady Research Institute for Advanced Biological and Technological Sciences (JCRI-ABTS) published an article on how a combination of the Canady Helios cold plasma and anti-BCL2A1 treatments may be beneficial for patients with breast cancer and other solid tumors.
Moreover, the U.S. government has increased its budget for cancer research. The Consolidated Appropriations Act, 2023 has allocated USD 7.3 billion to the NCI, which was a USD 408 million increase over the FY 2022 grant, including USD 216 million for the aspects of the Cancer Moonshot program being overseen by the NCI.
Biggest Suppliers of Cold Plasma Solutions Are:
Apyx Medical Corporation
Nordson Corporation
Enercon Industries Corporation
Plasmatreat USA Inc.
Thierry Corporation
Surfx Technologies LLC
Advanced Plasma Solutions
US Medical Innovations LLC
UNIQAIR Technologies Ltd.
SOFTAL Corona & Plasma GmbH
Relyon Plasma GmbH
neoplas med GmbH
Terraplasma GmbH
Molecular Plasma Group
CINOGY System GmbH
Henniker Scientific Ltd.
Coating Plasma Innovation
Ferrarini & Benelli Srl
COMET Plasma Control Technologies
Europlasma NV
Tantec A/S
Adtec Plasma Technology Co. Ltd.
PlasmaLeap Pty. Ltd.
Market Size Breakdown by Segment
This fully customizable report gives a detailed analysis of the cold plasma industry from 2017 to 2030, based on all the relevant segments and geographies.
Based on Industry
Polymer & Plastic Industry

Surface Treatment
Printing
Adhesion

Textile Industry

Finishing
Dyeing/Printing
Sterilization

Electronic & Semiconductors Industry

Coating
Etching
Thin Film Deposition

Food Industry & Agriculture

Packaging Decontamination
Food Surface Decontamination
Wastewater Treatment
Seed Germination

Medical Industry

Wound Healing
Cancer Treatment
Dentistry
Blood Coagulation
Based on Regime
Atmospheric Cold Plasma
Low-Pressure Cold Plasma
Based on Application
Adhesion
Printing
Wound Healing
Geographical Analysis
North America
Europe

Germany
U.K.
France
Italy
Spain

Asia-Pacific

Japan
China
India
South Korea
Australia

Latin America
Middle East and Africa

Saudi Arabia
South Africa
U.A.E.