Market Overview
Cognitive computing refers to the next generation computing systems that converse in human language. The systems help experts across industries to make valuable decisions by understanding various complexities of big data. The rapid growth in global cognitive computing market is attributable to the development in advanced computing technologies such as natural language processing (NLP), automated reasoning, and machine learning, that translate unstructured data into key insights, which can be further sensed, inferred, and predicted for best business outcomes. Cognitive computing is relatively an emerging technology in the global advanced data computing marketplace. Cognitive computing includes typical combination of hardware and software, which find application in natural language processing technology and machine learning. Cognitive computing also has the capability to collect, process, and interpret the darkest data available with any business organization.
GLOBAL COGNITIVE COMPUTING MARKET, BY TECHNOLOGY, $M (2013 – 2023)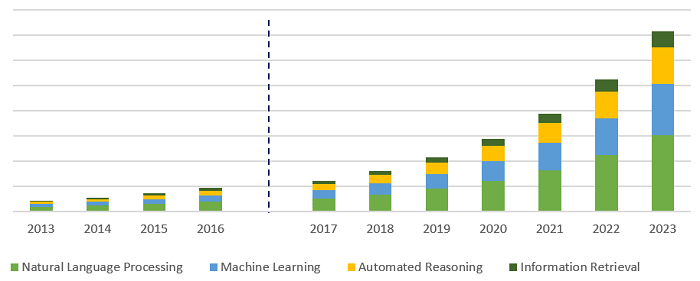 The market for cognitive computing is gaining interest with the growing requirement for disruptive business environment that needs to be fully aware about its customer's information. The same can be generated from the past data set available with the business organizations. Further, the capability of cognitive computing systems to interpret the data in a highly probabilistic manner than conventional big data analytics approach, is escalating the global market growth.
Market Dynamics
The global cognitive computing market is expected to grow at a CAGR of 34.2% during the forecast period, to reach $35,781.7 million by 2023. A significant growth in demand for cognitive computing is anticipated due to increase in advancement and development of big data technologies such as data interpretation, data mining and analysis of unstructured volumes of data effectively. In addition, development and availability of cost effective cognitive computing systems such as one with cloud deployment, is further fueling growth in cognitive computing market, across the globe.
Trends
The increasing popularity and adoption of artificial intelligence is one of the major trends observed in the global cognitive computing market. With search becoming increasingly predictive, providing tailored recommendations of customer – product – interaction, throughout a customer journey is the need of the hour for big business organizations. Artificial intelligence with cognitive computing uses information or data set to power effective predictive search. This enhances the search results, helping major brands to better anticipate their customer needs and serve them with more relevant offerings and cross sell their products.
Growth Drivers
Global cognitive computing market is driven by factors such as significant increase in large and complex data sets, evolution in computing platforms such as mobile and cloud, decreasing cost and availability of cognitive computing services, and increased adoption of new analytics based technologies for effective business transformations, globally.
With industries generating huge volume of unstructured data, new data analytics solutions aim at generating valuable insights from such data by converting it into a structured data set. This is achieved by machine learning technology, which encompasses the study of conceptual learning and pattern recognition theory of artificial intelligence. Small businesses looking to gain a competitive edge in the global cognitive computing market are realizing the need to offer products and services that the competitors cannot. Through use of advanced technologies such as pattern recognition, machine learning, and automated reasoning, businesses can achieve new targets by analyzing the previous buying and selling patterns and aligning their business strategies according to the analysis.
Further, machine learning technology enables the computer programs to learn from past data and modify themselves, when exposed to new data. Apart from this, machine learning helps businesses in solving enormous problems by predicting user behavior for organizational growth, which is also driving the demand for machine learning technology in the global cognitive computing market. From web analytics to customer demographics, and use of purchase information, the increase in computing power and cloud based technologies will continue to escalate the market growth in the coming years.
Opportunities
Increase in adoption of cloud based technologies is one of the key opportunities for the global cognitive computing market. A major driving force in cloud adoption is cost saving and elimination of physical servers. The reduced up-front capital expenditures and on-demand provisioning would create huge opportunities for the adoption of cognitive computing systems at vast scale. Further, pricing competition among major cloud service providers propels the market growth. Vendors are innovating their services to reduce the overall cost of cloud deployment, which is further expected to contribute to the increasing adoption of cognitive computing by small and medium scale enterprises.
Harnessing large unstructured data sets and gaining useful insights by start-ups to make better initial business decisions is another opportunity for the growth of global cognitive computing market. Through cognitive computing, start-ups can draw insights from massive volume of data and can bring out new strategies to tackle their business problems, effectively.
Competitive Landscape
The intensity of rivalry in the global cognitive computing market is moderate. Most of the major vendors in the global cognitive computing market are actively focusing on enhancing their offerings to meet the demand for advanced intelligent data computing solutions. This includes new software development, hardware integration, and advancement in artificial intelligence.
Some of the key players operating in the global cognitive computing market are IBM, Google Inc., Hewlett Packard (HP), Microsoft Corporation, Nuance Communication Inc., Oracle Corporation, SAP, Tibco Software, and 3M.
Scope for Customization
P&S Intelligence offers customization as per specific business requirements of clients. Illustrative customization within the scope of this report includes:
Period of Analysis – Increase in the study period, including historic and forecast years
Segment Analysis – More granular coverage related to:

Industry - "Others" can be further broken down into different industries.

Company Profiles – Wider company coverage in terms of detailed analysis or additional company profiles
New custom report – A completely customized report can be provided on the market, specific to a region/ country/ segment.