Market Overview
The global clinical alarm management market was valued at USD 3,201 million in 2022, which is expected to reach USD 7,013 million by 2030, growing at a CAGR of 10.30% during 2022–2030.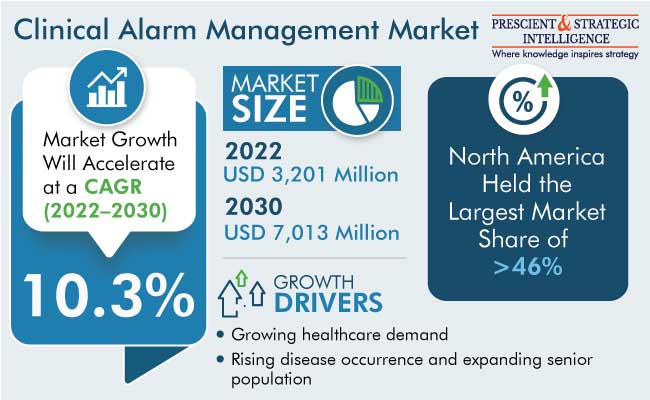 Over the years, hospitals have seen a significant surge in the adoption of technologically advanced patient care equipment. With these developments come complex and intricate monitoring tools, many of which are developed with audible alerts built into them. Now, the majority of the modern gadgets come with a working alarm. Respiratory monitoring tools, hospital beds and chairs, infusion pumps, wound vacuum devices, patient call systems, sequential compression devices, cardiac monitors, feeding pumps, and ventilators are just a few examples of the equipment commonly seen in acute care units that have built-in alarms.
The significant players are working harder than ever to differentiate themselves from rivals, which has increased the focus on technical breakthroughs at the lowest possible cost and, eventually, fueled the market expansion. For instance, in order to increase the effectiveness of care at three of its hospital locations, a German healthcare foundation has hired Ascom Holding AG, which is a Switzerland-based company, to implement the Ascom Digistat software.
The need for medical alarms is increasing quickly due to the rising patient population and growing healthcare demand. These alert systems have the ability to reduce expenditure and chances of medical errors, thereby enabling improved patient care, which is a major driver for the industry growth given the rising disease occurrence and expanding senior population.
Additionally, there has been a stark increase in the number of facilities and institutions for elderly people and awareness of the value of clinical alarm management solutions in these facilities. Reducing alert fatigue has become crucial for protecting patients, by freeing up the healthcare staff to respond to the alerts that actually require action. In order to find the core cause of alert fatigue, solutions necessitate a multidisciplinary examination at the systems level.
There are several benefits offered by clinical alarm management systems, including operational, financial, and clinical. Reduced alert fatigue, higher employee satisfaction, less exhaustion, better efficiency, and optimized nurse resource usage are among the operational advantages.
Moreover, the decrease in personnel turnover, shorter hospital stays, prevention of patient harm, and elimination of the probability of the possibly expensive ramifications of ICU transfers, prolonged hospital stays, and litigation are just a few of the financial advantages. In addition, the clinical advantages include improved sleep and rest, fewer non-actionable alerts, shorter alarm protocol gaps, enhanced patient safety and care, and fewer missed actionable alarms.
Surging Adoption of Electronic Health Records To Create Lucrative Growth Opportunities
The patient data included in electronic health records is mostly intricate, private, and unstructured. To use this data for improving patient care, the barriers in integrating it into the healthcare delivery process must be overcome. Despite the fact that EHRs have been in use for more than 10 years, the market has accelerated in the recent past because of the government initiatives targeted at enhancing patient protection practices.
In order to increase functionality and the delivery of reference content and alerts to patients at the point of treatment, the next stage of the EHR development process is expected to make use of context-specific data about the clinical care setting and patients. This information can affect the warnings issued to physicians in a way that makes them less voluminous and more pertinent, especially when EHRs can harness more patient context from the relevant medical records.
Hospitals will put more emphasis on enhancing their capabilities by integrating multiple healthcare systems with EHRs. In turn, this is forecast to offer companies providing medical alarm management solutions possible growth prospects.
Increasing Prevalence of Alert Fatigue To Drive Market Growth
There has been a significant spike in the alert fatigue incidence. This is attributed to the fact that hospitals have become highly advanced, and most of the systems in healthcare institutions are equipped with alarms, which nurses and other healthcare professionals have become desensitized to because of the excessive exposure to them. Therefore, the legitimate alarms, which are designed to notify professionals of the actual concerns of patients, are occasionally disregarded, since there are so many more additional alarms, which leads to delayed or even missed responses by the professionals.
This has become a major issue as it poses a significant hazard to patients' lives. Such incidents are frequently underreported, and there is still little research on solutions to address the issue, despite the fact that alert fatigue is a well-known problem. Certain studies have revealed the death of patients due to this issue.
Clinical Alarm Management Market Report Coverage

| | |
| --- | --- |
| Report Attribute | Details |
| Historical Years | 2017-2022 |
| Forecast Years | 2023-2030 |
| Market Size in 2022 | USD 3,201 Million |
| Revenue Forecast in 2030 | USD 7,013 Million |
| Growth Rate | 10.30% CAGR |
| Report Scope | Market Trends, Drivers, and Restraints; Revenue Estimation and Forecast; Segmentation Analysis; Impact of COVID-19; Companies' Strategic Developments; Market Share Analysis of Key Players; Company Profiling |
| Segments Covered | By Product; By Component; By End User; By Region |
Explore more about this report - Request free sample pages
Nurse Call Systems Held Largest Share
The nurse call systems category held the largest share, of over 26%, in 2022 globally. This is because product advances fueled by automation and wireless technology, as well as the desire to enhance clinical workflow and lower operational expenses for the medical institution, while maximizing the use of the existing resources, are responsible for this prominent share.
Major industry participants are also concentrating on catering to the requirement for improved patient response times, as well as minimized nurse fatigue, in light of the increase in the count of home healthcare and nursing facilities. By integrating their products with various diagnostic technologies and solutions, vendors also try to set their products apart from the competition.
An increasing number of medical facilities are implementing real-time location systems (RTLS) integrated with the wireless technology. To improve productivity, RTLS enables healthcare institutions to monitor the movement of staff and equipment. One such integrated platform is Televic's AQURA Care Communication, which includes modules for nurse call, personal localization, patient and staff safety, alert delivery, personal mobility, and mediator control. During the projection period, it is predicted that the increasing financing for wireless technologies and IP-based nurse call systems would accelerate the industry growth.
Additionally, the EMR integration systems category is predicted to witness the highest CAGR, of around 10.6%, during the forecast period. This is due to the growing pace of digitalization in healthcare, spiking use of EHR and EMR solutions from clinics to hospitals, and growing interoperability across digital healthcare solutions. Moreover, the rising patient load, rigorous regulatory mandates for patient care, encouragement to implement hospital EMR systems, to improve the quality and comprehensiveness of patient records; as well as the various advantages of EMRs, in terms of data security, contribute to the sector's growth.
The bed alarm category is also predicted to grow significantly during this decade. The easy and quick access to patient health information provided by the bed alarm, for quick treatment, enhances the category's growth. The older population's widespread use of these alarms to determine their health condition greatly surges the sector's revenue.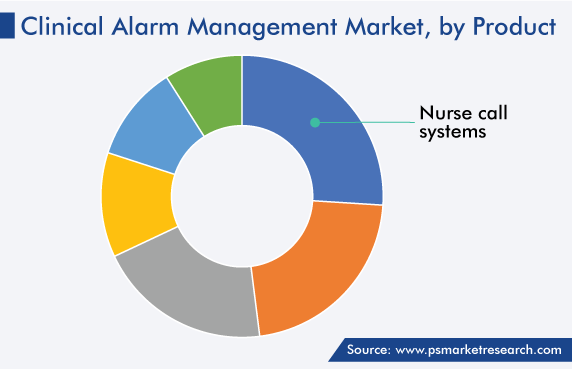 Solutions Category Dominates Market in Component Segment
On the basis of component, the solutions category held the larger share in 2022, because connected care technologies are increasingly being used in healthcare. Furthermore, the top firms are taking initiatives such as the launch of alert fatigue solutions that are tailored to meet the institution's needs, which would further propel the category's growth. The strong need to lessen alert fatigue and the number of adverse patient events and false or bothersome alerts and ensure compliance with the regulatory requirements will continue to propel the adoption of advanced clinical alarm management software.
Further, due to the initiatives by both public and private medical institutions, expanding service offerings of top players, and increasing demand to reduce the risks to patient safety, the services category is expected to witness the higher growth rate in the coming years. Other factors that are predicted to drive the demand for the associated services include technological enhancements and the growing number of service providers.
Over the years, there has been a tremendous increase in the provision of consulting services for alert management by major firms. For instance, Philips' alarm and noise management consulting services are geared toward cutting down on unwanted noise and non-actionable alarms, while unifying alarm management procedures, thereby enhancing patient care.
North America Is Highest Revenue Contributor
North America held the largest market share, of over 46%, in 2022. The biggest reasons for this sizable share are its well-established healthcare system, development of new products, growing instances of alert fatigue, favorable healthcare regulatory environment in both the U.S. and Canada, and the presence of major competitors in the industry. Further, hospital consolidation in the region is happening quickly, which has increased competitiveness. Consequently, in order to enhance patient care, healthcare organizations are making significant investments in infrastructure upgrades, such as in alert management systems.
Additionally, it is predicted that the expansion of the regional clinical alarm management market will be fueled by the presence of a sizable population pool, increasing healthcare spending, and rising focus on offering top-notch healthcare services. This is due to the fact that one or more chronic diseases, such as diabetes, cancer, heart disease, and stroke, affect six out of ten Americans. In addition, the primary causes of death and disability in the U.S. are chronic diseases, which, in turn, fuels the demand for such alarms in the healthcare field.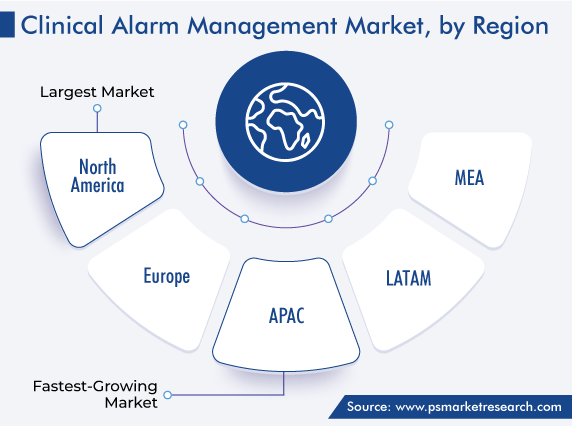 Top Clinical Alarm Management Solution Providers Are:
Ascom Holding AG
Drägerwerk AG & Co. KGaA
General Electric Company
Hill-Rom Holdings Inc.
Koninklijke Philips N.V.
Masimo Corporation
Medtronic plc
Spok Inc.
Vocera Communications
West-Com Nurse Call Systems Inc.
Market Size Breakdown by Segment
This fully customizable report gives a detailed analysis of the clinical alarm management market from 2017 to 2030, based on all the relevant segments and geographies.
Based on Product
Nurse call systems
Physiological monitors
EMR integration systems
Bed Alarms
Ventilators
Based on Component
Based on End User
Hospitals & Clinics
Home Care Settings
Ambulatory Care Centers
Long-Term Care Facilities
Specialty Centers
Geographical Analysis
North America
Europe

Germany
U.K.
France
Italy
Spain

Asia-Pacific

Japan
China
India
South Korea
Australia

Latin America
Middle East and Africa

Saudi Arabia
South Africa
U.A.E.