Market Overview
The global ceramic matrix composites market size was valued at USD 3,090 million in 2022, and it is expected to reach USD 7,596 million by 2030, advancing at a CAGR of 11.90% during 2022–2030. This can be attributed to the surging demand for lightweight vehicles, growing energy & power sector, rising industrialization, increasing standard of living, and mounting consumer preference for such materials.
Furthermore, the advantages of ceramic matrix composites (CMCs) over the conventional ceramics, such as brittle failure, limited shock resistance, and low fracture durability, are also the factor behind their adoption at the global level, which further contributes to the overall market expansion.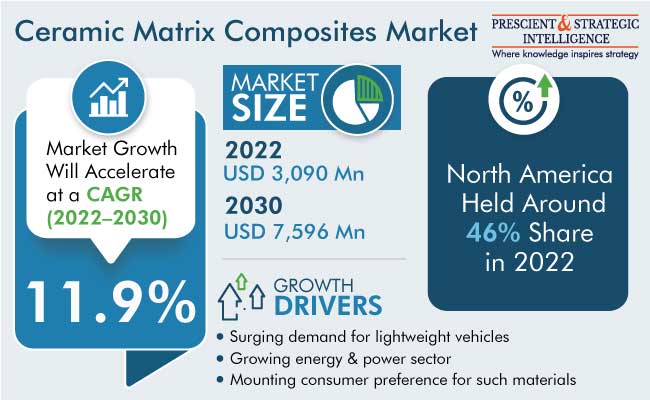 Oxides Generate Majority of Revenue
The oxide category accounted for the largest revenue share, of 31%, in 2022, and it is predicted to maintain its dominance during the forecast period. This can be ascribed to its high demand in North America and Europe owing to the vast number of product suppliers, growing usage in the automotive industry, and gaining traction as a mainstream option for high-temperature components in the aerospace and advanced energy sector.
Moreover, the improved properties of oxide composites, such as no oxidation, high fracturing toughness, and less expensive production process, are expected to trigger the demand for aerospace, defense, and energy & power applications.
Additionally, silicon carbide (SiC) contributed significant revenue to the market in 2022. This is due to the large-scale usage of SiC-based matrices in numerous end-use industries, such as electrical & electronics, defense, and aerospace. With the growth of these industries in developing countries, the demand for SiC is projected to increase in the coming years.
Rising Application of Ceramics in Automotive Sector Is Emerging Trend
The stringent pollution control norms and surging environmental concerns have forced automotive and aerospace component manufacturers to manage automotive emissions. One of the most important factors affecting fuel efficiency and vehicular pollution is the curb weight, the reduction of which extremely surges fuel efficiency and eliminates pollution. Moreover, CMCs are also being used in various aircraft, rocket ships, and aerospace shuttles to create lightweight, fuel-efficient, and durable structures. Furthermore, strict environmental regulations in the U.S. and Europe have mandated automobile manufacturers to use CMCs in automotive construction. Regulations in Europe and across the globe are forcing OEMs to significantly reduce the CO2 emissions of manufactured automobiles.
Aerospace Industry Contributes Major Share
Aerospace accounted for the largest revenue share, of 37%, in 2022, and it is expected to maintain its dominance during the coming years. This can be attributed to the high demand for CMCs for the manufacturing of helicopter rotor blade sleeves, jet engine fans, and other components of aircrafts. Furthermore, the increasing R&D and expansion of manufacturing facilities by key players are the factors responsible for this growth.
Moreover, the energy & power category will witness the fastest growth during the forecast period. This is due to the rising need for energy generation owing to the surging population, growing industrialization and urbanization, depletion of fossil fuels, and snowballing government support towards energy-efficient resources.
Furthermore, these ceramics are frequently utilized in the industry due to their features, including high-temperature stability combined with better oxidation resistance and the capacity to endure radiation, which makes them appropriate for fission and fusion applications.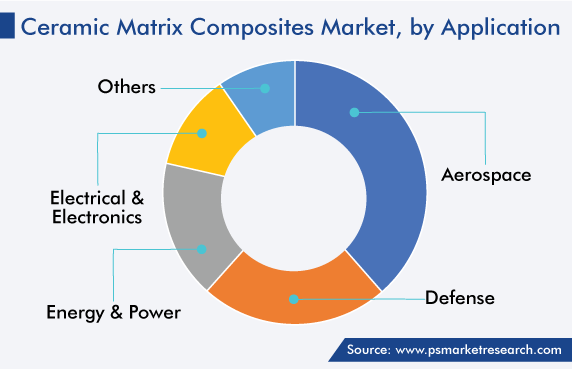 Growing Usage of Ceramic Matrix Composites Materials in Defense Sector
Ceramic composites have been widely used in various defense applications, such as engine components, armor, missile radome, etc. Moreover, distinct characteristics, such as the lightweight, ability to withstand high temperatures, and resistance to corrosion, offer major advantages to ceramic composites. Majority of the ceramic materials are see-through to certain types of energy, light, etc.; thus, they are broadly utilized for sensor protection, infrared domes, and multi-spectral windows. Apart from the optical properties, ceramics also possess good abrasion resistance and thermal stability.
Silicon Nitride, a non-oxide ceramic, is widely used in manufacturing radomes for the missile in air defense systems. Its mechanical strength facilitates the missile system to withstand erosion and high-temperature excursions while flying at hypervelocity through the atmosphere. Moreover, army helicopters will be able to carry more payload owing to the incorporation of ceramics in engine manufacturing technology. The efficiency of turbine engines has drastically improved through the usage of ceramic matrix composites due to their high-temperature capability. In addition, ceramics have the potential to operate at high temperatures with minimal or no cooling, which in results, high sales in the market.
Ceramic Matrix Composites Market Report Coverage

| | |
| --- | --- |
| Report Attribute | Details |
| Historical Years | 2017-2022 |
| Forecast Years | 2023-2030 |
| Market Size in 2022 | USD 3,090 Million |
| Revenue Forecast in 2030 | USD 7,596 Million |
| Growth Rate | 11.90% CAGR |
| Report Scope | Market Trends, Drivers, and Restraints; Revenue Estimation and Forecast; Segmentation Analysis; Impact of COVID-19; Companies' Strategic Developments; Market Share Analysis of Key Players; Company Profiling |
| Segments Covered | By Product; By Application; By Region |
Explore more about this report - Request free sample pages
North America Dominates Market
The North American market accounted for the largest share, of around 46%, in 2022 and it will maintain its dominance during the projection period. This can be attributed to the presence of a large number of industry giants, well-established energy & power industry, high adoption rate of advanced technology, and rise in the expenditure on research and development to develop new products for aviation.
Additionally, the U.S. contributes the majority of revenue to the market in 2022, and it will continue this trend in the coming years. Owing to the higher adoption rates for CMCs, rising spending on the military by government, rapid development in the aerospace sector, and strict environment regulations encouraging the usage of fuel-efficient and lightweight materials.
In addition, the U.S. EPA regulations are aimed at restricting vehicular emissions. The agency also requires automobile and aircraft manufacturers to provide emission test results under the 'Clean Air Act'. The reduction in automotive emissions requires the vehicle to be fuel efficient. Moreover, vehicular curb weight directly affects its fuel efficiency. Such legislations further boost the market demand in the coming years.
Moreover, the APAC region will register the fastest growth during the coming years, advancing at a CAGR of 12.8%. This can be ascribed to the increasing energy consumption, expenditure on defense, and investments in space exploration projects, in emerging economies, such as China and India, which, in turn, are creating a high demand for CMCs.
Furthermore, China held the largest revenue share in the APAC market owing to the rising technological advancements in end-use industries, large manufacturing bases, easy availability of resources, and cheap labor.
Europe held a significant revenue share in 2022 and it is expected to maintain its position in the coming years, advancing at a substantial CAGR. This can be ascribed to the well-established automobile industry, the presence of a high number of vehicles as well as auto parts manufacturers, and the growing preference of consumers for light-weighted vehicles in the region.
Additionally, as the modern automotive industry develops, it is necessary to reduce exhaust emissions, fuel consumption, and vehicle weight while concurrently enhancing vehicle performance and safety. Such complicated and incompatible requirements can be met with the help of emerging contemporary technologies, such as CMCs. Furthermore, CMCs currently produces all of the individual car engine parts, including the exhaust and intake systems, turbine parts valves, brake discs, and brake system parts.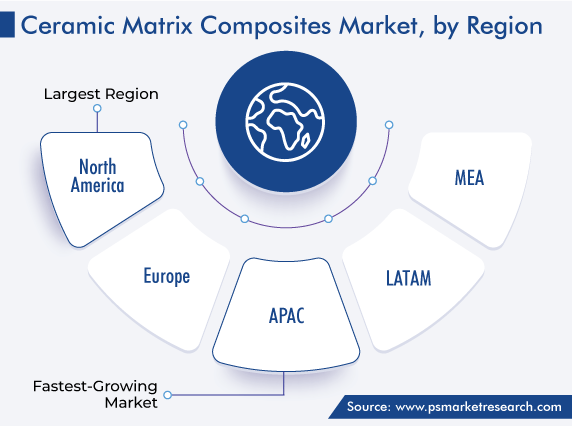 Surging Demand from Wind Energy Industry Drives Growth
Turbine blades are composed of advanced ceramic matrix composites. These employ water-like polymers capable of being treated into 1700°C-capable, low-density ceramic or nanofibers grown upon SiC reinforcing fibers to improve toughness. Furthermore, the utilization of ceramic composites provides some internal dampening, which assist in the reduction of vibratory stresses induced by unstable flow loads in the bladed turbine areas; as a result, CMCs are commonly used to construct wind turbine blades. In addition, wind turbine blades are in high demand; thus, manufacturers are boosting production volume by extending manufacturing bases to fulfill this demand.
Major Opportunity in Market Is Higher Usage of Light-weighted Components
CMCs are commonly used in lightweight armors because of their high strength-to-weight ratio and low weight, such composites are used in such armors. Another key demand driver is the development of fuel-efficient aircraft and automobiles. Thus, this market will be driven by the manufacturing of sports automobiles and fuel-efficient airplanes.
Furthermore, new methods are being developed to make ceramic matrix composites with a wide variety of improved qualities and expanded capability of offering structural efficiency at lower weights than present technology. Because of the high degree of innovation, it is expected that the cycle time and manufacturing cost of composites would be reduced. As a result, the complete application of such technology may be employed to meet the need for lightweight goods, which further drives the market growth.
Top Manufacturers of Ceramic Matrix Composites Are:
3M
COI Ceramics Inc.
General Electric Company
CeramTec GmbH
Lancer Systems LP
SGL Carbon SE
CoorsTek Inc.
Market Size Breakdown by Segment
This report offers deep insights into the ceramic matrix composites market, with size estimation for 2017 to 2030, the major drivers, restraints, trends and opportunities, and competitor analysis.
Based onProduct
Oxide
Silicon Carbide
Carbon
Based on Application
Aerospace
Defense
Energy & Power
Electrical & Electronics
Geographical Analysis
North America
Europe

France
Germany
Italy
Spain
U.K.

Asia-Pacific

China
India
Japan
South Korea
Australia

Latin America
Middle East and Africa

Saudi Arabia
South Africa