Market Overview
The cellular health screening market size stood at USD 2,622.1 million in 2022, and it is expected to advance at a compound annual growth rate of 9.7% during 2023–2030, to reach USD 5,512.8 million by 2030. This is primarily ascribed to the rising applications of cellular health screening in personalized medicine, detecting diseases at an early stage, helping preventive care, and identifying different health-related problems; the increasing number of awareness campaigns; the growing adoption of telomere performance programs; and the surging prevalence of chronic illnesses mainly cancer across the world.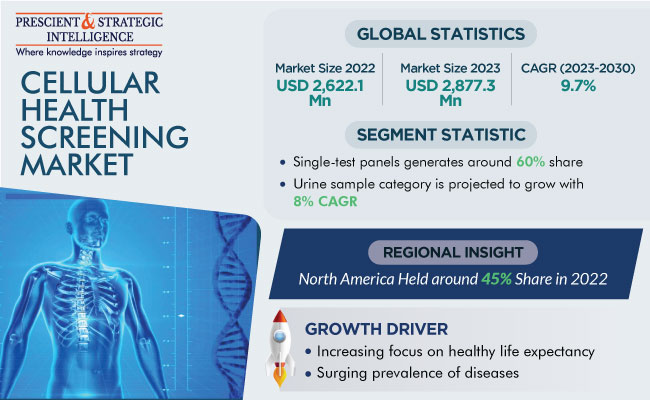 For instance, according to government reports, chronic diseases are responsible for approximately 75% of deaths all over the world, and around 85% of premature deaths are reported in low- and middle-income countries.
According to various research papers, telomere length is correlated with cancer, and the shortening of telomere length means that an individual is at a higher risk of cancer. Moreover, the telomere length is affected by several factors, such as inflammation, infection, and stress, which cause oxidative stress that leads to telomere degradation. It also occurs due to aging, diseases that arise at an older age, lifestyle changes, and genetic and environmental disorders. Thus, the increasing prevalence of chronic diseases and cancer is projected to contribute to the growth of the market during the forecast period.
Moreover, the rising number of product launches by key players for testing and the surging trend of R&D investments in the life sciences industry are contributing to the market growth. For instance, in May 2022, Qiagen launched QIAstat-Dx Rise to expand its testing portfolio, and it received a CE marking to run new respiratory and gastrointestinal panels. The product can process around 56 tests with enhanced walk-away efficiency in an eight-hour shift.
Single-Test Panel Holds a Major Share
Based on test type, the single-test panel category account for a major share of the market. This is attributed to its cost-effectiveness, labor efficiency, and increased potential for automation. Among single-panel tests, the demand for telomere single-panel tests is expected to grow at the highest rate in the coming years. This can be because these offer accurate information, aid in measuring the length of telomere, and help in determining cell age.
Whereas, the multi-test panel category is expected to witness the fastest growth in the forecast period. This can be attributed to their higher efficiency, increased clinical diagnostic sensitivity and specificity, reduced cost, and high precision.
Cellular Health Screening Market Report Coverage

| | |
| --- | --- |
| Report Attribute | Details |
| Historical Years | 2017-2022 |
| Forecast Years | 2023-2030 |
| Market Size in 2022 | USD 2,622.1 Million |
| Market Size in 2023 | USD 2,877.3 Million |
| Revenue Forecast in 2030 | USD 5,512.8 Million |
| Growth Rate | 9.7% CAGR |
| Report Scope | Market Trends, Drivers, and Restraints; Revenue Estimation and Forecast; Segmentation Analysis; Impact of COVID-19; Companies' Strategic Developments; Market Share Analysis of Key Players; Company Profiling |
| Segments Covered | By Test Type; By Sample Type; By Collection Site; By Region |
Explore more about this report - Request free sample pages
Urine Sample Category To Witness the Highest CAGR
Based on sample type, the urine sample category is projected to record the fastest growth in the coming years. This can be because it is widely used for detecting and managing a large number of disorders, such as kidney diseases, urinary tract infections, and diabetes. Moreover, collecting urine is a convenient and non-invasive method and it can be done by patients and does not require any equipment or technician. In addition, a urine sample is also used for the identification of heavy metals and oxidative stress and cell health analysis.
Whereas, the blood sample category dominates the market, as it helps in providing highly accurate and faster results, and due to the rising number of launches of autonomous devices for the collection of blood samples. For instance, Vitestro announced the launch of an autonomous device for blood collection, in May 2022. The device links artificial intelligence and ultrasound-guided 3D reconstruction with robotic needle insertion in order to have an accurate quantity of blood.
Hospitals Account for the Largest Share in the Market
Based on collection site, the hospitals category holds the largest revenue share in the market. This is due to the increasing healthcare expenditure and the presence of a large number of hospitals all over the world, where diagnosis and treatments are provided simultaneously, and they have advanced diagnostic techniques and medical professionals for particular tests for the identification of diseases.
Moreover, in recent years, various public organizations have made huge investments to upgrade the infrastructure of hospitals and their services. For instance, in 2021, the U.S. spent $576.9 billion on overall healthcare expenditure, which was an increase of 7.7% from 2020. Moreover, India spends around 3% of GDP on healthcare expenditure. Similarly, according to the Asia-Pacific Observatory on Health Systems and Policies, China has improved its healthcare infrastructure in recent years with significant government investments, to increase the accessibility of health services.
Whereas, the home category is expected to show the fastest growth in the coming few years. This can be ascribed to the rising adoption of self-sampling and growing awareness about health. The self-sampling is rapidly adopted because it eliminates the need for visiting hospitals for tests and is a user-friendly method.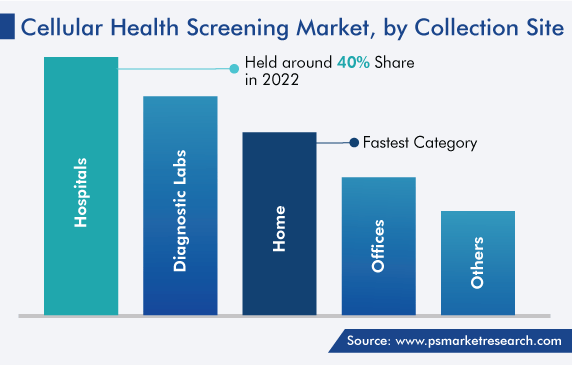 North America Holds Largest Market Share
North America has the leading position in the cellular health screening market, and it will hold the same position till 2030, with a value of USD 2.5 billion. This is attributed to the increasing government funding for preventive healthcare, the surging adoption of new technologies, the growing awareness about personalized medicine, and the rising prevalence of chronic and infectious diseases, in the region. In North America, the U.S. market holds the leading position, and it will grow at a CAGR of 10% during the forecast period. This is attributed to the robust healthcare infrastructure and the existence of a large number of key players in the country.
Furthermore, the European market is showing a significant growth rate. This is ascribed to the growing geriatric population, the increasing incidences of chronic diseases, and the surging adoption of advanced methods of screening for effective and preventive treatment of various diseases in the region.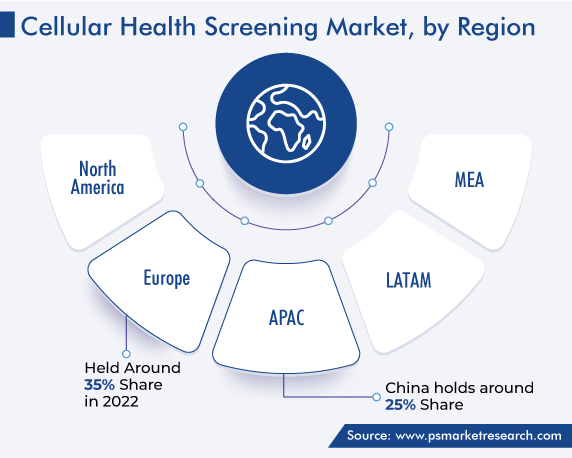 Increased Prevalence of Cancer Is Boosting the Demand
The increasing prevalence of cancer across different regions is driving the market growth. It has been evaluated on the basis of government sites, in the U.S., approximately 1.9 million new cases of cancer were diagnosed in 2022 and around 609,360 deaths were reported. Cell analyzing helps in the detection of malignancies before it spreads all over the body so as to provide proper treatment on time. The identification of malignancy before the appearance of symptoms is possible with the help of cell health screening.
Moreover, smoking prevalence is higher among Alaskan and American women than men, and about a quarter of people suffer from such issues. Due to a large number of cancer cases, it become important to study the physiology and anatomy of a single cell. In order to avoid the spreading of malignancies, it is necessary that they should be detected at an early stage.
Rising Demand for Personalized Medicine Drives the Market
The increasing demand for personalized medicine is driving the demand for cell health screening because it helps in providing more effective and accurate treatment coupled with customized disease-prevention strategies. Several times, medical professionals inaccurately diagnose diseases. The inaccurate diagnosis harms patients, which can further result in death or permanent disability. Due to such incidences, the demand for personalized medicine has increased and will continue with the same over the coming years.
The medicine is prescribed on the basis of individual characteristics of patients and these characteristics are evaluated from cell health screening. Personalized medicine also helps in minimizing trial and error prescribing of drugs and also avoidance of adverse drug reactions. Moreover, this medicine is responsible for the investigation of insights into diseases with the usage of advanced and innovative technology and it also helps in providing patients with the required treatment. In addition, biomarkers are used for determining responses and risks of treatments received by patients. Hence, the surging demand for personalized medicine is contributing to the growth of the market.
Key Players in Cellular Health Screening Market Are:
Immundiagnostik AG
Quest Diagnostics
SpectraCell Laboratories Inc.
Repeat Diagnostics
Cell Science Systems Corporation
Laboratory Corporation of America Holdings
ANY LAB TEST NOW
Market Size Breakdown by Segment
This fully customizable report gives a detailed analysis of the cellular health screening market from 2017 to 2030, based on all the relevant segments and geographies.
By Test Type
Single Test Panels

Telomere tests
Oxidative stress tests
Inflammation tests
Heavy metal tests

Multi Test Panels
By Sample Type
By Collection Site
Home
Offices
Hospitals
Diagnostic Labs
Regional Analysis
North America
Europe

Germany
U.K.
France
Italy
Spain

Asia-Pacific

Japan
China
India
South Korea
Australia

Latin America
Middle East and Africa

Saudi Arabia
South Africa
U.A.E.