Catalog Peptides Market Overview
The global catalog peptides market generated $238.4 million revenue in 2018 and is projected to advance at a CAGR of 5.8% during the forecast period. Development of technologies for cost-effective manufacturing of catalog peptides, increasing research activities to address unmet medical needs in various therapeutic areas, growing burden of chronic diseases, and increasing investments and funding for protein-based research are some prominent factors driving the growth of the market.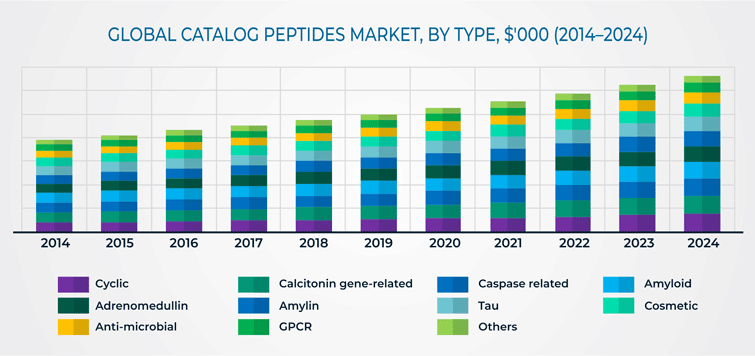 Based on type, the catalog peptides market has been categorized into cyclic, calcitonin gene-related, caspase related, amyloid, adrenomedullin, amylin, tau, cosmetic, anti-microbial, G-protein-coupled receptor (GPCR), and others. Among these, the cyclic category held the largest market share, of 11.3%, in terms of revenue. This is due to the fact that cyclic peptides possess diverse biological activities, such as antibacterial, immunosuppressive, and anti-tumor activities.
Based on application, the catalog peptides market has been categorized into commercial, academic research, and therapeutics applications. Catalog peptides used for commercial applications occupied more than 50% share in 2018, in the market. This can be ascribed to the fact that catalog peptides are used in a range of commercial applications in beauty and cosmetic industry and other industries.
Based on end user, the catalog peptides market has been categorized into pharmaceutical and biotechnology companies, contract manufacturing organizations (CMOs) and contract research organizations (CROs), and academic and research institutes. Among these, pharmaceutical and biotechnology companies is the dominant end-user category in the market, both in terms of growth and revenue. This can be attributed to the fact that drug manufacturers are increasingly evaluating the use of peptides as therapeutics, since peptides offer greater chemical diversity than any other class of biological molecules, and have high target affinity and stability.
Globally, North America held the largest share, of 35.7%, in 2018, in the catalog peptides market, primarily on account of the presence of key players in the region. However, APAC is expected to be the fastest growing market for catalog peptides, mainly due to the rising prevalence of chronic diseases in the region.
Catalog Peptides Market Dynamics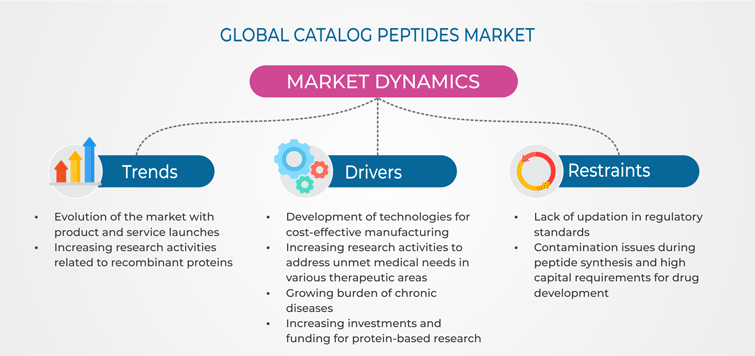 Trends
Increasing research activities related to recombinant proteins and product launches are the latest on-going trends in the catalog peptides market. Recombinant deoxyribonucleic acid (DNA) technology is considered as one of the most effective molecular biology techniques in the life sciences sector for the production of biopharmaceuticals. Recombinant protein-based expression can be used for the development of peptide-based biopharmaceuticals. The ability of the technology to produce an abundant volume of purified and desired recombinant protein, may lead to its potential application in industrial processes and in the diagnosis and treatment of diseases. Therefore, expanding research activities on peptide synthesis and increasing investments for large-volume production of recombinant proteins, which can be used as biotherapeutics, are boosting the growth of the market.
Drivers
The catalog peptides market is witnessing rapid evolution with the development of new peptide and drug production technologies. For instance, increase in the number of researches to understand the efficient expression of novel and difficult-to-express proteins, through protein and cell line engineering, can be viewed as a step toward future drug discoveries. Due to the increasing research activities focusing on the unmet needs for various chronic diseases, such as diabetes, cancer, ischemic heart disease, and respiratory disorders, government and national institutes/bodies are providing increased funding to research institutes for the development of new cost-effective drugs.
For instance, the National Institute of Health (NIH), a medical research center based in the U.S., invests nearly $32.3 billion annually in medical research by offering grants to projects and programs in the life sciences and medical fields. Some of the NIH-funded programs are the Protein Structure Initiative (PSI) and the Protein Capture Reagents Program. Similarly, in August 2018, the Novo Nordisk Foundation granted $104.4 million (DKK 700 million) to the University of Copenhagen to excel its research at the Novo Nordisk Foundation Center for Basic Metabolic Research.
Moreover, several companies are developing advanced platforms for the synthesis of peptides. For instance, New England Peptide Inc. (NEP) uses its PepTrend system, a unique software program, to design and synthesize peptides. Additionally, it uses its proprietary peptide array platform, which offers a rapid and cost-effective way of synthesizing 96 different peptides. Such technological innovations have increased the production capability of the companies for the development of advanced forms of peptides for research and antibody production purposes, thereby driving the growth of the catalog peptides market.
Catalog Peptides Market Competitive Landscape
In recent years, major players in the global catalog peptides market have taken several strategic measures, such as new product launches, geographical expansions, and acquisitions, to sustain and improve their position in the industry. For instance, in February 2017, Aviva Systems Biology Corporation (ASB) acquired GenWay Biotech Incorporated to expand its product portfolio with the inclusion of GenWay's proteins, antibodies, and enzyme-linked immunosorbent assay (ELISA) assays, and become a key provider of proteomic solutions in the market. Since the acquisition, GenWay has been operating as a wholly owned subsidiary of Aviva Systems Biology Corporation.
Similarly, in January 2017, the PolyPeptide Group announced the completion of its acquisition of the peptides business and operations of Lonza in Braine-l'Alleud, Belgium. The acquisition was aimed at enhancing the company's manufacturing capabilities and offering seamless support for its products progressing toward regulatory approval and commercial supply.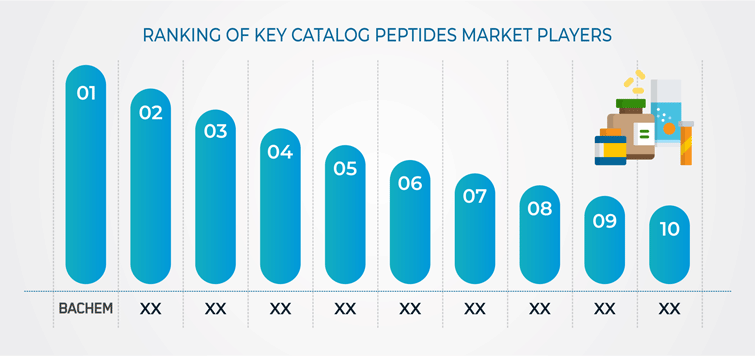 Some of the major players operating in the catalog peptides industry are PolyPeptide Group, CSBio, GL Biochem (Shanghai) Ltd., CPC Scientific Inc., Auspep Pty Ltd., Peptides International Inc., Applied Biological Materials (ABM) Inc., Biomatik Corporation, Bio-Synthesis Inc., Thermo Fisher Scientific Inc., GenScript Biotech Corporation, Bachem AG, JPT Peptide Technologies GmbH, Advanced ChemTech, LifeTein LLC, Kaneka Eurogentec S.A., Elim Biopharm Inc., Creative Peptides, Abbiotec Inc., NovoPro Bioscience Inc., KareBay Biochem Inc., Ontores Biotechnologies Inc., Severn Biotech Ltd., Genway Biotech Inc., Kaneka Corporation, New England Peptide Inc., AnaSpec Inc., AAPPTec LLC, and Merck KGaA.